Daytona 500 NASCAR Fantasy Live Picks & Strategy: How to Use Betting Odds for the Great American Race
Credit:
Photo by Jared C. Tilton/Getty Images. Pictured: Ricky Stenhouse Jr., driver of the #47 Kroger Chevrolet
While the point of Fantasy NASCAR is to score the most points throughout the entire Cup Series season, that doesn't mean players should simply pick the best drivers in the Daytona 500.
Because NASCAR Fantasy Live puts limits on driver starts, the most random races, like the Daytona 500, should be approached differently.
PJ Walsh explains this in detail, while combining the latest betting odds and contest theory to make his optimal Daytona 500 picks.
The 2021 NASCAR Cup Series season officially gets underway with today's Daytona 500 (2:30 p.m. ET, FOX), also marking the start for the NASCAR Fantasy Live fantasy racing game.
Not signed up for NASCAR Fantasy Live or looking to join another league? Click here to join my personal league for the 2021 season.
Clearly the goal of any NASCAR Fantasy game is to score the most points by the end of the season, but that doesn't necessarily mean that you should attempt to acquire the most points every single week.
Let me clarify: NASCAR Fantasy Live's rules include driver limits, meaning you can start every Cup Series driver a maximum of 10 times throughout the 26-race regular season.
So while it would be ideal to be able to simply lock in Chase Elliott, Kevin Harvick and Denny Hamlin every week and ride them to NASCAR Fantasy Live glory, that simply isn't feasible.
As result, it's important to save your fantasy studs — those who you expect to start 10 times throughout the regular season — at the Cup Series' least predictable race tracks.
And when it comes to unpredictability, the season-opening Daytona 500 is near the top of the list.
With this in mind, I'm loading up with drivers who have had success at superspeedways, like Daytona International Speedway, while also making sure my NASCAR Fantasy Live picks consist of those that I don't expect to use 10 times over the first 26 races.
In addition, I'm also looking to find leverage over my competitors in such a random event by picking drivers with low ownership percentages.
The Daytona 500 is unpredictable, so give me drivers with sneaky good superspeedway backgrounds who are also being avoided by the majority of players.
Without further ado, here are my Daytona 500 NASCAR Fantasy Live picks.
Daytona 500 NASCAR Fantasy Live Picks
Driver 1: Ricky Stenhouse Jr.
From a betting value perspective, I love Stenhouse in the Daytona 500. In fact, Ricky was one of the first bets that I made for the 2021 Great American Race.
While being a top-notch superspeedway racer, Stenhouse doesn't offer much upside at tracks other than Daytona and Talladega, so there's no reason not to burn a start with him today.
Driver 2: Chris Buescher
While Stenhouse is my favorite mid-tier Daytona 500 bet, Buescher is my top longshot, by far — so much so that he was also one of my three early betting picks.
Another factor he has in common with Stenhouse? Buescher is not a driver we'll use 10 times throughout the regular season, so run him with confidence.
Driver 3: Ryan Newman
We certainly remember Newman's horrific wreck coming to the checkered flag in the 2020 Daytona 500 and it's great to see him back behind the wheel this year.
Newman is an experienced superspeedway racer who understands how to bide his time, stay out of trouble, then make a run to the front as the laps wind down.
The Rocketman is also a teammate of Buescher at Roush Fenway Racing, an organization with long history of providing fast superspeedway cars.
And yes, considering Newman had just two top-10 finishes last season (both of which were at superspeedways) there's little reason to think we'll need him from a NASCAR Fantasy Live perspective outside of Daytona and Talladega.
Driver 4: Michael McDowell
Since 2016, here are McDowell's finishes on Daytona's oval: 15th, 10th, 15th, fourth, ninth, 26th, fifth, 13th, 14th and 14th.
That's seven top-15 finishes in eight races, including four top 10s and two top fives.
McDowell has little value elsewhere, and considering he's currently on just 4% of NASCAR Fantasy Live rosters for the Daytona 500, is a fantastic pivot option that will pay off handsomely should he put together another top-15 run.
Driver 5: Jamie McMurray
The 2010 Daytona 500 winner and accomplished superspeedway racer is coming out of retirement for a one-race deal with Spire Motorsports.
Because this is the only start he's going to make this season, it's a great opportunity to take advantage of a very experienced driver with multiple superspeedway victories while also saving starts with a full-time driver we may burn 10 times in the regular season.
Even more enticing for NASCAR Fantasy Live players is JMac's 3% ownership rate across all rosters. Outside of Derrike Cope, you'll be hard-pressed to find a past race winner flying so far under the radar.
Garage Driver: Ross Chastain
Let's get real — I like Chastain more than the average NASCAR fan, bettor or fantasy player.
Ross has shown plenty of superspeedway ability through the years (including an XFINITY Series win at Daytona in July of 2019) and has plenty of Daytona 500 experience, albeit in sub-par equipment.
Now with Chip Ganassi Racing, Chastain has all the tools he needs to post a big finish at Daytona, and just like McMurray comes in with a paltry 1% ownership.
Chastain is an aggressive, high-risk/high-reward NASCAR Fantasy Live option, so I'm opting to leave him in my garage to protect myself from getting burned if he gets caught up in an incident early.
But if I've already lost one of my five starters or one is severely underperforming, I won't hesitate to pop Ross into my lineup if he's running on the lead lap undamaged as Stage 2 is winding down.
Daytona 500 NASCAR Fantasy Live Bonus Picks
When it comes to NASCAR Fantasy Live Bonus picks, I'm going to rely heavily on the latest Daytona 500 odds to make my selections while using ownership percentages to break any ties.
The categories below have no driver limits, so we don't need to worry about saving the Cup Series' top drivers for more predictable tracks.
Race Winner: Denny Hamlin
Since starts don't matter, now is the time to leverage the betting market and run down the odds board at DraftKings Sportsbook.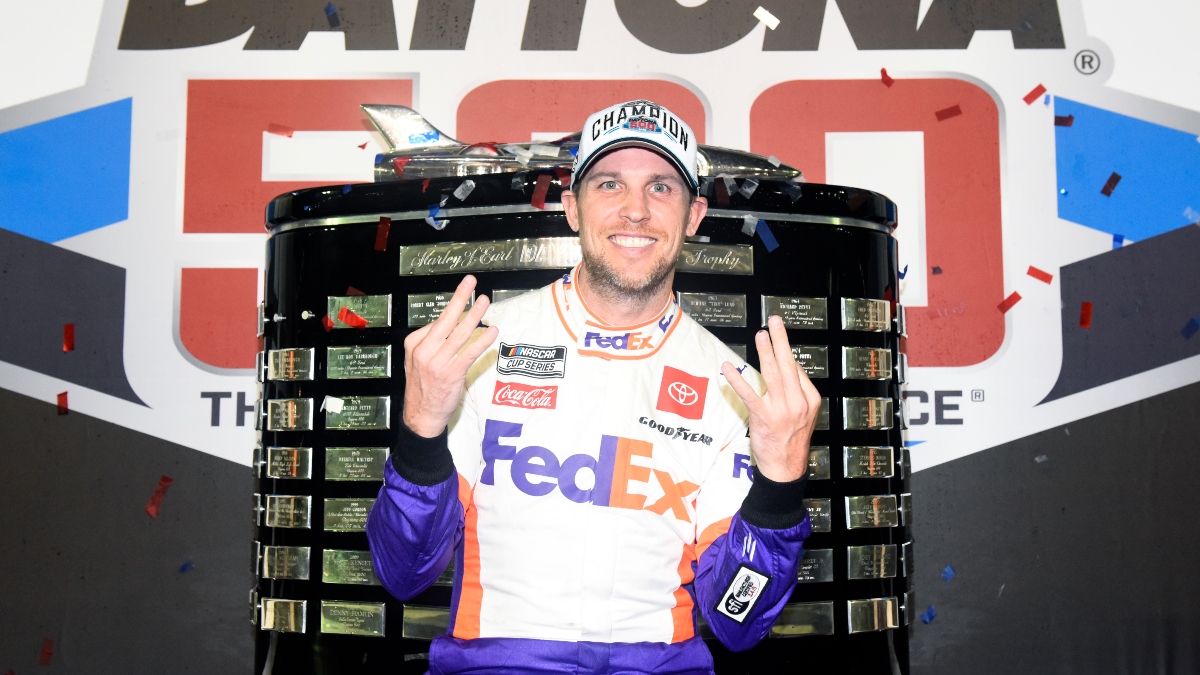 Hamlin is the race favorite and the third driver I bet early, so don't waffle here and take the two-time defending Daytona 500 champion.
Top Chevrolet: Chase Elliott
At +450, Elliott is the favorite to be the top finishing Chevy at DraftKings, so I'm locking in the reigning NASCAR Cup Series champion here.
Top Ford: Joey Logano
Ryan Blaney and Joey Logano are tied with +550 odds to be the best Ford today, but the driver of the No. 22 has been picked on 31% of teams compared to his teammate's 36%.
With all things equal odds-wise in such a random event, I'm going with the driver that will be on the fewest rosters.
Top Toyota: Denny Hamlin
Hamlin is clearly the top Toyota for a handful of reasons, including odds, so I'm back on the Denny train here.
Winning Manufacturer: Chevrolet
Ford (+145) has slightly better odds than Chevrolet (+150) but as I've done throughout my NASCAR Fantasy Live Daytona 500 picks, I'm playing the strategy game and taking Chevy's 31% ownership vs. Ford's 40%.
Winning Team: Team Penske
The team of Joe Gibbs Racing (JGR) is the favorite here at +325, but Team Penske isn't far off at +375.
NASCAR Fantasy Live players overwhelmingly prefer JGR (35% ownership) to Team Penske with just 19% of the winning team pie.
If you've read this far, you know what to do.
More Daytona 500 Content
How would you rate this article?