NASCAR Betting Picks: Best Bets to Win the Digital Ally 400 at Kansas Speedway
Credit:
Amy Kontras-USA TODAY Sports. Pictured: Kevin Harvick at Kansas Speedway
The Digital Ally 400 at Kansas Speedway gets underway at 7:30 p.m. ET on Saturday night (FS1).
Kevin Harvick sits in the pole position and is the betting favorite, with Kyle Busch, Martin Truex Jr. and Brad Keselowski not too far behind.
The Monster Energy NASCAR Cup Series heads to Kansas for the second Saturday night race of the year (7:30 p.m. ET, FS1).
Kansas is a 1.5-mile oval with variable banking that was repaved after the first of two races in 2012. That makes it a relatively low tire-wear track, and the practice times reflect the limited tire wear. Kevin Harvick dominated final practice, posting the best 10-, 15-, 20- and 25-lap times in Happy Hour, with very little fall off in time as the number of laps increased.
Kansas is also the third 1.5-mile oval with low tire wear that the Cup Series has been to this year while running the 550-horsepower package with aero ducts. The other two races were at Texas and Las Vegas. I'll also lean heavily on data from those two races to find the top values for this weekend's race.
One thing to keep in mind: NASCAR performs its post-qualifying technical inspection at 2:30 p.m. ET, so it's possible cars that have great qualifying positions lose their starting spot if they fail. That means they will start from the rear of the field. If books over-react to this news, it could provide quite a bit of betting value mere hours before the race starts.
Let's dive into the three best betting values to win tonight's race, along with a few additional props
A quick primer on the odds below: A $100 bet at +375 odds would profit $375, while a $200 wager at -200 odds would pay out $100.
Kevin Harvick +375 to Win
The DraftKings Sportsbook is offering nearly 4-1 odds on a Harvick win, and that's simply too good to pass up. Harvick is going as low as +250 at places like the Westgate SuperBook in Las Vegas.
Harvick has everything going for him. His track history is amazing, with finishes of second, second, second, third, and first over his last five Spring races.  His practice times — as mentioned at the top — were dominant. He qualified on the pole position, meaning he'll have clean air to work with at the start of the race, and the best pit stall throughout the race.
Finally, his history at comparable tracks is positive, as well. Harvick had the top green-flag speed at Las Vegas, one of the other two comparable races run under this rules package.
The biggest concern for Harvick would be a mishap or penalty on a late pit-stop. His odds aren't amazing, but it's so hard to find a clear favorite at this price these days that the value is too good to pass up, especially if you can supplement your card with midweek picks, other futures from this column, and race props.
This bet loses value at +300 odds.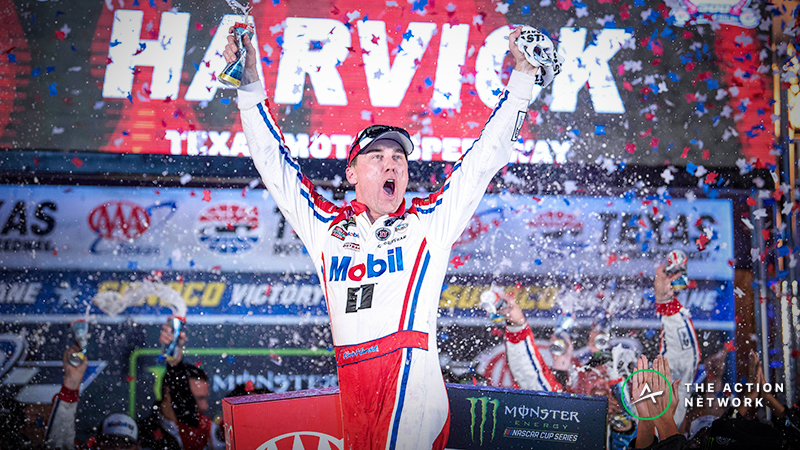 Joey Logano +1375 to Win
Logano hasn't shown much speed this weekend, which I think has moved his odds more than necessary.
Logano opened at +700 at Westgate on the strength of the third-best average green flag speed ranking at the two similar tracks, Las Vegas and Texas. Only Kyle Busch and Denny Hamlin rank better than the defending series champion. I should also note that Logano suffered an issue midway through the race at Texas, despite running near the front most of the race until then, so his green flag rank of 10th at Texas would likely be even better.
Logano has top-five finishes in each of his three most recent incident-free Spring races at Kansas, and also has two wins and four top-eight finishes in his five most recent fall races at the track. He's a threat to win, despite the relatively pedestrian practice times.
Ryan Blaney +2225 to Win, +500 for Top 3 Finish
Over the last eight Kansas races, The Big Three of Kevin Harvick, Kyle Busch, and Martin Truex Jr. pave the way in NASCAR analytics most predictive statistic — Driver Rating. The next driver on the list: Ryan Blaney. His 104.0 Driver Rating includes five top-seven finishes in his last six incident-free Kansas races.
Blaney's only blemishes come in his first ever Cup Series start back in 2014, and a crash with 20 laps to go after leading 54 laps in last year's first Kansas race.
Blaney has had incidents at both the comparable tracks, which make his statistics look worse than they are. He had an overheating issue at Texas after leading 45 laps and claiming the second-fastest green flag speed. At Las Vegas, early tire issues derailed his day after he moved from 13th to ninth on the opening stint of the race.
His practice times weren't spectacular in Happy Hour (eighth in 10-lap and sixth in 15-lap average), but in opening practice he did clock the third-best five-lap average when temperatures were a bit cooler.
The night race will have temperatures closer to opening practice than final practice. I wouldn't bet Blaney to win any lower than +1600.
The top three line at DraftKings of +500 is nice value, but you may be able to squeeze out a bit more as other books add top-three odds throughout the day Saturday.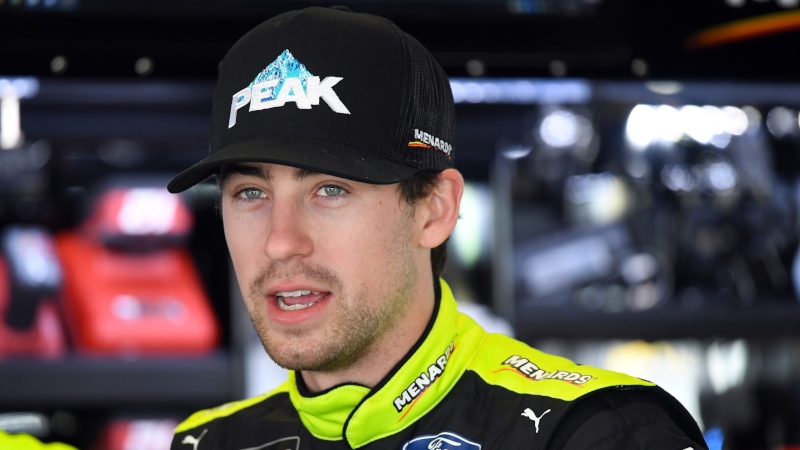 Keep an Eye On: Alex Bowman +6300 to Win and Top-3, Top-5, Top-10 Values
Kansas is a race where I don't love anyone but a handful of top drivers to win, but this value on Bowman is pretty crazy. Bowman has two top-10 finishes at Kansas in three career starts with Hendrick Motorsports (HMS). In final practice, Bowman posted times inside the top five in both 15- and 20-lap average.
As far as odds to win, I think you can make a small play on him at anything longer than +5000, but I'd rather hold out until more books post odds on top-three, top-five, or top-10 finishes.
At the time of publication, he's going off at +135 to finish top-10 at the DraftKings Sportsbook. I would bet him at +135 for a top-10 finish if that's what it came down to, but I ultimately think we'll see a better price later in the day.
The reason why? DraftKings seems to be more bullish on Bowman than most books, posting him at +3300 to win, which likely implies his top-10 odds are also a bit shorter than others might post.
Instead, I'd wait to see if a book that has him around  +5000 or longer to win also lists him with more palatable odds to finish inside the top three, five, or 10. I would buy Bowman if he comes in equal to or better than:
+140 for a top 10
+500 for a top five
+1200 for a top three
Finding lines that meet these thresholds is likely to occur as books that are more bearish on him start to list these types of bets.
How would you rate this article?