NASCAR Betting Picks: Value With Stenhouse Going to Rear at Talladega?
Credit:
Adam Hagy-USA TODAY Sports. Pictured: NASCAR Cup Series driver Aric Almirola (10) during qualifying for the GEICO 500 at Talladega Superspeedway.
NASCAR's GEICO 500 at Talladega Superspeedway will go green at 2:19 p.m. ET on Sunday (FOX).
Nick Giffen offers the best futures bets for Talladega, include two outright winners and one top-10 wager.
NASCAR heads to Talladega Superspeedway for the first race at a track more than two miles in length under the new rules package. Restrictor plates are no more and have been replaced with a tapered spacer to limit the horsepower to 550.
There is also a larger radiator pan, splitter and rear spoiler aimed at limiting speeds to the 200-mph neighborhood. After first practice, NASCAR also mandated the use of a wicker bill after concerns about engines and closing speeds.
What does all that mean for the race? I'm not really sure.
Practice looked like a traditional restrictor plate race, and we did see cars going faster when in a pack than alone, so I expect this race to play out like a traditional restrictor plate race. That means we could be in for a wild 500 miles of racing, with potential for "the big one" wiping out a large percentage of the field.
My betting strategy is to shop heavily for the best lines. Nobody knows how this will play out, so the market should be highly inefficient. That said, I don't love the outright market, but there is value if you shop around.
Aric Almirola +1600
Almirola actually opened at +1400 at Westgate, and after qualifying second for Sunday's race he's now at a head-scratching +1600. He can be commonly found at +1500, but is going as low as as +1300 around the market.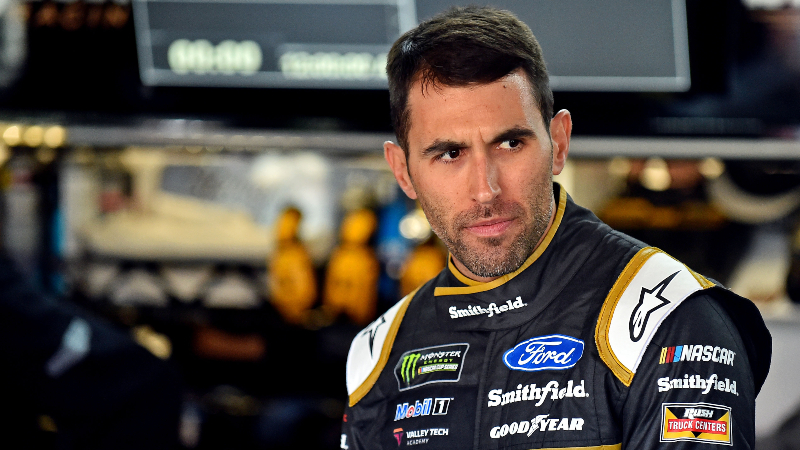 Almirola won at Talladega in NASCAR's most recent trip to the track, and has four straight top-seven finishes here. He was also leading the Daytona 500 last year before being spun from behind by Austin Dillon heading into the third turn of the last lap.
Almirola will have the benefit of teammate Clint Bowyer starting up front with him, and could lead the early laps. That's key to avoiding the big one and putting yourself in position to be around late in the race with a shot at the win.
Ricky Stenhouse Jr. +1750
Stenhouse has finished in the top five in each of his last four incident-free Talladega races, including a win in 2017. Overall, he has six top-five finishes over his last eight incident-free superspeedway races, and in those two races he did not finish in the top five, he led an average of 19.1% of the laps.
The Ford contingent is the favored manufacturer, and while practice times don't matter much, it is nice to see Stenhouse starting in the first three rows while posting the best 10-lap average in final practice. (Update: Stenhouse will now start from the rear after an unapproved adjustment. This doesn't change anything for me.)
Look for him to be aggressive and remain out front for much of the race. If he keeps his nose clean, he'll be a contender for the win.
David Ragan Top 10 +400
The DraftKings sportsbook is home to one of the most egregious lines of the weekend, and while I haven't seen top-10 odds elsewhere, you can be sure when other books start listing top-three and top-five odds, Ragan should also be a nice value for those as well.
Ragan is a talented superspeedway racer with two Cup wins under his belt — one each at Daytona and Talladega. The Talladega win came in 2011 while he was with his current team, Front Row Motorsports (FRM).
During his 11 career superspeedway races with FRM, Ragan has posted six top-10 finishes, for a rate of 54.5%. That's more than twice his implied odds of a top-10 finish at this number.
How would you rate this article?