2022 College World Series Futures: Can Anyone In College Baseball Take Down Tennessee?
Credit:
Bob Levey/Getty Images. Pictured: Christian Scott (left) and Jorel Ortega (right).
With just four weeks left in the regular season, the college baseball landscape has started to form as the contenders are separating themselves from the pretenders.
However, one team has really separated itself from the field, and it would be a surprise to see it knocked out at any point. Although, anything can happen on the diamond.
So, let's take a look at the handful of teams poised to make a run in Omaha and make some nice additions to our portfolio.
---
The Favorites

Tennessee Volunteers (+450)
The Vols are the No. 1 team in the country, and it's not a debate. They're an incredible 38-3 and just set an SEC record for the best start to conference play, going 17-1 against SEC opponents.
That record is no accident, as the Vols have talent all over the diamond.
Their lineup is as daunting as they come. Behind star third baseman Trey Lipscomb, they lead the nation in homers with 93, and Lipscomb has accounted for 16 of them.
However, they're not just sluggers. They also rank 18th in batting average, fifth in OBP and fifth in runs scored.
If you think their lineup is impressive, just look at what the pitching staff has done. Tennessee leads the country in team ERA at 2.02 behind three of the best arms you'll see this year. Chase Burns, Chase Dollander, and Drew Beam have been nearly unhittable this season, combining for a .163 BAA.
Oh, and let's not forget that the bullpen features the best closer in the country in Ben Joyce, who has regularly hit 104 MPH on the gun.
This Tennessee team is special, and it would be a shame if it couldn't finish off the season with a title and cement its place as one of the best college baseball teams of all time.
From a betting perspective, the value has been gone for quite a while as the Vols' extended run only made them heavier favorites. If you got a ticket before April, you're sitting pretty right now.
---

Oregon State Beavers (+1000)
The Beavers have been locked in as the No. 2 team in the country for a while now, but the odds show just how much of a gap there is between them and the Vols.
Their 32-8 record is nothing to scoff at, as Oregon State is a very well-rounded team that ranks top-20 in team batting average and ERA.
However, what gives OSU an edge is its defense. The Beavers lead the nation in fielding percentage.
Oregon State and Tennessee are the only two teams that seem to be a lock to make it to Omaha. However, the Beavs may be a very safe piece as you can hedge them once they're deep into the CWS.
---

Texas Longhorns (+1100)
The odds on the preseason favorite may present some value here.
The Longhorns opened the season as +750 favorites to take home the national title. However, a handful of upsets and a critical injury have dampened that outlook.
Their offense is still what everyone expected it to be. Ivan Melendez is tied for the national lead in homers and has led an elite Longhorn lineup. Texas ranks third in batting average, fifth in homers and 12th in runs scored.
While there are no questions about its lineup, it's the Texas rotation that has caused the hiccups. The loss of Tanner Witt has proven to be a big blow, as the Longhorns have yet to find consistency behind Pete Hansen.
Texas will be a team to watch going forward — the lineup can slug with the best of them. But can it manage to outscore teams repeatedly?
Let's not forget the Longhorns own a victory over Tennesse, so their ceiling is as high as any despite the pitching woes.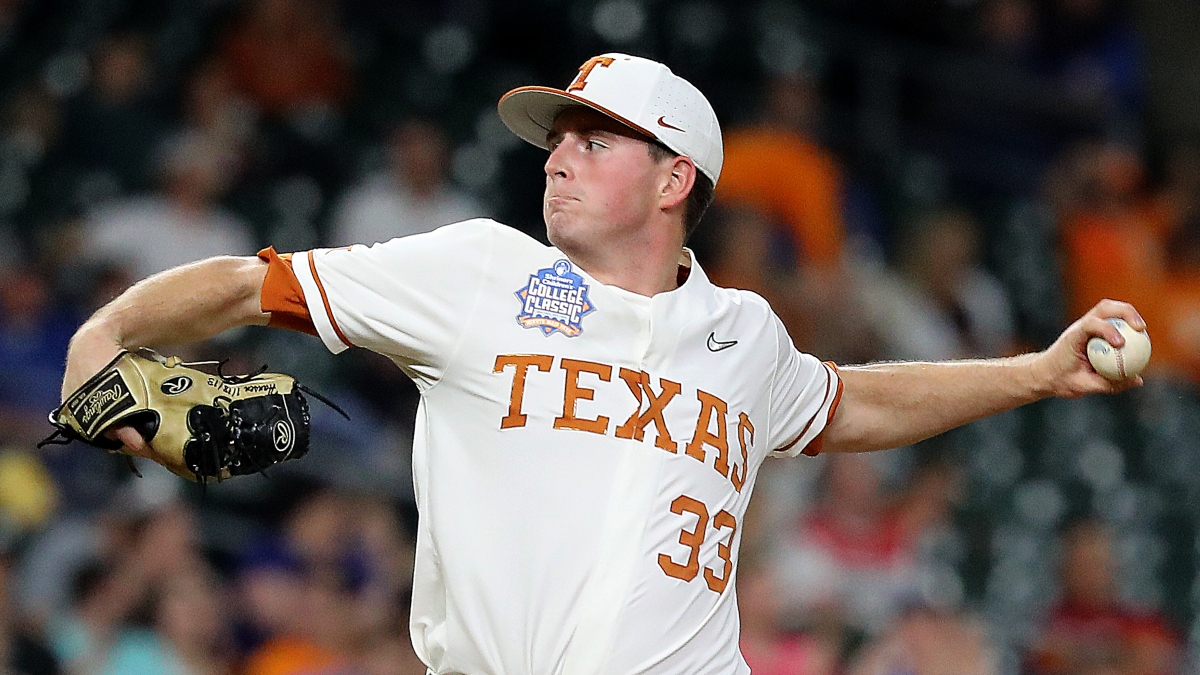 ---
Undervalued Contenders
Notre Dame Fighting Irish (+2200)
Teams that are undervalued in the market will generally have one thing in common: Great pitching. However, the Irish have proven they're much more than a pile of great arms.
Their staff, led by John Michael Bertrand, has been outstanding, ranking 13th in the country in team ERA. Their excellent pitching has given them a fallback for when the bats are cold, but their lineup has stepped up against elite competition this season.
Notre Dame has swept Florida State, Wake Forest and Clemson. It also took two games from NC State after scoring 19 runs in the series.
The Irish's road to Omaha may be challenging, but don't sleep on them.
---
Gonzaga Bulldogs (+4000)
Just like the Irish, what makes the Zags dangerous is their rotation. For my money, the Zags have the best three-man rotation in the country behind Tennessee.
Although William Kempner hasn't returned from injury, there's hope that he will return this season and restore the Zags' three-headed monster.
Gabriel Hughes has some of the best stuff in the country and is fifth in the country in strikeouts while maintaining a 2.42 ERA and .187 BAA.
Behind him is Trystan Vrieling, who is equally as nasty. He's racked up 83 strikeouts in 61 innings of work and has a 3.38 ERA.
Last is Kempner, who has been recovering from a finger injury since early March. He was very impressive when healthy, boasting a 1.69 ERA in three starts to go along with a .218 BAA.
These three combined for a compelling sweep of Oklahoma State back in March as they announced their presence on the national scene. Since then, they have done nothing but dominate the WCC and even split a series with Oregon State in Corvallis.
If Kempner can get back before the end of the season, the Zags are a legit dark horse.
How would you rate this article?
This site contains commercial content. We may be compensated for the links provided on this page. The content on this page is for informational purposes only. Action Network makes no representation or warranty as to the accuracy of the information given or the outcome of any game or event.