What Is NBA Top Shot? Blockchain NBA Highlight Market Explodes With 5-Figure Sales
Credit:
Via NBA Top Shot. Packs run from $9 to $230.
The skyrocketing sports card market took a back seat this week to a company that sells NBA highlights. The buyers don't own the highlight — the NBA does — but the fans do own the limited edition numbered version of it, which they can collect, trade and sell.
Heads turned last week when a group including FantasyLabs co-founders Jonathan Bales and Peter Jennings bought a Ja Morant highlight off NBA Top Shot's marketplace for a then-record $35,000.
Days later, SnapBack Sports founder and former Action Network employee Jack Settleman arranged a group to buy a LeBron dunk for $47,500.
If all this is a bit confusing to you, you're not alone. Explaining the value of digital collectibles has always been challenging. Add in the complexities of blockchains, and it requires an education for anyone not intricately familiar with cryptocurrency.
The product is called NBA Top Shot. It was born out of a deal a blockchain company named Dapper Labs did with the NBA in July 2019, but the company didn't start doing anything significant until this season. Up until last month, Top Shot had done about $7 million in sales.
Ever since the publicity of the Morant sale, the marketplace has seen more than $1 million in sales on the platform every day. The company is close to $20 million in sales — $6 million from packs, and $14 million on its secondary marketplace, with more than half of that in the last month.
There have been five sales of more than $20,000.
| Highlight | Price |
| --- | --- |
| LeBron James Dunk | $47,500 |
| Ja Morant Dunk | $35,000 |
| LeBron James Dunk | $26,543 |
| LeBron James Dunk | $25,000 |
| Giannis Antetokounmpo Dunk | $20,000 |
Here's how it works.
The NBA cuts the highlights, then Dapper figures out how many of each they are going to sell and numbers them. They put them into digital packs, just like traditional cards, and sell the packs for between $9 and $230, depending on the quality of the highlight, the player and how limited it is. Upon buying, those highlights go into a buyer's encrypted, secure highlight wallet.
Just like in traditional card packs, collectors can get common cards or coveted highlights, with the specific number of a highlight also a part of the appeal. The No. 1 always has value, but so too does the number correlated to a player's jersey.
Let's take the Ja Morant dunk that went for $35,000. That was part of the first series of that dunk release called the Cosmic.
The original owner got it out of a pack and sold it in November for $1,999. That owner sold it to the current team, making 15-times his money in less than 50 days.
On the marketplace now, there are three sellers offering their version of the Morant dunk from the Holo series, the second version that came out. They are each valuing their edition at $100,000 based on the fact that the Holo series is only numbered out of 25.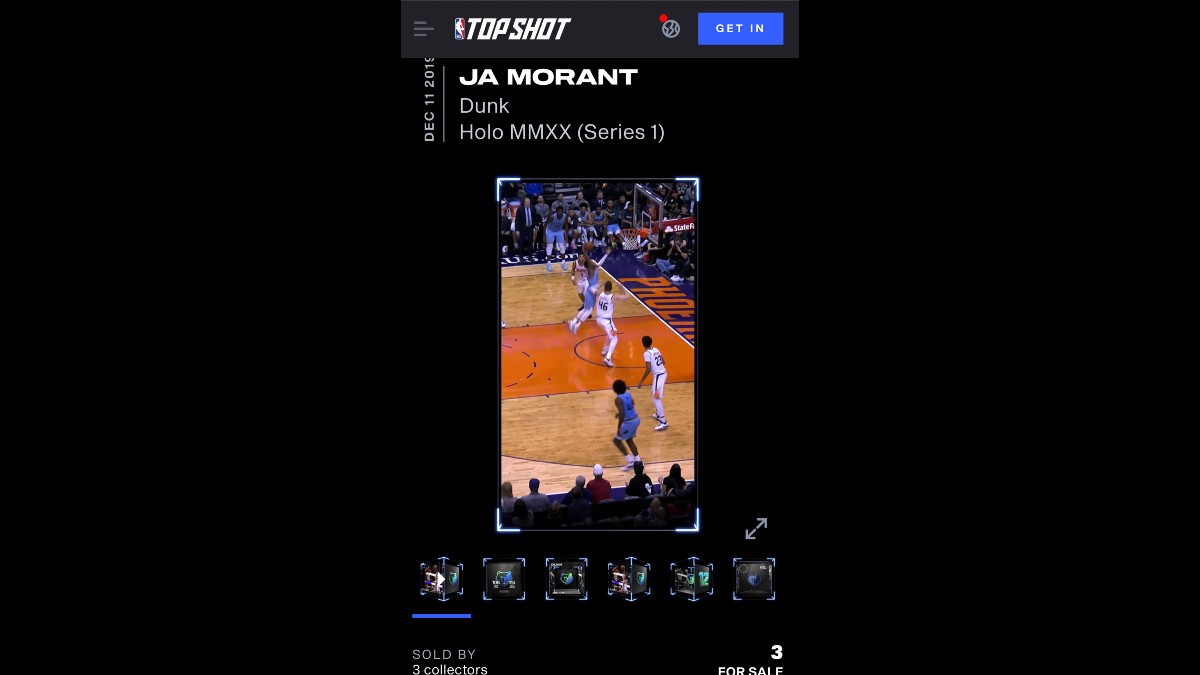 It's true that anyone can view a certain highlight on YouTube and those who own NBA Top Shot moments don't get any incremental revenue from views. Those are the two more common points brought up by critics of this concept.
But the value is in the scarcity that Dapper creates.
"There are guys buying trading cards and they're never taking the custody of the cards before putting them into vaults," said Roham Gharegozlou, CEO of Dapper Labs. "There are people buying shares of cards on sites like Starstock, without ever seeing the card. This is the same concept. We have a lot of believers in what we offer and we have people who don't get it. That's OK. We can't please everybody."
When it comes time to trade or sell, collectors go into their digital highlight reel and place what they want to unload on a marketplace. When something sells, not only does Dapper get a cut, but so too does the NBA, an intriguing wrinkle in the space.
When the NBA does a traditional trading card deal, licensing rights are based on projected primary sales and never take into account the secondary market because the card company doesn't get a piece of that, nor does the NBA. Here, both players get an undisclosed crack of the revenue twice.
NBA Top Shot's biggest power user is a guy who calls himself Pranksy, a 29-year-old game designer and collector. He says he's spent at least $800,000 on the platform, most of which he used to buy out accounts since the beginning of the month. He says he has sold $1 million worth of his highlights on the marketplace and the highlights he owns are worth around $3.1 million.
"This takes the traditional collectible into a modern, global era," he told The Action Network. "All markets are immediate and international. No longer do you have to wait for a card to be graded, or delivered, or fear of forgeries. Yes, the tradeoff is you no longer have that card on your mantelpiece, but in an age dominated by TikTok and Instagram, is that really what the younger generations want anymore?"
Pranksy said he can tell when he has discussions with Top Shot collectors what world they come from — crypto or traditional cards. He says those who come from the traditional card world initially value certain aspects of the concept differently than those who come from the crypto space.
Settleman says he put 60% of his collectibles money into traditional cards, but the 40% he has in digital, which is all Top Shot, is now worth more than what he owns physically.
"The young collectors gravitate to this market quicker because we've done versions of this before," Settleman said. "We would buy digital packs, like NBA2K player packs for the game and we'd spend $500. The difference is that when the next version of the game came out, what we spent on the previous year was worthless. That's not the case here."
Dapper Labs isn't a newbie to this market. In fact, its original company, Axion Zen, has the greatest track record of digital art sales. The company was behind CryptoKitties, which allowed people to collect virtual cats. Seven million dollars worth were sold on the primary market and nearly $30 million of them were sold on a marketplace.
Seeing that CryptoKitties was putting a strain on the Ethereum platform due to massive increases in pending transactions, the company decided to take on an investment by Union Square Ventures and Andreesen Horwitz, among others, and start its own blockchain technology called Flow.
Unlike forms of cryptocurrency, like Bitcoin, which are readily exchangeable, each NBA Top Shot collectible is a non-fungible token (NFT), which means the value isn't in the token, it's what comes with it. NFT's can only have one owner and they cannot be copied.
There are plenty of critics who say a highlight that you buy to own but only own the specific limited edition number of that highlight is a dumb idea. But some of those critics were the same people who doubted bitcoin, which reached $40,000 earlier this month.
Gharegozlou is mum on specific future plans, but says doing deals with other leagues is absolutely the plan, as is making digital collectibles a larger piece of the collectible pie.
"The trading card business is worth $5-$6 billion annually," Gharegozlou said. "I don't see why we can't get to a place where this business is grossing $1 billion alone."
In addition to our resources on digital collectibles, check out our very own NBA picks, futures, projections, and odds.
How would you rate this article?
This site contains commercial content. We may be compensated for the links provided on this page. The content on this page is for informational purposes only. Action Network makes no representation or warranty as to the accuracy of the information given or the outcome of any game or event.