$619K in 3 Weeks: Meet 'Parlay Patz', the 23-Year-Old Bettor Who's on the Heater of a Lifetime
It's Wednesday and Ben Patz is in his all too familiar spot: Behind the wheel of his spanking new 2019 Mercedes C63 coupe in the parking lot of the H-Mart Korean Grocery in Fort Lee, N.J.
He doesn't live around here. He actually has been to this parking lot more than 20 times and he only walked into the grocery once. He picked up some California rolls and a iced green tea, went back into his car and sat for a couple more minutes.
So what is a 23-year-old college kid doing in that car in this parking lot?
He's betting.
You see, Patz lives in New York City and he wants to bet legally. Since he can't do it in New York, unless he takes a long ride upstate, he either drives up the FDR to the George Washington Bridge into New Jersey and pulls off at his nearest chance (the H Mart) or he takes the F Train from Manhattan to the PATH to get to Hoboken, gets off the train and makes his home at the Starbucks across the street.
"I kind of like the inconvenience," Patz said of traveling to the Garden State. "Otherwise, it's just too easy to make a bet."
Plenty of New Yorkers have made this trek over and over. But Patz isn't your normal bettor. Some of his friends call him "Parlay Patz." And it's no wonder. The Action Network confirmed that Ben Patz has seen four parlays come through in the last three weeks to the tune of $618,883.
Last month, Patz hit a $1,800, 15-leg parlay for $237,000. This weekend, he hit a $7,000 13-leg parlay and won $326,000 when the New England Patriots beat the Philadelphia Eagles.
When Patz turned 18 he says he opened an account offshore and bet $90 on Floyd Mayweather to beat Manny Pacquiao. He says he developed a big bankroll, took a break while in France for a year-and-a-half and came back and eventually lost it all.
About three years ago, he says he won a 12-team parlay and netted about $75,000, but it was on an illegal offshore site and only managed to get $12,000 out.
But it's only recently that Patz landed on the radar of the sports betting world.
On Oct. 14, Patz says he bet $19,000 on the Packers moneyline. Green Bay won by one in regulation on a Mason Crosby field goal as time expired. "It really made me think about it," Patz said. "Teams aren't trying to cover, they are trying to win. And so it got me more comfortable with the moneyline."
That's when the run started.
On Oct. 27, Patz won $237,200. On Nov. 1, his $25,000 three-team parlay netted him $22,202. On Nov. 7, a $20,000 four-team parlay hit for $33,481. And then on Nov. 17, he won $326,000.
A spokesperson for William Hill confirmed that all four big parlay bets were made by the same bettor and Patz showed The Action Network proof of his wagers.
Patz says he's careful with how much to throw down on these parlays, showing us a screengrab of his toying with this weekend's bet.
"I almost bet $40,000 [instead of $7,000] on this parlay," he said. "Would have won $1.8 million."
Despite what some have intimated, Patz says the bankroll is all his and it doesn't come from some kind of trust fund money.
He's mixed some bad losses in with the huge wins.
"It's not like I pretend it's all magic," he said.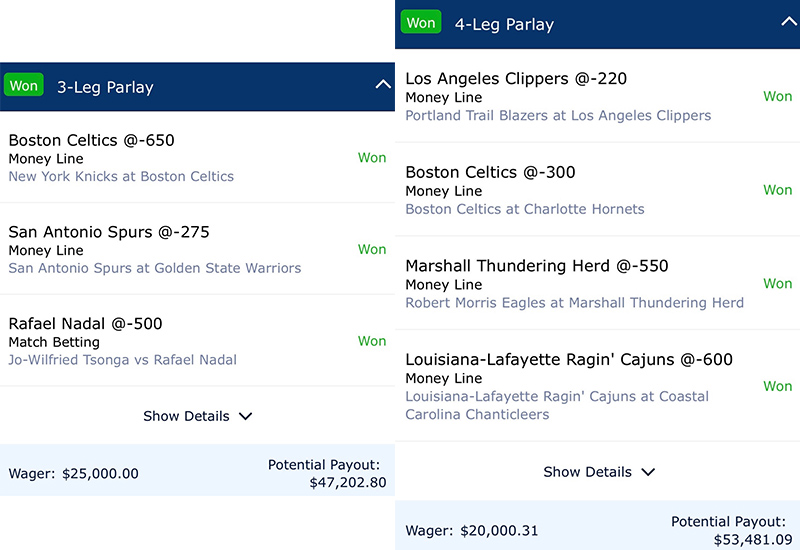 On Nov. 4 — smack dab in the middle of two parlay winners that netted him $55,683 — he lost a $45,000 3-team parlay after the Trail Blazers squandered a lead against the Warriors. The next day, he lost $30,000, 7-team parlay when Alabama lost 81-80 to Penn.
"No Curry, no Draymond, no Klay, no D'Angelo," Patz said. "Got beat by the G-League Warriors."
And Alabama?
"Alabama got fouled with two seconds left, down by one" Patz recalled. "Its best player missed two free throws and the Tide lost."
Some bettors, especially professionals, make it a point not to watch the games they bet on, Patz tries to watch 'em all.
"If I have a parlay, I try to catch as many games as I can," Patz said. "Part of me feels like I have to watch the game to win."
Stringing so many games together on parlays, including weekday tennis matches and basketball games has its sacrifices. He's studying political science and business, but admits he's watching some of his games while in class.
This weekend, he flew friends in from Paris and California with some of his winnings, but, at times, he was preoccupied with the games.
"It's a bit distracting knowing that you will either lose $7,000 or win a third-of-a-million," Patz said, laughing.
And when Patz won big again on Sunday night, he said he didn't exactly go crazy like all those videos that are posted on social media.
"It wasn't like all those Bleacher Report videos you see," Patz explained. "I just stared at the TV and thought to myself, 'Holy Crap!"
Patz isn't sure exactly how much he'll allow himself for his bankroll going forward. The one big purchase he's made since winning is that gleaming Mercedes coupe.
After a long conversation about his new reality, Patz broke a smile.
"This is all ridiculous."
Editor's note: The original version incorrectly calculated Patz's profits on his four big parlay hits as being $672,000. It has since been corrected.
How would you rate this article?
This site contains commercial content. We may be compensated for the links provided on this page. The content on this page is for informational purposes only. Action Network makes no representation or warranty as to the accuracy of the information given or the outcome of any game or event.