How To Play Online Poker: 4 Tips For Beginners
Credit:
Steve Russell/Toronto Star via Getty Images
Want a chance to play poker against Darren Rovell and win your share of $12,000? Sign up at 888poker and deposit at least $10 using the promo code ACTION888 and receive tickets to play in seven of their daily all-in freeroll tournaments. Winners earn a seat at Rovell's $1,000 table this Sunday night. You'll also receive an invitation to play against Rovell in a $10,000 tournament on July 5. New Jersey only.
---
Welcome to the new poker boom in the age of the coronavirus.
While the sports betting calendar remains fluid with the PGA Tour starting up and the NBA scheduling tip-off, online poker has had a surge in volume due to quarantine — in fact, New Jersey saw a 114% year-over-year increase in online table games and poker in April. The last time online poker had this presence was the "Moneymaker effect" of 2003.
A plethora of individuals have dusted off their skills at an online table, while a copious amount of beginners seek poker games for the first time.
This article is for you first-time players.
There's plenty of decision-making in a short period of time when playing online poker — anxiety mounts with table position, hole cards and handicapping your opponent — so arming yourself with a few strategies can help you take on the flourishing online poker world.
Online Poker Tips
1. Memorize Poker Hand Rankings
The end goal is simple in Texas Hold'em: Have the best set of five cards when betting comes to an end. So new players have to know that a two-pair loses to three of a kind or that a full house beats a flush, and so on.
With that in mind, here's a look at the poker hand rankings:
2. Employ A 'Tight But Aggressive' Strategy
One of the biggest mistakes new poker players make is getting involved in too many boards.
With an understanding of the poker hand rankings, making a decision on which hole cards to play becomes the next step. And knowing the win probability of hole cards without reference to your opponent is key.
Below are all hole card combinations, with an 'S' signifying suited cards and an 'O' signifying off-suite.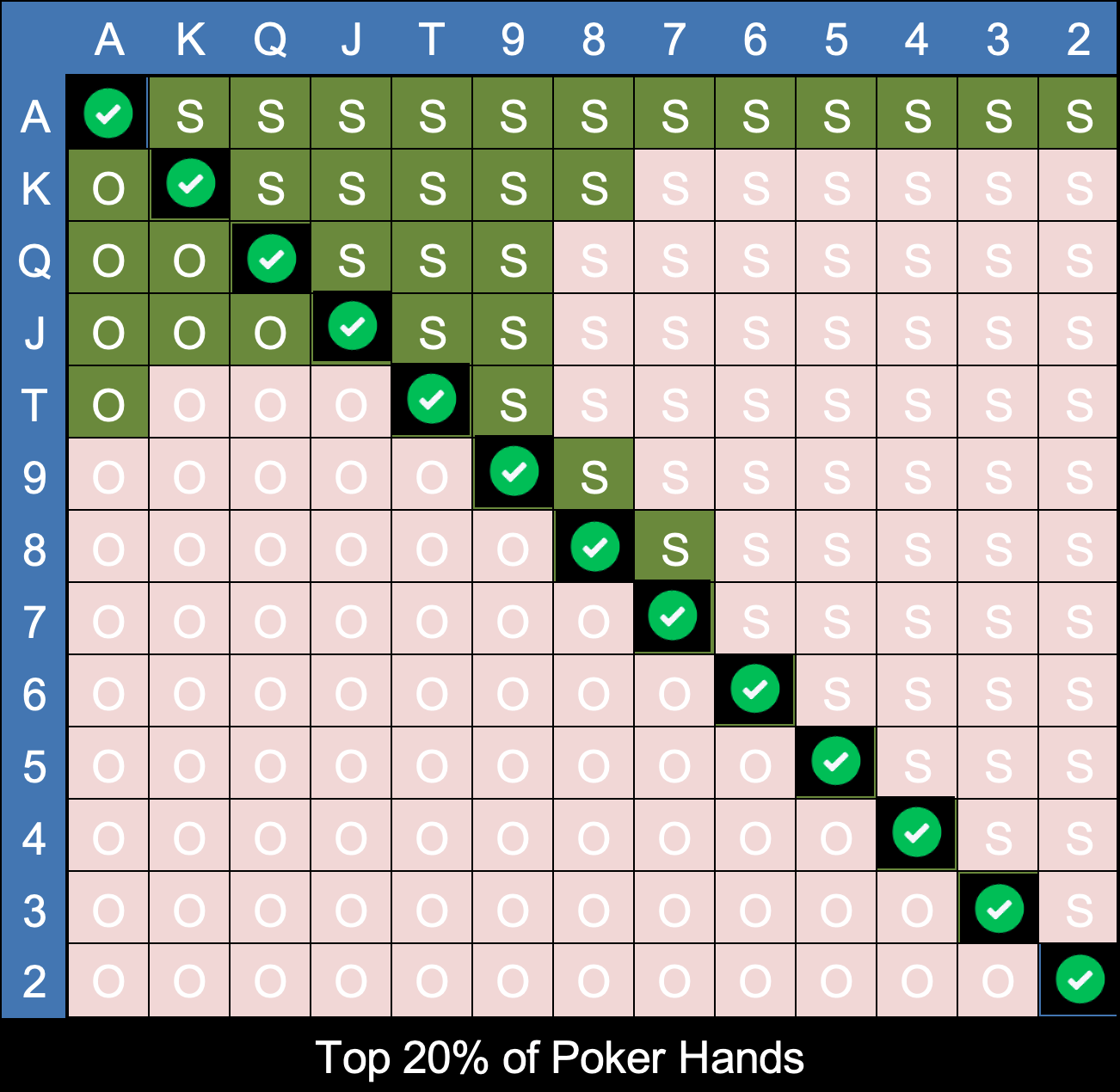 The idea for a new player is to make that first decision with a 'tight but aggressive' mantra. Whether it is a pocket pair or two face cards, playing aggressive is key when a new player should be seeing only 10% to 15% of flops during a game.
Seasoned veterans will recognize that the new player only plays strong cards, thus setting up a potential bluff later in the game.
3. Limit the Bluff
There may not be a greater high in poker than bluffing your opponent out of a hand. Those moments are perfect for an edited television show, but in a lengthly live sit down, those attempts should be limited.
New poker players love to stare at hole cards 4♦️ 3♦️ and make a case that suited connectors will make a straight flush on the flop. Once the board misses those hole cards, a player is left in a bad position to fold or bluff. Be assured that many other informed players at the table are also only playing top 20 hole cards.
The best option for a new player wanting to implement a bluff is to show cards on winning hands. Playing tight and showing Q♦️Q♣️ or A♦️K♣️ give the perception to the table of a new player who is tight.
When the button position and hole card combination is right, a poker player has the flexibility to get creative.
4. Understand Button Position
The button is simply a term to signify who the dealer is. When playing home games, one person always deals and generally that person is last for action.
Poker is a game of information, and gathering as much intel as possible is paramount to success. New poker players are encouraged to play tight and manage the proper hole cards, but in the correct position, there can be flexibility.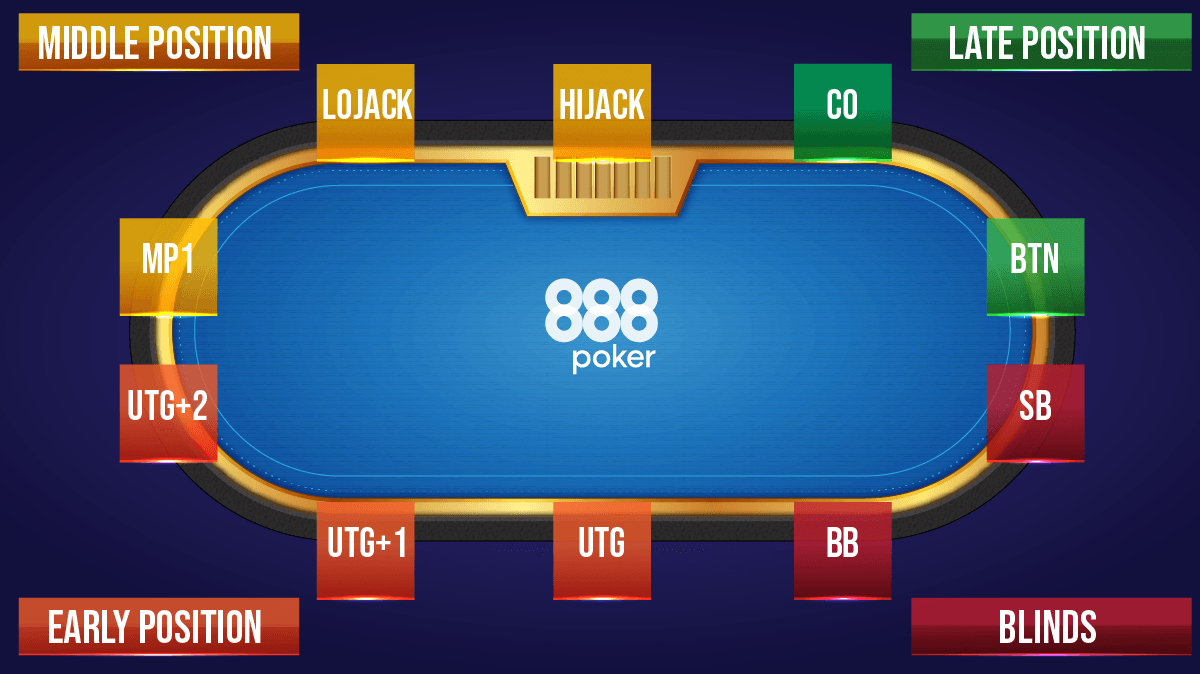 A typical poker table sits up to 10 players, thus dictating plenty of positions as the button orbits the table. Late position — described as the button or cut off seats — has the most flexibility in play. If you are looking to play some of the lower percentage starting hole cards, late position allows time for opponents to give information on the strength of their hand.
Conversely, the blind position is where a player should be tight with any size or bet above the big blind value. Small and big blind will be the first action, and at a disadvantage from an information standpoint. Early and middle position strategy should include your chip stack size in relation to the big blind value. If a poker players chips dip below 20 times the current big blind, early and middle position should look to steal blinds before another orbit around the table.
Taking these quick lessons should help anyone new to online poker.
Keep an eye out for more online poker strategy pieces in the coming weeks — we'll further discuss the top 20 hole cards, different strategies for heads up and what to do when the button position is under the gun.
Until then, let's all shuffle up and deal during quarantine.
How would you rate this article?