2021 Fantasy Tips For Beginners: How To Actually Draft with Rankings & Mock Drafts
Credit:
Ronald Martinez/Getty Images. Pictured: Ezekiel Elliott, Dak Prescott
Fantasy football draft season is here. And whether you're drafting for the first time or could use a refresher on the basics, our trio of analysts have you covered with how to use rankings and mock drafts to inform your strategy.
---
How To Draft with Fantasy Rankings
Chris Raybon: You have to factor in average draft position (ADP) when using rankings to draft.
If a player is ranked 90th but his ADP isn't until the 150th pick, you should be waiting until at least the 130th or 140th pick to draft him. That's how you start to build a team with plus-net expected value because you're not just drafting based on rankings.
That's where so many people go wrong: You shouldn't draft based only on rankings, you want to use rankings to find value by comparing it to ADP.
Sean Koerner: Like Raybon said, one of the biggest mistakes people make when using my rankings is they use them to a tee. In those cases, people are typically drafting players they could get three or four rounds later.
When you do that, you're actually destroying the value.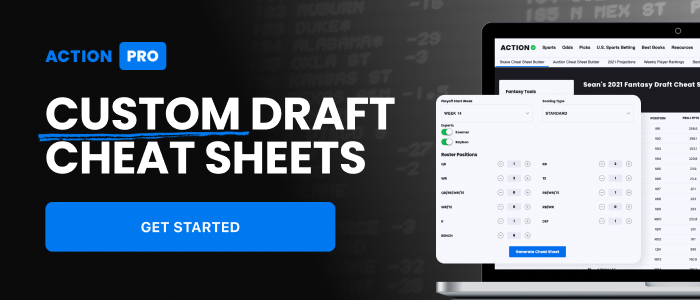 Another thing to consider is that ADP can get pretty stale, so when you're drafting in the coming weeks especially, you have to be aware of news.
A good example was back in 2017, when I was in the middle of a draft when Spencer Ware got hurt in the Chiefs' third preseason game. At that point, Kareem Hunt's ADP was reflective of the two months before that — not that moment — so I had to update on the fly where I wanted to draft him.
Be aware of which guys might have stale ADPs — it takes awhile for that data to catch up to breaking news.
Samantha Previte: Rankings and ADP are very important tools that can give you a general sense of how industry experts and the public perceive players, but there's an important balance to strike to ensure you're not leaning too heavily on these metrics.
First and foremost, I believe that understanding your league's settings and draft day habits should carry as much weight as rankings (if not more) when it comes to developing strategy. Knowing that your league drafts tight ends early is going to be more valuable information than knowing that Logan Thomas is consensus-ranked as an eighth-round pick.
Second, it's important to not rely on any single source for rankings. I like to average rankings across a number of different analysts and weight them based on previous accuracy, though there is no "correct" approach to this.
One way you can use both rankings and ADP is looking at the disparity between the two, which gives you a pre-draft lens into where there may be exploitable market opportunities. For example, if you notice that Cowboys wide receiver CeeDee Lamb is being drafted 10 spots above consensus rank, the general population may be overvaluing him due to factors such as name recognition, and you can appropriately hedge.
Lastly, building a roster is an art, not an exact science. If you rely on rankings alone to build a team, there's a solid chance you'd end up with a positionally-imbalanced roster.
Don't draft a sixth wide receiver just because he's the highest ranked available player.
---
How To Use Fantasy Mock Drafts
Previte: Practice makes perfect, but not all practice is created equal.
Mock drafting on sites against strangers or against the apps themselves can be fun and valuable in terms of gaining muscle memory and training your brain to build teams and react on the clock. But they seldom provide actionable data points for your league's specific draft.
People tend to not take these very seriously since there is nothing at stake — which skews how you'll mock draft in turn — and drafting against an automated player only gives you insight into how the platform's autodraft might pick.
Mock drafts with friends or people you know won't troll you and take three kickers in the first three rounds can be useful tools that I encourage everyone to try. However, even these have low/no stakes and can be quite skewed from reality.
If you are really serious about getting reps in before the big day, I'd recommend doing some low-cost best ball drafts. Yes, the strategies vary slightly from best ball to redraft, but the entrants will be significantly more motivated than they would be in a mock, which will be a better reflection of an actual, competitive draft.
Remember: Perfect practice makes perfect.
Raybon: Mocks help you visualize how to actually execute during a live draft when under pressure.
Also, when you do a mock draft, it's important to actually finish it. Drafts are won in the middle and late rounds, so when people only mock the first five rounds, it's not useful.
A shortcut for those who don't want to mock is to run through an upside-down hypothetical of your draft.
Get a list of ADP, then start from the bottom: Which players offer value in the late rounds? If you're looking at who is gonna be available in the 14th round of a PPR draft, for example, you can see that there will be wide receivers available. Then repeat that process all the way up to the top of the draft.
As we always say, you don't want to go into a draft with too rigid of a strategy. A lot of trendy strategies are top-down strategies in which you're focused on what to do early in the draft, not what you're doing later. But when you have an idea of how the draft will unfold in the later rounds, you have a clearer idea of what to do with your early picks.
Koerner: The final point I'll make is to remember that in live drafts, you have only a short time to make a pick, and you don't want to panic. So if you don't practice at all, it could turn into a disaster.
How would you rate this article?