Fantasy Football Buy Low, Sell High: Week 2 Trade Targets, Including Aaron Rodgers, Clyde Edwards-Helaire & More
Credit:
Sam Greenwood/Getty Images. Pictured: Aaron Rodgers.
Welcome to overreaction week — or as others call it, Week 2 of the NFL season.
Week 1 set many of our preseason speculations ablaze. The Packers and Falcons were held to just nine combined points. The Texans and Lions might not be the laughing stock of the NFL this year. The Chargers held onto a close lead. Never count the Chiefs out of a game. And the Jets are still the Jets.
It can be difficult to separate the wheat from the chaff with such a small sample size. Stay calm, don't fall for fool's gold, and capitalize on others' premature panic.
As we approach Week 2, here are the trade targets who saw their values shift after last week's slate of games.
Buy-Low Week 2 Trade Targets
Below are fifteen Week 1 underperformers who you may be able to acquire at a fraction of their draft capital. 
Aaron Rodgers, QB, Packers
Rodgers completed 15 of 28 attempts for 133 yards, zero touchdowns and two interceptions against a stout Saints defense and scored just 3.3 fantasy points. He finished as QB34 behind Trey Lance, Andy Dalton and Justin Fields — ouch.
Better days are ahead for this Packers offense which should come as early as Week 2 against the Lions. It's a fantastic bounce-back spot for Rodgers. Swoop him up before that matchup from a panicking manager.
Clyde Edwards-Helaire, RB, Chiefs
Edwards-Helaire saw 14 carries for 43 yards and caught three of three targets for 29 yards against a tough Browns run defense. He scored scored 8.7 fantasy points in half PPR and finished as RB32. He was the only Chiefs running back with more than one carry in the game.
His unrivaled role in this high-octane offense should outweigh one lackluster Week 1 game. In Week 2, the Chiefs take on the Ravens who just gave up a two-touchdown game to Josh Jacobs.
Ezekiel Elliott, RB, Cowboys
Elliott put many fantasy managers in a hole after a Thursday night dud on national television. He saw 11 carries for 33 yards and caught two passes for six yards — good enough to finish as RB44 with 4.9 fantasy points. It's not the performance managers hoped to see, but it should have been at least somewhat expected in a matchup opposite the Buccaneers' shutdown front seven.
Stat lines don't tell the whole story: Elliott was also deployed in a blocking role to protect quarterback Dak Prescott, who is returning from a major injury. His role should shift as the season progresses and he is an excellent buy-low target.
Javonte Williams, RB, Broncos
Melvin Gordon stole the show on the ground for the Broncos on Sunday due in large part to a 70-yard touchdown. Williams actually saw more touches in his rookie debut and posted 14 carries to Gordon's 11. He rushed for 45 yards and caught his one target for -4 yards, good enough for 4.6 fantasy points and a RB46 finish.
It's somewhat disappointing given Williams was consensus drafted multiple spots ahead of Gordon, but this was the team's plan all along, according to Broncos insider Benjamin Allbright. He added that managers should expect a "60-40 [workload] split" between the pair moving forward. Williams' next matchups are against the Jaguars and Jets, so the buy-low window may be brief.
Saquon Barkley, RB, Giants
Barkley had a slow start in his return from tearing his ACL and meniscus less than a year ago. He saw 10 carries for 26 yards and caught one of three passes for one yard against a tough Denver run defense, all of which equates to just 3.2 fantasy points. His RB51 finish may be enough to scare off an overreacting manager concerned about his health.
The Giants face Washington next week, which may not bode for an immediate bounce back, but they face the Falcons in Week 3. Exercise patience — it's a 17-week marathon, not a sprint.
Aaron Jones, RB, Packers
Jones tied Barkley with 3.2 fantasy points (RB51) as the Packers put up a paltry three points against the Saints. He saw just five carries for nine yards and caught two of two targets for 13 yards. It's certainly a far cry from 2020 Jones, who finished as RB5 through 16 weeks.
Jones and the Packers as a whole should have no problem bouncing back in Week 2 against the lowly Lions, who just gave up a 100-rushing yard game to a rookie sixth-round pick.
Derrick Henry, RB, Titans
Henry was a non-factor for a lot of this Titans-Cardinals game. He ended up with 17 carries for 58 yards and caught three of four passes for 19 yards. His 9.2 fantasy points didn't kill you, but a RB29 finish from a top-five draft pick is less than ideal. The volume is still very much there and Henry has next to no competition from the Titans' depth chart: Jeremy McNichols and Mekhi Sargent saw a combined three carries for 11 yards.
The Titans were trailing for most of the game which hurts the team's rushing attack. Ryan Tannehill was also sacked six times by Arizona's pass rush. Do not push the panic button: He should bounce back against the Seahawks next week.
Brandon Aiyuk, WR, 49ers
Perhaps the most frustrating of this weekend's "Shanahanigans" was Aiyuk's usage — or lack thereof. He had been dealing with a hamstring injury, but his absences from practice seemed precautionary more than anything. He bageled after seeing zero targets and one special teams play, with the team instead opting for Deebo Samuel and Trent Sherfield.
Head coach Kyle Shanahan is notoriously mercurial (though more so vis-à-vis running backs) and assured the media that Aiyuk had not fallen out of his good graces and that the decision was based on his health. Long term, Aiyuk should be fine, though any 49ers player not named George Kittle carries inherent risk.
Allen Robinson II, WR, Bears
It was a brutal Week 1 matchup for Robinson on the road with a new quarterback, going up against the Rams' lights-out secondary that allowed the fewest passing yards per game last year. He caught six of 11 targets for 35 yards, or 6.5 fantasy points, and finished as WR68.
Robinson won't be shadowed by Jalen Ramsey every week, and the impending switch at quarterback will benefit him down the road. The Bears face the Bengals in their home opener this Sunday, which is a great matchup for the Chicago pass catchers.
Julio Jones, WR, Titans
The Titans had trouble getting anything going in their 38-13 loss to the Cardinals. Derrick Henry was a non-factor for most of the game, and Ryan Tannehill looked lost against Arizona's pass rush, which sacked him a league-worst six times (tied with the Jets). Jones was impacted by this and caught three of six passes for 29 yards in his debut for the Titans. He scored 4.4 fantasy points and finished as WR78.
It's far too early to panic on Jones, although he did seem to upset head coach Mike Vrabel over a costly penalty. He has the Seahawks, Jets and Jaguars over the next four weeks and should put up significantly more production in those matchups.
Mike Evans, WR, Buccaneers
Evans seemed like an afterthought in the NFL season opener. He caught three of six passes for 24 yards, while Antonio Brown reeled in five of seven passes for 121 yards and a touchdown; Chris Godwin caught nine of a whopping 14 targets for 105 yards and a touchdown; and Rob Gronkowski caught all eight of his passes for 90 yards and a pair of touchdowns. Evans scored 3.9 fantasy points and finished as WR81.
It's certainly a letdown for managers: The 28-year-old was the team's top receiver last season with 70 catches for 1,006 yards and 13 touchdowns. There will be more competition from Brown, it appears, which could impact Evans' target share, but he has been a reliable red-zone target for Tom Brady. Buy low on him now if you can because the Buccaneers have the Falcons on deck. Atlanta allowed the most passing yards per game in the NFL last year and looked just as permeable in Week 1 against the Eagles.
Calvin Ridley, WR, Falcons
None of the Falcons had particularly good Week 1 performances in their 32-6 loss. The Eagles boxed up Matt Ryan — who threw for just 164 yards and zero touchdowns — and held the run game to modest numbers. Ridley caught five of eight targets for 51 yards and was the team's top receiver. He scored 7.6 fantasy points and finished as WR61 — tied with Braxton Berrios.
The Falcons won't look this bad all season, and they should be in a number of negative game scripts this year due to their defensive shortcomings. You may want to hold off on buying Ridley until after the team's Week 2 matchup against the Buccaneers when his value will be at its nadir. Atlanta faces the Giants and Jets over the following three weeks.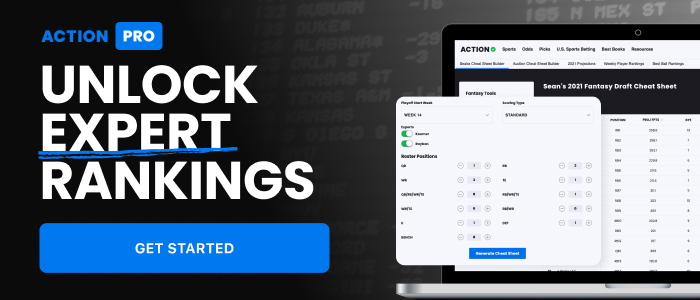 Mark Andrews, TE, Ravens
Andrews had a quiet Week 1 against the Raiders and was the team's fourth-best receiver. He caught three of five passes for 20 yards, which works out to 3.5 fantasy points — good enough to finish as TE33 tied with Blake Jarwin. Meanwhile, Sammy Watkins reeled in four of eight targets for 96 yards and Marquise Brown caught all six of his targets for 69 yards and a touchdown.
Still, Andrews is the top pass catcher on the Ravens offense and with Watkins' and Brown's injury histories, he is the most reliable bet for fantasy.
Robert Tonyan, TE, Packers
This entire Packers offense is a buy-low after they were shellacked against the Saints and held to one field goal. Tonyan caught two of four targets for eight yards and scored 1.8 fantasy points, finishing as TE42.
I expected Tonyan to come back down to earth after his insane 11-touchdown season in 2020. Still, he will be a fringe top-12 tight end each week (including next week against the Lions), so if someone is selling him for pennies on the dollar, he might be worth acquiring for certain matchups.
Kyle Pitts, TE, Falcons
Pitts was a non-factor in his rookie debut. He caught four of eight targets for 31 yards and scored 5.1 points, finishing as TE24.
While disappointing, his production was clearly capped by the Falcons' offensive struggles. Don't panic after one lackluster game. Do you know who else had bad rookie debuts last year? Jonathan Taylor and Justin Jefferson. Don't be that guy that panic-sell Pitts.
Same logic applies as with Ridley: You may want to wait until Week 3 to buy-low on Pitts after he faces the Buccaneers. 
Week 2 Trade Targets To Sell-High On
Below are 10 Week 1 overperformers you should consider selling at their pinnacle value before they come crashing back down to earth. 
Melvin Gordon III, RB, Broncos
Gordon outperformed preseason expectations and his counterpart, Javonte Williams, who was a highly touted rookie heading into 2021. The veteran saw a total of 14 touchdowns for 118 all-purpose yards, much of which came via a 70-yard rushing touchdown. He scored 19.3 fantasy points and finished as RB6 for the week.
Williams actually saw more work than Gordon in his debut and represents the future for the Broncos at running back (Gordon, 28, is in the second year of a two-year deal he signed in 2020). His role — and subsequent production — will likely increase as the season progresses. The Broncos have a cupcake schedule over the next two weeks against the Jaguars and Jets. I would try to shop Gordon sometime before Week 4.
Ty'Son Williams, RB, Ravens
Williams was featured heavily in the Ravens' overtime loss to the Raiders. He had nine attempts for 65 yards and a touchdown and caught three of four passes for 29 yards — good enough for 16.9 fantasy points and a RB9 finish against a bad Raiders run defense.
I expect his role to decrease with Latavius Murray on the roster. Murray — who was signed just days before the season opener in the wake of Gus Edwards' injury — saw 10 carries for 28 yards and a touchdown. As the season progresses, he'll be a major part of this run game, which has been decimated by injuries.
Jamaal Williams, RB, Lions
Friends don't let friends think Jamaal Williams is better than D'Andre Swift. Even dealing with injuries, Swift saw 11 carries for 39 yards and caught eight of 11 passes for 65 yards and a touchdown. The Lions leaned heavily on the run game and Williams saw nine carries for 54 yards and a touchdown and caught eight of nine passes for 56 yards — good enough for 21 fantasy points and a RB4 finish.
Swift is the main back in this offense and I fully expect Williams to take a backseat once Swift is fully healthy. He will, of course, have value moving forward, but if a manager wants to buy Williams from you at a lofty price, it's definitely worth considering.
Mark Ingram II, RB, Texans
Ingram was undoubtedly the feature back in the Texans' unexpected victory over the Jaguars. He saw 26 carries for 85 yards and a touchdown and scored 14.5 fantasy points, finishing as RB17.
It's an impressive performance from the former Raven (and the team as a whole), but this backfield is crowded. Phillip Lindsay saw eight carries for 25 yards and a touchdown and David Johnson saw three carries for 10 yards and caught three of nine targets for 18 yards and a touchdown. I don't think you can rely on RB2 production from anyone in that backfield, especially when the team isn't facing off against a weak Jaguars defense. The Texans have the Browns, Panthers, Bills, Patriots, Colts, Cardinals and Rams on deck over the next seven weeks.
D.J. Chark Jr., WR, Jaguars
In spite of an upgraded quarterback and coach, the 2021 Jaguars looked like their 2020 selfs in Week 1. Chark was the team's most targeted receiver in their 37-21 loss to the Texans, but he caught just three of 12 and ended up with 86 yards and a touchdown. He scored 16.1 fantasy points and finished as WR20, tied with DeVonta Smith.
Marvin Jones Jr. caught five of nine targets for 77 yards and a touchdown, Laviska Shenault caught seven of nine targets for 50 yards, and tight end James O'Shaughnessy caught six of eight targets for 48 yards and a touchdown. There are a lot of mouths to feed in this offense, which didn't do much against a bad Texans defense, and Urban Meyer's questionable coaching makes trusting any Jaguars receiver for week-to-week production a dicey matter. Sell high on Chark if you can — he faces two solid defenses from the Broncos and Cardinals over the next two weeks.
Deebo Samuel, WR, 49ers 
Samuel was the focal point of this offense and posted a monster Week 1 game against Detroit. He caught nine of 12 targets for 189 yards and a touchdown. In contrast, Trent Sherfield caught two of three targets for 23 yards and a touchdown and Brandon Aiyuk saw zero targets all day. Samuel finished with 27.4 fantasy points — the third-best of the week among receivers.
I don't expect Kyle "Smokescreen" Shanahan to truly lean on any one receiver, especially with Aiyuk trending towards being healthy. Tight end George Kittle is the only one you can rely on for week-to-week production. Sell now at Samuel's apex and deleverage yourself from Shanahan's whims if you can.
Corey Davis, WR, Jets
Davis looked sharp in his debut for Gang Green. He reeled in five catches on seven targets for 97 yards and two touchdowns from No. 2 overall pick Zach Wilson. He scored 24.2 fantasy points, finished as WR5 and was clearly Wilson's favorite target.
That said, I expect Davis to come back down to earth over the next two weeks. The Jets have a brutal Week 2 matchup against the Patriots, whose coach, Bill Belichick, is notoriously adept at shutting down rookie quarterbacks. They face the Broncos on the road in Week 3.
Sterling Shepard, WR, Giants
Shepard was a lone bright spot in the Giants' 27-13 loss to the Broncos. He saw two more targets than anyone else on the team and caught seven of nine for 113 yards and a touchdown. He scored 20.8 fantasy points and finished as WR10. Kenny Golladay caught four of six passes for 64 yards and Darius Slayton caught three of seven passes for 65 yards.
The former second-round pick has struggled with injuries throughout his career. He missed four games last year with turf toe and suffered two concussions in 2019, forcing him to miss six games that year. I expect Golladay to be heavily targeted once he fully recovers from a preseason hamstring injury, which will hurt Shepard's target share. This, coupled with his speckled injury history, makes him an easy sell-high candidate. The Giants face Washington and the Saints over the next three weeks — both of whom have strong secondaries.
Juwan Johnson, WR/TE, Saints
Johnson reeled in a pair of touchdowns in the Saints' blowout win over the Packers. He caught all three of his passes for 21 yards and scored 15.6 fantasy points, finishing as TE5 for the week behind only Rob Gronkowski, Travis Kelce, Darren Waller and T.J. Hockenson.
I like Johnson as a dart throw-type guy in deeper leagues and DFS formats, especially with Tre'Quan Smith and Michael Thomas sidelined, but it's clear this isn't going to be the high-volume passing offense we've grown accustomed to from Jameis Winston. He's a good waiver addition, but it feels a little like chasing touchdowns.
Rob Gronkowski, TE, Buccaneers
Gronkowski stole the show on Thursday night and caught all eight targets for 90 yards and a pair of touchdowns against a weak Dallas secondary. He scored 25 fantasy points and finished as the top tight end for the week, ahead of Travis Kelce, Darren Waller and T.J. Hockenson.
Gronkowski posted one game in all of 2020 with over 90 receiving yards and zero games with more than six catches. He's going to have a major role in this offense so long as he stays healthy, but he is on the wrong side of 30 and has durability issues. He has a cupcake matchup in Week 2 against the Falcons, then faces the Rams in Week 3. I would try to shop him before then.
How would you rate this article?
This site contains commercial content. We may be compensated for the links provided on this page. The content on this page is for informational purposes only. Action Network makes no representation or warranty as to the accuracy of the information given or the outcome of any game or event.