Justin Fields NFL Draft Profile, Dynasty Fantasy Analysis & Props To Bet
Credit:
Ralph Freso/Getty Images. Pictured: Justin Fields.
Justin Fields Draft Profile
| | |
| --- | --- |
| Position | QB |
| School | Ohio State |
| Height | 6'3″ |
| Weight | 227 |
| 40-Yard Dash | 4.45 |
| 2021 Age | 22 |
| Class | Junior |
| Recruit. Stars | 5 |
| Projected Round | 1 |
---
Justin Fields Draft Props
Editor's note: With lines constantly shifting, the price for the following pick(s) might not be available, so be sure to shop for the best one using our Action Labs tool.
When it comes to Fields, my draft props are hedged, and my hedges are also hedged. My position is convoluted and has been built up over months.
With quarterbacks Trevor Lawrence and Zach Wilson slated for picks Nos. 1-2, the draft really starts at No. 3 with the 49ers, who are looking to take a quarterback.
While I rely on my own research, I also take a "wisdom of the crowds" approach by surveying an index of mock drafts. I find that these drafts — created by experts with established records of success — collectively give me a good sense of the realistic range of outcomes for what we might see with any given player or pick.
Following the lead of NFL insiders Adam Schefter and Daniel Jeremiah and various sharp mockers, as of writing, I believe Jones will be the pick at No. 3. In half of the indexed mocks, he goes off the board at No. 3, and in a three-man race (including Trey Lance), that makes Jones the frontrunner.
With the exception of Benjamin Allbright …
LOT of buzz connecting Fields to 3/SF in last 24 hours.

— Benjamin Allbright (@AllbrightNFL) April 15, 2021
… no reporter with league sources is pushing the Fields-to-SF narrative, and Allbright (whom I respect) is more of an analyst than a news breaker.
NFL draft prop bettor Anthony Amico and I are of similar minds on Jones and Fields.
Unsurprisingly, 49ers fans want Fields to be the pick at No. 3, and I think he should be the player selected, but I doubt that will actually happen.
Jets OC Mike LaFleur is from the Kyle Shanahan tree. Before joining the Jets, he had been with Shanahan since 2014.

If he looks at Wilson & Fields and thinks, "I prefer Wilson," it's possible for Shanahan to look at Jones & Fields and think, "I prefer Jones."

— Matthew Freedman (@MattFtheOracle) April 12, 2021
With props for which the outcomes are based on decisions and not performances, it's harder to look at particular sides of a prop and say, "This side is sharp, and that side is square." But in the market for the No. 3 pick, the splits between tickets and handle indicate that the bigger money is on Jones. And big money usually means something.
With the big money and sharp mocks skewed toward Jones, that makes Fields a tough bet to go No. 3, even at +105 odds at FanDuel.
If you really want to bet on Fields at No. 3, you can effectively do that by betting under 3.5 at +130 at PointsBet — but even that price I fear doesn't offer value.
In fact, if right now I had to take a side on 3.5, I'd go over at -140 at Bet365 — but my current exposure against Fields is such that I'm not desirous to fade him with juice.
If you really want to fade Fields, consider betting over 4.5 at +175 at FOX Bet. Given that the NFL is passing on Fields at Nos. 2-3 (in the scenario in which you're fading Fields to San Francisco), there's a chance that the NFL (for whatever reason) might simply be lower on Fields than is widely expected. If that's the case, he could easily fall past No. 4.
On top of that, I'm increasingly convinced that if the Falcons stay at No. 4, they will take someone other than a quarterback — likely tight end Kyle Pitts. So if Fields falls to No. 4, the primary way for him to go off the board there is via trade. And with any given pick, a trade is relatively unlikely to happen.
Across the industry, the median draft position for Fields in mock drafts is currently No. 4 — but Benjamin Robinson (of Grinding the Mocks) has done excellent research showing that quarterbacks tend to be overrated in mocks.
After quarterbacks go Nos. 1-3, it would not be a surprise if Fields slipped down the board a little. Only twice in NFL history (1971 and 1999) have we seen three quarterbacks go consecutively to start the draft — and never four.
If you're of the opinion that Fields won't go No. 3, then you can fade him while also betting that something that has never happened before will once again not happen this year — and you can make that bet at significant plus money.
That's tempting.
And when I find myself tempted, I usually indulge.
Pick: Over 4.5, +175 (bet to +150); 1.0 units
---
Dynasty Fantasy Analysis
Because of my position that Fields won't go No. 3, Niners Nation is not a big fan of me right now.
49ers fans in my mentions is the fuel I need to get through this day.

— Matthew Freedman (@MattFtheOracle) April 20, 2021
But I want to be clear about where I stand on Fields in relation to the other quarterbacks in this class, especially as it pertains to fantasy.
So this morning I woke up, thought about doing some pushups, researched NFL prospects instead, got up from my desk, walked into the bathroom, looked myself in the mirror and said:

"Justin Fields is the QB1 in rookie fantasy drafts, and Trevor Lawrence isn't."

Then I logged off.

— Matthew Freedman (@MattFtheOracle) April 17, 2021
I'm about 51% serious with that statement. Depending on where he lands — and maybe regardless of that — Fields warrants real consideration as the No. 1 fantasy quarterback in this class.
Think back to 2012 with quarterbacks Andrew Luck and Robert Griffin III. In most rookie drafts, Luck went ahead of Griffin and clearly had the superior career — but as a rookie, before his career-altering knee injury and before he was rashly rushed back to action in his second season before fully recovering — Griffin was the more productive player.
Griffin finished as the fantasy QB5 in 15 games; Luck, the QB10 in 16 games.
If we look at the efficiency with which Griffin and Luck produced fantasy points over expectation on a per-pass and -rush basis in 2012, they are not remotely close (per RotoViz Screener).
Passing Fantasy Points Over Expectation per Attempt
Robert Griffin III (2012): 0.13
Andrew Luck (2012): -0.02
Rushing Fantasy Points Over Expectation per Carry
Robert Griffin III (2012): 0.43
Andrew Luck (2012): 0.22
History has not been kind to Griffin, but if not for the athleticism-sapping injury at the end of his rookie season, he might have had a better NFL career than Luck, who in his own failed to live up to the expectations of dynasty investors.
If someone went with Fields instead of Lawrence in rookie dynasty drafts, I would not automatically think that person were wrong.
I might be that person by the time all my rookie drafts are through.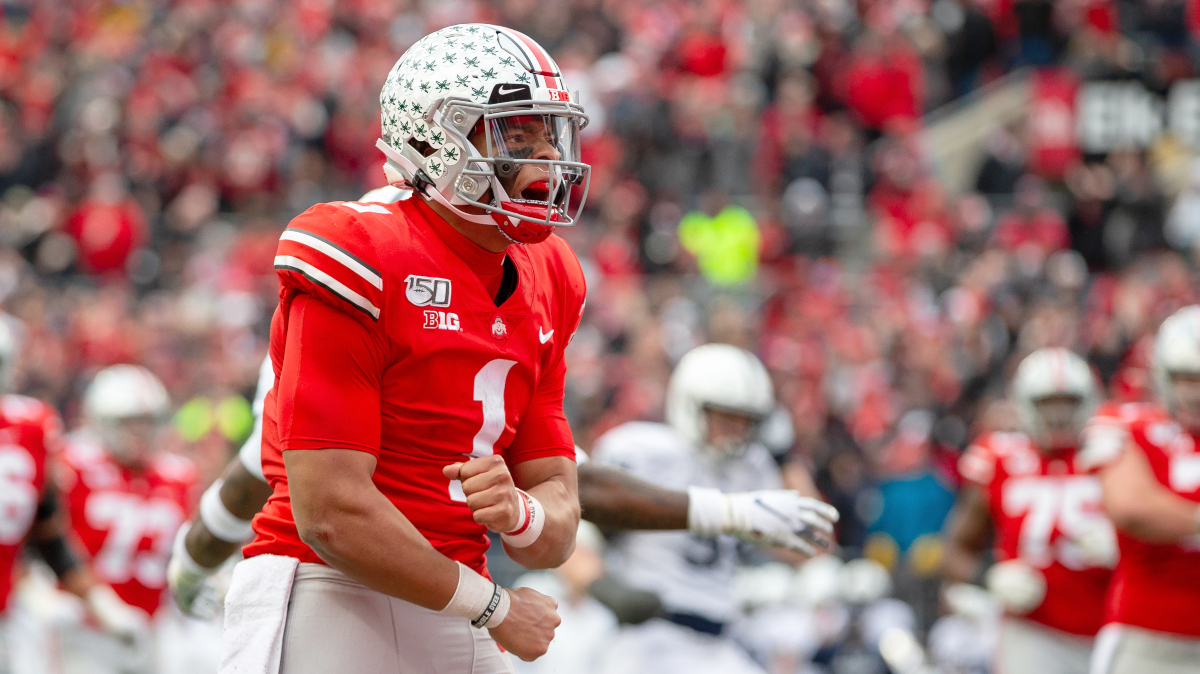 Fields has a real chance to have the best career of any quarterback in this class. And even if he doesn't, he still might be the best fantasy quarterback because of his Konami Code rushing ability.
A five-star recruit, Fields was the No. 1 dual-threat quarterback in the 2018 recruitment class, and some scouting services had him ranked No. 1 overall, just ahead of Lawrence. Even as a recruit, Fields had NFL size and athleticism, and he received offers from many major programs, including Alabama, LSU and USC. Ultimately, he decided to stay in his home state, enrolling at Georgia as perhaps the most anticipated signee in the program history.
And Fields lived up to the hype in college — but not at Georgia. As a freshman, Fields backed up Jake Fromm. Fields looked good in mop-up action with a 69.2% completion rate for 328-4-0 passing and 37-295-4 rushing  (excluding sacks, per 2021 Sports Info Solutions Football Rookie Handbook), but he saw very little playing time.
Frustrated to be sitting behind Fromm — and desirous to leave the school after a Georgia baseball player made "racially derogatory comments" to him during a football game — Fields transferred to Ohio State after the 2018 season.
Ordinarily, transfer students are required to redshirt for a year per NCAA rules, but Fields was granted an eligibility waiver (because of the racial incident at Georgia), so he was able to play immediately as a sophomore — and what a second season he had.
In 14 starts, Fields had a 67.2% completion rate for 3,273-41-3 passing and 106-689-10 rushing (excluding sacks) for the 13-1 Buckeyes on his way to a No. 3 finish in Heisman voting as the Big Ten Offensive Player of the Year before losing in the College Football Playoff semifinals to Clemson and Lawrence.
As a sophomore, Fields trailed only Joe Burrow and Jalen Hurts in the Power Five with his adjusted yards per attempt (AY/A).
Joe Burrow (LSU): 12.5
Jalen Hurts (Oklahoma): 12.2
Justin Fields (Ohio State): 11.2
Fields' 2019 season was one of the best dual-threat campaigns of the past decade — and it was just his first year as a starter.
Since 2000 —

Power-5 Quarterbacks with 40+ passing TD and 10+ rushing TD in a single season

2014 • Marcus Mariota (JR) 42/15
2016 • Patrick Mahomes (JR) 41/12
2018 • Kyler Murray (JR) 42/12
2019 • Justin Fields (SO) 41/10

— The Dynasty Commander 🥇 (@CPatrickNFL) April 6, 2021
Then 2020 wasn't quite as good for Fields: As a junior, he was 2,100-22-6 passing and 60-516-5 rushing in eight games, struggling at times with his ball security — but aside from that he arguably progressed as a passer (per SIS).
Completion Rate
On-Target Rate
Catchable Rate
Yards per Attempt
Even with his interceptions, Fields was still No. 12 in the nation with a 10.1 AY/A, and he was once again the Big Ten Offensive Player of the Year.
In the College Football Playoff semifinals, Fields played through a notable rib injury to drive the Buckeyes to an emphatic 49-28 win over Clemson, avenging the previous year's loss with 385-6-1 passing on a 78.6% completion rate.
In the national championship, the hampered Fields underwhelmed against Alabama in a 52-24 loss, but with his overall performance in the playoffs, he looked like a future top-10 pick.
It's worth nothing that Fields had an incredibly tough strength of schedule at Ohio State.
For those wondering:

Player A is Justin Fields and Player B is Trevor Lawrence. In 5 more games played from 2019-2020, Lawrence only leads Fields statistically with 1,445 more yards thrown — or 289 yards per game over 5 games. His strength of schedule is also much weaker.

— Bird Bouchard (@bird_bouchard) March 30, 2021
In fact, Fields in 2020 might have had the toughest schedule of any quarterback of the past decade.
Even so, Fields was able to put up an elite 10.8 AY/A across his two years at Ohio State, where he suffered just two losses in 22 starts.
Despite his dual-threat ability, Fields is more of a passer than a runner, and he's totally comfortable in the pocket. At times, he's too comfortable. In 2020, he was tied for No. 3 in average time to throw with 3.11 seconds (per Pro Football Focus). Fields invites pressure and takes needless sacks because his first instinct isn't to scramble — and that will need to be coached — but his pocket commitment is more of a virtue than a vice.
Justin Fields will stand as long as needed in the pocket to get deeper throws off but these clips you can see his great feel to move away from pressure, even from the backside.

The 1st clip he's truly creating a throw on a covered PA shot play (look at the WR's fake stalk block) pic.twitter.com/G94vV4sMY4

— Nate Tice (@Nate_Tice) February 16, 2021
Although Fields isn't often spoken of as a passer with the likes of Lawrence, Wilson and Jones, Fields was one of the most accurate passers in college football last year, ranking No. 2 with an 80.8% adjusted completion rate.
As a passer, Fields lacks elite singular attributes: He doesn't throw with great anticipation. He doesn't have overwhelming arm strength or nuanced touch. He doesn't progress quickly through his reads. He doesn't read defenses particularly well, especially when it comes to blitzes. He doesn't lead his receivers with his deep passes. He doesn't look off defenders with his eyes.
But all of that misses the point of who Fields is: As a passer, he's elite at nothing, but strong at almost everything. He has a full skill set and can produce in and out of the pocket as a thrower.
And none of this takes into account his rushing ability. Fields isn't Lamar Jackson by any means, but Fields can produce with his legs. Designed runs. Scrambles. Read options. Quarterback draws. Whatever. Fields can run.
As a recruit, he led all quarterbacks in his class with an über-elite 4.51-second 40-yard dash at 221 pounds, and at the Ohio State pro day he was even faster and bigger, looking very much like … you know what? It feels wrong even to say it. I'll let a tweet speak for me.
Justin Fields:
🏈 6'3", 227 lbs
🏈 40-yard dash: 4.44

Robert Griffin III:
🏈 6'2", 223 lbs
🏈 40-yard: 4.41

Only first-round QB to run a faster 40 time than Justin Fields since 2006 pic.twitter.com/oZBH7uaJGM

— PFF Draft (@PFF_College) March 30, 2021
What was perhaps most impressive about his 40 time is that he ran only once — usually prospects run twice and get the benefit of their best time — and he also stumbled a little coming out of his stance.
Think about that: Fields ran only once — and he had a highly imperfect dash — and he still finished with a 99th-percentile 40 time for the position (per RotoViz Workout Explorer).
With his athleticism, he easily has the highest rushing upside out of any quarterback in the class — and running quarterbacks can win fantasy championships.
I'm in the Justin Fields is QB2 camp, and I think he's closer to Lawrence than he is to Wilson/Lance/Jones.

Here are a few clips of him as a rusher — some power and some speed — followed by two huge hustle plays that show off his athleticism: pic.twitter.com/7gdB6QpXzh

— Hayden Winks (@HaydenWinks) February 21, 2021
In 2020, Fields was No. 1 on the SIS quarterback leaderboard with 2.8 rushing points per game, and in his college career he markedly outperformed all quarterbacks in this class with his rushing efficiency (excluding the FCS-competing Trey Lance, excluding sacks).
Yards per Attempt
Justin Fields (2018-20): 7.4
Trevor Lawrence (2018-20): 6.8
Zach Wilson (2018-20): 6.6
Mac Jones (2018-20): 3.7
Lawrence is great, but Fields might have the best combined passing and rushing ability in the 2021 class.
NFL Prospect Comp: Robert Griffin III with less speed but more recruitment status and passing ability and an earlier breakout
---
Matthew Freedman is 1,018-828-37 (55.1%) overall betting on the NFL. You can follow him in our free app.
How would you rate this article?
This site contains commercial content. We may be compensated for the links provided on this page. The content on this page is for informational purposes only. Action Network makes no representation or warranty as to the accuracy of the information given or the outcome of any game or event.