How Leonard Fournette's Signing Impacts His Fantasy Outlook, Ronald Jones, Other Buccaneers RBs
Credit:
Carmen Mandato/Getty Images. Pictured: Leonard Fournette
Our award-winning fantasy football rankers explain how Leonard Fournette signing with the Buccaneers impacts his outlook.
Find out how they're adjusting their fantasy rankings and expectations for Fournette, Ronald Jones and the rest of Tampa Bay's depth chart.
Two days after being released by the Jacksonville Jaguars, running back Leonard Fournette is reportedly signing with the Tampa Bay Buccaneers.
So what does his landing spot mean for his fantasy football outlook? And how does it impact Ronald Jones and the rest of the Bucs' depth chart? Our experts analyze the fit and all the dominoes below.
[Create Custom Cheat Sheets Feat. Our Fantasy Rankings]
Leonard Fournette Fantasy Outlook with Buccaneers
Sean Koerner
Sean was FantasyPros' No. 1 fantasy football draft ranker of 2019 and has finished as their top in-season ranker in three of the past five seasons.
After the Jaguars released Fournette, I highlighted the potential landing spot scenarios:
He could sign with a team that already has a solid starter, which would downgrade his value and the value of any other RBs on that roster.
Or a team loses its starting RB to injury, and Fournette is signed to replace him.
Scenario No. 1 is the winner, and boy is it messy.
First, let's run through what Fournette's signing means for the rest of the Bucs' RBs:
Ronald Jones: This news is a massive blow to Jones' value. He's the best bet to push Fournette into a committee, but will now be classified as a backup in my RB Upside Ratings. Jones was excellent in goal-line situations last season, scoring five touchdowns on six rush attempts inside the 5-yard line, so he may be able to share that role with Fournette. Jones is now in my High Floor/Upside Tier, but would have much less upside than the other backs in that tier if Fournette were to miss time.
Ke'Shawn Vaughn: The third-round rookie had some promise as a late-round stash before Fournette's signing. Vaughn was unlikely to have a big enough role to be a fantasy asset at the start of the season, but could have made some noise if Jones or LeSean McCoy suffered an injury. The addition of Fournette now makes Vaughn undraftable.
LeSean McCoy: It was already unclear how big of a role McCoy would have this season. Now his best-case scenario is a three-way RBBC, which would make this backfield a nightmare to project weekly.
Dare Ogunbowale: He plays a key role on special teams and could still see a decent amount of passing down work.
Usually, I would recommend ignoring a potential committee in Tampa Bay, but a Tom Brady-led offense is fantasy friendly for RBs. There's also a chance the Bucs signed Fournette because they didn't think Jones was fit to be a lead back.
I'm sure we'll find out more about the team's plans for Fournette over the next week, but for now, I'm treating him as a RB27 with upside but would wait to draft him until the RB30-35 range. He's in the same Tier as Raheem Mostert, Cam Akers and Mark Ingram now — with just a bit more added risk.
Chris Raybon
Chris was the fourth-most accurate FantasyPros ranker in 2019.
I'm treating Fournette as an RB3 with upside as well, and knocking Jones down into the RB4 tier.
Fournette comes with a laundry list of risk factors attached…
He just got cut in his prime at age 25 coming off a season in which he posted more than 1,600 scrimmage yards.
Elevated injury risk after 341-touch season in Year 3 that followed 11 combined missed games in Years 1 and 2.
Has been inefficient in one way or another throughout his career: Had fewer than 4.0 yards per carry in his of his first two seasons, then averaged only 5.2 yards per target on 100 targets last season while scoring just three total touchdowns on 341 touches.
Now he enters a backfield that is just as risky…
Bruce Arians used a full-on three-way committee last season with Ronald Jones playing 36.5% of the snaps, Dare Ogunbowale playing 31.7% and Peyton Barber playing 29.8%.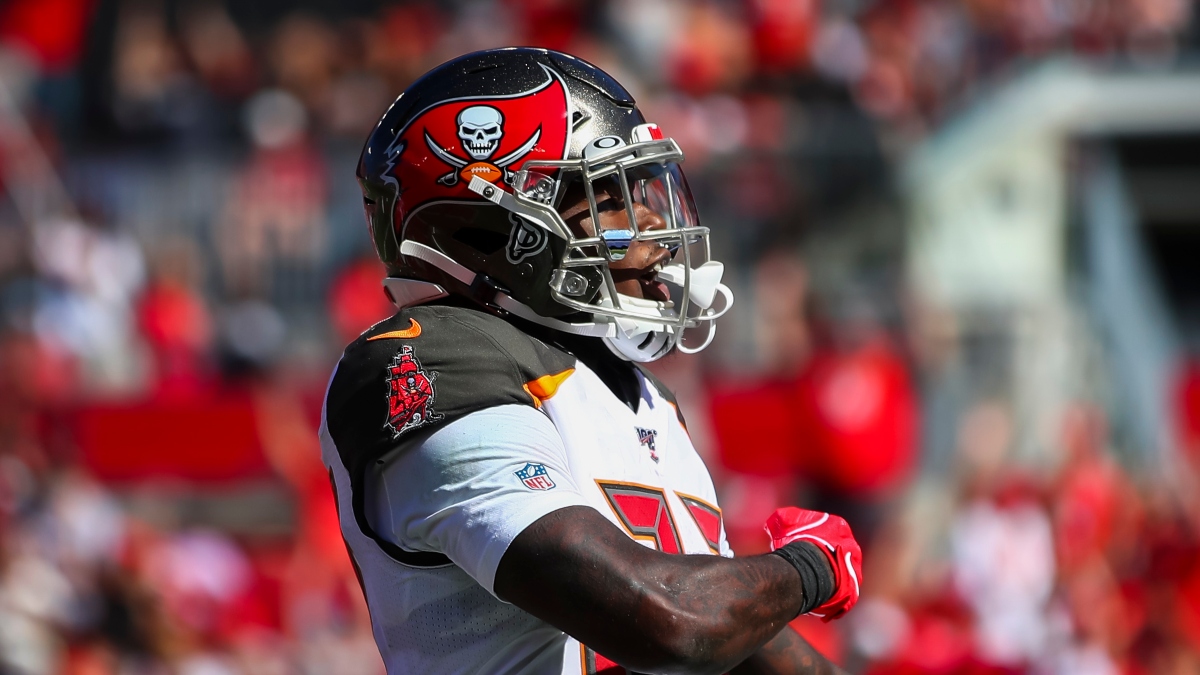 Even if the backfield were to condense, the pass-catching upside is capped because Arians uses his backs to pass protect as much as any coach in the league: Barber (27.6%), Ogunbowale (24.6%) and Jones (22.6%) each finished inside the top-12 of highest rate of pass snaps spent as a blocker, according to Pro Football Focus.
Even though Ogunbowale was used as the primary passing down back and carried 11 times all season, seven of those carries came inside the 5-yard line. The No. 4 back, T.J. Logan, also had a carry inside the 5 despite only two other carries the entire year. Together, Ogunbowale and Logan saw four times the amount of carries inside the 5 as the lead back, Jones (2), and nearly as many as Jones and Barber combined (10).
Given what we saw from Arians' backfield last season, and from those we've seen with Tom Brady back in New England, the most likely scenario is Fournette assuming the lead power back role — something akin to Barber last season or LeGarrette Blount/Sony Michel in New England — with Jones in a similar role to last season (10.8 carries per game).
There will be some big weeks for Fournette, but they will be hard to predict.
What gives Fournette just enough upside to be worth a gamble at the right price is the possibility that Arians' delegation of roles last season was not by choice, and he's just been biding his time until he could acquire a true bell-cow who averages 22.2 career touches per game.
After all, every single other back on the roster (with the exception of Jones) is liable to be a healthy scratch or outright cut: LeSean McCoy was healthy scratched for the Super Bowl by his pal Andy Reid, Ogunbowale is a special teamer/blocker more than a true running back, and is somehow behind them all on the depth chart.
And while no one would question Arians for looking to upgrade on the McCoy/Ogunbowale/Vaughn trio, it's hard to not view this move as an indictment on Jones, at least as a true feature back.
Arians keeps saying Jones is his guy — he insisted after the Fournette signing that Jones is still the No. 1 — but Arians' actions don't match his words. Given that Arians was reluctant to feature Jones over Barber last year and just signed a player who has never averaged fewer than 19.4 touches, it's hard to believe Jones is long for the lead role, even if he handles the token first carry in the season opener against New Orleans.
Is Jones really Arians' guy, or did he just happen to whiff on a third-rounder and a washed up vet? Only time will tell, but there's too much uncertainty and not enough upside for me to value Jones as anything more than a high-end RB4 with Fournette on the roster. I would rather have incumbent committee backs who have proven to hold more trust from their coaching staff, such as Kerryon Johnson or Marlon Mack.
I wouldn't touch Vaughn or McCoy, either. Vaughn will likely spend the early part of the season in the Logan (special-teams only) role or as a healthy scratch. And given that Fournette and Jones don't play special teams and pass blocking is needed more than pass catching from backs in this offense, I would be surprised if McCoy lasts the entire season on this roster.
How would you rate this article?