The 2020 Sports Betting Year in Review: Worst Beats, Most-Bet Teams, Angriest Voicemails & More
2020 started with a fun NFL postseason and Super Bowl. Then we lost the NCAA Tournament and every league hit pause.
We turned to betting on video games, low-level domestic soccer, Taiwanese and Korean baseball, horse racing, at-home darts and Ukrainian table tennis.
We then saw a surge in golf, UFC and Bundesliga betting as those leagues returned first. And the year ended with a wild cross-section of American sports all restarting at once.
It's been a strange 365 days.
Using Bet Labs, our pick-tracking data from The Action Network app, crowd-sourced misery on Twitter and more, we've compiled some of the most memorable sports betting nuggets from 2020.
Enjoy. Or don't. Can't blame you either way.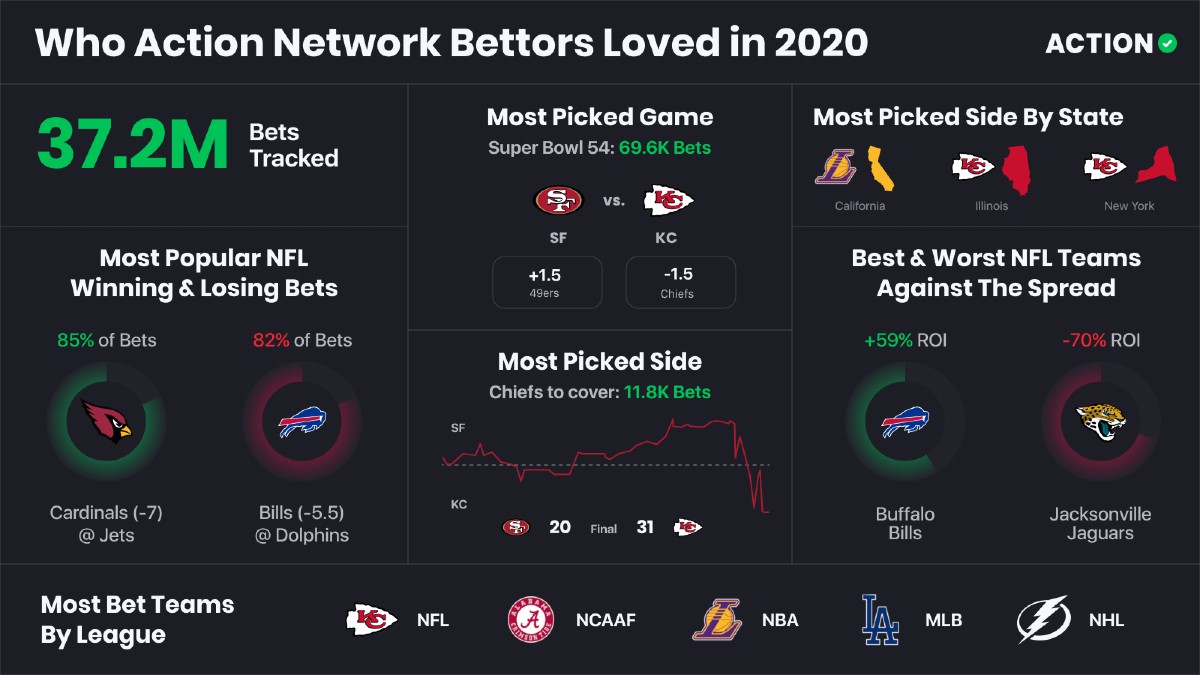 Sports Betting Year in Review
Action App Fun Facts
Total Picks Tracked in 2020: 37,681,441
Top Hour for Picks: 12–1 PM ET (9.1%)
Pct. of picks tracked between midnight and 6 AM ET: 5.3%
Most Accurate Pickers: Users with first name "Justin" (55.2%)
Least Accurate Pickers: Users with first name "Owen" (49.8%)
Most-Bet Teams By State
Our users in The Action Network app unsurprisingly threw their support behind the Chiefs and Lakers. Those teams 1) covered a lot and 2) played more games than others.
But many states were regional. The entirety of New England loved the Celtics, and Iowa, Kentucky, Arkansas and West Virginia all threw their betting support behind the state's biggest college programs.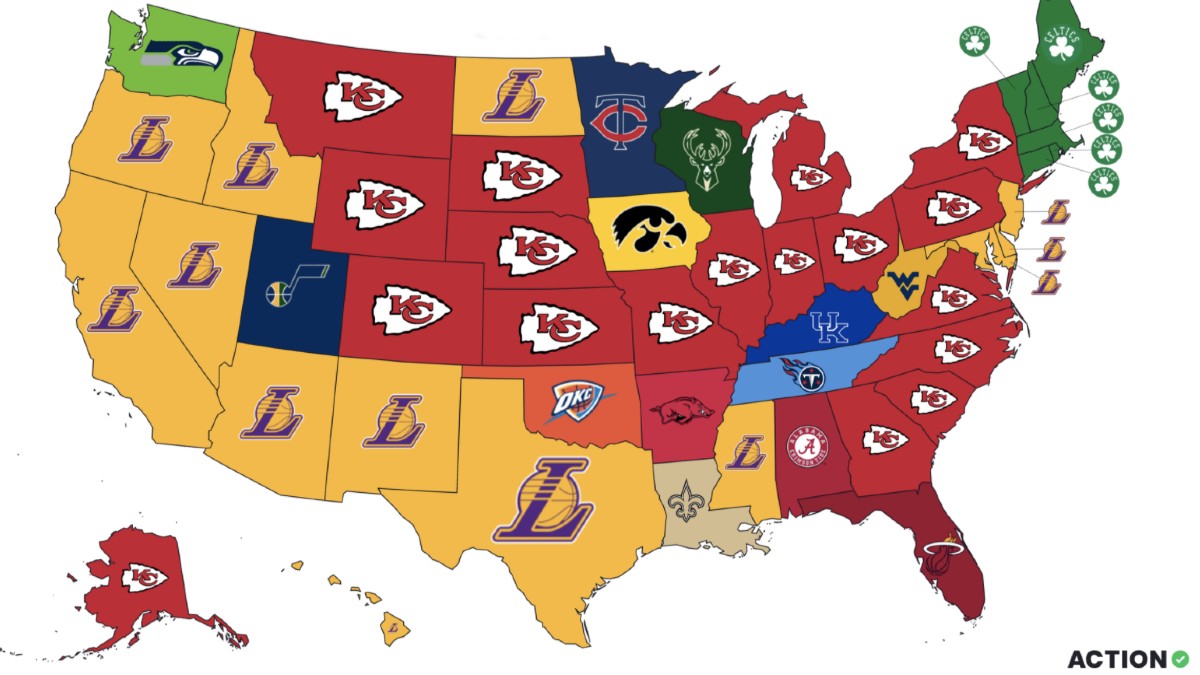 Worst Beats
What makes a bad beat, exactly? It's up for debate.
But these are not up for debate. These were brutal.
We asked for your worst beats of 2020 on Twitter, and threw in a few of our own.
Here are five of the worst.
1. Tulane-Tulsa Hail Mary & Pick Six
Tulsa (-5) trailed 21-14 to Tulane, tied it with a Hail Mary, then won in overtime on a pick-six to cover in a 30-24 win.
2. Patrick Mahomes Rushing Yards
Props don't have the mass appeal of most bad beats since not everyone was on them, but this was brutal in so many ways.
Patrick Mahomes' rushing yards prop took some action before the Super Bowl and rose from 29.5 to 35.5. He sat at 44 with the game winding down.
Instead of just taking three normal knees, Mahomes ran backwards for losses of 3, 5 and 7 yards to finish with 29 rushing yards — crushing the over at every number.
3. Abilene Christian +39.5
4. Nick Chubb Goes Out of Bounds; Browns' Safety Blows Cover
The Cleveland Browns were on the losing end of two of the year's worst beats.
Leading by 3 against the Texans in mid-November, Nick Chubb ran out of bounds so the Browns could run out the clock instead of giving Houston the ball back.
Cleveland was -4.5.
One month later, the Browns played arguably the best game of the season against the Ravens on Monday Night Football. At +3 and +3.5, they just needed to not do this on the final play of the game to stay inside the number…
5. Eagles Hail Mary
Richard Rodgers made this miracle catch off a deflection. It meant nothing, of course, unless you had Seattle.
The Angriest Bettors
If you ever need a place to vent, our hotline is open.
And if you're feeling how these folks are feeling about Jim Harbaugh, Lane Kiffin, Brian Kelly, Doug Pederson, App State, Bo Pelini, UMass, etc., don't be afraid to let it all out.
One guy was even so frustrated after losing a bet on South Alabama that he went to take a bath.
The Biggest Bets in the U.S.
From FanDuel:
NFL: Super Bowl 54
Date: Feb. 2
Amount: $579,126
Bet: Chiefs moneyline (+112)
Total Payout: $1,227,747
NBA: Celtics-Heat Over
Date: Sept. 14
Amount: $119,715
Bet: Over 209.5
Total Payout: $228,546
MLB: Three-team parlay
Date: July 21
Amount: $80,500
Bets: Nats -198 vs. Orioles, Braves -156 vs. Marlins, Reds -180 vs. Tigers
Total Payout: $309,277
Same Game Parlay: $1,000 on a six-leg Same Game Parlay in Bills-Broncos (Dec. 19) for a payout of $492, 977.62.
Josh Allen Anytime Touchdown
Over 59.5 (Alternative Total Points)
Noah Fant Anytime Touchdown
Dawson Knox Anytime Touchdown
Devin Singletary Anytime Touchdown
From BetMGM:
Biggest single game winning bet of 2020: $500K to win $510K on Vikings -0.5 vs. the Panthers (Nov. 29).
Biggest parlay winner of 2020: $100,000 to win $206,000 Cardinals-Tigers over 7.5 and Athletics -189 (Sept. 10).
Biggest Upsets by Sport
NFL
Dec. 20: Jets (+17.5) over Rams, 23-20
Just a few weeks ago, the winless Jets gave away the first overall pick after pulling off one of the biggest upsets in the NFL in the last 25 years.
NCAAF
Sept. 26: Kansas St (+28) over Oklahoma, 38-35
Oklahoma seems to do this once per season before rallying to win the Big 12. This year's edition came against Kansas State, when the Sooners led 35-21 entering the fourth quarter before the Cats rattled off 17 straight to win 38-35.
NBA
Aug. 4: Nets (+18.5) over Bucks, 119-116
Sure, it was the NBA bubble, and the Bucks had already clinched the first seed in the East.
But led by Timothe Luwawu-Cabarrot and Garrett Temple with the rest of the roster on IR, Brooklyn pulled off the biggest NBA upset of at least the last 20 years.
NCAAB
Jan. 2: SIU Edwardsville (+23) over Belmont, 79-69
Nov. 27: Morehead St (+20.5) over Richmond, 82-64
Sorry, Duke and Kentucky haters. The biggest upset losses belong to mid-major powers Belmont and Richmond.
MLB
July 25: Giants (+332) over Dodgers, 5-4
The Dodgers weren't an underdog all year, and rightfully so. But baseball is weird, and on July 25, the Giants got to Alex Wood early and held off a Dodgers rally in the final two innings to win 5-4.
NHL
Feb. 26: Kings (+298) over Penguins, 2-1
The Kings, despite not winning many games, were an analytics darling. At least relative to their actual performance.
So some bettors flocked to L.A. repeatedly and were rewarded in late February when the Kings cashed at nearly 3-1 against the flailing Penguins.
WNBA
Aug. 25: Liberty (+17.5) over Sky, 101-99
The Liberty were the worst ATS team in the WNBA in 2020 but scored a huge upset over the Sky. It was the league's biggest upset in at least the last 10 years.
EPL
Sept. 27: Leicester (+894) over Man City, 5-2
While Leicester is no longer the darling it was in 2015 when it shocked the world and won the Premier League, the betting market treated it as such against Man City early this season.
The Foxes took it too the Cityzens 5-2 despite falling behind 1-0 in the fourth minute.
Most Profitable Teams by Sport
| Sport | Team | Record |
| --- | --- | --- |
| NFL | Dolphins | 11-4 ATS |
| NCAAF | Indiana | 8-0 ATS |
| NBA | Thunder | 29-20 ATS |
| NCAAB | Hofstra | 18-5-1 ATS |
| MLB | Marlins | $1,493 |
| NHL | Flyers | $1,120 |
| WNBA | Storm | 18-10 ATS |
| EPL | Burnley | $1,800 |
Least Profitable
| Sport | Team | Record |
| --- | --- | --- |
| NFL | Eagles | 5-11 ATS |
| NCAAF | Kansas | 1-8 ATS |
| NBA | Rockets | 21-31 ATS |
| NCAAB | Washington | 7-19 ATS |
| MLB | Mets | -$1,244 |
| NHL | Senators | -$848 |
| WNBA | Liberty | 6-14-2 ATS |
| EPL | Brighton | -$1,951 |
The Team That Was Never an Underdog…
Even more impressive than winning the World Series during a pandemic? Never being an underdog the entire way.
The Dodgers closed under -130 just twice, and were an average favorite of almost -200 throughout the abbreviated 2020 season. They were also wildly profitable — a $100 bettor wagering blinding on the Dodgers every game would have been up more than $1,100.
…And the Teams That Were Never Favored
Denver Broncos
Detroit Red Wings
The NFL edition of this honor could have belonged to the New York Jets, who actually closed as a short favorite against Denver in our database. But that game was the deciding factor — the Broncos were a dog in every other contest, including this weekend against the Raiders (though that will be in 2021).
There was no disputing the NHL betting market's least favorite team from 2019-2020. The Red Wings were an average underdog of about +190, and lost an insane 24 units for bettors. That came with a -34.3% ROI.
Most-Bet Events at PointsBet
All Events
49ers vs. Chiefs Super Bowl (Feb. 2)
Bears at Rams (Oct. 26)
Vikings at Bears (Nov. 16)
Bears at Packers (Nov. 29)
Seahawks at Eagles (Nov. 30)
Non-Major Sports
2020 Masters (Nov. 12-15)
UFC 246, Conor McGregor vs Donald Cerrone (Jan. 19)
Tyson Fury vs Deontay Wilder II (Feb. 22)
2020 PGA Championship (Aug. 6-9)
2020 U.S. Open (Sept. 17-20)
How would you rate this article?