25th Anniversary of Cal Ripken Jr. Blackout Game: New Developments in Since-Debunked Kevin Costner Conspiracy Theory
Credit:
Picture by Getty Images. Pictured: Cal Ripken Jr.
As far as rumors and conspiracy theories go, what happened on Aug. 14, 1997 will forever go down in all-time sports lore.
That's when, according to since-debunked legend, the Baltimore Orioles successfully canceled a game after their star player Cal Ripken Jr. — the Ironman who was in the midst of extending his all-time record 2,431 consecutive games played — supposedly told the team he couldn't play.
The conspiracy theory purports that "Crash Davis" himself, Kevin Costner, was sleeping over at Ripken's house and — after Ripken caught Costner sleeping with his wife Kelly — a fight ensued, according to an anecdote made famous by two national sports radio hosts in 2001.
The hosts repeated the claim, which had been circulating online, that Ripken Jr. was either too hurt or emotionally traumatized to play that day.
One version of the conspiracy theory states the Orioles shut off a bank of lights along the first-base line, claimed it was a power failure and sent the crowd home in order to preserve Ripken Jr.'s consecutive game streak.
Costner called into the aforementioned radio show the day after to vehemently deny the salacious rumors.
"I thought at first you guys were saying it was true," Costner said on the air. "I was going to take your heads off."
Costner told the hosts he had met Ripken's wife Kelly twice for what might have amounted to 10 minutes. The Field of Dreams star added that he had never been inside Cal's house.
"If there is something alleged, I'd love to see someone come forward, because they don't have the story to do it," Costner said. "There would be big money for a story like this."
Baltimore had been slated to face off against the AL West-leading Seattle Mariners — and Cy Young Award winner Randy Johnson — that night.
Then-Orioles spokesperson John Maroon told the Action Network that it was actually Johnson, in conjunction with Mariners manager Lou Piniella and perhaps a few brews, that nudged the parties involved to cancel the game.
"If my memory serves me correctly, Piniella told us that Randy Johnson had a couple of beers and assumed we were moving on," Maroon said. "And we didn't really want to be those guys to tell them they had to play."
There are numerous contemporaneous reports that indicate Ripken Jr. was at Camden Yards that night, playing catch, jogging on the field and ready to play.
"I don't really get it," Maroon said. "While we were trying to figure out what was happening with the lights, Cal and Brady (Anderson) were out there throwing the ball. Cal was at the ballpark the whole time."
For the avoidance of doubt, there's a photo from Getty Images that proves Ripken Jr. was waiting in the dugout after the light embankments lost power, waiting to see whether MLB would cancel the night's game.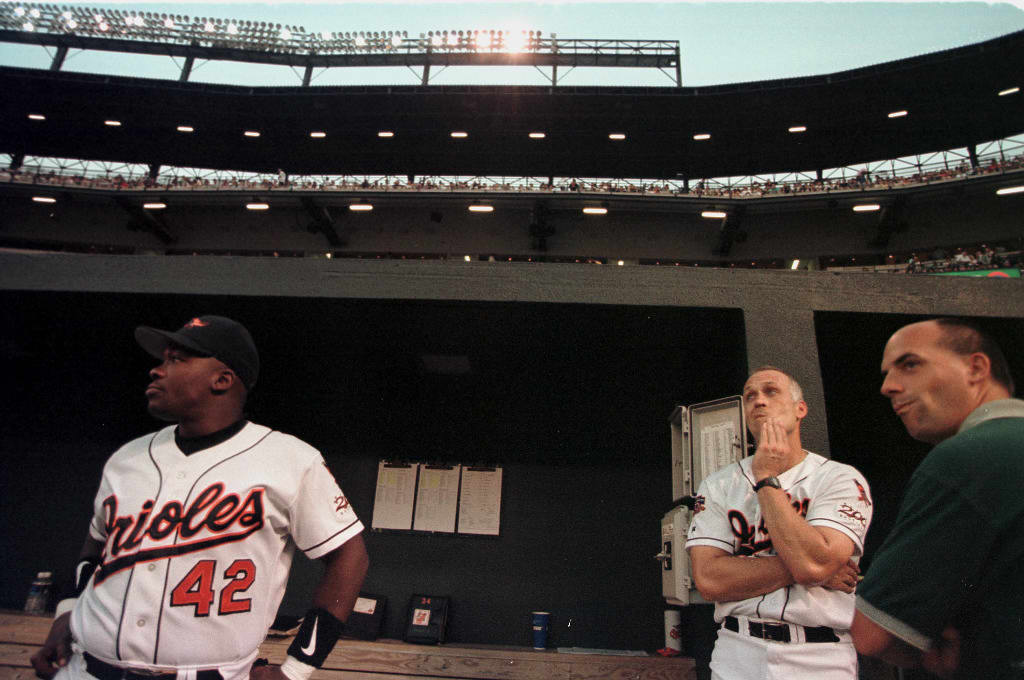 The AL East-leading Orioles had a sold-out crowd, many of whom also corroborate that Ripken had been warming up for the game, according to news reports published at the time.
What if Ripken Jr. was physically at the park, but too hurt to play, you may ask? Not possible. Ripken Jr. suited up for a doubleheader the following day — and every game for the rest of the season — reaching base three times and knocking in an RBI.
Ripken Jr., like Costner, has denied all aspects of the conspiracy theory.
"The funny part about it was we all decided it was better that we play that night because the next day would have been a Sunday day game, and Randy Johnson would have been throwing out of the stands, and in day games he's much harder to see," Ripken told NPR in 2008.
That the Orioles were in on some conspiracy could have its origins in the fact that there were no other power outages across Baltimore that night, a fact that was confirmed by local power spokesman Karl Neddenien in 1997.
And Costner and Ripken Jr. were indeed loose acquaintances, with the duo photographed together — with Kelly — at the premiere of Dances With Wolves in 1990, proving to some that there was some sort of causal link. Ripken Jr. and his wife did eventually separate and divorce after the alleged Costner incident … for unrelated reasons and a whole 19 years later, in 2016.
Still, despite the preponderance of evidence to the contrary, this conspiracy theory continues to have life — now a quarter of a century later.
How would you rate this article?
This site contains commercial content. We may be compensated for the links provided on this page. The content on this page is for informational purposes only. Action Network makes no representation or warranty as to the accuracy of the information given or the outcome of any game or event.