2021 BMW Championship: Quick Takeaways After an Epic Cantlay-DeChambeau Playoff
Credit:
Tim Nwachukwu/Getty Images. Pictured: Patrick Cantlay and Bryson DeChambeau.
Last year's BMW Championship offered an epic playoff battle between Jon Rahm and Dustin Johnson, only to have this year's version – on a completely different course with completely different scoring conditions – do the whole hold-my-beer thing, giving us 24 holes of Patrick Cantlay and Bryson DeChambeau landing plenty of uppercuts and taking a few on the chin before Cantlay delivered the final blow with a birdie on the sixth playoff hole for the victory.
While I'm already mid-preview for this week's upcoming Tour Championship, I didn't want to let this one pass without a few quick takes, so let's get right to 'em.
1. With the title, Cantlay earnedthe sixth and final qualifying spot for this year's U.S. Ryder Cup team (and even if he didn't, he would've gotten a call this week), while becoming the first player with three wins during this elongated "super-season."
I still don't think that's enough to seriously elevate him to frontrunner for Player of the Year, but I also don't think his fellow players – who vote on the award – are overanalyzing it too much. I've spoken with many about it over the years, and while they aren't casual with these votes, you can bet the media and fans spend more time considering the candidates.
In any case, the recent win is enough to get us talking about Cantlay's long-term ceiling.
Personally, I put him in the Collin Morikawa category of, "When he putts like this … watch out." For those who somehow only started watching Cantlay this weekend, you'd think he was the second coming of Ben Crenshaw, not only making putts, but rolling 'em in dead-center. My pod partner Justin Ray tweeted Sunday that his Strokes Gained number of +14.6 at Caves Valley was the best in a four-round event since that statistic started being recorded back in 2004. The reality is, he's a good-but-not-great putter most of the time, ranking 61st in that category before the week started.
As for his overall potential, there was a time not too long ago – maybe 2-3 years – when I felt like Cantlay's introverted nature might keep him from someday becoming the world's best player, even subconsciously. That position comes with a certain responsibility and spotlight that some players, as talented as they are, have difficulty managing.
I remember spending time with Martin Kaymer when he was No. 1 in the OWGR. Also not the most gregarious personality, it was easy to see that those responsibilities weighed on him. I certainly don't want to put words in his mouth, but from a non-financial and competitive standpoint, he might've been happier at, say, seventh than the top spot.
Cantlay seems more comfortable in his own skin these days, and I don't doubt that it helped him defeat Bryson in front of a raucous gallery on Sunday, not to mention chase down Jon Rahm and Justin Thomas at last year's Zozo Championship and beat Morikawa at the Memorial.
I still don't think he'll become No. 1, but that has more to do with the fact that it could be a while before anybody usurps Rahm. I do think he can be the No. 2-ranked player in the world, perhaps shuffling throughout the top-five with the likes of Thomas, Morikawa and Xander Schauffele over the next few years. I also believe he'll eventually be a multiple major champion, with the first one coming as early as April.
If there's one downside, it's that he hasn't yet shown an ability to seriously contend at either the U.S. Open or The Open Championship, but a Masters or PGA Championship should be right in his wheelhouse.
2. Not long after the playoff concluded, I tweeted the following about DeChambeau:
Bryson appreciation tweet: This summer alone, he's had the beef with Brooks, the caddie breakup, the Covid withdrawal, the ensuing comments, the interview refusals. So much noise. So much turbulence. In such a mental pursuit as golf, it's impressive that he can keep contending.

— Jason Sobel (@JasonSobelTAN) August 29, 2021

Silly me: I totally blanked on the whole "my driver sucks" comment, too. You know it's been a long summer when a controversy that would've been massive for any other star player falls on the backburner and doesn't even make the top-five in a tweet.
Anyway, the reason I'm rehashing this one is this: While I stand by the message I was trying to get across here, I'll readily admit that it didn't have the tone that it needed.
First of all, here's my follow-up tweet to that one:
To answer all of your replies at the same time: Yes, most of it is/was self-inflicted and this is neither a sympathetic stance nor a defense of his actions. That doesn't mean the turbulence isn't there and it doesn't mean we should ignore what he did this week.

— Jason Sobel (@JasonSobelTAN) August 29, 2021
At no point was I attempting to put a positive spin on some of the things which Bryson has brought upon himself in the past few months.
Instead, my intention was to show how astounding it is that he's gone through – and yes, put himself through – this maelstrom of messiness and has still been able to compete and contend. Some professional golfers get a hangnail and a visit from the in-laws and don't make a cut for three weeks. Bryson has literally been a walking controversy, but still keeps bashing driver and rolling in putts.
As a writer, I'm usually a fan of words over pictures, but maybe I needed the Ron Burgundy GIF after his dog ate the entire wheel of cheese. You know: "I'm not even mad, that's amazing."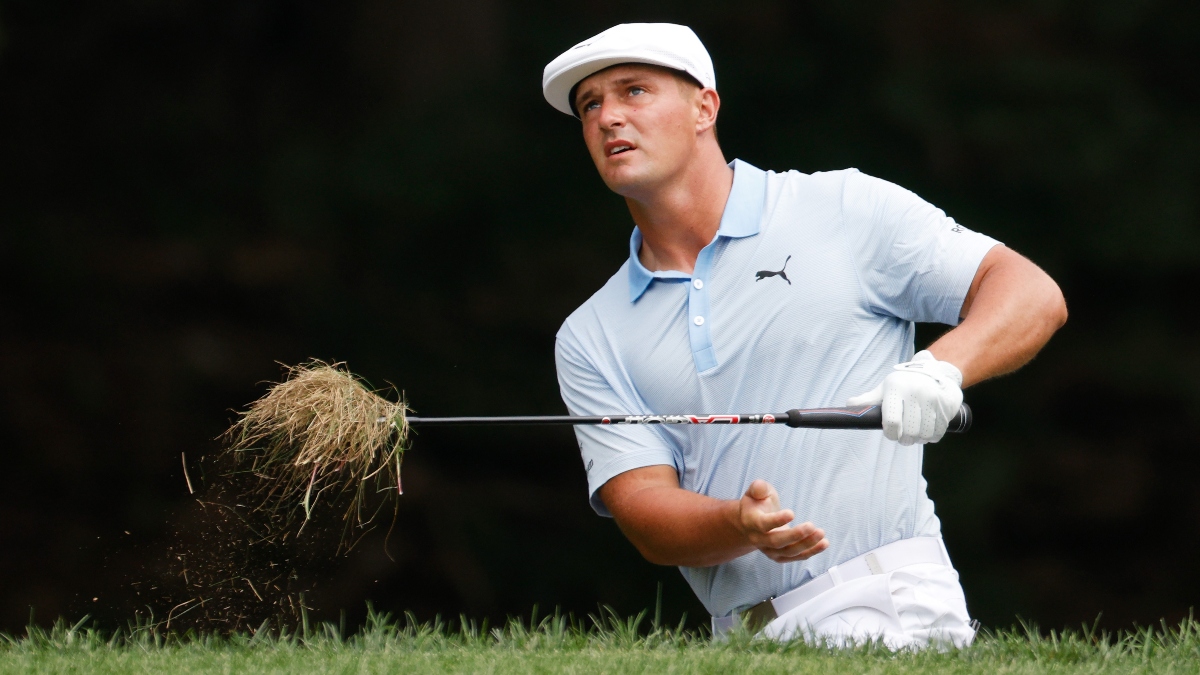 3. I've said this a million times over the years, from Colin Montgomerie to Sergio Garcia to Patrick Reed and now DeChambeau, but the game is in a better place with players who inspire passion amongst the masses.
Oftentimes, that passion has been directed toward those who are fan favorites, but there's nothing wrong with having a few villains in the mix, too. Think about it: If you're watching a football game, chances are you want one of the teams to lose. Millions of recreational bettors not only want to turn a profit, they want to have a rooting interest in what they're watching.
We're all entitled to an opinion as to whether we like or dislike Bryson, whether we want him to win or lose, but it's nondebatable that a polarizing figure brings an extra dimension to the proceedings.
When he's in contention, the galleries become a little louder, the fans pay more attention and the game generally draws greater interest – even if that interest is derived in cheering against him.
4. Granted, there were more people rooting for Bryson than in most weeks – and it had nothing to do with liking him personally.
With the Monday finish at the preceding Northern Trust, sportsbooks didn't release odds for the BMW until Tuesday morning. When they did, DeChambeau was initially listed at +3500.
On a golf course measuring more than 7,500 yards, with wide open fairways, a few potentially drivable par-4s and some reachable par-5s, sharps and public alike quickly started hammering that early number.
Each book is different, of course, but from what I saw, the chronology of his price was something like this: From 35/1 down to 25/1 by Tuesday afternoon, then 22/1 on Wednesday morning and 18/1 by first tee time on Thursday, which means his price was essentially cut in half within less than 48 hours.
I definitely don't have any official record, nor do I have any great memory, but I'm not sure I've seen a player at those types of odds move that much.
I'm guessing that back in the day there were events for which Tiger Woods was 8/1 early in the week and 4/1 by the time Thursday rolled around. And I'm sure there have been sneaky plays at 200/1 who were bet down to 100/1. Moving from 35/1 to 18/1, though, is a special kind of movement.
And yes, it obviously left the books with tons of liability on DeChambeau.
If you were one of the many holding a Bryson ticket, you might want to skip this next part.
For the rest of you, let's take a little ride down Memory Lane on the Bad Beat Express:
16: This was the first major turning point down the stretch. Tied at this point, DeChambeau comes up short of the green with his second shot on the par-5, but is able to get up and down for birdie, punctuated by a Payne Stewart-esque fist-pump. Cantlay hits his tee shot into the left rough, can only advance that one 171 yards and is eventually left with a 9-footer for par. A potential two-shot swing becomes only one when he drains the putt.
17: With the honors off the tee, DeChambeau takes an aggressive line at the par-3, but leaves his wedge shot short and right, in the rough. Cantlay then takes an aggressive line of his own and finds the adjacent water hazard. At this point, it looks like another potential two-shot swing, as books move Cantlay to as long as 20/1 before hitting his next shot. From there, though, he gets it up and down for bogey, while DeChambeau yips a wedge and doesn't convert his par attempt. No harm, no foul.
18: With DeChambeau still leading by a stroke, each player leaves himself with a mid-range birdie putt. Cantlay, like he did so often throughout the weekend, drains his 19-footer, while DeChambeau misses from 15 feet. All of which led to the playoff and, well, you know what happened next.
It's not out of the realm of possibility that, knowing each of those aforementioned situations without knowing the outcomes, you might've believed that Bryson would not only win that event, but triumph by 4-5 strokes.
The wild turn of events which led to Cantlay winning was huge for the books with so much Bryson liability – and a huge bust for those holding outright tickets on DeChambeau for 78 holes.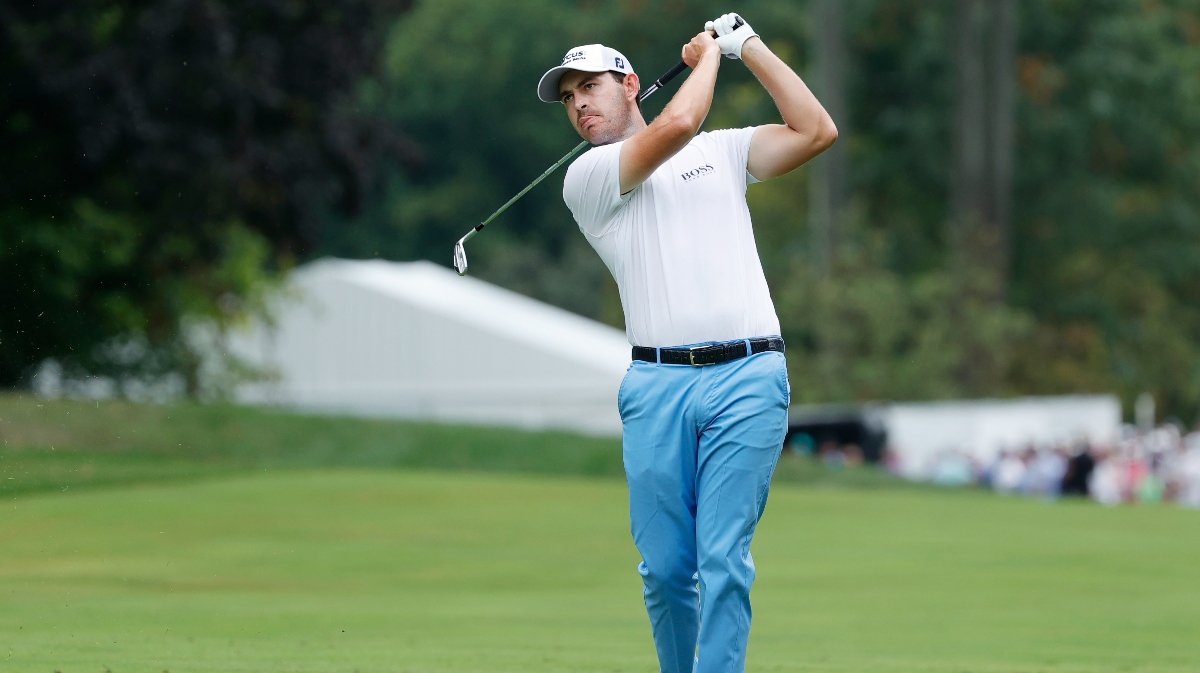 5. I'm torn between two takes as far as the scoring for this event.
Just a year ago, Rahm and Johnson tied at Olympia Fields with totals of 4-under after four rounds, a tourney the winner later likened to a mini-U.S. Open. This week, as the PGA TOUR returned to the Baltimore area for the first time in decades, Caves Valley yielded matching totals of 28-under atop the board, while every player who teed it up finished the week in red figures.
Of course, this led to many critics wailing about the course being "too easy" – and maybe it was. Look, you can't put the world's best players on a massive-yet-straightforward piece of property and expect them to struggle. It was never going to happen.
The problem I have with such complaints, though, is that they take into account the construct that par is something more than just a guideline which allows us to keep score. Don't believe it? Consider this: Torrey Pines' South Course played as a par-72 for this year's Farmers Insurance Open, as it always does, but was lengthened for the U.S. Open five months later and played as a par-71.
Essentially, par doesn't matter. We collectively could've called Caves Valley a par-68 this week, considered each of the four par-5s to be par-4s instead, and had a pair of tying scores at 12-under. The course would've played just as "easy" as being a par-72 with scores of 28-under, but there would've been much less bellyaching. (Though presumably more head-scratching at a track with that number for its par.)
The point is, we should assess whether a course is too difficult or too easy based on how it plays and how shots are rewarded or penalized. If we simply doing it based on the final score in relation to par, we're doing it wrong.
6. I'll keep this last one short: Playoff golf is freakin' awesome.
This has been the Summer of Playoffs on the PGA TOUR, from an eight-hole standoff between Harris English and Kramer Hickok at the Travelers Championship to a seven-man affair for the bronze medal in the Olympics to a six-player traffic jam to decide the Wyndham Championship.
The recency bias of the BMW might unfairly move it to the top of the heap, but I think that even a year from now, it will hold up as being the most dramatic, action-packed of 'em all.
That was fun. Here's to having another epic one this coming week at East Lake for the whole 15 million bucks.
How would you rate this article?
This site contains commercial content. We may be compensated for the links provided on this page. The content on this page is for informational purposes only. Action Network makes no representation or warranty as to the accuracy of the information given or the outcome of any game or event.