MLB Pitching Out Props
| Player | Best Odds | | | | | | | |
| --- | --- | --- | --- | --- | --- | --- | --- | --- |
| | | | | | | | | |
| | | | | | | | | |
| | | | | | | | | |
| | | | | | | | | |
| | | | | | | | | |
Strikeout props used to be the only way to back or fade a pitcher in the prop market. But pitcher total outs have emerged as an alternative way to find value on starters, without them needing to strike anyone out.
Pitcher out props are usually listed anywhere from 14.5 to 20.5, depending on the pitcher. So to cash an over 20.5 outs, the pitcher would need to go 7 full innings, because that's 21 outs. Going over 14.5 outs requires a pitcher to go just 5 full innings.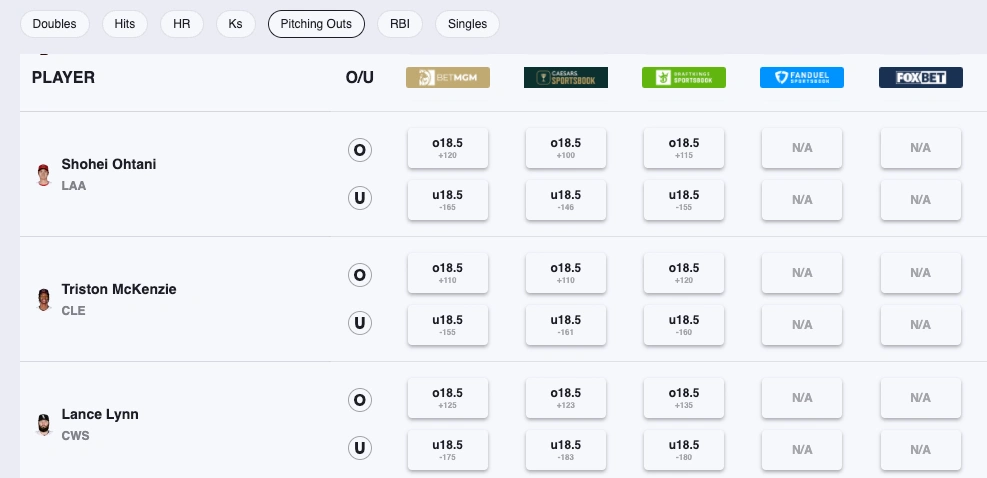 Pitching Outs Prop Example
The quality of the pitcher is definitely a big factor, but just because a pitcher is good, doesn't mean he'll rack up outs. Compare someone like Braves pitcher Spencer Strider to Astros starter Framber Valdez.
Valdez is a quality start machine -- he tied the record for longest quality start streak with 24 on Monday, Sept. 12. That's in part because he pitches to contact and strikes out fewer than 1.0 batters per inning. For his Monday start against the Tigers, Valdez's pitching outs total was listed at a lofty 20.5 -- pretty much the highest you'll ever see.
Strider has been marvelous in his rookie season but because he strikes more batters out, he pitches deeper into counts, and doesn't go as deep into games. His outs prop was listed at 18.5, so he needed to go 6 1/3 innings to hit the over. He's actually only done that twice all season, and didn't do it on Monday, despite striking out nine batters.
The under was heavily juiced on Strider at 18.5 outs, though, implying it's much more likely he goes under.
Over 18.5 outs (6 1/3 innings or fewer): +130
Under 18.5 outs (6.0 innings or fewer): -180
To bet the under, you need to risk $1.80 for every $1 you want to win. To bet the over, you're risking $1 and profiting $1.30.
How Do Books Make Pitcher Props?
Pitcher profile: Books will take past performance of the pitcher and other forward-looking projection data to set a line.
Opposing team: Is the opposing offense good or bad? Using projection data, books can determine how likely it is the opposing team knocks him out of the game early, or doesn't.