The Man, the Myth, the MVP? Why Giannis Antetokounmpo's Time Has Arrived
Credit:
Photos via USAToday Sports
At 23 years old, Milwaukee Bucks wing Giannis Antetokounmpo is already one of the favorites to win MVP (+500) for the 2018-19 NBA season.
I visited Milwaukee to talk to him, the team and new head coach Mike Budenholzer about what to expect this season and beyond from the young superstar.
MILWAUKEE — There is, of course, some limit to Giannis Antetokounmpo. There is some ceiling to how much bigger, faster, stronger he can get. There is an apex to his skill level, some concrete barrier to him being superhuman, or, in basketball terms, LeBron. Shooting may be that stanchion.
The thing is, being in Milwaukee, seeing where his body is at, hearing how his coaches and teammates talk about him, you can't necessarily see that ceiling. You can't visualize it. It's up there, through the haze — you're sure of it.
You just can't see it. The potential of this 23-year-old — let me say that again, TWENTY-THREE-YEAR OLD — no-longer-a-kid young man, though? You can see that potential in crystal clarity now. You don't have to imagine it. It's in front of you, and this season, it very well could be coming for the MVP.
THE MAN
He is not, in fact, a kid anymore. At 23, Antetokounmpo is probably the most physically impressive human being in the NBA, which is saying something when you consider that LeBron James still exists on this earthly plane.
NBA teams are used to being around physically impressive, athletic beings. The NBA is pretty much all great athletes with a few exceptions. (Shout out to Raymond Felton, really quality backup point guard for a decade.) However, talks of Antetokounmpo's athleticism comes spilling out of the mouths of players, coaches and people around the team.
"He's more confident," center John Henson said this week. "He's bigger. Stronger. Faster. It's kind of hard to think about it when he's only, what, 23?"
And it's evident. Here's Antetokounmpo as a rookie: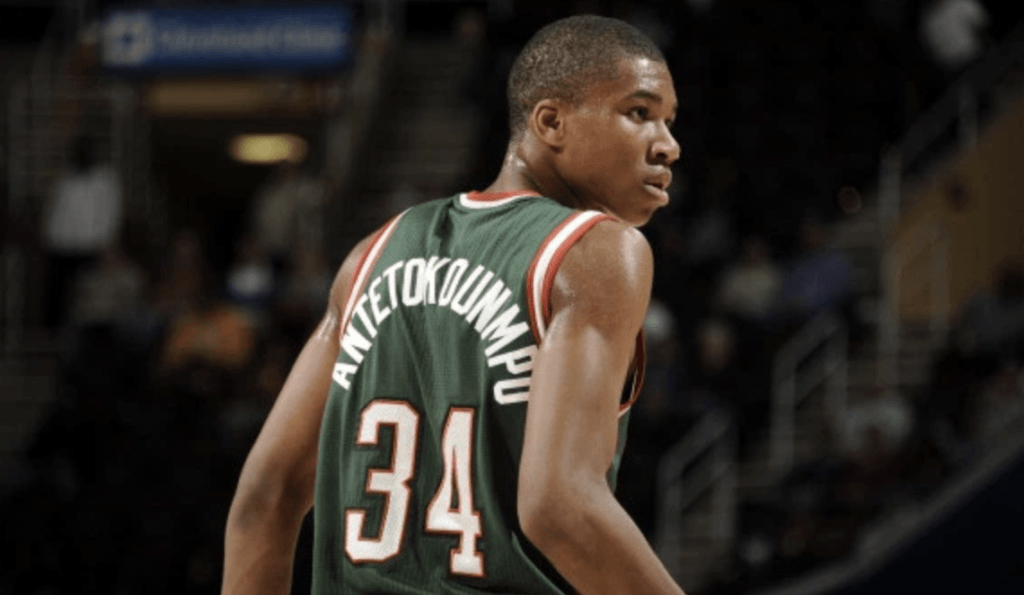 And here is where he is now:
It turns out that while Antetokounmpo was undoubtedly born with genes that enabled the capability of this kind of physique, it's his work ethic that got him here.
What most often separates the elite stars in the NBA is work ethic.
How willing are you to put in time with not just the trainers but the skills coaches, not just the coaches but the nutritionists, not just the nutritionists but the strength coaches? Antetokounmpo, by every account I heard in Milwaukee, is all-in, all the time, with all of them. He does not miss an opportunity for an edge.
This isn't all rainbows, puppies and sunshine. There are real limitations to where Antetokounmpo's game has been as his star has risen. With the added attention, there will always come more scrutiny, more attention, more analysis, and, as a byproduct, more criticism. His jumper remains, in many people's minds, the missing piece. Without it, how can he really be unsolvable defensively?
Here's where I am not here to blow smoke up any particular body part. The chances of Antetokounmpo evolving into a Splash Brother are next to nothing. Shooting is in large part an almost instinctive skill. You can improve it, you can even reach levels of "good" for prolonged stretches, but reaching a wholly different level of elite shooters is almost impossible. If Antetokounmpo does reach that level, it will be after several seasons of sustained improvement. Even LeBron has seen his jumper elevate slowly throughout his career, hitting peaks (41% in 2012-13, 37% on a career-high number of attempts last season) and valleys (31% in 2015-16).
The counter-argument to this discussion, however, is not that Antetokounmpo can suddenly transform into Kevin Durant. It's that the question is inherently wrong. The key questions for Antetokounmpo's game this season are not about how well he can shoot jumpers off the dribble, but about how often can he generate and make the right kinds of shots and how can the Bucks use Antetokounmpo to create those shots for others.
That's where Mike Budenholzer comes in. And truth be told, that's where Jason Kidd comes in, too.
---
THE MYTH
The Myth largely has to do with what this team has thought it was vs. who it really is. By all accounts, Budenholzer has a clearer vision of what it's going to take to unlock Antetokounmpo as part of that new reality.
On media day, owner Wes Edens discussed what's different with Budenholzer in charge.
In what may've been a more veiled shot at their prior coaching staff, Edens also talked in particular about Bud's system-based approach. He even directly said, "The one obvious difference around the team is Bud has a system." That didn't just mean his actual basketball system, but he specifically pointed out how organizationally he has defined roles for everyone. That extended to the players, coaching staff, etc.
Via: The incomparable BrewHoop.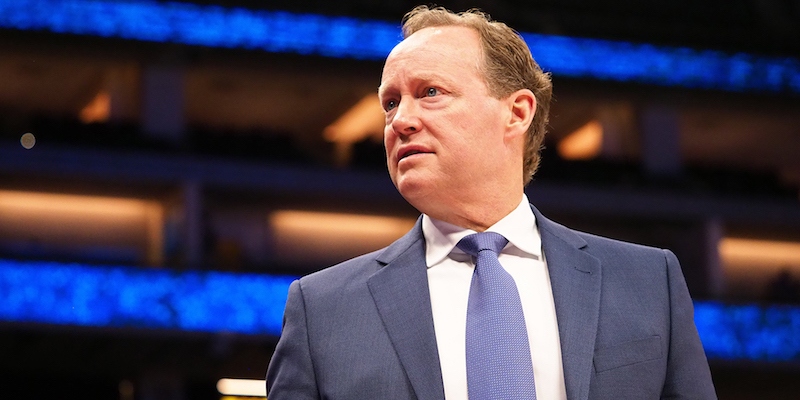 It's not uncommon for there to be lingering feelings of frustration after a failed regime, especially one that went up in such flames as Kidd's coaching tenure did. No one talked about Kidd specifically; it's impolite. You can't avoid the sense of relief in the team, however, that there is a structure, there are defined roles, there is a clear sense of what the team should be for the first time in years.
"They're very enthusiastic and positive in their approach in terms of being encouraging, being uplifting," Malcolm Brogdon said.
"It's very regimented," newcomer Brook Lopez said. "It's very efficient stuff. We have what Bud calls our individual vitamins. It's a pre-practice session whether you're by yourself or with one other guy; you're getting 20-30 minutes of court time just working on whatever you need to work on."
The one thing that's clear above all that the Bucks are prioritizing this season is spacing. It's the No. 1 thing discussed as the difference this season from previous ones.
"Spacing (is the biggest difference)," Antetokounmpo said. "Lot of open shots, lot of corner 3s, lot of ball movement, but not just ball movement. Guys are moving. Last year, we have guys who can play the ISO game, one-on-one, one-vs.-two, but this year it's more offensive team-oriented."
In Atlanta, Budenholzer employed a lot of five-out strategies. Going back to 2014, in an Al Horford-less playoff series vs. the top-seeded Pacers, Budenholzer threw a wrench into that team's scheme by using a five-out scheme with Pero Antic, of all people.
This summer, the two biggest additions to the Bucks were Lopez and big man Ersan Ilyasova. The two combined to shoot 35% on a combined 8.1 three-point attempts per game last season, even in a down year for Lopez's percentage. The Bucks don't need them to prop up their shooting — they need them to keep the defense honest and space the floor.
Teams will naturally want to help off and pack the paint vs. Antetokounmpo to keep him from getting to the rim. Watch as Henson tries to help out by cutting down, but the result allows DeAndre Jordan to help over:
Antetokounmpo scores anyway, because, well, he's Giannis, but the spacing limits what he can do. By loading up with shooters, teams have to stay home, and the Bucks present an impossible choice.
Thon Maker knocks this down, but the basic action illustrates what the Bucks are going for: punishing help.
Even when the roll man stayed high in sets such as this one with good spacing, look at the room Antetokounmpo has to work with:
If you get Antetokounmpo one-on-one, he's going to win the matchup almost every time. Here he attacks a big man one-on-one, and even then there's just no hope for the defender physically:
This stuff is basic, but it's also super important: With better spacing and Antetokounmpo's development, the Bucks put opponents in an impossible position. Don't bring help, and you leave Giannis with space to get a head of steam vs. one-on-one coverage. Bring help, and he makes you pay.
"I don't know if he's surprised me, but I'm really happy with his willingness to pass, his willingness to play with his teammates and how he sees the court," Budenholzer said. "You know, he's such a competitive guy and such a force going to the basket — that takes a lot of your eyes and your focus. So to be able to see the defense and read the defense and make good decisions, when he's so special at getting to the basket, with that willingness to pass, it's going to put teams in a really difficult spot."
"(I've really been surprised by) how selfless he is, as a leader and player on the court. He's so great at moving the ball, and even off the court he's a fantastic teammate," Lopez said.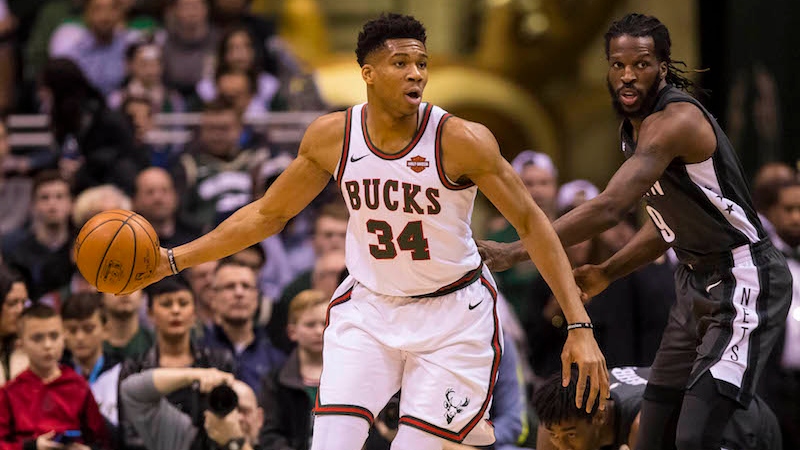 The concern, both within and externally, for the Bucks is whether Antetokounmpo can be a good enough passer to make the most of it. Giannis is, by his own description, a "capable" passer. He is so much taller than most of his defenders and has good enough floor sense to find where the ball should go. However, he's not at his core a natural playmaker. It's a skill he's added, and his unselfishness makes him good in that regard. But he's not an instinctively creative passer like a LeBron or a James Harden (at least not yet).
That limits how much he can punish teams, especially with the angles needed with four different shooters positioned. What it does enable, however, is a very Westbrookian approach, wherein Giannis' individual and universally singular athleticism — combined with a functional and solid capacity for passing — combined with a willingness to share the ball, creates mechanisms for him to punish teams.
"I think I'm a capable passer. I can see plays. I have the ability to see plays because I'm almost 7-feet. I have to trust my teammates," Antetokounmpo remarked at practice last week.
---
>> Sign up for The Action Network's daily newsletter to get the smartest conversation delivered into your inbox each morning.
---
Russell Westbrook isn't out here painting portraits with his passes; he's a surgeon using the tools at his disposal. Giannis is more like a super-powered ATV lawnmower with blades attached to cut through foliage and the forest and manicure the yard as well.
We're already seeing the results of that, as early as the first preseason game for the Bucks under Budenholzer. In transition, four Bulls gear up to try to get between Antetokounmpo and the rim, and instead of his big man crashing and clogging, Ilysasova spaces to the corner.
There's a division in the NBA between playmakers who are creative artists, masters of the court and those who are able to manipulate their scoring gravity to create opportunities for teammates. Antetokounmpo is well-suited for the latter, and under this new system, he's maybe finally in the best situation to make the most of everything at his disposal.
He doesn't have to make beautiful passes even in difficult positions such as this one to be effective:
However, this is the first time Budenholzer has tried to design a system around an omega-forward. In Atlanta, the traditional point guard 1-5 pick-and-roll set the table more often than not. In San Antonio under Gregg Popovich, Tony Parker and Tim Duncan were the initiators. There's no one on planet Earth like Giannis Antetokounmpo, of course, but Budenholzer's never even had a reasonable facsimile.
"No, (I've never had a player like that)," Budenholzer said. "It's been a great challenge to think about all summer and think about how we can do things that are fundamental to great basketball and fundamental to being a great team and how they marry up with a unique player and skill set like with Giannis. We're excited about how we can take advantage of him and hopefully put him in even better positions and put his teammates in good positions also."
There's also a huge opportunity in a better offense for Antetokounmpo off-ball. With more spacing, you're creating more room for him to cut — for him to pull defenders out and then burst to the rim without running into interference. Like here:
THE MVP?
Antetokounmpo averaged 26-10-5 last year with 1.4 steals and 1.4 blocks on 53-31-76 splits. His efficiency should improve, and there's no sign from the Bucks that his 31.2% usage rate will decrease. In fact, it should tick up slightly.
His scoring should see a modest increase; his assists might see a more significant bump. No player has ever averaged 28-10-7 with one block. Even if Antetokounmpo only bumps to 27-10-6.5, only three players have hit those marks in NBA history. Throw in the very strong likelihood the Bucks win at least 47 games, and that's a formula for an MVP candidate.
There will be growing pains. The good teams will decide to live and let die with the Bucks' shooters, especially those centers, hoisting 3-pointers. However, the NBA regular season is about establishing edges against weaker prey. Milwaukee is in better position under Budenholzer to find those edges, with Antetokounmpo leading the way.
There is some ceiling to a fully actualized Giannis Antetokounmpo as he enters his prime. This season, however, it seems we're likely to finally see how the atmosphere is up there.
How would you rate this article?