NBA MVP Straw Poll: Giannis Antetokounmpo Represents Best Value as Odds Move
Credit:
USA TODAY Sports. Pictured: Giannis Antetokounmpo (34), Paul George (13), James Harden (13).
The race for the 2019 NBA MVP between Giannis Antetokounmpo, Paul George and James Harden is as close as any in recent memory.
Oddsmakers at the Westgate Superbook and likely MVP voters see value in betting for the Bucks' superstar to win the award.
MVP odds are on the move. Over the weekend, the Westgate moved several of the NBA MVP odds, based on what a spokesman described as "just their perception" on where thing stand. The takeaway?
The MVP race stands as a pick 'em between Giannis Antetokounmpo and James Harden, with Paul George as the only serious outsider.
The updated odds:
That movement on Antetokounmpo is particularly notable. He was one of the favorites in the preseason with good odds and leapt out as frontrunner, though Harden's insane run since December has pushed his name to the forefront.
Harden averaged more than 43.6 points per game in the month of January along with 7.6 assists. That kind of production is historic, unbelievable, earth-shattering.
And it might not be enough.
An MVP strawpoll conducted of likely voters by The Action Network yielded the following results:
Giannis Antetokounmpo: 13
James Harden: 7
Paul George: 1
As we enter the final two months of the season over less than 26 games remaining, here's the case for each player:
Giannis Antetokounmpo, forward, Milwaukee Bucks
Summary argument: Best player on the best team
Antetokounmpo is averaging 27-13-6 on 58% shooting from the field and very quietly has shot 37% from 3-point range in February after improving every month in that category.
The Bucks are on pace for the No. 1 seed in the East and potentially the only team with 60 wins this season. Milwaukee needs to hold onto that No. 1 spot for Antetokounmpo to win it.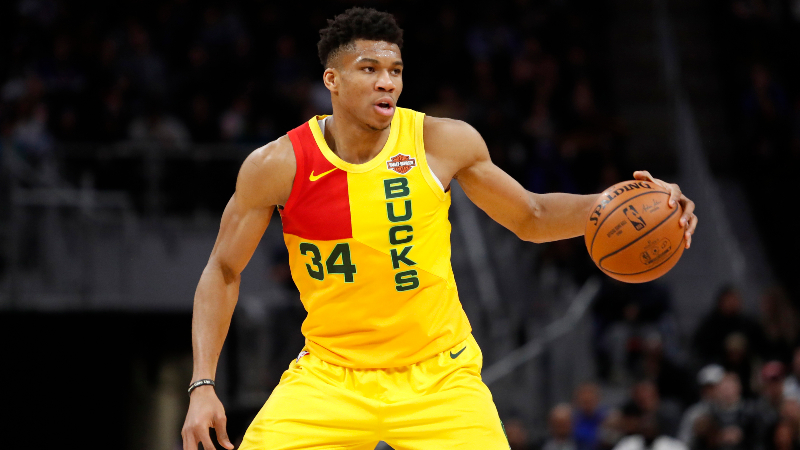 The biggest glaring problem for Antetokounmpo is his consistency — not that it's bad, that it's so good. He doesn't have, or need, a huge month to go completely wild statistically. He's averaging 33 minutes per game; the Bucks are so good they don't need him to carry the load, and that hurts him in a contest for "who does the most for their team."
Antetokounmpo could do more for the Bucks, that much is clear, but they want to make a serious Finals run, and limiting his minutes and keeping the whole team engaged is more valuable.
Giannis also has the fewest national TV appearances left of the three major candidates (seven) including one against Harden. Those marquee games can often carry voters as anecdotal blocks. He's in the lead, but he's going to need a strong finish to carry this thing home.
James Harden, guard, Houston Rockets
Summary argument: Statistical dominance
Harden's on pace for the seventh-most points per game (36.59) in NBA history. If he gets to 37 points per game, he joins only two players in NBA history, Wilt Chamberlain and Michael Jordan, to have done so. By extension, should he get there, he will have averaged the second-most points per game in the last 50 years.
He's doing so while shooting 44-37-87 on insane usage which drags down your efficiency. He's on pace for the second-best offensive-box plus-minus in Basketball Reference's database. The Rockets are again aiming for a historic offensive rating.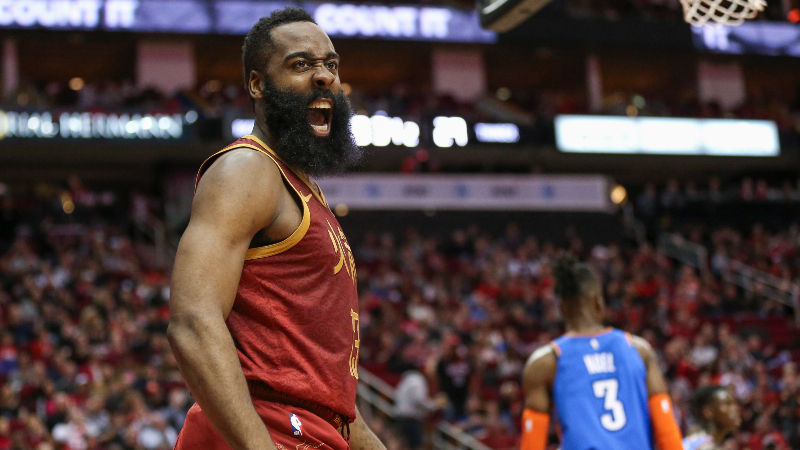 The concern? Team record. The Rockets are on pace for 47 wins. That's after a terrible start with injuries and suspensions, but they've also been inconsistent, as shown by their loss to the T-Wolves before the break. The Rockets just haven't had a win profile that reflects an identity of teams they consistently beat.
If they don't solve that, which is difficult with how terrible their defense has been, that opens up the possibility of them failing to hit 50 wins. And anything short of 50 wins severely hurts Harden.
There's also an ingrained belief that Harden has to slow down because the wear and tear from this kind of usage is too much especially with Chris Paul back in the lineup, but don't be surprised if they go for it. Both D'Antoni and Harden tend to throw caution in the wind with this stuff no matter how gassed Harden has been in the playoffs the last three seasons.
Harden has to maintain both his prolific scoring, efficiency, and playmaking rate while keeping up a pace for 50 wins to hang with Giannis.
Paul George, guard/forward, Oklahoma City Thunder
Summary: The most complete dark horse candidate
George is thought of as the lone "outsider" with a real chance according to the sportsbooks. He's got the Thunder screaming for the third-seed in the West. Russell Westbrook's role in this is ironic.
He's deferring more and empowering George, setting up his MVP case, but Westbrook is also so bad at shooting this season (second-worst percentage of his career) that it heightens' George's case. There's no debate to be had about who OKC's best player is this season, and it's remarkable for 2016-17 MVP to not be that guy.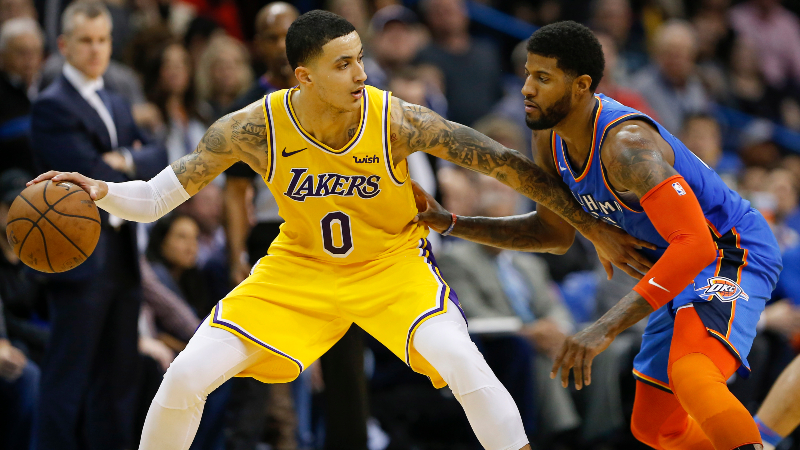 As we outlined here, George has the most complete MVP case. His defense is better than Antetokounmpo's, and while his offense isn't as prolific as Harden's, his defense makes up a lot of ground on Harden.
Much of this may come down to how many standout games George has down the stretch. OKC has 11 national TV games (non-NBATV), which is the most of the three candidates.
His performance vs. Milwaukee on a Sunday night game garnered a lot of support for him. Still, George, as evidenced by the strawpoll, is still significantly behind and both he and the Thunder would have to go absolutely bonkers securing the No.1 seed in the West for him to have a real chance at at it.
How would you rate this article?