2020 NBA Championship Tiers: Ranking the 16 Best Title Odds
Credit:
Jeff Hanisch-USA TODAY Sports. Pictured: Milwaukee Bucks forward Giannis Antetokounmpo (34).
The NBA season is finally here and this year the title race is more wide open than ever.
Below Matt Moore ranks 16 teams with highest odds to win the 2020 NBA championship.
What does an NBA with parity look like? How do you bet it?
The league is wide open as we enter the 2019-20 season. There are favorites, of course, but there's also uncertainty and instability.
The favorite to win the NBA title this season in preseason is the Los Angeles Clippers after adding Kawhi Leonard and Paul George. The shortest number on the board is at PointsBet at +300 for the Clippers.
The last time a preseason favorite's odds were that long was 2009 when both the Lakers and Celtics were +350 (per SportsOddsHistory).
As a preface, there isn't a position here with its best value now. There are too many unknowns with this season. A prominent reason for the perceived parity in the league is the simple uncertainty surrounding the new world order, as it were.
So how do you navigate a field like this? Let's take the top 16 teams by way of odds, and break them into tiers based on what you're looking for.
(NOTE: I'm excluding New Orleans due to Zion Williamson's injury.)
Odds from DraftKings, PointsBet, FanDuel, Westgate, Circa Sports, and Caesar's.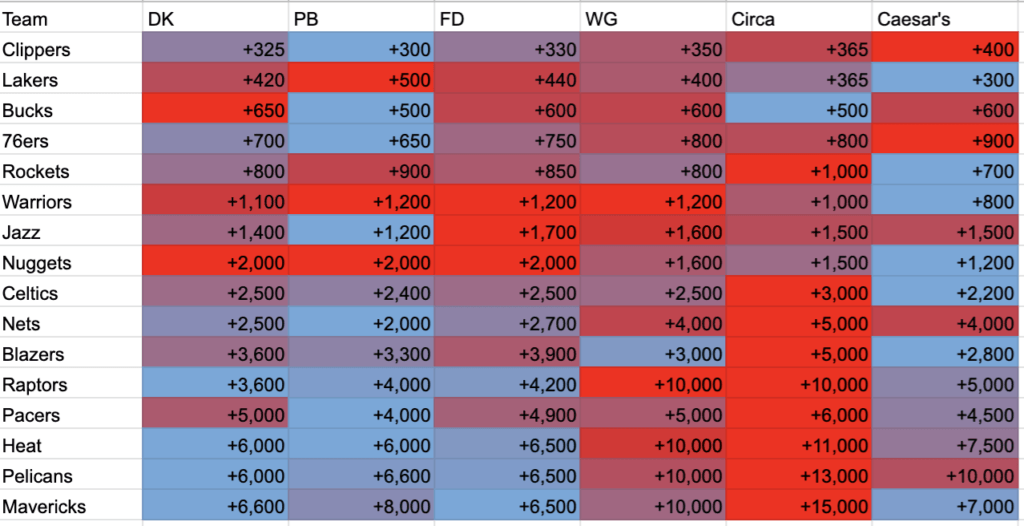 I Want To Set My Money On Fire
16. San Antonio Spurs (+50000, Westgate)
You better like Dejounte Murray more than any person on the planet, including his close family, friends, and God Himself to make this bet.
15. Orlando Magic: (+20000, Circa Sports)
Hey, what if Markelle Fultz suddenly got instantly fixed with his shooting hitch? And what if Aaron Gordon simultaneously embraced being a Shawn Marion type player instead of a LeBron James hybrid? And what if Mo Bamba is also secretly Hakeem Olajuwon? No? OK then. Probably not.
14. Miami Heat (+10,000, Westgate)
I can construct just about any argument when it comes to the NBA. But if you've got a logical paradigm for Jimmy Butler being the best player in the NBA, and Kelly Oylnyk, Justise Winslow and Tyler Herro being the difference makers in a series vs. the Bucks, Sixers and the West champion, I'd love to hear it. I'll wait patiently over here.
13. Brooklyn Nets (+5000, Circa)
Honestly, this number being so short is pretty disrespectful to a lot of the teams behind them. The Nets lost half their roster from the plucky team that lost in the first round last year, even if they kept most of the best parts.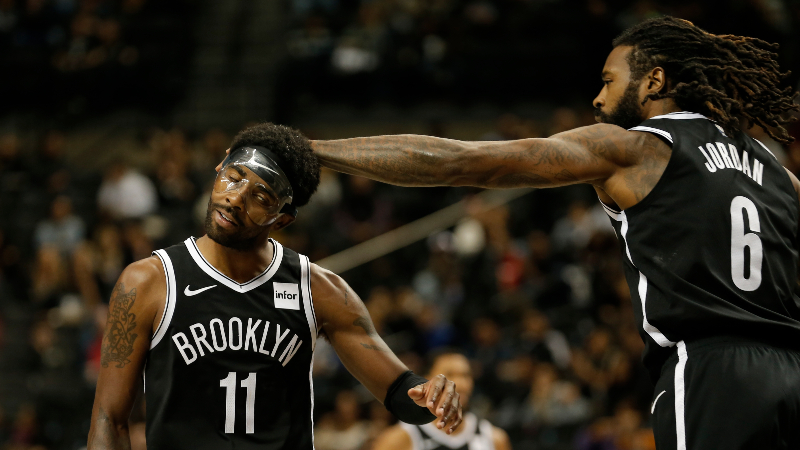 DeAndre Jordan should not get minutes over Jarrett Allen (but he will), Kevin Durant is not coming back this season, and Kyrie Irving comes with a lot of complications. Magic 8-Ball says "Check back later (as in, next year)."
---
I Can Rationalize This Based On Their Best Player
12. Indiana Pacers (+6000, Circa)
This one, as you would expect, is on the bubble. The Pacers almost knocked out LeBron's Cavs with a healthy Oladipo in 2018, and they have a model.
Defensive Player of the Year candidate Myles Turner entering his prime. Savvy great shooter in Malcolm Brogdon, capable wings, and good coaching. What if Oladipo returned to full health? What's that? That's impossible with his injury? Ah, well, nevertheless.
11. Boston Celtics (+3000, Circa Sports)
Again, like with the Nets, pretty disrespectful to some of the teams behind them.
They have the third-shortest title odds in the East and the gap on average between them and the Raptors is +2517 to +6133 on average between the five books. That's absurd for a team with rim protection and bench issues, with a roster mostly under 25.
However, I'm of the belief that Walker is more beneficial, on the whole, with less talent. If you think that Jayson Tatum will make the leap and Brad Stevens can take this team one round further than he did in 2018 with a comparable roster, it's not a bad "let's tack on a longshot at the end."
10. Portland Trail Blazers (+5000, Circa)
Damian Lillard. That's pretty much all I got.
Sure, the roster is worse than last year, with guys like Al-Farouq Aminu and Moe Harkless replaced with high-upside guys like Mario Hezonja and Hassan Whiteside. But what if those all came through because Terry Stotts is a genius?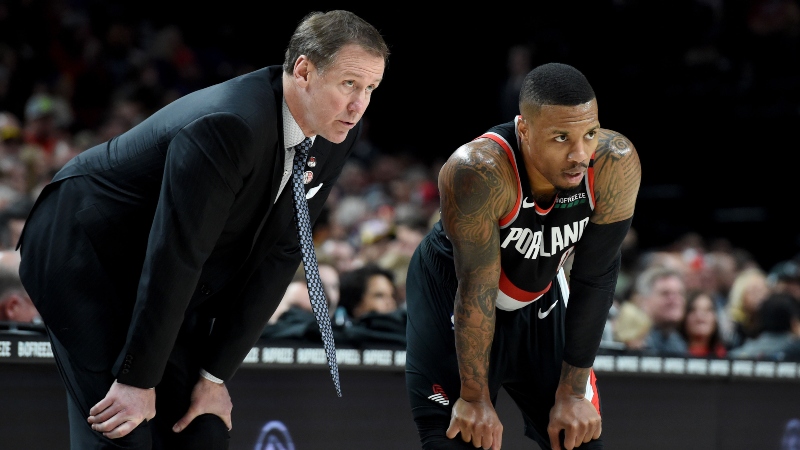 What if Dame gets to that MVP level and just lands top-three status? I mean, granted, the model for defending Lillard in the playoffs (blitz him in the pick-and-roll every time) has been found by everyone except Oklahoma City, but CJ McCollum basically got the Blazers past Denver on his own.
This is the one team in this group I like as the longshot to package with teams from the higher groups.
9. Toronto Raptors (+10000, Westgate)
RESPECT THE CHAMPS!
The Raptors get absolutely no respect from the various numbers. Look, Kyle Lowry just signed an extension. He's still good, and still around. Fred VanVleet, who won the Eastern Conference Finals, probably takes another step up. Marc Gasol is playing the happiest he ever has and remains solid. Serge Ibaka still has his nights.
Pascal Siakam is your high upside play. If they get into a series with Philadelphia, they won't have Kawhi Leonard to hit the most amazing Game 7 shot in NBA history, but they'll have some confidence. They'll feel like they can beat Milwaukee by scheming Giannis Antetokounmpo again as FVV bombs from deep.
If you put in this bet I would not think you were insane, even with the chances that they make midseason trades.
---
It's The Warriors
8. Golden State Warriors (+1200, Westgate)
This team is getting a lot of respect as the former champs, despite Klay Thompson's injury. They looked like a mess in preseason. So much so that their move to keep Marquise Chriss and let go of Alphonso McKinnie feels significant.
They may struggle the whole year and barely make the playoffs.
However, if they get there, and they have Stephen Curry, Draymond Green, Thompson, Kerr, and a team that has figured out things as they've gone on… this number will look a lot shorter.
There's the possibility of a midseason D'Angelo Russell trade (Robert Covington?) to bolster the defense and bench, there's the chance that the coaching staff coaches up the young, unproven guys. There's a lot of upside here for a 12-1 return.
There's also, of course, the chance that Curry misses a month and they tailspin, then decide to play it safe and not bring Thompson back this season. If you're building a position, the Warriors are basically the Blazers with a better star core.
Can They Win In The Playoffs?
7. Houston Rockets (+1000, Circa)
I have the Rockets finishing tied with Utah for the best record in the West and the second-best record in the league.
But look, I've been in the building for their exits. It's tough. I think Mike D'Antoni is a genius, a revolutionary and a future Hall-of-Famer. He's contributed as much as any coach to the modern NBA.
He just has rotten luck in the playoffs.
James Harden slows down big time in the playoffs. He swears it's not exhaustion but he always looks exhausted. The isolation basketball takes away a lot of options in the playoffs and tightens everyone up. Russell Westbrook comes with similar postseason ghosts since Durant took off.
The roster isn't built to defend and took a huge step back in that area last season.
Now on the plus side. Maybe this is the year they shoot the gap. They lost to the Warriors in 2015, 2018, and 2019 (they should have beaten the Spurs in 2017 and would have given the Warriors a run then, too).
They match up well with Denver and Utah, two serious contenders, and will give the Lakers problems with their 3-point barrage. If the matchups fell right, Houston's run would look really good. This is a good number, and even the shortest on the board is +700. That's a 12.5% implied odds. The Rockets have a better than 12.5% chance of winning the title.
But the narrative is rough.
6. Utah Jazz (+1700, FanDuel)
As I said, I like Utah to finish tied with Houston for the top seed in the West. They're going to be an incredible regular-season team.
I've been a Mike Conley fan for eight years (since I killed his contract extension and he became the best non-All-Star guard in the West). But he has a recurring foot injury stemming from shoes he wore for several years, and it continues to give him problems.
Rudy Gobert is solvable in the playoffs. Conley and a leap from Donovan Mitchell would offset that, but his inability to score on his own in any real capacity is a problem.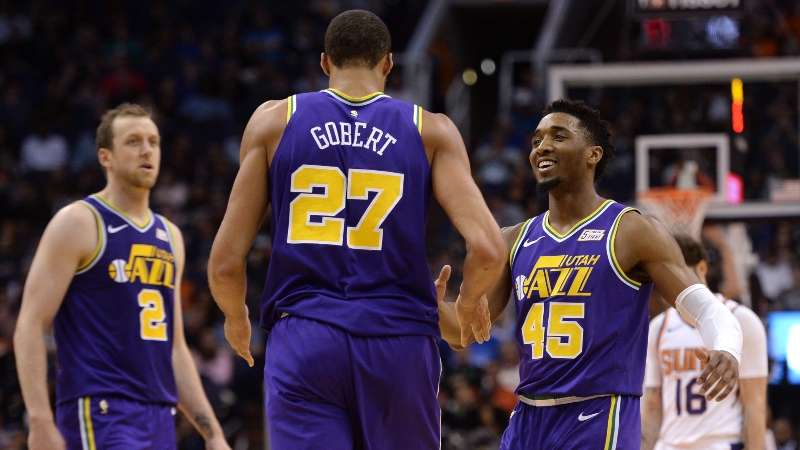 The defense in preseason has looked so yikes I think this number lost value.
Can Mitchell, who faceplanted in FIBA play (to a degree), get to real superstar status? That has to be your bet here. If you want to bet the Jazz, even as a combo with a favorite, you're betting that Mitchell hits his ceiling this year at the right time.
If it's Game 6 on the road and the Jazz are down four points at the half with LeBron or Kawhi having gone on a 10-0 run to end the half, who is carrying them home? That's a real question.
---
Market Markup
5. Los Angeles Clippers (+400, Ceasar's)
I'm not there with the Clippers. I'm just not.
Paul George coming off two shoulder surgeries. Kawhi still had leg injuries in the playoffs he played through on the way to the title. A roster of guys who everyone likes but most are playoff unproven. There's a lot of trust in guys like Ivica Zubac and Landry Shamet who are good young players but if they dip things get dicey.
There's a lot of lean on Lou Williams whose playoff history is a little spotty.
Their roster doesn't make perfect sense. It makes a lot of sense. It doesn't make perfect sense.
We haven't seen two wings of this caliber try and play together like this in a while. Defensively, they'll be a monster. PG is comfortable melding off-ball and picking his spots, but Kawhi Leonard is an on-ball guy who's not an elite creator (though he's improved a lot and showed a ton in the playoffs and preseason).
This is the safe bet. They're the best team going in. I wish this number was a little higher, at around +500. But if you want to take a longshot you're having to talk yourself into, and want to cover yourself? Take the Clippers with it.
4. Los Angeles Lakers (+500, PointsBet)
I like this number. There's a little bit of a bump on this because the Lakers always get steamed. (You'll notice the Vegas books are way shorter, closer to +350.)
The Lakers have looked monstrous in the preseason. James is coming off the most rest since he was a pup. He seems genuinely ready to give opportunities to Davis. Davis looks ready to step in the spotlight.
There's been a lot of criticism for the roster, but here's what they did: they built capable shooters with on-court intelligence who know their roles to fit around their two stars.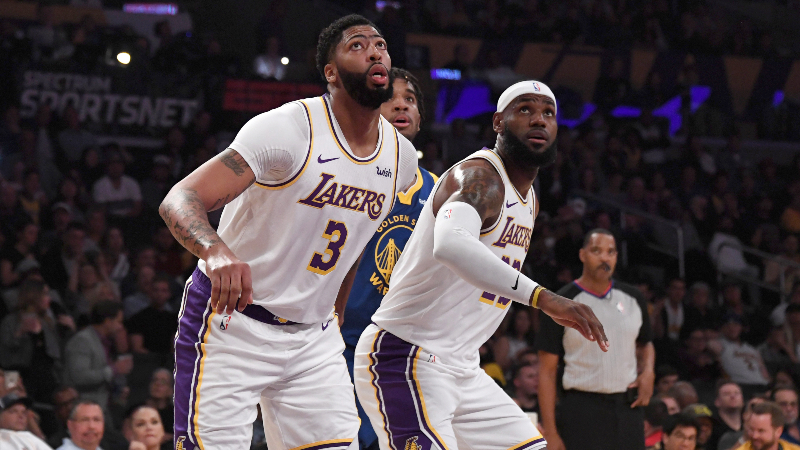 Both Davis and James are risks to miss time throughout the season, but the only real problems will arise if those absences overlap. James hasn't faced a wide-open field (sans-Warriors) since 2014. He's not the same player he was then, but he's still a monster.
Frank Vogel is a really good defensive coach, and the talent will carry the offense most times.
They're on the other side from the Jazz and Nuggets on the superstar question. If they're down 4 in an elimination game, you can have confidence Davis and James can carry them home.
The Lakers — remarkably, given that it's the Lakers — are a little underrated. If I were taking one bet, this would probably be it, even with the value not as good as the ones above.
---
Supreme Choice
3. Denver Nuggets (+2000, PointsBet)
Denver is really close to Utah. You have that same concern about a playoff matchup and getting overtaken. Are you going to bet on Denver vs. LeBron or Kawhi in a playoff series?
They also don't match up with Houston at all. Houston has won 80% of their matchups since 2016. It's a problem.
But that number suggests 4.76% implied odds for a team with the most continuity, that finished second in the West last season, learned how to win a Game 7 and lost another Game 7 because Evan Turner and Myers Leonard had huge games.
That's after they lost an all-time instant-classic heartbreaker in Game 3 vs. Portland and then rallied to win Game 4 on the road.
Denver is better this year; Nikola Jokic looks like he's finally embraced being the best player. Paul Millsap is still a metronome. Gary Harris and Will Barton are back fully healthy. They have trade options with Malik Beasley and others. Michael Porter Jr. has a remarkably high offensive upside if he contributes.
Jerami Grant is a sneaky awesome addition who benefits both starters and bench, both the offense and defense.
They play in a diminished division with OKC and Portland (slightly) worse.
That question about who carries them home? They have guys who can do it, most notably Jokic and Jamal Murray.
They are also exceptionally well-coached under Michael Malone. This is exceptional value.
2. Philadelphia 76ers (+900, Caesar's)
I have the Sixers for the best record in the league. I think they'll be awesome in the regular season and have home court. I was low on the Sixers last year all the way through, from their preseason over/under to their series vs. the Nets and Raptors.
Honestly, their performance vs. Toronto has boosted them a lot to me. They were one four-bouncer from the Eastern Finals. They lost Jimmy Butler, which hurts on the surface.
But they added Josh Richardson and Al Horford. Horford makes their passing and shooting better, their defense better, and can play center when Embiid sits.
They are so big. Ben Simmons looks like he's taking a step forward, maybe a leap. Tobias Harris, Josh Richardson, Horford, Embiid, it's just huge.
The bench is shaky, to be sure, but in the playoffs, that matters less.
You're betting here that it's Embiid's season. That he can be the most dominant force in the league, which is reasonable.
The league is stacked; the East isn't. Do the Sixers have a better than 10% chance (implied odds) of avoiding a season-injury for Embiid, beating a worse Bucks team in the Eastern Conference Finals, and toppling a West team that had to go through the gauntlet? I think they do.
1. Milwaukee Bucks (+650, DraftKings)
What in fresh hell? I'm low on the Bucks' regular season. Their under is my seventh-most confident bet. Their win total is 57.5! That's crazy!
But playoffs?
Look, we buried them when they went down 0-1 to the Celtics and then they absolutely stomped up and down on them for five games.
They were up 2-0 vs. the Raptors when VanVleet turned into the difference-maker. I will not stop banging this drum.
Final tally:

When Giannis and Kawhi shared the floor, the two teams tied 445-445.

When Giannis was on the floor and FVV was on the bench, the Bucks were +40.

When Giannis was on the floor and FVV was on the court, the Bucks were outscored by 30 points.

— Hardwood Paroxysm (@HPbasketball) May 26, 2019
FVV is a great young player, but his performance was the most outlier of outliers. He literally swung the Eastern Conference Finals.
The Bucks aren't as good this season. But they retained most of the key pieces from last year where they had the best net rating in the league and one of the best in the last 20 years.
They will roll any team except Philadelphia, and they have weapons to throw at Philly. They have length and shooting to counter what the Sixers bring to the table, both Lopez brothers to defend Embiid, great coaching, and Giannis. If he gets any better, in any area, that might be enough. If he gets better from the perimeter, that jumps their ceiling significantly.
Mike Budenholzer's playoff success is spotty and they have some real playoff question marks on the roster in Eric Bledsoe and Brook Lopez (who can get played off the floor). They'll be relying on Pat Connaughton to fill a big gap with Brogdon gone.
But at 13.33%? That's probably low. The East probably takes up a higher chunk of the percentage chances since so many of the other serious contenders all have to play one another.
For the best short-odds team with the best number? You can't beat the league's best team last season, even if they take a regular-season step backward.
THE PLAY: Take Milwaukee and either Denver or Houston, then be prepared to fire live if one of the other top-10 emerge and set themselves apart.
How would you rate this article?
This site contains commercial content. We may be compensated for the links provided on this page. The content on this page is for informational purposes only. Action Network makes no representation or warranty as to the accuracy of the information given or the outcome of any game or event.