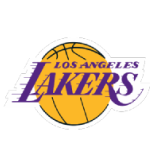 Los Angeles Lakers Odds
5th in Pacific Division
Overall Record

43-39

ATS Record

39-40-3

Games out of playoffs

-
No promotions available. Try selecting a different location.
LeBron James

SF

James is probable with foot

Probable

Anthony Davis

PF

Davis is probable with foot

Probable
Lakers 2023 Schedule & Betting Odds
Los Angeles Lakers Player Stats
scoring

rebounding

assists

shooting
Los Angeles Lakers 2021-22 Season
The Los Angeles Lakers came into the 2021-22 season with some lofty expectations. LeBron James and a healthy Anthony Davis were back and an offseason trade for Russell Westbrook gave them a fierceful Big 3.
But as we exit the All-Star break, the Lakers have been the most disappointing team to watch in the first half of the season. Injuries and poor play across the board has LA barely hanging on to a Play-In spot in a Western Conference that is no longer as strong as it used to be.
As they look to bounce back and make a push for the playoffs in the final 20+ games of the regular season, you can track all of the Lakers odds, their full schedule, injury reports, against-the-spread (ATS) performance, and much more here and on our NBA Futures Odds page.
Betting on the Los Angeles Lakers
The Lakers will need to claw their way into the 2022 playoffs, meaning every game matters for them. As such, this could be a team to keep an eye on in when it comes to betting odds. Here are some bet types to consider when wagering on the Lakers.
Moneyline
Point Spread
Over/Unders
Props
Future Odds
Lakers Moneyline
Moneyline bets, which are wagers on whether a team will win the game (unlike the spread, the margin of victory doesn't matter), are also based on expectations. For a favorite, you'll have to pay more to win. Here's another Lakers example:
Los Angeles Lakers -240
Sacramento Kings +190
The Lakers are likely to win, which means you can't just bet $10 on them and get $10 if they beat the Kings. Their -240 odds in the example means you'd have to bet $24 for every $10 you want to profit. With the Kings odds, you'd win $19 for every $10 placed if they beat the Lakers.
Lakers Spread
The Lakers were expected to be one of the NBA's best teams--but things haven't panned out that way. With high expectations placed on their shoulders during the preseason, their ATS results have taken a hit during this tough stretch of play.
An example is a spread bet, which is a wager on how much a team will win or lose a game by. Here's an example for the Lakers:
The favorite in spread bets will always have a minus sign, whereas the underdog will have a plus sign. In this example, the Lakers are 5.5-point favorites, which means to cash a spread bet on them they'd have to beat the Clippers by six or more points. This is known as "covering the spread" in point spread betting. Through the All-Star break, the Lakers are 26-32-0 ATS – which puts them in the bottom 10 in the league.
Lakers Over/Unders
Once considered one of the best defensive teams in the league, Lakers overs hit at a Top 5 clip in the NBA – coming in at 33-25 through the break. Over/under bets, often called totals, are bets on how many points will be scored in a game.
Say the Lakers and Warriors had a total of 229 points. You can bet either side, and an over bet would cash at 230 or more points combined, whereas the under would hit at 228 or fewer. It's possible for the game to finish on the number, which is called a push.
Lakers Props
Throughout his long, brilliant career, LeBron James has racked up a ton of triple-doubles. Any given night of the season, you can bet on something like that happening. Those are called prop bets, and they can be tied to a player or something specific about a game. For example, you can also bet on which player will score first in a Lakers game.
Futures Odds
Expectations will always be high in Los Angeles with LeBron James and Anthony Davis on the team, which means bettors will have to shop for the best line to get good odds on Lakers futures bets. Futures are bets that focus on long term outcomes, like the Lakers to make the playoffs , win the Pacific Division, win the Western Conference, win the NBA Finals , or even individual awards like James or Davis winning league MVP.
How to Bet on the Los Angeles Lakers
Sports betting is currently not legal in California. Some people want just in-person betting at retail casinos, while others want full-scale online betting to be available. Sports betting is likely to be included on the November 2022 ballot after some cities in CA came together to create a third initiative to push legalization later this year. Stay up to date on our California sports betting page regarding legislation in the state.
PrizePicks Daily Fantasy
Lakers fans can enjoy legal sports betting alternatives like PrizePicks. PrizePicks is among the most simple and exciting DFS games in North America because users just have to place their bets, pick their favorite players, and choose over/under totals for a chance to win cash. New users can claim a deposit match on up to $100. Sign up for the PrizePicks app now!
Frequently Asked Questions
Who coaches the Los Angeles Lakers?
How many NBA championships have the Los Angeles Lakers won?
Where the Los Angeles Lakers play their home games?
What were the Los Angeles Lakers' preseason win totals odds for the 2021-22 season?
What were the Los Angeles Lakers' preseason odds to make the Play-In Tournament for the 2021-22 season?
What were the Los Angeles Lakers' preseason odds to make or miss playoffs for the 2021-22 season?
What were the Los Angeles Lakers' preseason odds to win the Pacific division for the 2021-22 season?
What were the Los Angeles Lakers' preseason odds to win the Western Conference for the 2021-22 season?
What were the Lakers' odds to win the NBA Finals for the 2021-22 season?
What NBA team has the longest winning streak?
What sportsbooks are available in the Lakers' home state of California?