NCAA Baseball Betting Odds, Predictions: The Picks to Make for Every College Baseball Super Regional
Credit:
Jamie Schwaberow/NCAA Photos via Getty Images. Pictured: NCAA national championship trophy in Omaha.
The college baseball field has been cut from 64 to 16 teams, meaning head-to-head play in the Super Regionals is about to begin.
The Knoxville Super will have two teams that closed out on Sunday, preserving a fresh staff for this weekend between Tennessee and Notre Dame.
Only hosts Texas, Texas A&M and Virginia Tech closed shop on Sunday, giving an extra day of rest advantage.
---
---

Tennessee vs. Notre Dame
Knoxville Super Regional
---
Tennessee vs. Notre Dame Probable Pitchers & Projections
Friday: John Michael Bertrand (Notre Dame) vs. Blade Tidwell (Tennessee) | Tennessee -460 · Total: 11
Saturday: Chase Dollander (Tennessee) vs. Austin Temple (Notre Dame) | Tennessee -1000 · Total 11
Sunday (if needed): Will Sandy (Notre Dame) vs. Drew Beam (Tennessee) | Tennessee -840 · Total 12.2
---
Snubbed by the NCAA selection committee in hosting a Regional in South Bend, Notre Dame made quick work of the Statesboro Regional.
John Michael Bertrand started both Friday and Sunday against Texas Tech. The biggest impact came in the Regional final, as he allowed just a single earned run and no walks in 7.2 innings.
Posting 133 pitches in those two games is not unusual for Bertrand. He also threw 130 in an April 8 game against Clemson. The lefty is the most important piece to an Irish staff that ranks top-10 in ERA and WHIP nationally.
There's the possibility Bertrand starts Friday with a pitch limit, saving his arm for a potential Sunday finale. The fifth-year senior represents the Irish's best chance to steal a victory in Knoxville after an anemic offense scored just 11 total runs in three games to win in Statesboro.
Tennessee — the best team in the nation — won three straight to host a Super Regional, but there was no lack of drama on the weekend. Campbell held the lead Saturday until the Tennessee bats rattled off seven runs in two innings.
The Camels were undeterred, posting enough runs to achieve the upset until the Volunteers threw up four runs in the ninth against Ryan Chasse.
While Chase Dollander leads Tennessee in total wins for the season, Campbell chased the pitcher out in the third inning. Georgia Tech had similar success Sunday, taking a 4-3 lead into the ninth inning before Tennessee rattled off six runs against the Yellow Jackets' closer.
Tennessee scored 10 of its 31 runs in just two ninth-inning frames, making the Volunteers a great live bet heading into the Supers against Notre Dame.
Unlike the Notre Dame staff, Tennessee is loaded with starting pitching thanks to the return of Blade Tidwell. Projected Sunday starter Drew Beam led the team in innings pitched, while fellow freshman Chase Burns led the staff in strikeouts.
Wherever any of the three starters have a shaky opener, Burns will serve in relief — much as he did in the SEC Tournament and for Tidwell in the Regional opener against Campbell.
The single-game projections for Tennessee are -800 or better in any game Notre Dame doesn't throw Bertrand. Based on projections, Tennessee has a 78% chance to close this out in two games and a 70% to end it in three.
The Volunteers have 96.5% chance of advancing, making the current posted number at DraftKings playable through -800.
Considering the scoring issues for Notre Dame, the only play on the Irish will be an inflated underdog line when Bertrand takes the hill. Look for Bertrand to be named starter on Friday against Tidwell or Burns before firing on the first game of the series, as Monday's usage may push the ace to Saturday.
Also, look for live in-game odds on Tennessee after a weekend of plating 10 runs in the ninth inning.
Picks: Tennessee -380 · Tennessee -1.5 Series · Notre Dame (Bertrand) +300 or Better
---
» Return to the table of contents «
---

Stanford vs. UConn
Stanford Super Regional
---
Stanford vs. UConn Probable Pitchers & Projections
Saturday: Austin Peterson (UConn) vs. Joey Dixon (Stanford) | Stanford -180 · Total: 11.1 
Sunday: Alex Williams (Stanford) vs. Pat Gallagher (UConn) | Stanford -200 · Total: 10.5
Monday (if needed): Enzo Stefanoni (UConn) vs. Quinn Mathews (Stanford) | Stanford -270 · Total: 11.1 
---
With Stanford taking its place as the No. 2 national seed, not many predicted Texas State would be leading the Cardinal in the ninth inning of their Regional final.
Stanford showed off its top-20 rank in home runs per game by going back-to-back to tie the Bobcats and followed that up with additional runs to stay in the hunt for Omaha.
While the Bobcats received tremendous pitching from Levi Wells and Tristan Stivors, the lack of tough competition on its 2022 schedule may have gotten to Stanford. The Cardinal finished the season with a nonconference strength of schedule rank of 133rd, building an RPI solely on the strength of the Pac-12.
This is an important aspect against a Huskies team that blitzed Maryland in its own building.
Connecticut brings with it a pitching staff that ranks top-five in the nation in ERA and WHIP. Regionals started with ace Austin Peterson shutting down Wake Forest over six innings while fanning 11 batters.
Beating a Demon Deacons team that was favored to win the College Park Regional was no fluke, as UConn followed with seven innings from Pat Gallagher, who allowed just two earned runs against Maryland.
The Regional win certainly deserves respect in the betting market, especially considering three of the runs in the finale against Maryland were due to defensive errors.
Stanford is sure to draw a fair number of tickets, as DraftKings priced the Cardinal -310 on open. True odds for the projected pitcher matchups give the Huskies a 20.3% chance of winning the Super at the Sunken Diamond — higher than +300.
Considering the pitching — a unit that ranks third nationally in strikeout-to-walk rate, UConn should keep a Stanford offense that struggles in on-base percentage down.
There's no reason not to fire on the Huskies with a half-unit, as any steam on Stanford will require another half-unit on a rising UConn roster.
Pick: UConn +240
---
» Return to the table of contents «
---

East Carolina vs. Texas
Greenville Super Regional
---
Texas vs. East Carolina Probable Pitchers & Projections
Friday:

Pete Hansen (Texas) vs. Josh Grosz (East Carolina)

| Texas -340 · Total: 10.4
Saturday:

C.J. Mayhue (East Carolina) vs. Lucas Gordon (Texas)

| Texas -220 · Total 8.8
Sunday (if needed):

Travis Sthele (Texas) vs. Jake Kuchmaner (East Carolina)
---
The seventh time may be a charm for East Carolina baseball. After participating in nearly three dozen Regionals and six Super Regionals in program history, the Pirates have yet to make it to Omaha.
East Carolina survived as host this past weekend after taking a 2-0 record to Sunday night before a 9-1 loss to Coastal Carolina. Jake Kuchmaner was hammered for three earned runs before an exit after recording just two outs as the starter.
Carter Spivey took the mound Monday in a high-pressure spot for the senior, who had not started a game since late February against Campbell. Spivey went five innings, allowing just two earned runs and giving the Pirates a chance to light up the scoreboard for the victory.
Texas played host in a quick three-game set that included two wins against fourth-seeded Air Force.
A Saturday shutdown against Louisiana Tech gave the Longhorns a sweat-free weekend, keeping most of the bullpen fresh with starters Pete Hansen throwing 113 pitches on Friday and Lucas Gordon hurling 93 on Saturday.
Now, the top defensive team in the nation will travel to Greenville looking for its 11th appearance in Omaha since 2000.
East Carolina must dominate with pitching after posting ranks outside the top 100 in home runs per nine, on-base percentage and slugging percentage against the 36th-ranked strength of schedule.
Another pressing matter is the Pirates' rank against the top teams in the country, as their win over Virginia on Saturday was just their second this season against a team in the RPI top 50.
For the home team to survive, taking a game from Hansen or Gordon is a must. A Sunday matchup with Travis Sthele and a fresh glue-guy in Spivey would put East Carolina in the driver's seat.
Spivey leads the team with a 2.43 ERA and eight wins, but has started just two games this season.
Using base runs and FIP to calculate daily projections, Texas has a 53% chance to close this series out in two games. Those odds severely decrease if East Carolina is able to get past Hansen or Gordon.
While Kuchmaner has been limited since returning to the staff, a projection with Spivey increases the Pirates' odds. Gordon and Hansen give the Horns a 74% chance of closing this out but make the total series price closer to -240.
Picks: Texas -170 (Play to -240)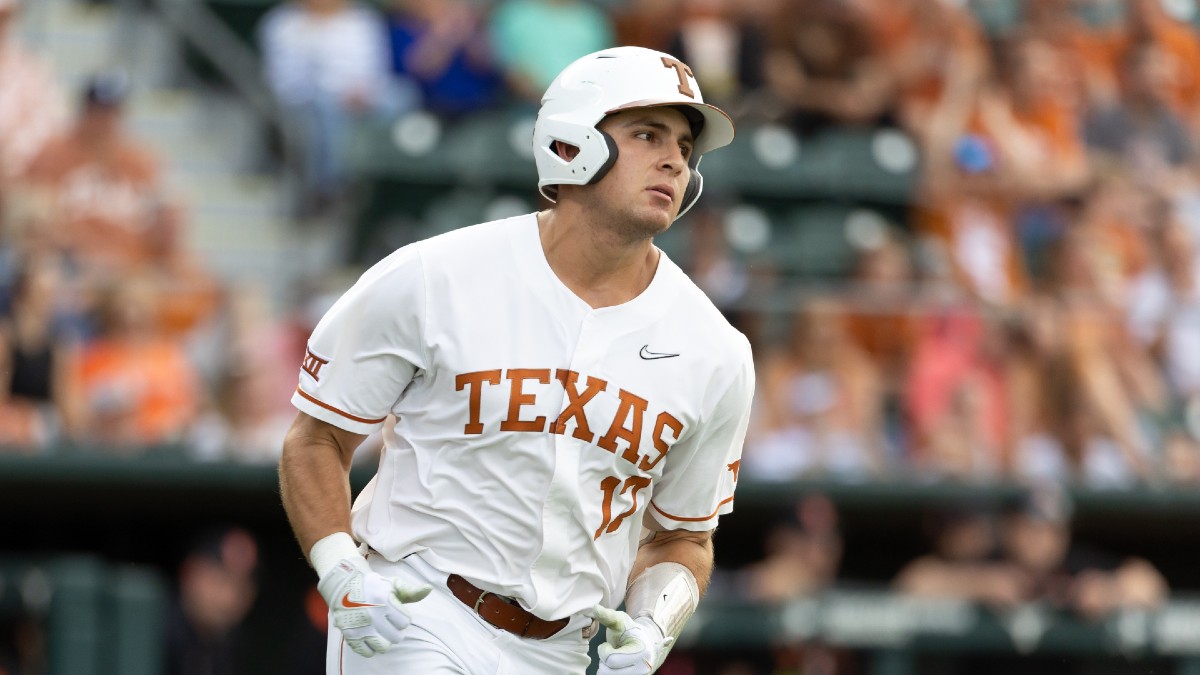 ---
» Return to the table of contents «
---

North Carolina vs. Arkansas
Chapel Hill Super Regional
---
North Carolina vs. Arkansas Probable Pitchers & Projections
Saturday:

Connor Noland (Arkansas) vs. Max Carlson (North Carolina)

| North Carolina -145 · Total: 11.6
Sunday:

Brandon Schaeffer (North Carolina) vs. Hagen Smith (Arkansas)

| North Carolina -195 · Total 13.1
Monday (if needed):

Jaxon Wiggins (Arkansas) vs. Connor Bovair (North Carolina)

| North Carolina -134 · Total 13.5
---
The Razorbacks lost their way down the stretch of the regular season, losing the final two series' to Vanderbilt and Alabama.
The bad run continued in the SEC Tournament, as they went two-and-out against Alabama. As the No. 2 seed in the Stillwater bracket, the Hogs slipped out of a spot as a Super Regional host.
Thanks to its defense, Arkansas found its way in a Regional that saw nearly 100 runs scored on Sunday alone.
After winning the ACC Championship, the Tar Heels were the hottest team heading into Regional play. That ended abruptly in the winners' bracket against VCU on Saturday, as the Rams limited a North Carolina offense with heavy pop to just three runs.
A slight scare from Georgia late and a thrashing of VCU's pitching Sunday night had the Heels ready for a third game against the Rams.
VCU pitcher Tyler Davis allowed four earned runs to North Carolina on Monday, enough for the pitching combination of Brandon Schaeffer and Gillian Gage to close out VCU.
Both Arkansas and North Carolina have been streaky at times offensively, as both are poor in on-base percentage but rank top-30 in home runs per game.
Arkansas has the clear defensive and pitching staff advantage against a North Carolina team that went 9-14 against RPI top-25 teams. The Hogs have a clear advantage specifically in the bullpen, as the starting staff advantage belongs to North Carolina.
Hagen Smith was the hero for Arkansas against Oklahoma State, but a FIP of 5.63 shows consistent issues with the freshman lefty's command. Arkansas' projected Sunday starter, Jaxon Wiggins, also struggles with control of a fastball that touches triple digits.
A series prices is based on an estimated number of starter innings, team ERA, WHIP and offensive numbers, including runs per game and calculated base runs.
North Carolina plays out to a 66% chance of victory, equal to a betting line of -195 for the Heels. The number opened closer to a pick'em at DraftKings and took immediate Arkansas money.
Although Arkansas survived a run-scoring bonanza in the state of Oklahoma, stronger pitching from North Carolina awaits.
As projected favorites in every game, a North Carolina wager will have multiple hedge opportunities on the Razorbacks.
Picks: North Carolina -115 (Play to -150)
---
» Return to the table of contents «
---
Texas A&M vs. Louisville
College Station Super Regional
---
Texas A&M vs. Louisville Probable Pitchers & Projections
Friday:

Garrett Schmeltz (Louisville) vs. Micah Dallas (Texas A&M)

| Louisville -110 · Total: 13
Saturday:

Nathan Dettmer (Texas A&M) vs. Jared Poland (Louisville)

| Louisville -130 · Total 11
Sunday (if needed): Carson Liggett

 (Louisville) vs. Ryan Prager (Texas A&M)

 | Texas A&M -105 · Total 13
---
From a projection standpoint, this will be the most competitive region, with only Louisville starter Jared Poland having a pitching leg up on all members of the Texas A&M staff.
The Cardinals went a total of five games as a host in their Regional, beating Michigan in two out of three games. A Sunday night offensive outburst in a 20-1 victory over the Wolverines displayed a lineup that ranks top-20 in on-base and slugging percentage.
Louisville is one of the best hitting teams in the nation — and it has a strength of schedule in the top 20 — but a losing record on the road may play a factor in College Station.
Texas A&M had a similar path as Texas in the Regional, winning all three games with a margin that was never within three runs. Despite beating TCU in the finale, the Aggies committed three defensive errors, which has been a consistent issue the entire season.
Texas A&M did play one of the tougher schedules in the nation and maintained a 23-9 record at Blue Bell Park. A record of 19-11 against the RPI top 50 shows that home-field advantage and a tougher resume may be the deciding factors in this series.
Transfer senior Micah Dallas allowed just a single earned run to Oral Roberts in the opener, while Nathan Dettmer was lit up for six earned against Louisiana. Dettmer is currently scheduled to face Poland on Saturday, likely ensuring that this series goes the distance.
Saving the bullpen will be vital for each team, as Jacob Palisch expects to have a big role for the Aggies in tight situations.
The projections give Texas A&M a 49% chance to win this series, making either team with plus-money odds the value play.
Picks: Louisville +110
---
» Return to the table of contents «
---


Oregon State vs. Auburn
Corvallis Super Regional
---
Auburn vs. Oregon State Probable Pitchers & Projections
Saturday:

Trace Bright (Auburn) vs. Cooper Hjerpe (Oregon State)

| Oregon State -980 · Total: 10
Sunday:

Jake Pfennigs (Oregon State) vs. Joseph Gonzalez (Auburn)

| Oregon State -270 · Total 10
Monday (if needed):

Mason Barnett (Auburn) vs. Jacob Kmatz (Oregon State)

| Oregon State -270 · Total 10
---
There was no shortage of Regional drama for the RPI's second-best team in the nation.
Oregon State and Jacob Kmatz were steamrolled in a loss to Vanderbilt Sunday night, setting up the Regional finale for Monday. The Commodores put the Beavers on the ropes after chasing off starter Jaren Hunter in the fourth inning and posting additional runs on Ben Ferrer and Reid Sebby.
When Oregon State needed it the most, one of the nation's best in Cooper Hjerpe struck out five of the six batters he faced.
After a shocking selection as a Regional host, Auburn clubbed 51 runs in three games to advance to the Supers. The Tigers threw 11 runs on the UCLA staff on Sunday — the same staff that gave up 22 runs to Oregon State on May 28.
Auburn will leave the friendly confines of home for Corvallis to face a Beavers' pitching staff that ranks top-10 in WHIP.
Sonny DiChiara and Bobby Peirce anchor the lineup for Auburn, but the question remains whether or not Hjerpe starts Friday night after tossing 32 pitches Monday.
Auburn's best pitcher from an ERA and FIP perspective is Joseph Gonzalez, who's expected to throw in Game 2 of the Supers on Saturday.
The Super Regional price favors Oregon State at 89%, far beyond the posted line from DraftKings at -155.
Considering Auburn's Park Factor number of 1.19 (based off five years of conference play), there may be a reason to think the Tigers' bats don't translate on the road.
The Auburn pitching staff will keep the ball in the yard, but Oregon State's consistent ability to get on base will create plenty of scoring opportunities.
Take the Beavers and look for any hedge after Hjerpe's start.
Picks: Oregon State -155 (Play to -225)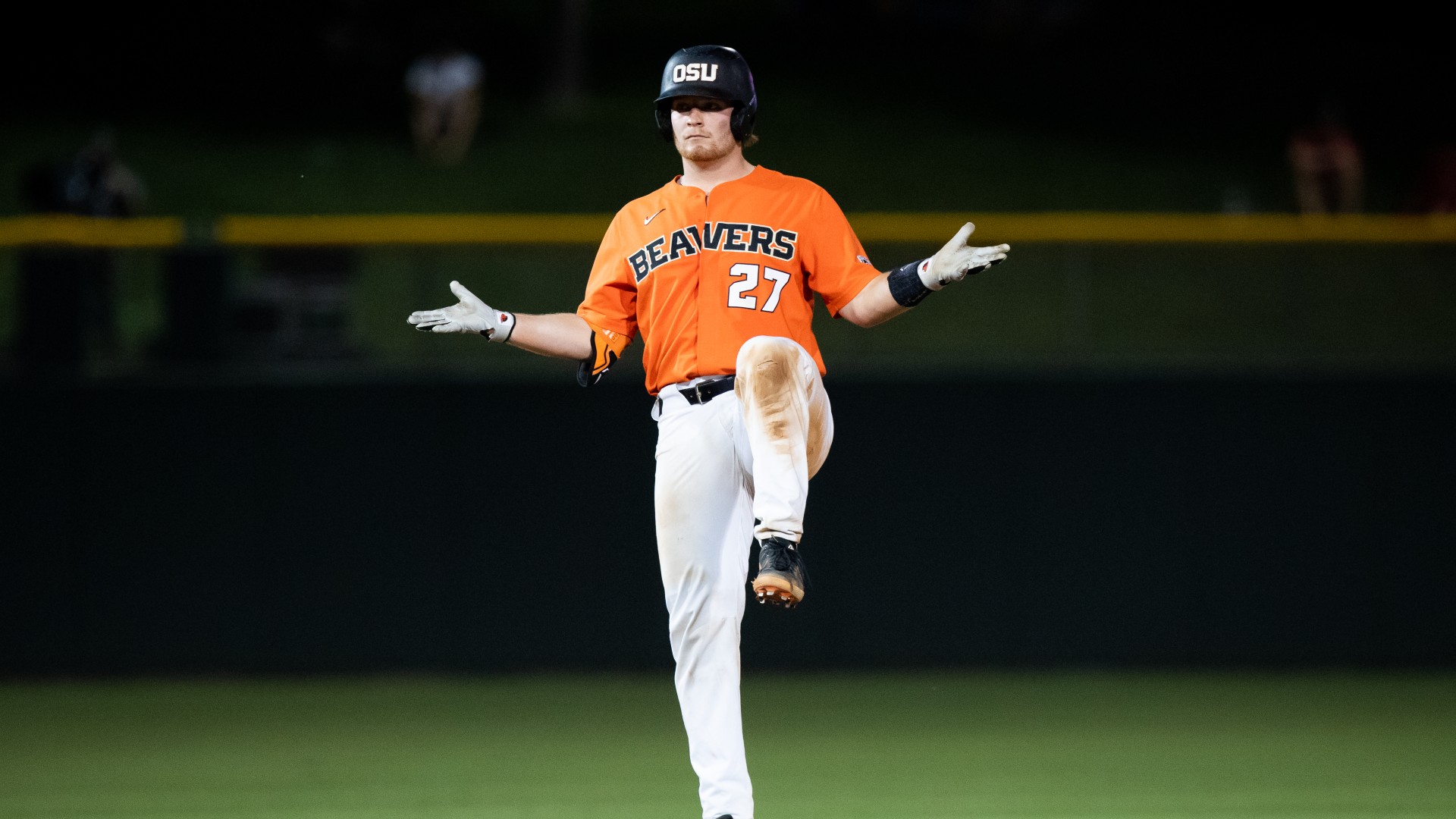 ---
» Return to the table of contents «
---
Virginia Tech vs. Oklahoma
Blacksburg Super Regional
---
Virginia Tech vs. Oklahoma Probable Pitchers & Projections
Friday:

Jake Bennett (Oklahoma) vs. Drue Hackenberg (Virginia Tech)

 | Oklahoma -230 · Total: 13.7
Saturday:

Griffin Green (Virginia Tech) vs. David Sandlin (Oklahoma)

 | Virginia Tech -240 · Total 16
Sunday (if needed):

Cade Horton (Oklahoma) vs. Ryan Metz (Virginia Tech)

 | Virginia Tech -590 · Total 16.5
---
English Field was the site for numerous homers launched during Regional weekend.
Instant offense is a must when Virginia Tech plays host, as Oklahoma's dreadful numbers at the plate will be under a microscope. The Sooners rank seventh in steals per game, but a lackluster rank outside the top-75 in home runs per game and slugging must improve for Oklahoma to be a factor.
Head coach Skip Johnson led his club to just an 8-7 record away from Norman, a number that goes directly against the Hokies' 30-5 record at home.
From a projection standpoint, the first game is all Jake Bennett and the Sooners. Bennett leads the team in wins and innings pitched, with 112 strikeouts on the season.
The junior threw for at least six innings in most of his 16 starts this season, but failed to reach that mark in the Regional opener against Liberty and in the finale against Florida.
Griffin Green is expected to be the favorite in the second game, but he hasn't lasted more than three innings in three of his past four starts.
The Hokies' sticks will make all the difference in this Super Regional after they plated 46 runners in the minimum three games during Regionals.
While this series is expected to go the distance, the Virginia Tech offense is completely in stride and may pounce on an Oklahoma team ERA that stands north of 4.5.
Virginia Tech's probability to advance sits at 71.5%, indicating a true line of -250 for the Hokies to move onto Omaha.
Picks: Virginia Tech -195 (Play to -250)
---
» Return to the table of contents «
---
Southern Miss vs. Ole Miss
Hattiesburg Super Regional
---
Ole Miss vs. Southern Miss Probable Pitchers & Projections
Saturday:

Dylan DeLucia (Ole Miss) vs. Tanner Hall (Southern Miss)

| Southern Miss -450 · Total: 8.8
Sunday:

Hurston Waldrep (Southern Miss) vs. Hunter Elliott (Ole Miss)

 | Southern Miss -230 · Total 8.2
Monday (if needed):

Derek Diamond (Ole Miss) vs. Hunter Riggins (Southern Miss)

 | Southern Miss -470 · Total 9.5
---
An Ole Miss team that was struggling to qualify for the SEC Tournament in late April slides into the Super Regionals against a non-Power Five program from its own state.
The Rebels made quick work of a Coral Gables Regional that was delayed by weather. Ole Miss beat Arizona twice, but the winners' bracket game against Miami is more telling of how far the Rebels can go.
Ole Miss generated four walks and rung up one of the nation's best pitchers in Carson Palmquist (Miami) to 93 pitches before his exit in the sixth inning.
From there, Ole Miss put two runs up on reliever Alex McFarlane, good enough to cover a masterful performance from Hunter Elliott and his eight strikeouts. The Ole Miss bats are led by the hottest hitter in the nation in Tim Elko.
Southern Mississippi will look to continue its path for its second trip to Omaha in program history.
The Golden Eagles have arguably the best starting staff in the nation in Hurston Waldrep, Tanner Hall and Hunter Riggins. None of those pitchers own an ERA over 3.00, with Riggins having the highest FIP of the trio at 3.25.
This is the second-ranked staff in ERA and the top team nationally in strikeout-to-walk ratio.
Backed by the lowest Park Factors of any Super Regional host, Southern Miss is in prime position to advance through home-field advantage at Hill Denson Field.
The series start on Saturday helps Southern Miss rest arms after a five-game schedule throughout Regionals. Specifically, Hall threw two innings and 32 pitches on Monday after burning through 109 Friday night.
Based on the pitching projections, Southern Miss should be heavy favorites in all games, particularly against Dylan DeLucia and Derek Diamond, who both support FIPs over 5.00.
The series price favors Southern Miss at 88%, which correlates to odds of -600. DraftKings was quick to throw up a number of pick'em between the Rebels and Golden Eagles.
Considering Southern Miss is light years ahead of Ole Miss in pitching and defense, all numbers on the Conference USA beating the SEC in this matchup are worth investment.
Picks: Southern Miss -110
---
How would you rate this article?
This site contains commercial content. We may be compensated for the links provided on this page. The content on this page is for informational purposes only. Action Network makes no representation or warranty as to the accuracy of the information given or the outcome of any game or event.