NCAA Baseball Odds, Picks, Predictions: Best Bets for 2023 College Baseball Super Regionals
Credit:
Jamie Schwaberow/NCAA Photos via Getty Images. Pictured: The NCAA baseball trophy at Charles Schwab Field, home of the College World Series.
The college baseball field of 64 has been narrowed down to just 16 Division I programs competing for the national title.
The SEC remains as dominant as ever, taking up six of the spots that include two intra-conference Super Regionals. The Pac-12 looks just as strong with Stanford and Oregon both playing host this weekend.
Just like a March Madness Cinderella, the biggest upset of Regionals came in Stillwater, as No. 4 seed Oral Roberts swept its opponents to claim a spot in the Supers.
The format of Super Regionals is much simpler than Regionals. Each team will now compete in a best-of-three series, which will see plenty of teams use a different strategy with pitchers. During Regionals, head coaches often save their ace pitcher for a Saturday winners' bracket game, but in the best-of-three Supers, the opening game is generally ace versus ace.
Just like we did with Regionals, Action Network will have live updates to game lines and totals when starting pitchers are confirmed.
After cashing several underdogs during Regionals, let's take a look at the eight matchups and where a college baseball investor will want to place a wager.
---
---
South Carolina vs. Florida
Gainesville Super Regional
---
These teams played a three-game series in Columbia toward the end of April. The Gamecocks have been plagued with injuries all season but managed to sweep the Gators in conference play.
Florida threw its trio of starters in Brandon Sproat, Hurston Waldrep and Jac Caglianone, as South Carolina generated 13 earned runs in 14.2 innings against the Gators' best arms.
If Florida's starting pitching falters, closer Brandon Neely brings 10 saves to the table and has the added advantage of not facing a single South Carolina hitter in April.
Injuries have decimated the South Carolina roster throughout conference play, but it seems to be at full strength after blazing through Regionals in three games.
James Hicks, Jack Mahoney and Matthew Becker each got a start, as Eli Jones and Will Sanders played the glue roles out of the bullpen. The aforementioned names all played a large part in the sweep of Florida during the late April series.
With the familiarity between these two teams, this series should be exceptionally close. No combination of starting pitchers from Florida and South Carolina projects greater than -120 for either team, while totals from Condron Park are expected around 13 runs a game.
The true series price gives Florida the slight edge because of home-field advantage and a BaseRuns total just a half-run greater than South Carolina. The opening number of Florida -148 is inflated, as Game 1 projects Brandon Sproat -110 over James Hicks while Game 2 projects Hurston Waldrep -107 over Jack Mahoney.
If a college baseball bettor doesn't have a future associated with either team, the underdog price on South Carolina is worth an investment.
Game 1: South Carolina +115
Series: South Carolina +115 or Better
---
» Return to the table of contents «
---

Duke vs. Virginia
Charlottesville Super Regional
---
Similar to Florida-South Carolina, this All-ACC Super Regional was played the last weekend of April in Charlottesville. Duke won the first and third games of the series after being led by starters Alex Gow and Andrew Healy, respectively.
Game 2 was taken by the Cavaliers with ace Nick Parker on the mound. The biggest question heading into Disharoon Park is how taxed the Blue Devils' pitching staff is.
Virginia wrapped up its Regional in three games, while Duke played into Monday with 69 pitches coming from Gow's second start of the weekend.
The odds are against Duke after using Gow twice and taxing the bullpen for more than 300 pitches through Monday with a quick turnaround to this Friday's Super Regional.
Gow is expected to be held for Saturday, leaving Parker a projected -135 favorite over Healy. Those projections grow to -200 for the Cavaliers with starters Brian Edgington and Connelly Early going against the Blue Devils' Gow and Jason White.
The initial game of the series is juiced higher on Parker. With closer James Tallon missing from the Regional, an already taxed bullpen will see more heavy usage with Healy expected to last no longer than three innings.
Take the Wahoos to win the series and cement a spot in Omaha against the Gainesville winner.
Series: Virginia -205 or Better
---
» Return to the table of contents «
---

Oral Roberts vs. Oregon
Eugene Super Regional
---
If there's a mispriced Super Regional on the board, it's in Eugene.
Oral Roberts has won 21 straight games, making quick work of Oklahoma State, Dallas Baptist and Washington during Regionals.
There should be no questions as to whether or not the Golden Eagles are for real, as the bullpen — led by closer Cade Denton — played a key role in winning every game at O'Brate Stadium.
O'Brate Stadium. Home of the Oral Roberts Golden Eagles.

ORU knocks off Oklahoma State, advance to face Washington in winner's bracket game. pic.twitter.com/njX6N9eaSk

— 11Point7: The College Baseball Podcast 🎙 (@11point7) June 3, 2023
Oregon did the improbable during Regionals, heading to an SEC host and sending Vanderbilt packing for the offseason. The Ducks swept the weekend with two victories over Xavier and an 8-7 win over the Commodores.
Led by third baseman Sabin Ceballos, the sticks for the Ducks have relied on top-25 slugging and doubles ranks throughout the season.
Big time swing by Sabin Ceballos who sends this baseball 442-feet into the Nashville night to give Oregon a 1-0 lead! pic.twitter.com/6h5k0ldotg

— Peter Flaherty III (@PeterGFlaherty) June 5, 2023
Oddsmakers have opened the series price heavily in favor of the Ducks, but the head-to-head pitching matchups dictate the opposite.
Oral Roberts ace Jakob Hall would be priced -230 over Logan Mercado for the Ducks, while Harley Gollert and Brooks Fowler have similar odds against Oregon's counterparts in Turner Spoljaric and Grayson Grinsell.
The offensive numbers are in favor of the Golden Eagles, who average nearly more than a run per game in terms of total runs and BaseRuns.
Take the plus-money with Oral Roberts to head to Omaha and face the winner of the Fort Worth Super Regional.
Series: Oral Roberts +135 or Better
---
» Return to the table of contents «
---

Indiana State vs. TCU
Fort Worth Super Regional
---
As an Arkansas alum, there isn't much to say other than TCU absolutely smoked the Fayetteville Regional.
Early-inning grand slams led the way for the Horned Frogs, who scored 44 runs in just three games played. What's even more impressive is that Baum-Walker Stadium is a pitcher's park and generally a good place to slip in a few wagers on the under.
TCU would have none of that, giving the bullpen a tax-free weekend.
The bigger story for this Super is the relocation from Terre Haute to Fort Worth because of scheduling conflicts. Now, Indiana State must travel to Texas to take on a TCU team that has lost just twice since the month of April. The Frogs enter this series on a nine-game winning streak.
The pitching staff continues to be the strength for the Sycamores, with Matt Jachec and Connor Fenlong expected to go a minimum of six innings. Stopper Zach Davidson and closer Jared Spencer have been crucial in shutting down games, making the TCU offense versus the Sycamore pitching staff the biggest watch of the weekend.
The number for the series is inflated for TCU, as Kole Klecker and Cam Brown each project at -110 in their contests against Indiana State.
In lieu of playing the series price on the Horned Frogs, taking TCU in futures market is the move.
The winner of this Super Regional sets up against the Eugene Super Regional. More importantly, this is the side of the bracket that dodges LSU, Wake Forest and Tennessee. Take a future on Hypnotoad and look to ride through the championship series in Omaha.
Futures: TCU to Win CWS (13-1 or Better)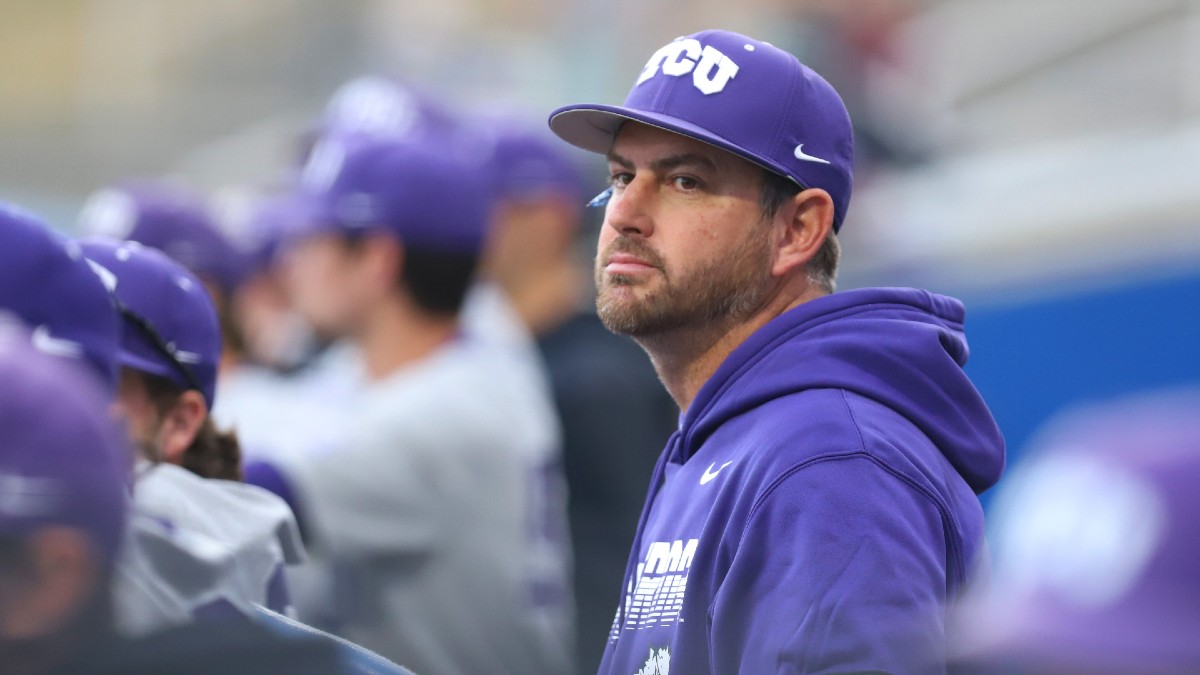 ---
» Return to the table of contents «
---
Alabama vs. Wake Forest
Winston-Salem Super Regional
---
Neither of these teams needed the extra rest with a Saturday start after each made quick sweeps of their respective Regionals. Alabama has been on a heater since the firing of head coach Brad Bohannon in a betting scandal.
The Crimson Tide took five of their final six SEC series before submitting to Vanderbilt in the SEC Tournament. This is a well-balanced team with a top-10 national rank in staff ERA and top-50 numbers in slugging and on-base percentage.
It also helps to have an electric shutdown closer like Alton Davis II.
Wake Forest will aim to buck historical trends of No. 1 overall seeds disappointing in a quest to win a national title. The Demon Deacons flew through the Winston-Salem Regional, as the 14-run margin against George Mason was the closest of the weekend.
Rhett Lowder and Josh Hartle are on track to be the Friday and Saturday starters, and each is projected as a minimum -390 favorite in those games.
Because of the Alabama scandal, a series price is scarce in the market, but a few shops have Wake Forest as high as -305. That number is properly priced for the projected starting pitchers, as Alabama turns to Luke Holman and Garrett McMillan.
There are no statistical advantages for Alabama from a pitching and hitting perspective, leaving the investor with options to search for a better price on Wake Forest to win in two games.
The true odds for the Demon Deacons to close out in two games is -190, but no futures can be recommended with this side of the Omaha bracket loaded with SEC talent.
Series: Pass
---
» Return to the table of contents «
---

Texas vs. Stanford
Stanford Super Regional
---
The Horns and Trees are set to lock up in what should be the most even series of the weekend.
Texas made light work of the Coral Gables Regional, winning three straight games with a small run differential of nine runs. Now, the Longhorns will throw Lucas Gordon and Lebarron Johnson Jr., two pitchers capable of eating innings, evidenced by Johnson throwing a complete game against host Miami.
LEBARRON JOHNSON JR.

OUTSTANDING PERFORMANCE WITH THE FIRST COMPLETE GAME FOR ANY LONGHORN IN 2023.

LONGHORNS TO THE REGIONAL FINALS, JOBS NOT DONE YET. pic.twitter.com/1yjeNtyrLH

— Nash (@NashTalksTexas) June 4, 2023
Stanford did not have as easy of a path, losing to Texas A&M in the winners' bracket but advancing in a one-run victory over Cal State Fullerton. The Cardinal needed to take two against the Aggies to extend their host title, doing just that in two blowouts.
The sticks came alive for a Stanford team that finished top-10 nationally in batting average, homers per nine and slugging.
This looks to be a high-scoring weekend in Palo Alto, with totals projected from 14.5-16 depending on the pitching matchup.
The opening game of Gordon and Quinn Mathews is a near pick'em, while Johnson against Joey Dixon in Game 2 projects -120 for the Longhorns.
The opening market on series prices posted an inflated price on the Trees at -140, as no pitching combination gets Stanford as a favorite of -130 or higher.
Take Texas for the series with underdog money.
Series: Texas +110 or Better
---
» Return to the table of contents «
---


Kentucky vs. LSU
Baton Rouge Super Regional
---
Not many would have entered 2023 expecting the Wildcats to play on Super Regional weekend. However, Kentucky draws the toughest assignment considering the best-of-three format.
Head coach Nick Mingione has little offensive firepower, falling outside the top 200 in Division I in terms of home runs per nine innings. That doesn't bode well for the Wildcats entering the launchpad of Alex Box Stadium against the best starting pitcher in college baseball in Paul Skenes.
Although LSU won 2-of-3 at home in conference play, Kentucky put up more runs against Skenes than any other team on the Tigers' schedule.
The bad news for Big Blue Nation was it allowed 26 runs in the first two games of the series. If Kentucky can touch up Skenes again, both Darren Williams and Mason Moore will be asked to protect leads.
However, an LSU lineup that includes Dylan Crews will mash all weekend against Kentucky's bullpen ERA and xFIP.
Meanwhile, offense has not been the forte of Kentucky baseball in 2023.
Series: LSU -240 or Better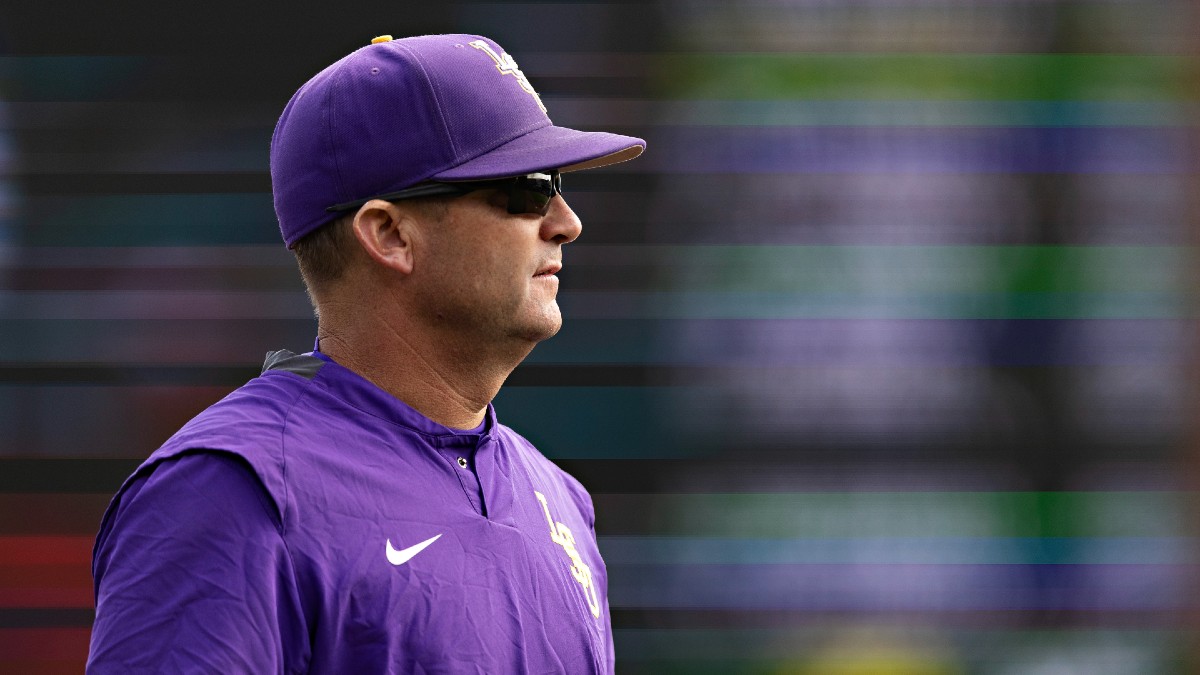 ---
» Return to the table of contents «
---

Tennessee vs. Southern Miss
Hattiesburg Super Regional
---
Hattiesburg will play host to the showdown between the Volunteers and Golden Eagles.
Southern Miss head coach Scott Berry is thankful for the extra day of rest after his pitching staff was taxed in Regionals after an opening loss to Samford. Ace Tanner Hall threw 123 pitches in the opening loss, only to redeem himself in a 30-pitch clinching performance against Penn in the finale.
Only Tennessee stands in the way of the Golden Eagles making just their second trip to Omaha in program history.
The Volunteers survived an absolute barn-burner against Regional host Clemson in the winners' bracket, as the 14-inning affair saw the Tigers send 10 different players to the mound.
Tennessee advanced thanks in part to Chase Burns' six-plus innings of one-earned ball, as the effort saved the Volunteers' bullpen. A tired Clemson team fell to Charlotte, allowing Tennessee to cruise into the Super Regionals at full strength.
Andrew Lindsey is projected at -130 to get the first start against Hall, as Chase Dollander projects -140 against Billy Oldham for Southern Miss.
Tennessee averages more than a half-run per game with better offensive splits. The strength of Southern Miss has always been the pitching, but look for Burns, AJ Russell and Seth Halvorsen to swing that advantage to the Volunteers.
Series: Tennessee -180 or Better
How would you rate this article?
This site contains commercial content. We may be compensated for the links provided on this page. The content on this page is for informational purposes only. Action Network makes no representation or warranty as to the accuracy of the information given or the outcome of any game or event.