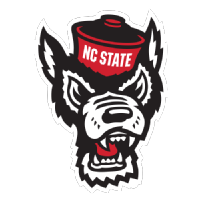 North Carolina State Wolfpack Odds
Overall Record

9-3

ATS Record

6-5-1
No promotions available. Try selecting a different location.
There are no injuries for this team currently.
Wolfpack 2023 Schedule & Betting Odds
North Carolina State Wolfpack 2023 Season Preview
The NC State Wolfpack is heading into the 2023 football season with high hopes and potential. The team has been consistently successful, winning at least eight games in five out of the last six seasons.
The offense's development will be crucial in determining how far the Wolfpack can climb in the ACC this year. They have made some significant changes to their offensive coaching staff, bringing in new coordinator Robert Anae and securing Virginia transfer Brennan Armstrong as their starting quarterback. Anae's successful stints at Syracuse and Virginia make him a valuable addition, and Armstrong's experience and versatility make him an exciting option for the Wolfpack's offense.
On the offensive side, NC State will rely on a running back committee, with senior Jordan Houston and sophomore Michael Allen getting crucial experience. Senior Keyon Lesane will be the top returning wide receiver, and the tight end position, led by Trent Pennix, will provide additional offensive options. The offensive line returns three starters, including experienced right guard Derrick Eason.
The Wolfpack's defense is expected to be a strong point for the team, thanks to the expertise of defensive coordinator Tony Gibson. Last season, the defense put up impressive numbers, allowing just 19.4 points, 100.7 rushing yards, and 326.9 total yards per game on average. Sixth-year outside linebacker Payton Wilson's decision to postpone his NFL plans will be a significant boost to the defense, along with fellow linebackers Devon Betty and Jaylon Scott. The defensive line will be anchored by senior defensive end Savion Jackson and junior defensive end Davin Vann.
Overall, the Wolfpack is poised to be a competitive team in the ACC in the 2023 season. The combination of a potentially potent offense under the guidance of Anae and Gibson gives them a solid chance to be successful in the conference. With experienced players and new talent on both sides of the ball, NC State aims to improve on last season's record and compete at a high level in the ACC.
NC State Point Spreads
The Wolfpack were as successful against the spread as they were in overall record last year, with their 66.7% cover rate being very profitable for bettors.
For those unfamiliar, spread bets are a popular way to bet on football teams' winning or losing margins. Books set a line to represent how much they expect a team to win or lose by. It might look something like this:
NC State +2 (-110)
Wake Forest -2 (-110)
The plus sign (+) means that NC State is a two-point underdog: It would "cover" the spread by winning the game or losing by a point. A two-point loss would be a tie and bettors on both sides would get their money back. Wake Forest, as a two-point favorite, would need to win by three or more to cover the spread.
NC State Over/Unders
Over/unders, or totals, are a way to bet on the total scoring by both teams in a game (or, less frequently, just on one team or the other.) For a past NC State game against Wake Forest, the total was set at 52. Since the teams combined for a whopping 97 points in a 45-42 victory by the Wolfpack, over bettors were winners. If you bet the under, you needed the teams to score 51 or fewer between them.
NC State Moneylines
If worrying about margins of victory and combined scoring seem like a hassle, moneyline bets are for you. Moneyline bets are very simple: pick the winning team. Since sportsbooks can't adjust the number of points a side needs to win by, they adjust the payouts to account for the more probable victor.
In a game where the Wolfpack are underdogs, their odds could be +120. This means a $100 bet would generate $120 in profit with a win. In games where they are favored at -120, a $120 bet would be worth $100 in profit.
NC State Props
Since most prop bets are based on skill position players, we have some known quantities to bet on this season.
Player props are a way to bet on an individual player statistic during the game, and they work like over/unders.
NC State Futures
Futures bets are based on how the team does throughout the whole season, and there's a variety of them available.
Some examples of these are over/under total wins during the season, odds to win the ACC, odds to win the national title, as well as futures bets on certain players.
How to Bet on the N.C. State Wolfpack
Sports betting is currently only legal in North Carolina at two retail tribal locations. As of now, there is no legal online sports betting available in the Tar Heel State, but it's expected to go online sometime in 2024. Stay up to date and keep track of when it will become legal by reading our North Carolina sports betting page.
PrizePicks Daily Fantasy
For those North Carolina sports bettors looking for something other than traditional sportsbooks, look no further than PrizePicks. PrizePicks is among the most simple and exciting DFS games in North America. All users have to do to place their bets is pick their favorite players, and choose over/under totals for a chance to win cash. New users can claim a deposit match on up to $100. Sign up for the PrizePicks app using the promo code ACTION.