Updated AFC North Title Odds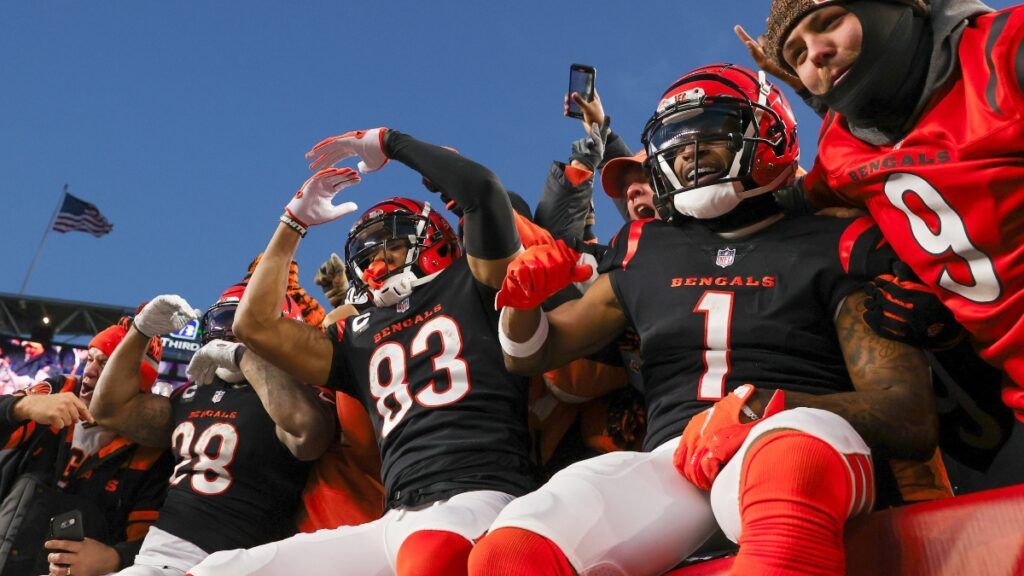 The bookmakers aren't believers in the Cincinnati Bengals.
Instead, they're putting their faith in the Baltimore Ravens to win their seventh AFC North title.
The original favorites had been the Cleveland Browns, but their odds have slipped from their consensus at around +190 to a current consensus of +300. The Browns haven't won a division crown since 1989 — when the AFC North hadn't even existed.
That recent skid in odds prices can be best attributed to Cleveland's uncertainty at quarterback.
The Browns had found themselves atop the AFC North leaderboard in late March after the addition of quarterback Deshaun Watson. Soon, however, it became apparent that the NFL was poised to recommend a lengthy suspension because the quarterback had been credibly accused of sexual assault by at least 24 women over the course of the last few years.
Watson missed all of last season because of the civil lawsuits levied against him and a simultaneous criminal investigation. Two separate grand juries chose not to indict Deshaun Watson for sexual assault or misconduct. Watson has denied all allegations.
An independent judge determined that Watson should be suspended eight games. The NFL is currently appealing that determination and Commissioner Roger Goodell has recently said he would like to see Watson suspend for the entire season.
Until Watson's punishment is determined for good, the Ravens are the favorite in the division. The Browns' decision to deal Baker Mayfield to the Panthers didn't do much to impact odds, either.
A lackluster 2021 season saw the Ravens decimated by injuries on both sides of the ball, culminating in a six-game losing streak to end the year. They had looked poised for a guaranteed playoff spot before the losing streak, in which Lamar Jackson was out with an ankle injury.
Oddsmakers don't expect this team to suffer the same injury woes that they did last season — a ridiculous sequence of events in which more than half of the team's starters on both sides of the ball were on the injury report late in the year. They were rolling with a fifth-string corner at the No. 1 role at one point.
This is still the same core group — the same pedigree — that has allowed Baltimore to compete for championships throughout the Jackson era. Only two and a half years ago, the Ravens were the No. 1 seed in the AFC with a clear road to the Super Bowl.
While Vegas thinks Baltimore and Cleveland are likely to rebound after lost seasons, they're not as bullish about the defending AFC champions.
Cincinnati took the AFC North crown last season with three big wins down the stretch against the Kansas City Chiefs, Ravens and away to the Broncos. They rode that gravy train straight into the Super Bowl, beating the Raiders, the No. 1 seeded Titans on the road and the Chiefs again on the road. Of course, the Bengals ultimately fell short in a tight Super Bowl to the Los Angeles Rams.
Was it a fluke? Can Cincy's paltry offensive line really hold on for another 17 games without Joe Burrow suffering some sort of catastrophic injury? The markets don't think it's very likely this team can pull it together again. Still, their odds are about +195 across the market.
The Steelers are almost an afterthought here, according to oddsmakers. Pittsburgh is about +1000 to win a division they once dominated a mere half decade ago on account of Ben Roethlisberger's retirement and an offense that's in disarray. The Steelers may have to rock with Mitchell Trubisky at starting QB next season — that's how dire the straits are in western Pennsylvania right now.
Still, these odds are early — it's only June. Make sure to check with us throughout the coming weeks for up to date odds across the betting market.
Odds via Caesars and updated in real-time.
Past AFC North Winners
Odds via Sports Odds History prior to Week 1 of that season.
The Steelers, Ravens and Bengals are had their fair share of division titles since the inaugral season in 2002, while the Browns have yet to claim a crown. But anything can happen in this division, with teams at +300, +400, +800 and even +2500 coming out as winners.
| | | | |
| --- | --- | --- | --- |
| Year | Team | Record | Odds |
| 2002 | Pittsburgh Steelers | 10-5–1 | -300 |
| 2003 | Baltimore Ravens | 10-6 | +280 |
| 2004 | Pittsburgh Steelers | 15–1 | +350 |
| 2005 | Cincinnati Bengals | 11–5 | +350 |
| 2006 | Baltimore Ravens | 13-3 | N/A |
| 2007 | Pittsburgh Steelers | 10–6 | +250 |
| 2008 | Pittsburgh Steelers | 12-4 | -125 |
| 2009 | Cincinnati Bengals | 10–6 | +800 |
| 2010 | Pittsburgh Steelers | 12–4 | +275 |
| 2011 | Baltimore Ravens | 12–4 | +120 |
| 2012 | Baltimore Ravens | 10–6 | +140 |
| 2013 | Cincinnati Bengals | 11–5 | +200 |
| 2014 | Pittsburgh Steelers | 11–5 | +180 |
| 2015 | Cincinnati Bengals | 12–4 | +225 |
| 2016 | Pittsburgh Steelers | 11–5 | +110 |
| 2017 | Pittsburgh Steelers | 13–3 | -250 |
| 2018 | Baltimore Ravens | 10–6 | +300 |
| 2019 | Baltimore Ravens | 14–2 | +400 |
| 2020 | Pittsburgh Steelers | 12–4 | +300 |
| 2021 | Cincinnati Bengals | 10–7 | +2500 |
From Ray Lewis to Ed Reed to Terrell Suggs, the Ravens have had quite the defensive stars on their roster despite only coming together as a franchise in 1996. Since then, Baltimore won two Super Bowls in 2000 and 2012. The first came with an easy 34-7 romping of the New York Giants, then came an initial easy game that turned into a nail-biter against the San Francisco 49ers that they managed to pull out, 34-31. The end of the Joe Flacco era has brought on the Lamar Jackson era, with the 2018 first-round pick winning league MVP honors in just his second year in the league. He's yet to lead them past the Divisional Round of the playoffs, but he's got a lot of time to make up for that over the next decade.
Playoff Berths: 13

Division Titles: 6
AFC Championships: 2
Super Bowl Championships: 2
While the Bengals haven't won a Super Bowl just yet, their three appearances saw them lose by just 5, 4 and 3 points in each game. The first two appearances saw them fall to the San Francisco 49ers seven years apart, but still both to Joe Montana. Fast forward to the modern era, Cincinnati was a threat in the AFC North by winning a few division titles, but they hadn't won a playoff game since 1990 until 2021. Led by second-year starter Joe Burrow, the Bengals made it all the way back to the Super Bowl and were a few plays away from capturing their first win, but ultimately fell to the Los Angeles Rams. Burrow looks like their quarterback of the future, so the next 15 years look set for success.
Playoff Berths: 15

Division Titles: 10
AFC Championships: 3
Super Bowl Championships: 0
Cleveland saw extreme success as one of the earliest football franchises in American history, but that was all before the NFL-AFL merger. Since then, the Browns only have five division titles to their name -- all coming before 1989 and in the old AFC Central. After 1989, Cleveland has just three playoff berths to their name. So it's safe to say it's been a tough go of things since the Jim Brown days. The biggest issue has been the quarterback spot -- since Tim Couch became the starter in 1999, the Browns had 30 different starting QB through the 2018 season until the arrival of Baker Mayfield, who's been their most consistent starter since Couch. But the former No. 1 overall pick has had a lot of up and down performances...is he the answer?
Playoff Berths: 15

Division Titles: 6
AFC Championships: 0
Super Bowl Championships: 0
From the Steel Curtain to the Big Ben era, the Steelers are tied for the most successful franchise in NFL history. Pittsburgh has six Super Bowls to its name. First in thanks to a 1970s run that saw the Steelers hoist the Lombardi Trophy four times in six seasons. The Chuck Noll era saw the Steelers draft future Hall of Famers in Terry Bradshaw, "Mean" Joe Greene, Mel Blount, Franco Harris, Lynn Swann, Jack Lambert, John Stallworth and Mike Webster. Fast forward to Bill Cowher's and Mike Tomlin's time with the main headset, and you get two more Super Bowl runs -- both with Ben Roethlisberger under center. With Big Ben retiring at the end of 2021, we're entering another new era in Pittsburgh football. What do you expect to happen next?
Playoff Berths: 32

Division Titles: 24
AFC Championships: 8
Super Bowl Championships: 6
NFL AFC North Title Odds FAQs
Can I bet on NFL division title winners?
What teams are in the AFC North?
What does winning a division title mean?
Who's won the most AFC North titles?
Who won the AFC North in 2021?