Week 1 NFL Picks: The 13 Lines To Bet Right Now
Credit:
Kevin C. Cox/Getty Images. Pictured: Russell Wilson
Editor's note: This story has been updated to include more recent odds as of June 1.
---
Chris Raybon reveals the 12 Week 1 NFL picks he made immediately following the 2020 schedule release on May 7, in order from the ones he's most to least confident in. He also outlines the lines he's looking to bet for the remaining four games.
Raybon has a 246-189-15 (56.6%) all-time record betting on the NFL and is among the most-followed verified experts in the Action app. Get his real-time picks.
Week 1 NFL Picks
---
Odds via various legal sportsbooks. Check out our reviews and list of the best promos at books in your state.
---
Bills -5.5 vs. Jets
Would bet to: Bills -7
Odds as of June 1: Bills -6 [Bet now at PointsBet]

Even factoring in Sam Darnold's three-game absence last season, the Jets overachieved with a 7-9 record that was 1.6 wins better than the 5.6 wins implied by their point differential of -83. Their schedule-adjusted margin of victory — also known as Simple Rating System (SRS) — of -6.3 trailed the Bills (+2.2) by 8.5 points, and the presence of Darnold does not close that gap, especially with the Bills at home.
The Bills also had the better offseason in terms of landing players that can help immediately, landing wide receiver Stefon Diggs in a trade with the Vikings, drafting a first-round talent at defensive end in A.J. Epenesa (Iowa) in Round 2 and a more dynamic replacement for Frank Gore at running back in Zack Moss (Utah) in Round 3. The Jets had a solid draft, addressing tackle in Round 1 with Mekhi Becton (Louisville) and wide receiver in Round 2 with Denzel Mims (Baylor). But Mims is raw and may take time to reach the level of Robby Anderson, who left for Carolina.
Ultimately, the Bills have a sizable edge on both sides of the ball. And since head coach Sean McDermott took over in 2017, they rank fourth in the NFL with a +2.1 against the spread (ATS) margin as a home favorite while covering at a 58.3% clip in those spots.
I'd roll with Buffalo up to -7.
[Bet now at PointsBet. NJ and IN only.]
Steelers -3.5 at Giants
Would bet to: Steelers -6
Odds as of June 1: Steelers -3.5 [Bet now at PointsBet]

The Steelers were the only team to finish with a top-three defense in Football Outsiders' DVOA vs. both the run and pass in 2019, and they're getting back quarterback Ben Roethlisberger, who led the league in passing yards in 2018 and is my top pick for Comeback Player of the Year.
Despite enduring dismal quarterback play from Mason Rudolph and Devlin Hodges after Roethlisberger went down in Week 2, the Steelers' SRS of +0.3 was still 8.2 points better than the Giants (-7.9). Yes, Antonio Brown is long gone, but the Steelers aren't exactly lacking for weapons after adding pass-catching tight end Eric Ebron in free agency and plus-sized wide receiver Chase Claypool (Notre Dame) in Round 2 to a young, talented wide receiving core featuring JuJu Smith-Schuster, Diontae Johnson and James Washington.
I'm cautiously optimistic about the Giants' long-term prospects — Daniel Jones over Dwayne Haskins was the right call, Round 1 offensive tackle Andrew Thomas and Round 2 safety Xavier McKinney (Alabama) fill key needs, and it no longer appears as if John Mara's meddling is running the franchise into the ground — but this is a brutal spot for Jones, first-year coach Joe Judge and Co. despite it being at MetLife Stadium.
The Mike Tomlin/Big Ben road-favorite letdown spot will come at some point, but not in Week 1. I'd bet the Steelers up to -6.
[Bet now at PointsBet. NJ and IN only.]
Seahawks -1 at Falcons
Would bet to: Seahawks -2.5
Odds as of June 1: Seahawks -1 [Bet now at PointsBet]

The Seahawks haven't covered in four tries against their former defensive coordinator and current head coach of the Falcons (by a thread), Dan Quinn, but this is a great spot for Seattle to finally get over the hump.
Since drafting Russell Wilson in 2012, the Seahawks are 40-30-1 straight up and 37-30-4 (55.2%) ATS on the road, with the second-best margin of victory (+3.5) and third-best ATS margin (+2.4) in the league over that span. The Falcons, meanwhile, are just 12-12 SU and ATS at home since former offensive coordinator Kyle Shanahan took the head job in San Francisco, and their -2.0 home ATS margin over that stretch ranks 23rd.
The Seahawks offense ranked fifth in DVOA last season, 10 spots ahead of the Falcons, who arguably are worse off than a year ago after losing tight end Austin Hooper and wide receiver Mohamed Sanu. And on defense, the Seahawks (18th in DVOA) still project as slightly better than the Falcons (20th) after both squads added players on that side of the ball in the first and second round of the draft.
Give me the better team at anything under a field goal.
[Bet now at PointsBet. NJ and IN only.]
Buccaneers +4.5 at Saints
Would bet to: Buccaneers +4
Odds as of June 1: Buccaneers +4.5 [Bet now at FanDuel]
Who knew a combined starting QB age of 84 would be the marquee Week 1 matchup?
The Bucs' schedule-adjusted margin of victory last season was +0.4, and I have Tom Brady worth 3.5 points more than Jameis INT-ston, which brings the Bucs to +3.9 while the Saints were +7.4. But the Bucs showed substantial improvement as the season progressed and finished with the No. 5 defense in DVOA, so their season-ending mark undersells them a bit.
I also think the Bucs did more to improve their roster in the offseason, adding a fresh Rob Gronkowski and one of the top tackles in the draft in Iowa's Tristan Wirfs. Factor in the Saints' home-field advantage potentially being mitigated by a lack of fans in the stands due to the coronavirus pandemic, and this line should be closer to Saints -3.5.
The Bucs have a chance to sneak out of the Superdome with a win, but either way, there's a good chance it doesn't get decided by more than a field goal.
I'd bet the Bucs down to +4.
[Bet now at FanDuel. NJ, PA, IN and WV only.]
Bears +1.5 at Lions
Would bet to: Bears pick'em
Odds as of June 1: Bears +2.5 [Bet now at FanDuel]
The Bears were a disappointment last season, but let's put things in perspective: They still managed to finish 8-8, and their SRS (-0.9) was 4.3 points better than Detroit's (-5.2). Yes, Matthew Stafford closes that gap, but Nick Foles is the favorite to start for Chicago, which also gives them a slight boost.
The bottom line is that Matt Nagy's regular-season record as a head coach still stands at 20-12 — all coming with Mitch Trubisky and Chase Daniel at quarterback — while Matt Patricia is 9-22-1 overall and 9-14-1 with Stafford.
Cornerback Jeff Okudah (Ohio State), the third overall pick of this year's draft, projects as a nice get for the Lions over the long term. But in the short term, he still projects as a downgrade from Pro Bowler Darius Slay, who was traded to the Eagles.
I can't blame you if you're hesitant to bet the Bears in a close game given that kicking issues have plagued them in the Nagy era, but Eddy Pineiro posted a nearly identical field goal percentage (82.1%) to Matt Prater (83.9%) last season.
This is another spot where I'd take the better team at anything under a field goal.
[Bet now at FanDuel. NJ, PA, IN and WV only.]
Jaguars +8.5 vs. Colts
Would bet to: Jaguars +7
Odds as of June 1: Jaguars +7 [Bet now at DraftKings]
After a dismal 2-6 stretch to close the season that saw them lose each game by double digits and acquire the dreaded "quit on the season" label, it's no surprise the market is ice-cold on the Jags. But this is a new year, and even with my projected 2.5-point boost for the Colts courtesy of Philip Rivers, the Colts aren't this much better than the Jags — especially on the road. The Colts' SRS was -1.8 last season while the Jacksonville's was -6.7, which would make the Colts 7.4 points better on a neutral field.
I like what the Jags did in the draft, adding two premium building blocks in Round 1 with cornerback C.J. Henderson (Florida) and edge rusher K'Lavon Chaisson (LSU), plus upgrading the black hole of Chris Conley at wide receiver with dynamic playmaker Laviska Shenault Jr. (Colorado) in Round 2. The Jags' class should at least be able to hold serve with a strong Colts haul that includes likely Year 1 difference makers in second-round running back Jonathan Taylor (Wisconsin) and wide receiver Michael Pittman Jr. (USC).
If the Colts were at home, this line would be spot on. But I would be wary of laying this many points on the road with a turnover-prone Rivers, who has thrown 94 picks over his past 96 starts.
I'd bet the Jags down to +7.
[Bet now at DraftKings. CO, NJ, PA, IN and WV only.]
Ravens -7.5 vs. Browns
Would bet to: Ravens -8
Odds as of June 1: Ravens -8 [Bet now at DraftKings]
I don't make a habit of betting large favorites, but Baltimore's SRS last season was +15.6 while Cleveland's was -1.9; that's a 17.5-point gap — and the Ravens are at home.
It would be silly to expect the Ravens to replicate last year's magical (regular) season, and the Browns firing Freddie Kitchens is addition by subtraction, but this is still the first game for new head coach Kevin Stefanski.
I bet this at -7.5, but like it up to -8.
[Bet now at DraftKings. NJ, PA, IN and WV only.]
Dolphins +7.5 at Patriots
Would bet to: Dolphins +7
Odds as of June 1: Dolphins +6.5 [Bet now at DraftKings]
You have to throw last year's numbers out with these two teams: This is Game 1 of the post-Tom Brady era in New England, and the Dolphins should be drastically improved on both sides of the ball.
Brian Flores hails from the Bill Belichick coaching tree, and Belichick's team has struggled in these spots, losing to former defensive coordinator Matt Patricia in Detroit in 2018 and at home to Flores' Dolphins in Week 16 of 2019.
Maybe Jarrett Stidham turns out to be a revelation, but you can't lay a TD-plus on a second-year fourth-rounder in his first start.
I bet Miami at +7.5 but like it at +7 or better.
[Bet now at DraftKings. NJ, PA, IN and WV only.]
Titans +3 at Broncos 
Would bet to: Titans pick'em
Odds as of June 1: Titans +2 [Bet now at PointsBet]
The Titans got scraped 16-0 at the Broncos in Week 6 of last season, spurring the switch from Marcus Mariota to Ryan Tannehill at quarterback. From that point on, the Titans went 9-4 SU and 8-5 ATS, averaging 28.9 points per game and outscoring opponents by an average of 5.9 points per game (including postseason).
Similarly, the Broncos went 4-1 SU and 3-2 ATS after handing the reins to rookie second-rounder Drew Lock, but they averaged only 21.4 points per game and a +1.6 margin of victory. Denver is coming off one of its better drafts in the John Elway era and tends to be a tough out early in the season at home, but it's going to take more than a little thin air to thwart the beast that is Derrick Henry, and the Titans are still clearly the better team.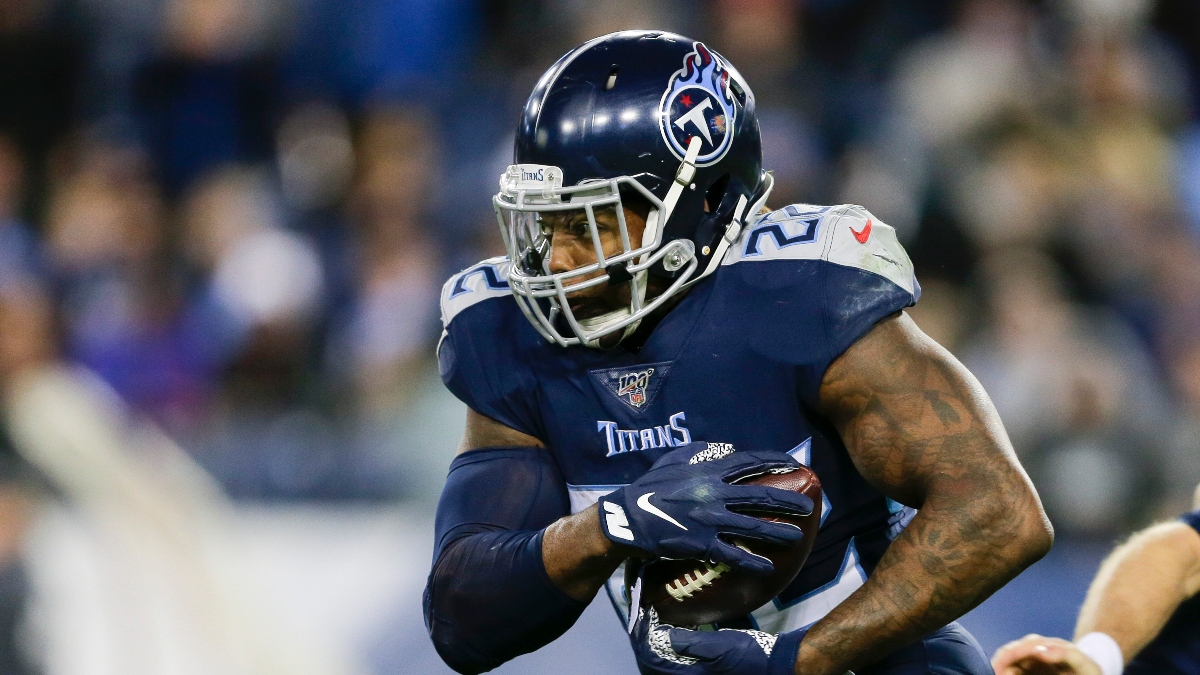 The Titans' run to last season's AFC Championship Game proved they can hang with the best teams in the league, and regardless of what the trends say about early-season games at Mile High, I don't think Denver is there yet with Lock just five starts into his career.
I like Tennessee down to a pick 'em.
[Bet now at PointsBet. NJ and IN only.]
Chiefs -9.5 vs. Texans
Would bet to: Chiefs -11
Odds as of June 1: Chiefs -10 [Bet now at PointsBet]
Over their past five Week 1s, Andy Reid's squad has gone 5-0 SU and 4-1 ATS, missing the fifth cover by a point. Overall, the Chiefs are 6-1 SU and 5-2 ATS in Week 1 in the Reid era, covering by a whopping 8.1 points per game.
The Texans, meanwhile, are 2-4 SU and 3-3 ATS in Week 1 under Bill O'Brien, with an average cover margin of -3.4.
Then there's the fact that the Chiefs, as you may recall, spotted the Texans the first 24 points in their Divisional Round matchup this past January … and still won by, oh you know, 20 points. Light work.
Far superior in both talent and preparation, the Super Bowl champs will overwhelm the Texans once again. I bet this at -9.5, like this number up to -11.
[Bet now at PointsBet. NJ and IN only.]
Rams +3 vs. Cowboys
Would bet to: Rams +1
Odds as of June 1: Rams +2.5 [Bet now at PointsBet]
I'm excited about the Cowboys in 2020 as they're finally unshackled from the confounding coaching of Jason Garrett, but this number is inflated.
In terms of SRS, the Cowboys (+5.3) were only 1.4 points better than the Rams (+3.9). So even if you factor in a bit of improvement for Dallas' strong draft and the addition by subtraction of Garrett, this game should still be around a pick 'em in LA.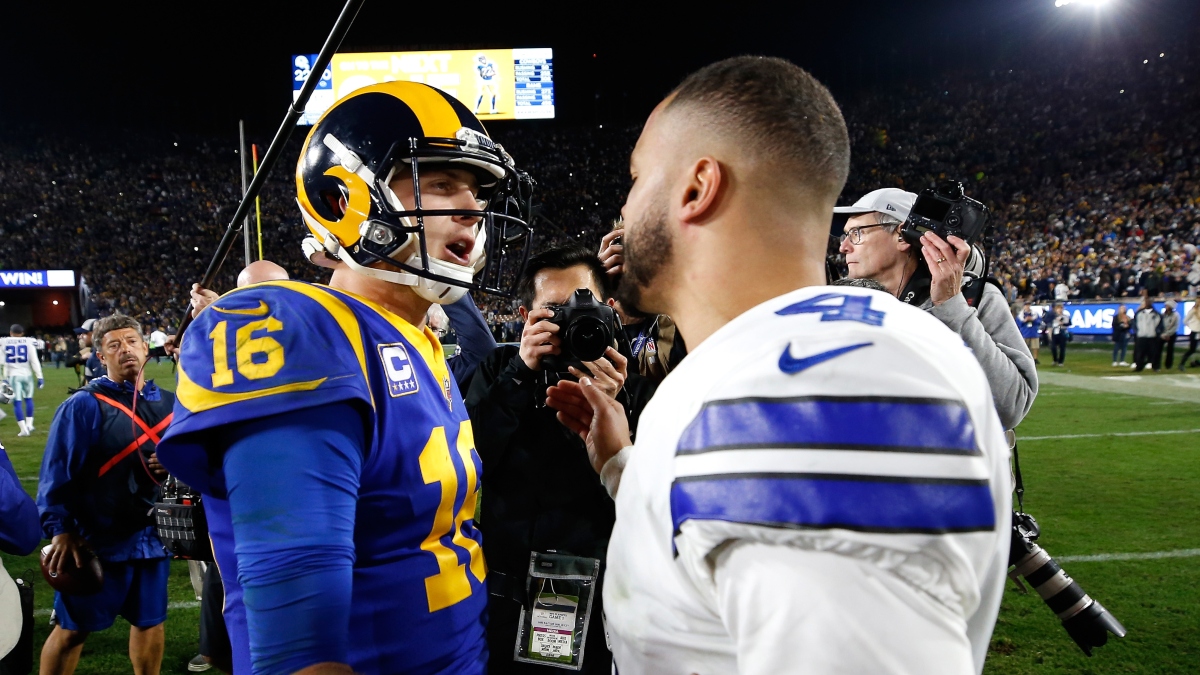 I'd bet the Rams down to +1.
[Bet now at PointsBet. NJ and IN only.]
Vikings -3.5 vs. Packers
Would bet to: Vikings -4
Odds as of June 1: Vikings -3.5 [Bet now at DraftKings]
The Packers went 13-3 last season, which was a major overachievement considering their point differential of +63 implied just 9.7 wins. Despite the inferior record, the Vikings (+5.4) were 2.2 points better than the Packers by SRS. The Vikings lost some key players this offseason — namely Diggs — but it's not like the Packers did much to get better, either.
I think the Vikings are still a point better than the Pack on a neutral field and would bet this up to -4 with Minnesota at home. Since Mike Zimmer became Minnesota's head coach in 2013, no franchise has been more profitable to bet on than the Vikings, who sport a 71-45-1 (61.2%) ATS record over that span.
[Bet now at DraftKings. CO, NJ, PA, IN and WV only.]
Panthers +1 vs. Raiders
Would bet to: Panthers pick'em
Odds as of June 1: Panthers +1 [Bet now at DraftKings]
Both of these teams were equally bad in 2019, with the Raiders posting an SRS of -6.9 and the Panthers clocking in at -7.0.
I'm bullish on both of these teams relative to the market and think they're pretty evenly matched. Teddy Bridgewater solves Carolina's most glaring issue, and the defense will get better with the addition of No. 7 overall pick Derrick Brown (Auburn) at defensive tackle and the return of a healthy Kawann Short to pair with Brown. And by the way, Bridgewater is an immaculate 28-7 ATS in his career as a starter.
[Bet now at DraftKings. CO, NJ, PA, IN and WV only.]
---
Games I'm Holding Off Betting (For Now)
Eagles -6.5 at Washington
An injury-ravaged Eagles squad still registered an SRS of +0.3 — 11.1 points better than Washington (+10.8). And I'm bearish on the quarterback situation in Washington, where the team employs the worst two finishers among 33 qualifiers last season in Adjusted Net Yards per Attempt — which strongly correlates with point differential — in Dwayne Haskins (4.25; 33rd) and Kyle Allen (4.76; 32nd).
Still, the Eagles were a Jalen Reagor away from going full Packers in the draft, and a relatively healthy Philly squad barely held off Washington at home in Week 1 last season, 32-27.
Line I'm looking for: I'm hoping this number jumps up to Washington +9 or +10.
Chargers -3.5 at Bengals
No. 1 overall pick Joe Burrow is good enough to be a franchise-altering QB from Day 1, but the market has caught on.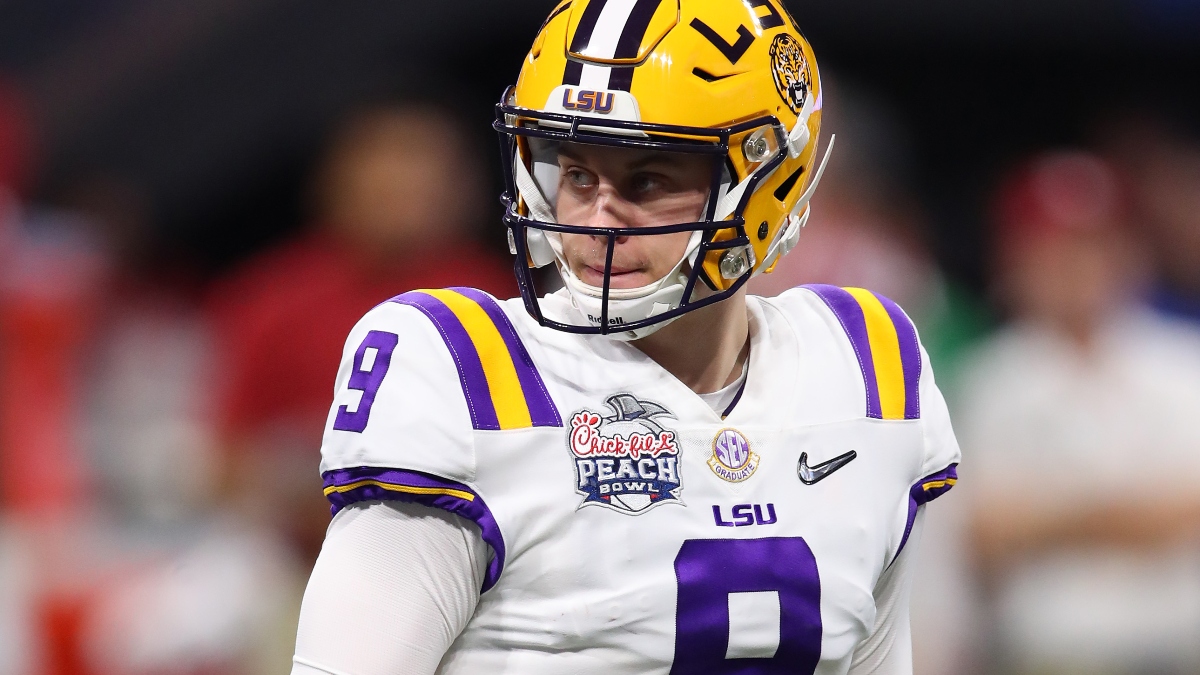 Despite losing Rivers, the Chargers are still a formidable foe, and they're primed for positive regression after underperforming their Pythagorean win total by 2.8 wins with a 5-11 record.
Line I'm looking for: If forced to choose, I'd take the points with Cincy, but I'm hoping for a +6 or better.
49ers -8.5 at Cardinals
Thanks to Kyler Murray's mobility, the Cardinals have the type of offense that gives the 49ers defense trouble, as San Fran relies on getting home with a four-man pass rush. The Cards put up 25 points against the 49ers in a 28-25 loss in Week 9 last season, and 26 points in a 36-26 defeat in Week 11; the 49ers allowed 18.5 points per game against their other 14 regular-season opponents.
Still, the 49ers (+11.0) were 14.2 points better than the Cards (-3.2) in terms of SRS, and I was hoping some Super Bowl inflation would induce a double-digit spread. I guess you have to actually win the Super Bowl for that.
How would you rate this article?