5 NFL Bets to Make Right Now: MVP, Rookie of the Year & AFC East Winner
Credit:
Rich Graes fourthsle/Icon Sportswire via Getty Images. Pictured: Dak Prescott
With the 2020 NFL Draft complete, sportsbooks have reset their markets, creating new betting value in the process.
Our experts have highlighted their favorite post-draft bets, including MVP and Rookie of the Year picks, as well as a division longshot.
---
Odds as of April 28 and via various legal sportsbooks. Check out our reviews and list of the best promos at books in your state.
---
Chris Raybon: Dak Prescott to Win MVP (+1600)
Patrick Mahomes and Lamar Jackson have won MVPs, and now it's Dak's turn.
Numbers-wise, he showed last season he can certainly hold his own against the frontrunners, finishing second with 4,902 passing yards and fourth with 30 touchdown passes. He's also added 5.3 rushing TDs per season over his four-year career.
Best of all, the draft brought him a player who many considered the top WR in the class in CeeDee Lamb, who should offer an immediate upgrade over Randall Cobb. With the team also getting more athletic at TE after letting Jason Witten go and handing the starting job to Blake Jarwin, it's not hard to see Dak improve on last year's MVP-caliber numbers.
DraftKings is the best book to bet on Dak at +1600 odds, compared to +1200 at FanDuel and PointsBet.
[Bet now at DraftKings. NJ, PA, IN and WV only.]
Sean Koerner: Clyde Edwards-Helaire to Win Offensive Rookie of the Year (+750)
When it comes to the ROY market, I like to first get a sense as to how often each position has won. Running backs have historically dominated the award, but as the NFL becomes more and more pass-happy, that's started to decline.
RBs Winning OROY
All-time (since 1967): 66% of the time
Since 2000: 45%
Since 2010: 40%
As you can see, RBs are winning the award at a lower rate, but are still the most likely position to win it. I took this a step further by looking at the average touches by RBs in their rookie season based on what round they were drafted:
Round 1: 228
Round 2: 145
Round 3: 124
Round 4: 82
Round 5: 61
Round 6: 38
Round 7: 24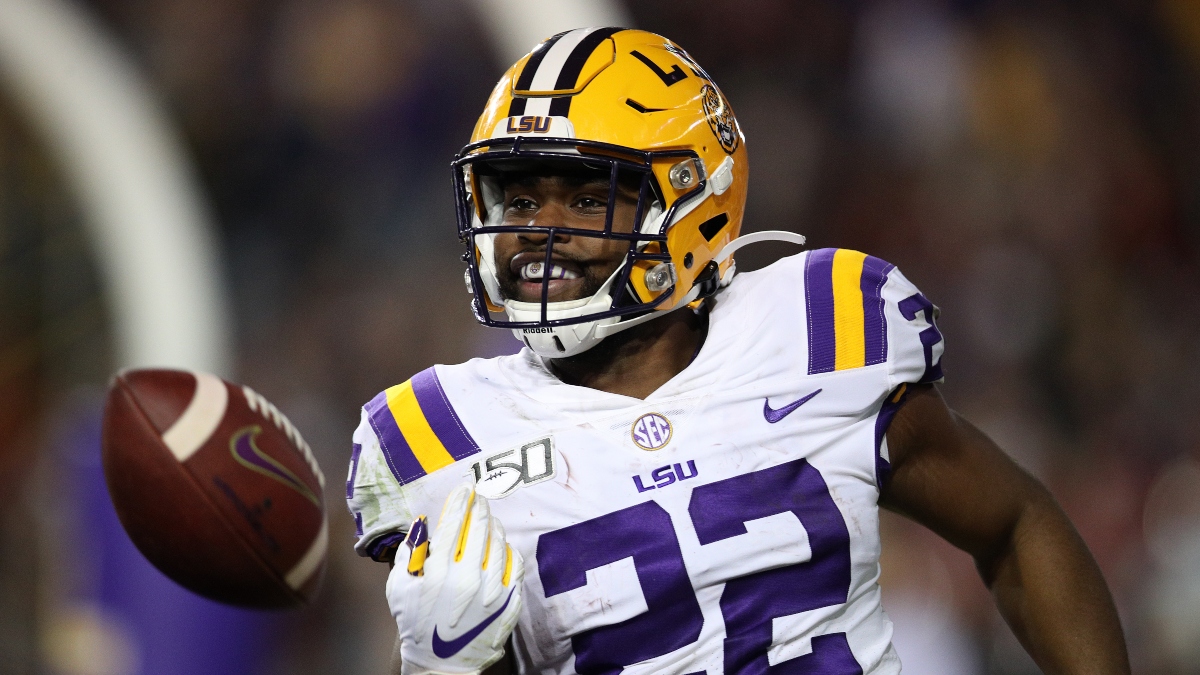 There is a significant correlation between which round a running back is drafted to how many touches we can expect him to see his rookie year. Clyde Edwards-Helaire was the only running back selected in the first round of this draft, which means he checks two critical boxes for this market.
His landing spot is another reason I love this bet. The Chiefs are the reigning champs and have one of the most explosive offenses in the league. Their main weakness last year was the RB position, so I have every reason to believe they used their first-round pick to make Edwards-Helaire their feature back.
Outside of Joe Burrow, Edwards-Helaire has arguably the highest floor/ceiling combo of any other rookie based on his landing spot. His +750 price tag at PointsBet is the best value in the ROY market — he's all the way up to +550 and +600 at DraftKings and FanDuel, respectively.
[Bet now at PointsBet. NJ and IN only.]
Stuckey: Clyde Edwards-Helaire to Win OROY (+750)
I completely agree with Koerner here, especially considering camps should be adversely impacted by the coronavirus this summer, which will hurt Burrow's Tua Tagovailoa's preparation the most in my opinion.
Edwards-Helaire walks into an ideal situation for a Super Bowl contender. He should get plenty of touches and produce at a Rookie of the Year level. Anything +750 or better is worth a bet to me.
[Bet now at PointsBet. NJ and IN only.]
Raybon: Ben Roethlisberger to Win Comeback Player of the Year (+400)
Prior to the draft, Rob Gronkowski's un-retirement helped create value on this prop for Roethlisberger as Gronk immediately slid in as the frontrunner. But check Gronk's touchdown over/under, and you can tell something is off — it's going to take more than five TDs to be a serious threat to a QB, so this probably comes down to Roethlisberger vs. Matthew Stafford (+700).
The draft further helped Big Ben's case.
While the Steelers were expected to target a workhorse running back early, they instead waited until the fourth round and took a 5-foot-9, sub-200-pound change-of-pace back in Maryland's Anthony McFarland Jr. Meanwhile, they used their first pick on a 6-foot-4, 229-pound behemoth of a wide receiver in Chase Claypool out of Notre Dame. They also added pass-catching specialist Eric Ebron at tight end in free agency.
Prior to missing 14 games last season, Roethlisberger led the NFL in pass attempts (675) and yards (5,129) while tossing 34 TDs. Despite a much-improved defense and no Antonio Brown, it seems the Steelers are gearing up for Big Ben to let it fly this season.
The best price for Big Ben in this market is +400 at DraftKings — he's as high as +250 at FanDuel.
[Bet now at DraftKings. NJ, PA, IN and WV only.]
Travis Reed: Dolphins to win AFC East (+1000) at PointsBet
Everyone is talking about Tom Brady's new team in Tampa Bay, but not much is being said about his old one in New England. While rumors of Cam Newton swirl, as of writing, Jarrett Stidham is penciled in to start for the Patriots when the 2020 NFL season starts.
The last time a team other than New England won the AFC East was way back in 2008, but the Patriots are vulnerable for the first time in Bill Belichick's tenure.
Our NFL simulations actually make the Bills the favorites to win this division with the Patriots behind them. In third place is the Dolphins, who are projected to take the AFC East crown 24% of the time — that translates to a moneyline closer to +300 instead of the +1000 odds that are being offered.
Even though Ryan Fitzpatrick is the favorite to start in Week 1, the upside that Tua brings to the quarterback position makes the Dolphins a worthy longshot to win their division.
The +1000 at PointsBet is the best line — DraftKings has them listed at  +700, for comparison.
How would you rate this article?