2022 Stanley Cup Odds Tracker (Updated Oct. 15): Title Probability for All 32 Teams
Credit:
RJ Sangosti/MediaNews Group/The Denver Post via Getty Images. Pictured: The Colorado Avalanche
2022 Stanley Cup Odds
Odds via PointsBet. Learn more about American odds here, and compare Stanley Cup futures prices here.
Looking for your team's chances to win the Stanley Cup in 2022, according to the betting market? We've updated odds from PointsBet above after three days of NHL games. You can get our favorite Stanley Cup futures bets, too — many are still available at the same prices early in the season.
Three teams lead the way — the Avalanche, Golden Knights and Lightning, who are all under 10-1. The Lightning and Knights have actually dropped from 6-1 to 7-1 over the last week. In the process, PointsBet decreased its hold on this market to about 24%, meaning it's more advantageous for bettors than it was a few weeks ago at 31%.
There's been only one big mover down the board in the first few days of the season. The Canadiens, last year's Stanley Cup runner up, have dropped from 28-1 to 40-1 after losing to the Leafs in their opener and getting blown out by the Sabres on Thursday.
PointsBet also moved some of the longshots from 100-1 to 150-1, like the Red Wings, Ducks and Coyotes.
Be sure to shop for the best prices on NHL futures. BetMGM has the best odds on many of the favorites, but DraftKings Sportsbook has a few advantageous lines in the mid-tier, especially.
Who Is the Stanley Cup Favorite?
Let's dive into each team, starting with the favorite, the Colorado Avalanche.
1. Colorado Avalanche (+500)
The Avalanche have been dominant in the regular season over the past two years at a ridiculous 81-33-12 mark. But a deep playoff run has eluded them, with second-round losses to the Stars and Golden Knights in 2020 and 2021.
Still, just about every part of this team is elite, from its top line to its core of young defensemen. The Lightning struggled in the playoffs until they didn't anymore; Colorado's time is coming, and the Avs are a rightful favorite, especially in the easier Western Conference.
2. Vegas Golden Knights (+700)
Vegas shares a lot of qualities with Colorado, and fortunately no longer shares a division like they did during the COVID-altered 2021 season. The Knights are deep, skilled, and not bogged down by bad contracts.
3. Tampa Bay Lightning (+700)
The Lightning have had an odd start to the season, losing at home after raising the Stanley Cup banner to a depleted Penguins team. Two days later, they scored three goals in the final six minutes and wound up beating the Red Wings 7-6 in overtime as a huge favorite.
Tampa's depth took a hit this offseason. Yanni Gourde, Tyler Johnson, Barclay Goodrow and Blake Coleman are all gone. It's depth that's not irreplaceable, but we've seen great teams crack a little bit as their bottom six thins out (see Chicago and Pittsburgh last decade).
4. Toronto Maple Leafs (+1100)
There's a group of people who think the Leafs aren't "built for the playoffs," and there's a group of people who think that the playoffs are played the same as the regular season. Both thoughts have merit.
But the first camp has the upper hand at the moment. Despite elite offensive marks, this team hasn't made it out of the first round since 2004. They've blown big series leads, and the defense has let them down at times.
Now Toronto is back in a division with the Bruins and Lightning after coasting through the all-Canadian division last season. You can't completely right them off, but at 11-1, you're not getting much of a discount.
5. Boston Bruins (+1400)
The Bruins had a busy offseason, adding or replacing depth pieces at every level while retaining key contributors like Taylor Hall and Brandon Carlo.
The top line can go toe-to-toe with anyone on both ends of the ice, making Boston a tough out in the postseason.
6. New York Islanders (+1600)
Ah, the Islanders. The anti-Toronto Maple Leafs. The team that shouldn't keep winning based on its underlying metrics, but does. Odds are that will keep happening. PointsBet actually dropped the Isles from 20-1 to 16-1 before the season.
There are lots of arguments as to why the analytics community tends to underrated Barry Trotz's team. Maybe it's their depth. Maybe it's their semi-old-school style of play doesn't fit what we think modern hockey looks like. Either way, the Isles have been so close the last two years, losing twice to Tampa in the Eastern Conference Finals.
New York starts its season with 13 games on the road as its new arena is finished, so there might be a buy-low opportunity on this team in the 30-1 range at some point.
7. Carolina Hurricanes (+2000)
The league's analytical darlings have graduated from niche to mainstream. The Canes' core put it all together last regular season went 36-12-8 last season to win its division, and finished fourth in expected goal share at even strength.
Carolina got by Nashville in the first round last postseason, then ran into Tampa, who made quick work of that series in five games. The Canes will be good for a while thanks to great depth, high-end skill at the top and a core of unheralded defensemen who can both move the puck and defend in their own end.
8. Florida Panthers (+2000)
If you didn't follow hockey much last season, you may have missed the Panthers' rise to power. Florida was fifth in expected goal share at even strength but played Tampa in the first round of the playoffs. Alex Barkov is still underrated by casual fans, and Florida has a core of defensemen who you should get to know, including MacKenzie Weegar, who finished eighth in Norris Trophy voting.
9. Pittsburgh Penguins (+2200)
Is this it for the Penguins? They overachieved last year based on their underlying metrics, finishing middle of the pack in expected goal share (between the Sharks and Devils).
Sidney Crosby and Evgeni Malkin are getting older, and they haven't been able to develop many high-level players below them. The goaltending has been a rollercoaster in the last five years, as well. There's still plenty to like about this team, but father time comes for everyone, and an NHL playoff appearance isn't a guarantee at this point.
10. New York Rangers (+2200)
The Rangers started a rebuild three years ago, then accelerated it, then abandoned it. This price, at 22-1, feels quite ambitious.
New York fired the core of its front office and head coach despite accepting three years ago that a rebuild would take some time. There's a sentiment that ownership thought the team wasn't tough enough, made evident by the Tom Wilson fiasco late in the year. So they got tougher this offseason, at the expense of some skill. Pretty much the opposite of how the NHL is trending.
But the Rangers really just need their young core to take a step forward, from center Filip Chytil to wings Alex Lafreniere and Kaapo Kaako, plus a host of unproven defenseman. The pieces are coming together a bit, but this isn't a Stanley Cup champion right now.
11. Minnesota Wild (+2500)
The Wild have been a bit of an analytics darling in the past few years, consistently turning strong underlying metrics into average results.
Last year Minnesota finally broke through a bit thanks in part to Kirill Kaprizov and his finishing ability. The Russian rookie flirted with returning home this offseason but signed a five-year deal with the Wild instead.
12. Edmonton Oilers (+2500)
If NHL players could be on the ice as much as NFL quarterbacks or NBA point guards are on their playing surfaces, Edmonton would be among the favorites.
Connor McDavid further cemented himself as the league's best player last year, with 105 points in 56 games and the Art Ross Trophy. But he's just one of 20, and the rest of the Oilers have struggled to help him out. Edmonton was middle of the pack in expected goal share at 49.57%, and scored just one playoff goal in the postseason in a sweep by the Winnipeg Jets.
They're so reliant on an elite powerplay to make up for their even strength shortcomings that when it dries up, it's a scary proposition. This is a team you should be betting against as a big favorite.
13. Washington Capitals (+2500)
The Capitals didn't improve much this offseason but didn't have a chance to, either. This team is right up against the salary cap and will try to run it back with this core one more time after losing in the first round in three straight years. We might see some big moves next summer if it happens again.
14. Dallas Stars (+3000)
The Stars finished third in expected goal share at even strength last season but missed the postseason. They got hit hard by COVID, and missed a stretch of the season because of a storm in Texas. They'll be back in the hunt this year, thought PointsBet did drop them from 25-1 to 30-1 before the season.
15. Philadelphia Flyers (+3000)
The Flyers overachieved a bit last season despite disastrous goaltending from starter Carter Hart — seriously, an .877 save percentage and 3.67 goals against. They did bring in Ryan Ellis and Cam Atkinson to shake things up, but this isn't a Cup contender. A Stanley Cup playoff appearance is far from a sure thing, and it's not a team we're looking to bet at this price.
16. Montreal Canadiens (+4000)
The Habs have started 0-2 and dropped from 28-1 to 40-1 to win the Cup. They're another analytics darling, loved by our hockey betting analysts. But this one actually made something out of it last year.
The Habs started 2021 red-hot, faltered down the stretch, and then made the Stanley Cup Final to everyone's surprise. Montreal has an interesting mix or aging veterans like Shea Weber and Carey Price, mixed in with budding stars like Nick Suzuki and a whole lot of good depth pieces.
17. St. Louis Blues (+4000)
Late in the preseason, the Blues dropped from 33-1 to 40-1 before even playing a game.
The Blues' core has come apart a bit since their Stanley Cup run, and not just through roster attrition. Vladamir Tarasenko has fallen off, Ryan O'Reilly hasn't replicated his playoff performance from 2019, and St. Louis was carried by some younger, unknown players in 2021 like Jordan Kyrou.
St. Louis had the fifth-worst expected goal share in the NHL last season, somewhat of an anomaly for this group.
18. Calgary Flames (+4000)
The Flames were great 2018-19 and 2019-20, but departed the postseason early, and struggled in an easy Canadian division in 2021.
There are still major holes at right wing and on defense, especially with Mark Giordano gone, but some positive regression should be coming.
19. Winnipeg Jets (+4000)
The Jets rely on elite goaltending and finishing skill — not the modern formula most people think — but it's been working for a few years. Maybe not worth a bet on the Stanley Cup, but game-by-game, this team has been underrated because of its poor underlying possession metrics.
20. Chicago Blackhawks (+4000)
The Blackhawks have been trying to retool and keep some hope alive for this core, but it hasn't materialized. They did add Marc-Andre Fleury in one last gasp at a playoff run.
21. Seattle Kraken (+5000)
I'll let my colleague Mike Leboff explain why the Kraken have 50-1 odds to win the Cup, and not 100-1, as the league's newest team.
22. Nashville Predators (+6000)
Nashville's moves this offseason do not signal that they believe they're a contender. The Preds sent Viktor Arvidsson to the Kings for picks. They moved Ryan Ellis to the Flyers for two younger players. Had goalie Juuse Saros not played at, this team would have missed the playoffs by a mile.
So it's unlikely this team has Stanley Cup dreams as it's constructed now, but there is a future worth betting on this team.
23. Los Angeles Kings (+6000)
The Kings were bad last season, finishing second to last in expected goal share at even strength. But they've got really exciting group of prospects in the pipeline and should work their way into contention at some point in the next few years.
24. Vancouver Canucks (+6000)
The Canucks were the worst even-strength team in the league last season, so it's not surprising that a lot of models project them to be among the worst teams in the league again.
25. New Jersey Devils (+6000)
The Devils had quite possibly the best offseason in the NHL. They added Dougie Hamilton and Ryan Graves to the blue line, Tomas Tatar up front, and should get improved play from their young core, led by Jack Hughes. This isn't a Stanley Cup contender yet, but New Jersey could make some noise.
26. San Jose Sharks (+8000)
The Sharks played well down the stretch last season, and even as the core ages, it's not hard to imagine San Jose making the playoffs in a bad division. They don't want to rebuild, so this is a big year for the franchise.
27. Arizona Coyotes (+10000)
That model from above has Arizona last in its division, and it's hard to argue with. A Stanley Cup playoff appearance is doubtful, as is a Stanley Cup. You could argue this team should be priced in the 150-1 to 200-1 range.
28. Ottawa Senators (+12500)
The Senators take the brunt of plenty of jokes on Hockey Twitter, but there's some interesting talent here. It's a team to bet on as a 3-1 underdog on the road on a game-by-game basis, probably not to win the Stanley Cup. Track NHL odds here or in The Action Network app.
29. Columbus Blue Jackets (+15000)
The Jackets are undergoing a shakeup, moving Seth Jones and Cam Atkinson this summer. Perhaps the most notable move was bringing back executive John Davidson, who built the team that made the postseason four straight years, after he was fired by the Rangers.
30. Anaheim Ducks (+15000)
This team doesn't have a whole lot going for it, other than a soft division.
31. Detroit Red Wings (+15000)
Detroit has things moving in the right direction under Steve Yzerman, but they're still a few years away.
32. Buffalo Sabres (+20000)
Their best player doesn't want to play there. He's no longer the captain. I'd need about 5000-1 odds to take the Sabres to win the Cup.
NHL Betting FAQ
How Do You Bet on the Stanley Cup?
If you're trying to bet on the Cup winner before or during the season, you can use any sportsbook. Just find their NHL tab, then "Futures", and find your team. Each book may call it something different, like "Outright Winner."
Here's how it looks at PointsBet: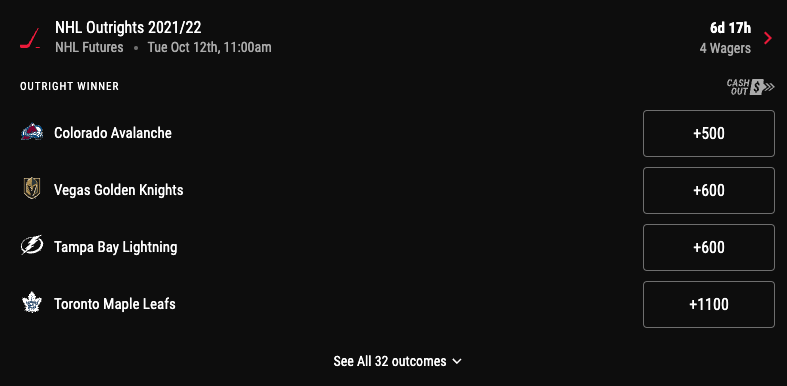 What Stanley Cup Bet Types Are Available?
Sportsbooks have started offering more and more bet types across all events. You can bet the Cup winner, conference winners, exact Stanley Cup matchups, and more.
How Do Stanley Cup Futures Odds Work?
It's simple — if the team you bet wins the Stanley Cup wins, your bet cashes. If not, you lose. Sportsbooks may give you an opportunity to cash out of your bet if your team advances and their odds shorten.
How Do You Read Stanley Cup Odds?
Like all other American odds. They're centered around a $100 bet. So a $100 bet on the Avalanche at +500 would net you $500 in profit, plus your $100 back, if Colorado wins the Stanley Cup. If you bet $10, you'd win $50.
If you bet $100 on the Dallas Stars at +3000, you'd win $3,000.
How would you rate this article?