Anticipation has long been building for sports betting in the Bluegrass State, and its legalization means that the launch of ESPN BET Kentucky is now upon us! This new platform from PENN Entertainment has elevated the sports betting scene by offering a sleek mobile app for on-the-go wagers. The ESPN BET Kentucky promo code ACTION can net you the following offer: Bet Anything, Get $250 in Bonus Bets!

Bet Anything, Get $250 in Bonus Bets!
Must be 21+. Gambling Problem? Call 1-800-GAMBLER
ESPN BET Kentucky Promo Code New User Details
No promotions available. Try selecting a different location.
ESPN BET Kentucky Promo Code and Key Takeaways November 2023
As the seasons change, so does the sports betting landscape in Kentucky. ESPN BET Kentucky is a new player on the field following the legalization of online sports betting in March of this year. It's a rebrand of PENN Entertainment's prior brand, and the transition is finally live!
This transition isn't just a name change; it's unlocked a fresh realm of online sports betting and opportunities for Kentucky bettors. With a reputable brand like ESPN now in the Kentucky betting scene, the ESPN BET Kentucky promo code is not just a gateway to engaging betting experiences, but also a testament to the growing allure of online sports betting here in the state.
| | |
| --- | --- |
| 📲 ESPN BET KY Promo Code | ACTION (Users MUST use this code to get the offer) |
| 💰 ESPN BET KY Welcome Offer | Bet Anything, Get $250 in Bonus Bets! |
| 📄 Terms & Conditions | New users only, 21+. Gambling problem? Call 1-800-GAMBLER. Must be physically present in KY in order to wager. Players must sign up with code ACTION and then place an Eligible Wager on an Eligible Game during the Promotion Period. $200 (four (4) $50 Increments) of the $250 in Bonus Bets will be credited upon making the first bet. Please Gamble Responsibly. |
| 🤝 ESPN BET Kentucky License Partner | Ellis Park Racing & Gaming |
| 🗓 ESPN BET Kentucky Launch Date | November 14, 2023 |
| Last Verified On | November 30, 2023 |
You can only get the offer by using our ESPN BET Kentucky sportsbook promo code, ACTION.
Here are all the details:
Register for a new account using our code ACTION (very important)
Place a cash wager on an eligible game
You will then receive $250 in Bonus Bets, split into five $50 Bonus Bets
Keep in mind that the ESPN BET Kentucky Bonus Bets will be applied within 72 hours, and you must use them within 7 days of receipt. You will get four of your bonus bets once you make your first bet. The fifth $50 Bonus Bet will be sent within 24-48 hours.
Remember, if you don't use promo code ACTION, you won't be eligible for this promotion!
ESPN BET Kentucky Odds Boosts
In addition to the welcome offer, ESPN BET KY also offers odds boosts, which are ESPN BET Kentucky promos that improve the chances of enhanced winnings for bettors.
Existing User Promotions
Stay tuned for what's to come from ESPN BET Kentucky in terms of existing user promotions!
Refer-a-Friend
Another promotion that is on ESPN BET Kentucky is the Refer-a-Friend program. This promotion is a win-win for both existing users and the newcomers they introduce to the platform.
By referring friends to ESPN BET KY, existing users could potentially earn bonus bets or other rewards, while the referred friends get a head start in their betting journey with welcome offers.
Ongoing Promotions
Stay tuned for some ongoing promos, but this is one of them:
PENN Play Program: From retail destinations to online gaming and sports betting, players have a chance to earn rewards through various activities.
Must be 21+ GAMBLING PROBLEM? Call 1-800-GAMBLER (KY/OH/TN) or visit mdgamblinghelp.org (MD), (800)-327-5050 or gamblinghelplinema.org (MA)


No promotions available. Try selecting a different location.
How To Sign Up for ESPN BET Kentucky

The journey to becoming an ESPN BET KY member is a streamlined and user-friendly experience. ESPN BET Kentucky follows a straightforward path to get bettors started.
Here's an overview of steps:
Locate the "Sign Up" or "Join Now" Button: First, download the ESPN BET Kentucky sportsbook app from the App Store or Google Play Store. Alternatively, navigate to the online sportsbook on a desktop. Find and click on the "Sign Up" or "Join Now" button to commence the registration process.

Provide Basic Information: Enter your email, create a password, and provide your name, address, and phone number in the designated fields.

Verification Details: You may need to provide the last four digits of your Social Security Number (SSN) for identity verification purposes.

Enter ESPN BET Kentucky Promo Code: An ESPN BET Kentucky promo code is needed to claim the welcome offer, so enter ACTION in the specified field.

Explore and Bet: With your account now active, explore the variety of sports and betting markets available on ESPN BET KY. Make your first bet and dive into the exciting world of sports betting in Kentucky.
ESPN BET KY Timeline
Here are some important 2023 dates regarding sports betting in Kentucky and the pending launch of ESPN BET KY:
March 31: Governor Beshear signs the pivotal Kentucky sports betting bill HB 551 into law, marking a historic day as it gets passed on the last day of the legislative session. The sports betting market is now legal in Kentucky, and legal sports betting can soon begin with sportsbooks in Kentucky.

August 8: PENN Entertainment unveils its plan to launch ESPN BET KY. The $2 billion deal helps set the stage for a fall launch in Kentucky.

August 22: ESPN BET Kentucky receives an official nod as one of the operators approved to hold a license in the state, paving the way for its anticipated launch as a leading sportsbook in Kentucky.

September 7: Governor Andy Beshear places his first bet at Churchill Downs, heralding the live retail sports betting era in Kentucky.

September 28: Mobile sports betting takes flight in Kentucky with eight operators now licensed to accept wagers from Kentucky bettors. The Kentucky online sports betting world is heating up.

November 14: The ESPN BET KY sportsbook app officially launches. Use promo code ACTION to get started!
Current Events To Bet on ESPN BET KY
Now that ESPN BET Kentucky has launched, the anticipation is high for the variety of sporting events it covers.
Super Bowl LVIII

Kentucky Derby

March Madness
PENN Entertainment's Game-Changing Partnership
The alliance between PENN Entertainment and ESPN marked a pivotal turn in the realm of sports betting in Kentucky.
Through a $2 billion deal, ESPN BET KY was set in motion, laying the foundation for a fresh, revamped betting platform. This partnership signifies a fusion of PENN Entertainment's robust technological infrastructure and ESPN's global sports media stature, promising a unique, enriched betting experience for Kentucky sports bettors.
The blend of ESPN's sports media prowess and PENN Entertainment's online sports betting technology has reshaped the online sports betting landscape in Kentucky.
ESPN BET KY vs. Other Kentucky Sportsbooks
The entry of ESPN BET KY into Kentucky's online sports betting scene has stirred the waters, especially when pitted against other prominent sportsbooks in the state. The global prominence of the brand name ESPN coupled with a loyalty program has significantly enhanced the appeal of ESPN BET Kentucky.
ESPN BET Kentucky Mobile App & Website Experience
The ESPN BET KY app and website draw from the legacy of user-centric designs from PENN Entertainment. The transition from PENN has retained core functionalities while introducing fresh, ESPN-branded features. The goal is to provide Kentucky bettors with a premier mobile experience, complete with easy access to betting markets, promotions, and insightful sports analysis to guide their betting decisions.
ESPN BET KY App Pros & Cons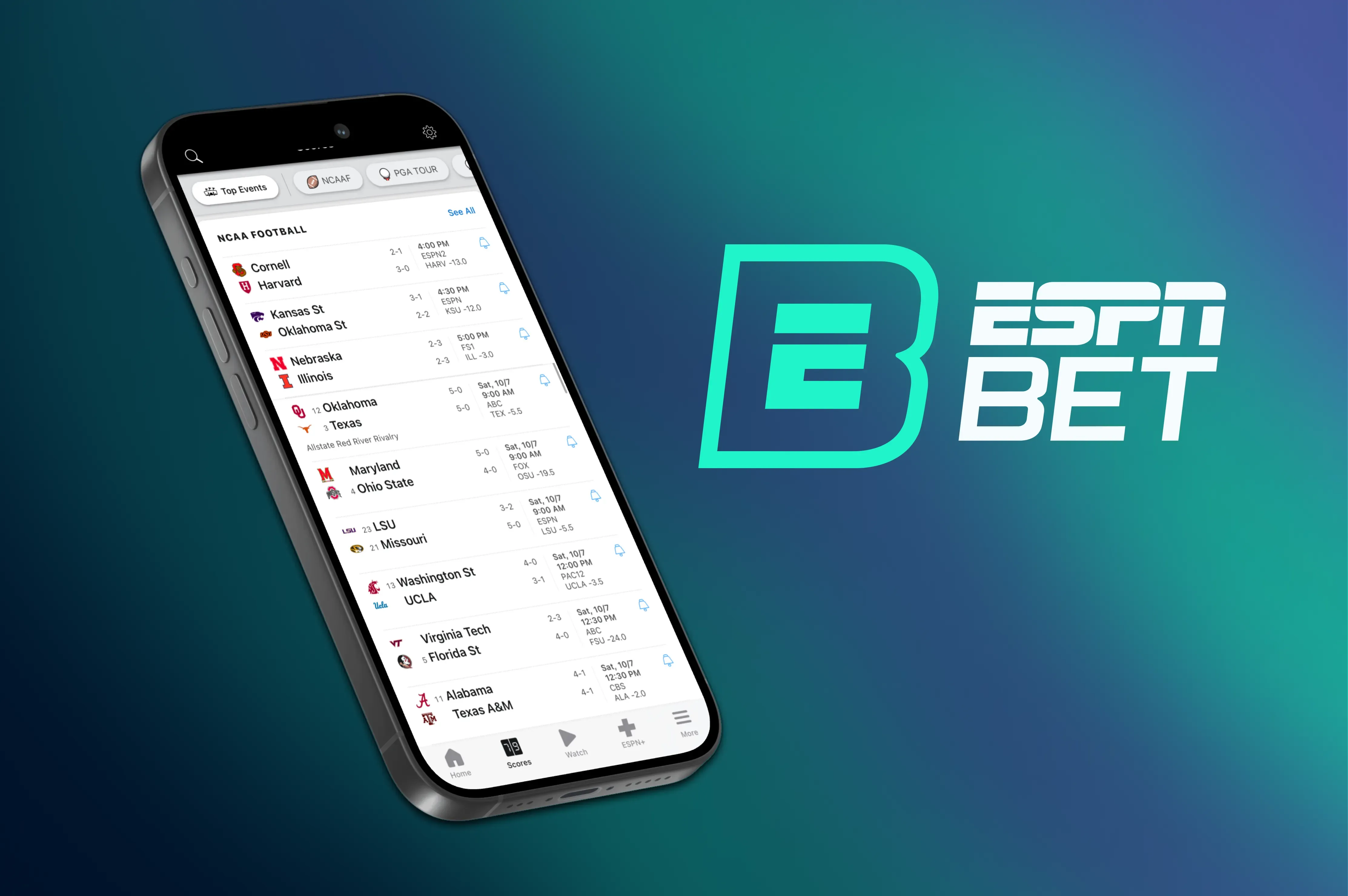 Every sportsbook app comes with its own set of advantages and drawbacks, and the ESPN BET KY app is no exception. Below we explore the pros and cons of the sports betting app:
ESPN BET KY App Pros
Pros of the ESPN BET KY app include:
Robust Betting Options: ESPN BET KY offers a diverse range of bets across numerous sports.

In-Depth Sports Analysis and Statistics: Leveraging ESPN's rich sports analysis resources, the app provides bettors with valuable insights and statistics to inform their betting decisions.

Integrated Promotions: Easy access to and seamless integration of promotions provides added value and enhances the betting experience on ESPN BET KY.

User-Friendly Interface: The ESPN BET KY app features a user-friendly interface, making it easy for Kentucky bettors to find their preferred markets and place bets swiftly.
ESPN BET KY App Cons
Users may consider these cons of the ESPN BET KY app:
Learning Curve for New Users: As with any sophisticated betting platform, new users may face a learning curve in navigating the app and understanding all its features.
ESPN BET KY Betting & Sports Market Coverage
The sports market coverage on ESPN BET KY is extensive, encompassing a wide range of sports leagues and events. These leagues represent just a glimpse of the comprehensive sports market coverage on ESPN BET KY.
Here are some of the sports leagues featured on ESPN BET KY:
NFL (National Football League): This staple in American sports betting produces a vast array of betting options.

NBA (National Basketball Association): With a long season and numerous games, the NBA provides ample betting opportunities.

MLB (Major League Baseball): The MLB's extensive season schedule caters to baseball enthusiasts with a plethora of betting markets.

NHL (National Hockey League): Ice hockey fans can look forward to a variety of betting options throughout the NHL season.

NCAA (College Sports): College football and basketball events are a significant part of the sports betting scene, especially during March Madness and the Bowl Season.
ESPN BET KY also has an assortment of international sports and leagues available in the ESPN BET Kentucky sportsbook.
Betting Types on ESPN BET Kentucky
ESPN BET KY hosts a variety of betting types, providing a comprehensive betting experience for users. Here are some of the betting types featured on ESPN BET KY:
Moneylines
Moneyline bets are straightforward wagers on which team or athlete will win a specific event or match. They're an excellent starting point for beginners due to their simplicity.
The odds are adjusted based on the perceived likelihood of each outcome, providing a clear indication of the potential payout on each bet. Moneylines are common in many sports including hockey, baseball, and soccer, making them a fundamental betting type on ESPN BET KY.
Live Bets
Live betting, also known as in-play or in-game betting, is a thrilling and interactive form of wagering where bettors can place bets on a game or event in real time as it unfolds. Unlike traditional betting where wagers are placed before the event starts, live betting allows for a wide range of bets as the action progresses.
Common live bets include the next team to score, the next player to score, the outcome of a particular drive in football, or the result of a specific inning in baseball, among others.
Futures
Futures bets are simply bets on events further in the future than just the next game or two, like betting on a team to win the championship before the season starts. These bets often offer higher potential payouts due to the uncertainty involved.
Parlays
Parlays are accumulative bets where multiple selections are combined into a single wager. For a parlay bet to win, all selections must be correct, offering higher potential payouts at the expense of increased risk. Parlays can include a variety of bet types such as moneylines, point spreads, and totals across different events or sports.
The potential payout increases with each added selection, making parlays an attractive option for bettors seeking higher rewards on ESPN BET KY, albeit with a higher level of risk.
Over/Under
Over/under betting, also known as totals betting, is a wager on the combined total points/goals/runs scored by both teams in a game. The sportsbook, like ESPN BET KY, will set a total, and bettors can wager on whether the actual total will be over or under that set number.
For instance, in a football game, if the total is set at 49.5, an over bet would win if the combined score is 50 or more, while an under bet would win if the combined score is 49 or less. This type of betting allows sports bettors to focus on the overall performance of the teams involved rather than on the winner or loser of the event. It's a popular choice for many sports bettors as it can often provide a different angle and an additional challenge when placing bets.
Point Spread
Point spread betting is one of the most popular types of wagers among sports bettors, especially in football and basketball betting. A point spread evens out the playing field between two mismatched teams by assigning a "spread" that the favored team must win by or the underdog can lose by and still cover the spread.
For example, if the point spread is -7.5 for the favored team, they must win by 8 or more points for a bet on them to win. Conversely, a bet on the underdog would win if they lose by 7 or fewer points or win the game outright.
Props
Prop bets, or proposition bets, involve wagering on specific occurrences or non-occurrences during an event, like a player's performance stats or specific in-game events. They add an extra layer of excitement to the betting experience.
Props can range from traditional bets like how many points a player will score to more novel wagers like the result of the coin toss. They allow for a more personalized betting experience, enabling bettors to engage with the event on a deeper level.
Banking on ESPN BET KY
Before diving into the betting action, it's crucial to explore the banking methods available at ESPN BET Kentucky. ESPN BET KY offers a variety of deposit and withdrawal options to cater to different user preferences.
Payment Types
ESPN BET KY payment types are as follows:
Debit and Credit Cards: A conventional and straightforward method for funding your account.

Bank Transfers: Directly move funds from your bank account to your ESPN BET KY account.

Prepaid Play+ Cards: A secure and handy option, especially for those who prefer not to use their bank cards.

E-checks: Digital checks offer a balance of security and convenience.

PayPal: Trusted e-wallet option for quick and secure transactions.

Apple Pay: A convenient and secure method for Apple device users.

Venmo: Another reputable e-wallet option for speedy deposits.

Wire Transfers: Ideal for transferring larger amounts, though it may take a bit longer.
Withdrawal Options
When using ESPN BET KY, you may choose from the following withdrawal options:
Prepaid Play+ Cards: A flexible method for both depositing and withdrawing funds.

E-checks: A secure method, though it may take a few days to process.

PayPal: A popular choice for quick and secure withdrawals.

Venmo: Another e-wallet option for swift withdrawals.

Online banking: Directly transfer your winnings to your bank account.

Checks by mail: Traditional method, though it may take longer to receive your funds.
Responsible Gambling in Kentucky
The state and ESPN BET KY are committed to promoting responsible gambling practices among sports bettors. While engaging in sports betting can be an exciting and entertaining activity, it's essential to maintain a responsible attitude towards gambling to prevent any adverse effects.
If you are seeking help or more information on responsible gambling in Kentucky, various hotlines and websites are available. These resources are designed to provide confidential support and can offer guidance on how to seek further help if needed. Remember, maintaining a balanced approach to gambling is key to enjoying the experience while staying in control.
ESPN BET Kentucky Promo Code FAQ
Is there an ESPN BET Kentucky promo code?
Yes! The ESPN BET Kentucky promo code is ACTION. Using it unlocks the offer: Bet Anything, Get $250 in Bonus Bets! Users MUST use code ACTION to get the offer.
What is the ESPN BET Kentucky welcome bonus?
The ESPN BET Kentucky offer is Bet Anything, Get $250 in Bonus Bets!
What is the legal betting age in Kentucky?
The legal betting age in Kentucky is 18, but ESPN BET KY provides sports betting to players ages 21+.
Will PENN Play Member Rewards be connected to my ESPN BET Kentucky account?
PENN Play Member Rewards will be integrated with ESPN BET Kentucky sportsbook accounts.
When will ESPN BET KY launch?
ESPN BET Kentucky launched on November 14, 2023. The platform's November 2023 launch in Kentucky follows a series of legislative approvals and partnership formations aimed at providing the state's bettors with a robust and reliable sports betting platform.