SugarHouse isn't the sleekest of sportsbooks, but they — along with sister sportsbook BetRivers — are available in a ton of states. They are a pretty standard large book: You'll find odds on just about every sport and market you could want, and odds on the major sports are usually in line with most U.S. sportsbooks. The Action Network users could get a sign-up offer at SugarHouse for a 2nd Chance Bet worth up to $250 using SugarHouse promo code "ACTION" -- but is no longer available.
SugarHouse New User Details
No promotions available. Try selecting a different location.
SugarHouse Sportsbook Promo Code & Mobile App Key Takeaways September 2023
| | |
| --- | --- |
| SugarHouse Promo Code: | No Longer Available |
| SugarHouse Sportsbook Deposit Bonus: | Second Chance Bonus Bet up to $250 |
| SugarHouse Legal States | PA |
| SugarHouse Sports Offered: | NFL, NBA, MLB, NHL, Soccer, Tennis, Boxing, UFC/MMA, NASCAR, Golf, College football, College basketball |
| Promo Last Verified On: | September 23, 2023 |
No promotions available. Try selecting a different location.
SugarHouse Sportsbook Review
SugarHouse Promo Codes & Bonuses
It's important to take advantage of sign-up offers, promotions and odds boost if you want to keep up your bankroll. Sports betting can be challenging not only because of the nature of predicting outcomes in sports but also because books charge a tax — known as the juice or vig — on each bet.
Unfortunately, SugarHouse doesn't stand out in terms of regular offers. The sign-up deposit match is worth taking advantage of, but after that the value to users is limited. If you're waiting to create an account to get a great event-based offer, they're usually few and far between at SugarHouse — the $250 deposit match is the one you should go with.
The Action Network users could get a sign-up offer at SugarHouse: a 2nd Chance Bet worth up to $250, which they'll receive in bonus money instantly. You must use the promo code "ACTION" to receive the offer.
Note that this is a one-time offer, so make sure to get the best bang for your buck: If you lose your bet of $10, you will only get $10 worth of a 2nd chance bet. If you want to maximize your 2nd chance bet, you will have to responsibly wager what you are comfortable with up to $250.
Also, make sure to use the promo code "ACTION" or the 2nd Chance Bet will not be connected to your account.
Mobile App & Website
SugarHouse once operated its mobile sportsbook in Connecticut until 2023. Its sister company, BetRivers, operates in Colorado, Indiana, Pennsylvania, Iowa, Michigan, New Jersey, Virginia, West Virginia and Illinois. Rush Street Gaming, which is based in Chicago, owns both entities and figures to be a big player in the legalized sports betting market.
SugarHouse's mobile app is solid yet simplistic, which is a nice change from the desktop site, which can be cluttered with advertisements and leaderboards. You won't be blown away by their app, but it works well and has solid navigation to find sports and bets.
Web Experience
SugarHouse's desktop site has solid navigation: You can pretty easily find the sport and bet you want on either the left-hand side or using the top navigation bar. Space is a bit limited, however, so finding game props, player props and derivatives can be a little more challenging — you'll have to click, expand and scroll quite a bit if you're trying to find a more niche bet or market.
One experience that some people may like but we find unnecessary is the "Newsfeed" that takes up the whole right-hand side of the desktop experience. Here, SugarHouse highlights a running list of player user names and winning bet streaks they're on at the moment. It doesn't display the actual bets, so it's mostly for show than the actual value.
Perhaps it's a cool thing to see your name pop up on the leaderboard when you're on a hot streak, but otherwise, it's a use of space that isn't justified by its use to bettors on the site. You can't follow other users or even see what they're betting, so it's mostly a (likely ineffective) strategy to encourage users to keep betting so they'll pop up on the leaderboard.
Other than that potential annoyance, SugarHouse has a fairly standard desktop experience, and we've found it works well. The bet slip experience is solid, and you can enter the bet amount or the amount you'd like to win, which is helpful for users who don't want to calculate odds by hand.
SugarHouse offers a ton of different bet types for all sports, and while its app can be a little clunky, SugarHouse's $250 deposit match with only a 1x rollover is among the best in the industry.
SugarHouse Mobile App
The Action Network Positives:
Good customer service.

From our experience and what we've heard from other users, SugarHouse has good customer service and helps to resolve issues quickly. They do have a live chat function both on desktop and in the app, which is a big bonus vs. other books that require you to submit a form or send an email.

Fast, easy payouts. We've heard that withdrawals have been fast and easy at SugarHouse, which is very important! When opening an account at a sportsbook, one of the biggest things is knowing when you're ready to withdraw that you won't have any problems.
Easy bet slip functionality. The bet slip experience is a good one at SugarHouse. When you click a bet, it's immediately added to your slip, and from there you can enter both the amount you want to bet or how much you want to win. The last thing bettors want to do is mental math, so that's a nice feature of the bet slip experience.
The Action Network Negatives:
Occasional glitching and freezing. We've heard some user feedback that the app can be glitchy at times, whether it's during the geolocation process when trying to log in or during live betting. Most of the time things are fine, but it's frustrating when it does happen.
Poor use of space. This is less of a problem on the app vs. the desktop website, which has a rolling screen on the right-hand side that lists random users and their betting streak. When space is already limited on just a single screen, it'd be nice to focus more on bets and markets.
Uninspiring promotions. Bettors, especially new ones, are typically interested in special promos, and while SugarHouse does offer them, they're usually not great deals vs. what you'd find with other books.
However, we know It's important to have a broader data set in evaluating a mobile application like SugarHouse Sportsbook. We distilled what's available in the Apple App Store and Google Play to find the advantages and challenges the betting population at large found with SugarHouse below.
SugarHouse Sportsbook Reviews in the Apple App Store
SugarHouse Pennsylvania
3.8/5 Stars - 89 Ratings September 2023 - Download at Apple App Store
SugarHouse Sportsbook

iOS User Positives
Timely payouts: With the RushPay options, users can withdraw money and see it in their accounts within minutes.
Customer service: Users have come out in droves to compliment the customer support provided by SugarHouse.
SugarHouse Sportsbook

iOS User Negatives
Heavy on casino: SugarHouse users appear to mostly play on the app for the casino -- which makes sense with the red cherries in the bottom scroll being an obvious eye-catcher on the front page.
SugarHouse Sportsbook Reviews in the Google Play/Android Store
SugarHouse Pennsylvania
3.2/5 Stars - 101 Reviews September 2023 - Download at Google Play Store
Android User Positives for

FanDuel Sportsbook
RushPay: The RushPay option is also available on Android so users can get their money fast.
Android User Negatives for

FanDuel Sportsbook
Casino heavy: Like iOS, SugarHouse users on Android appear to mostly play the casino.
Untimely location issues: Some Android users reported having zero location problems with SugarHouse...until it came time to withdraw money from their accounts.
Registering & Cashiering
It is important to note that different states have different rules and regulations for sportsbooks, including depositing and withdrawing funds. You may find that the same book might have PayPal for one state but not the other. When signing up, you'll see the options available to you — but generally, if you use online banking, credit cards, etc. you shouldn't have any problems.
SugarHouse is a big sportsbook and is set up for easy deposits and withdrawals. And because they're a legal U.S. book, you don't have to worry about being defrauded or getting your money — you are protected as a consumer by state regulations, which is one of the best advantages of betting legally in the U.S.
How to Sign Up at SugarHouse Sportsbook
Signing up for a new SugarHouse only takes a few minutes. If SugarHouse can't verify your identity using your full name, address, date of birth, email and the last four digits of your social security number, it may ask you to submit other proof of identity, like a photo of your license or passport. Generally, the verification process has been smooth in our testing.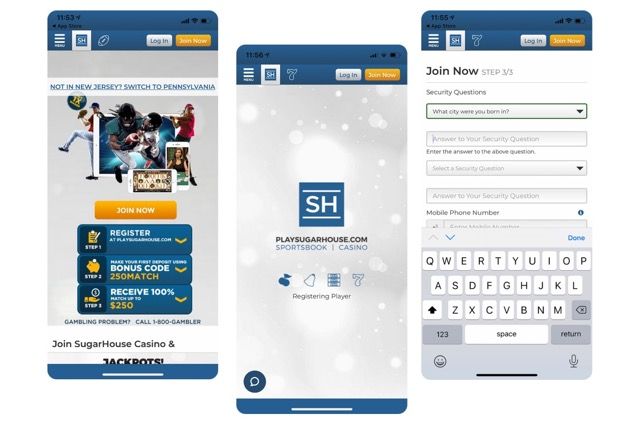 Payout Speed
Payout speed can vary across state or book, but generally, you should be able to immediately deposit funds at SugarHouse and get your payouts within a couple of days, if not faster than that. It depends, of course, on your withdrawal choice: A check will take a bit longer, whereas hooking up your online bank account will make the process a lot easier. And again — because SugarHouse is a legal, regulated online sportsbook in the U.S., you have completely worry-free payouts.
SugarHouse has every payout and deposit option in the book, including:
Bank account
Debit card/credit card
Prepaid SugarHouse care (Play+)
Casino cage
eCheck
Spending Controls
Most legal sportsbooks have self-imposed limiting controls in place, and SugarHouse is no different. These are effective ways to stop yourself from betting too much if it's becoming a problem or to just be proactive about setting healthy limits for yourself. We recommend configuring whatever setup helps you maintain responsible limits, and educating yourself. The controls SugarHouse offers include:
Player limits: Limit your deposits by day, week, or month of the year.
Self-exclusion: Ban yourself from using the app for a set period of time.
Cool off: Prevent yourself from depositing or placing bets for a set period of time, while still accessing the app.
In addition to the SugarHouse-provided resources, The Action Network has developed bankroll management educational materials to help ensure bettors have fun and establish sustainable behavior.
Betting Options at SugarHouse
There are only a few sportsbooks in the U.S. and around the world that open markets — that is, they are the first to set lines on a particular sport or game. SugarHouse doesn't usually get into that business, and because they use Kambi, an odds provider, their lines are often very similar to those of other U.S. books. That's not necessarily a bad thing, as it allows them to offer odds on just about every sport, prop and market, but it does make them a bit less unique.
Bet Types Available
Again, you can find just about everything that's legal in the U.S. at SugarHouse, including some niche markets like cricket, cycling, darts, rugby and more. You'll also find a variety of game props, player props, derivative markets — the list goes on.
That's in addition to all the popular, standard bets you can get at any sportsbook — point spreads, totals, moneyline, first half derivatives, etc. These include:
Spreads

First half

Second half

Totals

Futures

Moneylines

Player props
Sports Markets Offered

In general, SugarHouse offers a very broad range of markets and bet types. While they aren't unique in their lines, they are a very robust book and are a worthy addition to your betting portfolio. In addition to pregame bets, SugarHouse also offers live wagering on sports like the NFL, NBA, MLB, NHL, college football and basketball, and more. There are tons of other leagues available within each sport, too.
SugarHouse Odds
Below is a section of updated SugarHouse NFL games and future odds.
NFL Game Odds: Buffalo Bills vs. Washington Commanders
Below is a selection of odds for the upcoming NFL game: Updated September 23, 2023 - Odds Provided by SugarHouse - Subject to Change
| | | | |
| --- | --- | --- | --- |
| Team | Spread | Moneyline | Total |
| | -6 (-114) | -286 | Over 43 (-112) |
| | +6 (-107) | +245 | Under 43 (-109) |
NFL Futures Odds
Below is a selection of odds for the NFL 23/24 Champion: Updated September 23, 2023 - Odds Provided by SugarHouse - Subject to Change
| | |
| --- | --- |
| Team | NFL 2023-24 Champion |
| SF 49ers | +650 |
| KC Chiefs | +650 |
| PHI Eagles | +800 |
| DAL Cowboys | +900 |
| BUF Bills | +1100 |
SugarHouse vs Other Sportsbooks
While sign-up offers, promos and user experience are all crucial factors in selecting a sportsbook, the most sophisticated bettors are often worried about the price. We can compare books in this regard a couple of ways:
Juice: Also referred to as the "vig," this is the tax a sportsbook charges for a bet. The standard odds for a spread bet is -110, which means you have to pay $110 to win $10. That extra $10 is the tax.
Hold: Similar to the juice, the hold is defined as the percentage a sportsbook keeps for every dollar wagered. It's a better metric to measure for moneylines, for example.
Most online U.S. books — in states where betting is entirely online and not regulated by the state lottery, at least — have standard juice on your typical bets. Take, for example, the juice on spread bets for the NFL. There's no major difference between sportsbooks: It is commonplace to get -110 on both sides for both the spread and the over/under.
In terms of hold on moneylines, here's how SugarHouse has fared versus other books in the industry. In general, they're right around the industry average in moneyline holds, although they can be a little higher on non-major sports. If you're interested in betting on the NFL, NBA or one of the popular sports, SugarHouse is a fine option.
Their juice on player props, depending on the sport, of course, is a little better than average. You can often find props where they are -113 or so both ways. For reference, the best books when it comes to juice are at -110 standard lines even for props, while a lot will increase the vig up to -120 both ways or higher.
Other benefits to using SugarHouse as opposed to illegal sportsbooks:
You can more easily deposit since you can simply use your online banking account or credit card as opposed to going through cryptocurrencies or other methods with which you might be unfamiliar.

Your deposit match bonus has just a one-time rollover, so you'll see the bonus money in a timely fashion.

You'll get your money much more quickly when withdrawing. Even though SugarHouse allows itself 72 hours to complete the process, it's usually much, much faster.
Other SugarHouse Benefits
Daily Promos
SugarHouse tries to incentivize users to come back daily with different promotions tied to specific games. Their boosted odds can be a great way to prop up your bankroll with +EV bets.
An example of this is that SugarHouse will often boost the moneyline in a game by 20-30 cents (moving from +100 to +130) to give bettors an advantage in a particular contest. These boosts are available to all customers, not just new clients.
iRush Rewards Loyalty Program
Every wager you make will earn Loyalty Level points and Bonus Store points, which can be used to purchase rewards from the Bonus Store. As your Loyalty Level continues to increase, so too will the size of your rewards in the Bonus Store.
Bonus Bank
The Bonus Bank makes it easy for you to track and control the money you earn from bonuses. You can choose when to use your Bonus Money (and how much of it to use) and are given the ability to accumulate multiple bonuses.
SugarHouse Customer Service
SugarHouse's customer service team is available through their online chat from 9:30 a.m. — 2 a.m. EST or by email.
SugarHouse Sportsbook FAQ
Where is SugarHouse Sportsbook legal?
SugarHouse operates its mobile sportsbook in Pennsylvania. Rush Street Gaming, which manages multiple casinos and sportsbooks, owns SugarHouse.
You do not have to be a Pennsylvania resident to play at SugarHouse, but you do have to be within state lines. Location is verified either through your mobile device's location services, or a plug-in on a desktop computer.
Can I make deposit or withdrawal requests when I am not in Pennsylvania?
Yes. You have full access to your account, other than betting real money, even when you are out of state.
That means if you won money while on brief trip through Pennsylvania, you can request a withdrawal even after you've left.
How do I sign up for an account at SugarHouse?
If you're already on the site, simply press the "Join Now" button in the top right of your screen, and follow the three-step process to create your account.
You'll be asked for information including your email address, street address, a username and password, and the last four digits of your social security number.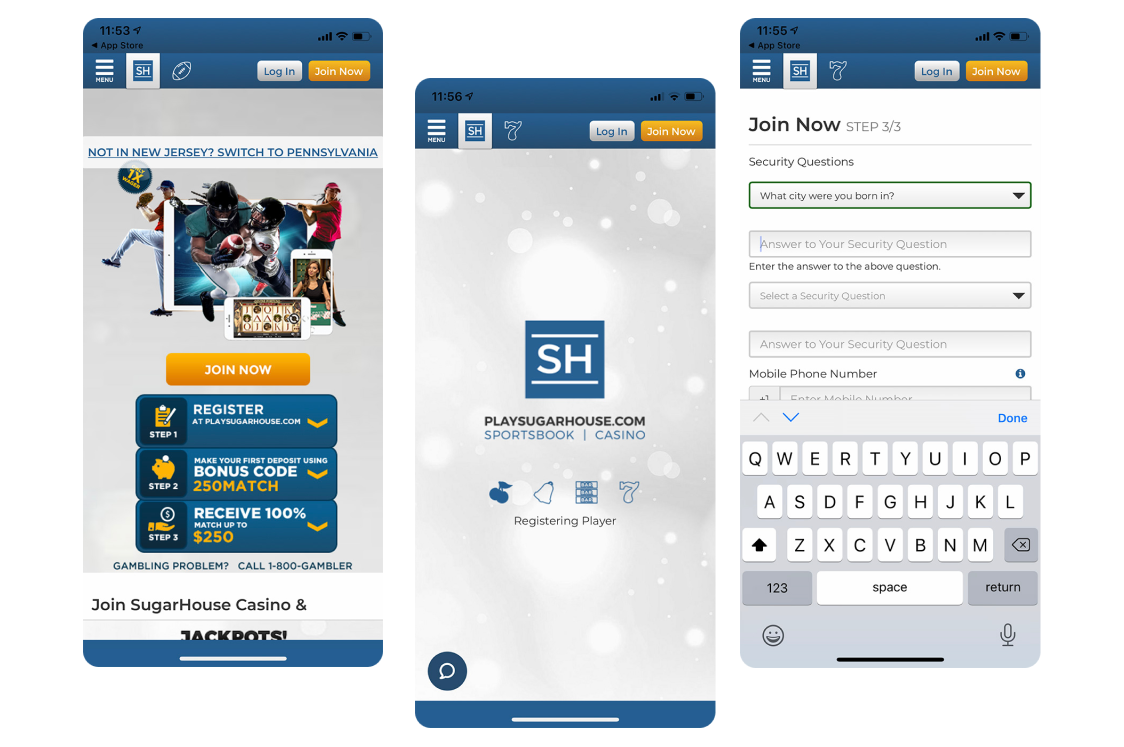 How do I deposit money into my SugarHouse account?
SugarHouse offers a variety of options for customers looking to deposit money.
This option allows you to deposit directly through your bank account, without entering any credit card or other financial information. Simply choose your deposit amount, select the bank you use, and sign in using your online banking username and password. Then you'll be able to review and confirm your deposit.
This method involves visiting SugarHouse's physical location in Pennsylvania (SugarHouse Casino, 1001 N Delaware Ave., Philadelphia, PA 19125) and depositing money at the cashier.
You'll need to present your government-issued ID and tell the cashier that you'd like to deposit money into your online account. You may also be asked to provide your email address or screen name.
If you're looking to add money to your account using cash without visiting a casino, the Pay with Cash option gives you that ability.
Simply click the Pay with Cash option in your cashier menu, and register your account. You'll be given the option of printing your PaySlip or saving it to your mobile device. In either case, you'll need to bring it — along with your cash — to one of many participating retail locations, including 7-Eleven, have it scanned by the cashier, and pay him/her the amount you'd like added to your account.
It may take about 20 minutes for the money to actually be shown in your online balance.
For faster withdrawals, the SugarHouse Play+ Card is a solid option. After registering for it, you'll receive the card in 10-14 business days, and from there you'll be able to upload funds using standard methods like a credit or debit card.
Where the Play+ Card differs is when withdrawing. As soon as your withdrawal is accepted, the money will be available on your Play+ Card, which can be used for withdrawals at ATMs where Discover is accepted.
Note: Signing up for the SugarHouse Play+ Card has no impact on your credit score.
Simply follow the steps in the SugarHouse deposit menu and use your PayPal account.
Once again, this follows the fairly standard process of using credit or debit cards online. Be aware, though, that many banks will block online gaming transactions, so you may need to try multiple cards, or reach out to your bank to attempt to resolve that issue if it arises.
What promo code is required to get the SugarHouse deposit match?
The promo code for new customers was ACTION. Users could simply enter that promo code as they made their initial deposit and they would see their deposit amount matched in your Bonus Bank.
What happens if I forget to enter a promo code when I deposit?
Don't worry, you can still apply promo codes to past deposits.
Simply select the deposit option in the cashier menu as you normally would, including selecting the deposit method you used.
You'll then see an option at the bottom titled "Recent Deposits," and in the row of your deposit will be an option to add a code. After you've added a valid code, the system will immediately apply your bonus.
How do I withdraw money from my SugarHouse account?
Your withdrawal options are very similar to your deposit options. You can directly deposit through online banking, cash out at a physical casino, receive a check by mail or have the funds transferred to your SugarHouse Play+ Card.
Withdrawals can be requested at any time, but know that any ongoing bonuses will cancelled, and bonus funds cannot be withdrawn. Your bonus fund amount, however, will not be affected.
How long does it take for me to receive my money after requesting a withdrawal?
Like almost every sportsbook, SugarHouse processes withdrawal requests in the order that they are received, which usually takes place within 24 hours. Requests do have to also be approved, however, which could take up to 72 hours (though they usually don't take that long).
From there, the amount of time it will take you to receive your money depends on your chosen withdrawal method.
SugarHouse Play+ Card holders will have access to their money right away, online banking direct deposits may take between two and five business days, PayPal users will see the money in their account within 30 minutes of approval, those who wish to cash out at a physical casino location will be able to do so immediately, and checks by mail will arrive in 10 to 14 business days.
Does SugarHouse charge fees?
There are no fees for registering or having an account.
Occasionally, credit card deposits result in a cash advance charge from the card issuer, which can be avoided by using the SugarHouse Play+ Card.
How old do I have to be to place bets at SugarHouse?
You must be at least 21 years old to bet legally in the U.S.
What sports are available to bet at SugarHouse?
SugarHouse offers a wide variety of sports, including:
Football, basketball, baseball, hockey, soccer, golf, tennis, UFC, darts, motor sports, table tennis, cycling, surfing, rugby, snooker, volleyball, cricket, house specials and more.
Does SugarHouse offer live sports betting?
Yes, SugarHouse does offer live betting. And with some smaller-market sports offered in their live betting catalog, their live options exceed many of their competitors.
In addition to traditional live sports betting, SugarHouse offers "buy outs."
A buy out gives you the opportunity to win your bet before the game is over.
Let's say your bet has a good chance of winning, but you're worried about the always-possible bad beat, and you'd like to ensure you avoid it. You can buy out of your bet, and receive an amount close to the full payout that would've come with a win.
In another sense, if you simply change your mind on a bet after placing it, you have the option of buying out of it and having it taken off the table.
Does SugarHouse offer a refer-a-friend bonus?
Yes! And you can win up to $500 for referring a friend.
After selecting the refer a friend option in your menu, you'll be prompted to give your name and email, as well as the names and emails of up to three friends.
From there, your friends will have 30 days to deposit a minimum of $50 in order for your bonus to kick in. Once that happens, you'll receive a scratch card revealing your prize (which could be as much as $500).
What devices can I use to deposit or wager at SugarHouse?
Bettors can access their accounts via iOS and Android devices, as well as Mac or PC via desktop.
Is the SugarHouse app free?
Yes. Both the iOS and Andriod apps are free, and allow anyone to create an account and sample games from anywhere.
For those wishing to play for real money, however, you'll need to deposit money into your account and be in Pennsylvania with your location services turned on.
Can I cancel a bet I've made?
No, not really. But SugarHouse's buy-out option allows you to take your wager off the table before the event has started or is complete. The amount you'll receive will depend on the odds of your bet as well as the current state of the given game or event.
What's the difference between SugarHouse and Bovada?
In short, the major difference is legality.
Bovada is an offshore book, while SugarHouse is legal, and backed by a government body.
Since Bovada isn't backed, your funds are never truly safe. In other words, you have no course of action if they defraud you.