SI Sportsbook Promo Code
Sports Illustrated Sportsbook & Mobile App
Bonuses & Promotions

Mobile App & Website

Registering & Cashiering

Betting Options

Comparison
Sign up for SI Sportsbook here and you'll get $100 in free bets if you bet $5. SI Sportsbook is available in Colorado and Virginia and should be available in Canada sometime in late 2022 or early 2023.
Sports Illustrated Sportsbook Details
SI Sportsbook Sign Up Code & Mobile App Key Takeaways
| | |
| --- | --- |
| 💵 SI Promo Code: | |
| 💸 Total Bonus: | New users win $100 in free bets if they bet $5 |
| 📝 Terms & Conditions: | Make your first bet of $5 or more. If your first bet wins, receive four $25 free bets. |
| ⚖️ Legal States: | CO, VA |
| ✅ Last Verified On: | May 25, 2022 |
SI Sportsbook Mobile App Review Summary
Bonuses & Promotions

New users need to place a $5 bet to win $100 in free bets.

Mobile App & Website

SI's mobile app has been known to be glitchy and cause withdrawal issues, but the UI is user-friendly for its app and desktop versions.

Registering & Cashiering

SI offers an industry standard of deposit and withdrawal options as well as an extremely simple registration process.

Betting Options

SI Sportsbook offers odds on all major markets, but also has extensive secondary markets like props, unique futures and more. The book also allows users to request bets — the "BetBuilder" function — so if you want to create your own soccer or basketball parlay, you are eligible to earn a $5 free bet.

Sports Illustrated vs Other Sportsbooks

SI is among one of the newer sportsbooks in the U.S. market so it does not offer the same amount of promotions that other books offer. Additionally, its mobile app functionality could be improved to compete more with the competition. At this time, SI Sportsbook is only available in Colorado and Virginia, It's expected to be available in new markets sometime this year and 2023.
SI Sportsbook Promo Code & Bonuses
SI Sportsbook is an exclusive sportsbook in Colorado and Virginia; it regularly offers great weekly or daily bonuses, and they often run creative promotions where you can bet popular sides and totals at reduced or no juice.
SI has an awesome new customer offer for CO and VA users: Sign up here and win $100 in free bets when you bet $5. The teams and conditions specifics:
Users need to bet at least $5 to receive $100 in free bets.

Make your first bet of $5 or more. If your first bet wins, receive four $25 free bets.
SI frequently offers its users an ongoing free contest called Perfect 10, Three and Win parlay, and SI SportsBoosts.
SI Mobile App & Website
SI Sportsbook launched on Sept. 7, 2021 after a partnership was reached with 888 Holdings, which is a Gibraltar-based betting company. This launch came two days before the 2021 NFL season in the football-loving state of Colorado. SI then launched in Virginia in May 2022.
Web Experience
The desktop experience at SI is very similar to the app, and it's quite easy to navigate to sports, find promotions and more.
Users are able to comfortably see their betslip on the upper righthand corner while navigating the entire website (except the Promotions page). Additionally, all betting markets are easily accessible to users who like to diversify their wagers.
The Action Network Positives:
Great variety of sports offered. SI offers a vast amount of sports to bet on, including Australian rules football and Snooker (pool).
Ease of use. Navigating the app to place your bets was simple and straightforward.
The Action Network Negatives:
Lack of promotions. SI does not offer as many promos or bonuses when compared to other sportsbooks.
Lengthy withdrawal process. SI requires too many verification steps in order to withdraw your funds.
SI Mobile App Reviews & Feedback in the Apple App Store
3.8/5 | 485 ratings
iOS User Positives
Provides insights on what to bet on. Users receive recommendations on what to bet on and what others have been betting on.
Exclusive NFL insights. SI Sportsbook provides NFL bettors with exclusive insights for informed betting.
iOS User Negatives
Withdrawal issues. Users cited being unable to withdraw their funds easily and that they were asked to provide a blank check or bank statement to do so.
Geolocation issues. SI's mobile app had trouble location users consistently.
Google Play/Android Reviews for SI Mobile App
3.9/5 | 148 ratings
Android User Positives
User-friendly interface. Users cited SI as a fairly simple app to use when placing their bets.
Android User Negatives
Lengthy and difficult withdrawal process. Users had issues withdrawing funds due to the lengthy verification steps they are required to follow.
Constant glitching. Constant glitch that logged users out randomly has been mentioned several times.
Minimal betting markets available. Users mentioned that SI does not offer enough betting markets.
Registering & Cashiering
SI Sportsbook's registration process is extremely simple. Note that signing up and placing bets can only be done in Colorado and Virginia. When the U.S. Supreme Court overturned PASPA in 2018, it gave states the right to legalize and regulate sports betting within each state, which means rules and regulations can vary.
How to Sign Up at SI Sportsbook
Step 1. Click here to visit SI. Click "Join Now" in the red box located on the top right corner of the home page.
Please note that SI Sportsbook is only available for users in Colorado and Virginia.
Step 2. Enter your personal details:
Name
Date of Birth
SSN (last four digits)
Home Address
Step 3. Enter your login details and agree to T&C:
Email
Password
Security Question
Mobile Number
Agree to Terms & Conditions
Once you fill out everything in step 3 and click on "Register" on the bottom right corner, you're ready to begin betting!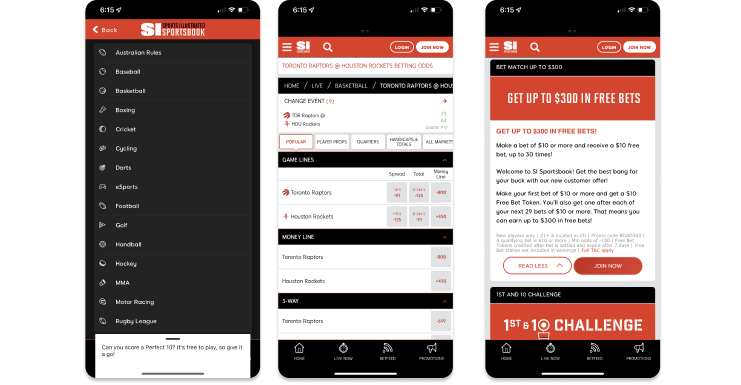 SI's mobile app navigation flow
Payout Speed
One of the best things about betting with a legal online book and casino in the U.S. is that you never have to worry about your money or being defrauded. Sportsbooks are required to set up a liability fund that operates separately from their expenses. Further, they are regulated by an independent entity in each state that gives books strict rules about protecting users' money.
Current withdrawal options include:
Bank account

PayPal

Debit card

Credit card

eCheck

Play+
Betting Options and Sports Market Coverage
SI is internationally recognized as a sports magazine since 1954; but it wanted in on the massive sports betting market so the brand created its own sportsbook with 888 Holdings that launched on Sept. 7, 2021 in Colorado.
That's in addition to all the popular, standard bets you can get at any sportsbook — point spreads, totals, moneyline, first half derivatives, etc. These include:
Point Spreads. Spread betting is a bet on the margin of victory in a game.

Moneylines. Moneyline betting is when you pick the winner of the game or event.

First Half & Second Half Bets. Halves let a bettor treat the first half and the second half as separate matches. Downloading our app can help you do this with ease.

Totals. A total, also known as an over/under, is a bet on the number of points both teams will combine to score in a game.

Player Prop Bets. A prop bet, short for a proposition, wager that is not directly tied to the final score or outcome.

Futures. Future bets are a bet on an event that will be decided in the future (e.g., end-of-season results).

SI vs Other Sportsbooks


While deposit offers, promos and user experience are crucial factors in selecting a sportsbook, the most sophisticated bettors are often worried about the price. We can compare books in this regard a couple of ways:
Juice: Also referred to as the "vig," this is the tax a sportsbook charges for a bet. The standard odds for a spread bet is -110, which means you have to pay $110 to win $10. That extra $10 is the tax.
Hold: Like the juice, a hold is defined as the percentage a sportsbook keeps for every dollar wagered. It's a better metric to measure for moneylines, for example.
Most online U.S. books — in states where betting is entirely online and not regulated by the state lottery, at least — have standard juice on your typical bets. Take, for example, the juice on spread bets for the NFL. There's no significant difference between sportsbooks: It is common to get -110 on both sides for both the spread and the over/under.
Additional Information and Benefits About SI Sportsbook
Spending Controls
Most legal sportsbooks have self-imposed limiting controls in place, and SI is no different. These are effective ways to stop yourself from betting too much if it's becoming a problem or to be proactive about setting healthy limits for yourself. We recommend configuring whatever setup helps you maintain responsible limits and educate yourself. The controls offered include:
Deposit limits: Set a limit on how much you can deposit in 1, 7 or 30 days.
Wagering limit: Stop yourself from betting during a certain time period (day, week, or month).
Self-exclusion period: Stop yourself from accessing the site or app for a certain time period.
In addition to the SI Sportsbook-provided resources, The Action Network has developed bankroll management educational materials to help ensure bettors have fun and establish sustainable behavior.
SI Sportsbook's Exclusive Offerings
Perfect 10 Weekly Contest

Every week, SI offers a free ten-question contest for all users. Each correct answer wins a $1 site credit and a chance to win up to $10,000 if a bettor gets a perfect 10/10.
Three and Win

Bettors can win a $20 free bet if they win a parlay of three or more legs. Please note that this promo is only valid between Friday-Sunday each week.
Live Bet Loyalty Card

SI Sportsbook offers users a $10 free bet when they place four live bets.
BetBuilder

Bettors earn a $5 free bet if they create their own soccer or basketball parlay.
SI Specials

As a registered user, SI offers daily boosts for unique markets.
BetFeed

Users can track betting trends to help make more informed bets.
Customer Service
SI does not have a customer service team but help desk requests can be submitted on its website.
SI Sportsbook FAQs
Where Is SI Sportsbook legal?
What's the best promo code to use for SI?
If you click this link, create an account and make a $5 bet to receive $100 in free bets.
What payment methods can I use to deposit?
SI accepts Visa, Mastercard, Discover, eChecks, Play+, PayNearMe, PayPal, and online banking. It's a very simple and quick process, which is an underrated part of using a legal U.S. sportsbook like SI. No more waiting weeks for checks; you'll be able to deposit and withdraw within a few days or less.
Can I use PayPal to deposit and withdraw at SI?
Yes, PayPal is accepted at SI.
How fast can I withdraw my money?
This is one of the bigger benefits to using a legal U.S. sportsbook like SI: You'll be able to both deposit and withdraw funds very quickly. Withdrawals can take up to around 3 to 4 days, but oftentimes it's much faster if you use online banking.
What is the minimum deposit at SI?
If you deposit via credit card like Visa or Mastercard, the minimum deposit is $10. Note, however, that the bet match is directly tied to how much money you first put into your account.
How exactly does SI's bet match work?
As a new user, you'll receive $100 in free bets if you bet $5. This means that once a user deposits and bets with at least $10, they will receive a $10 site credit back. Please note that this can be done up to 30 total times if the bettor chooses to bet $10 at a time.
What bonus offers does SI have for new customers?
If you sign up for a SI account here, you'll automatically opt into the sportsbook's bet match offer after you fund your account. New users also receive $20 in free bets if they get a three-leg parlay correct, make four live bets and receive the fifth one free ($10 or more), and earning a $5 risk-free bet for using SI's NBA or soccer Betbuilder feature.
There is no fee for creating an account or depositing or withdrawing funds. However, like all sportsbooks, SI does charge a tax — also called the "vig" or "juice" — which is the price of making the bet. For most bets, the vig is 10%, which means you'd have to bet $110 to win $100.
What devices can I use to bet on at SI?
SI has free iPhone and Android applications that bettors can use to bet. Of course, bettors can also make bets online on a desktop or mobile browser.
Do I have to be in a legal state to bet at SI?
Yes, sports betting is regulated by each individual state, which means if you have an SI account in Colorado or Virginia, you'll have to be within CO state lines to make a wager. SI uses geolocation technology to ensure bettors' locations.
Do I have to be in a legal state to withdraw funds at SI?
No, you can withdraw funds from your account anywhere. Let's say you live in New York but spent the weekend in Colorado or Virginia and made a few bets. If you forgot to withdraw your funds before going back to NYC, you can still do so; you just can't make any bets outside of Colorado or Virginia state lines.
Do I have to be a resident of a state with legal online sports betting to bet at SI?
No, you just have to be at least 21 years old, a U.S. citizen and within state borders of the time your bet is placed. Let's say you're from Utah and take a work trip to Colorado. While in the Centennial State, you can open an SI account, deposit and bet as long as you are within state limits. You can then withdraw while in the state or when you're back in Utah.
How old do you have to be to bet at SI?
You must be at least 21 years old to open an account and bet at SI.
Why does SI need my social security number?
Because SI is a legal book regulated by state governments, it has to verify the identification of new users. That's the only way your information will be used, and you can be confident your identity is safe.
Does SI offer live betting?
Yes, users can live bet most markets on the website or in the app.
Does SI allow bets on college sports?
It all depends on the state laws. For example, it is not legal to bet on college teams located in New Jersey; however, bettors can bet on college teams not from the Garden State. In Indiana, bettors can bet on college teams located in and outside of Indiana.
No, users are not allowed to cancel their bets. Cancellations are at the discretion of SI depending on the circumstances.
Does SI help users limit their risk?
Yes, SI allows you to set deposit, spend and time limits on your account. Check out the Patron Protection page for more information. Further, if you or someone you know has a gambling problem and wants help, call 1-800-Gambler or 1-800-522-4700.
Yes, SI is definitely legit. It is a legal U.S. sportsbook and are thus regulated by state governments. SI has to report earnings, pay taxes and protect user information like any other U.S. business.
Does SI have an online casino?
No. SI is known as a sports magazine that was created in 1954 but expanded its business ventures into the sports betting industry as of July 2021.
Claim Bonus Offers from Other Sportsbooks