Tennessee Senate Race Odds Shift Following Taylor Swift Endorsement
Credit:
Credit: USA Today Sports. Pictured: Phil Bredesen and Taylor Swift
The 2018 midterm elections will take place on Nov. 6, when 35 Senate seats are up for grabs.
In order to gain a 51-seat majority, Democrats will need to win 80% of the seats (28 of 35).
Music icon Taylor Swift publicly endorsed Democratic candidate for the Tennessee Senate race, Phil Bredesen, thrusting the race into the national spotlight.
On PredictIt, a politics prediction marketplace, users can buy shares of either side of a betting prop. This weekend, with the "Which party will win the U.S. Senate race in Tennessee in 2018?" prop, Republicans were trading at 77 cents.
As of Monday evening, it had dipped down to 69 cents.
One potential reason for the change in odds? Taylor Swift endorsed Phil Bredesen, the Democratic nominee, over the weekend.
Which party will win the U.S. Senate race in Tennessee in 2018?
A graphic courtesy of PredictIt shows a decline this afternoon, be it due to Swift's endorsement or other factors.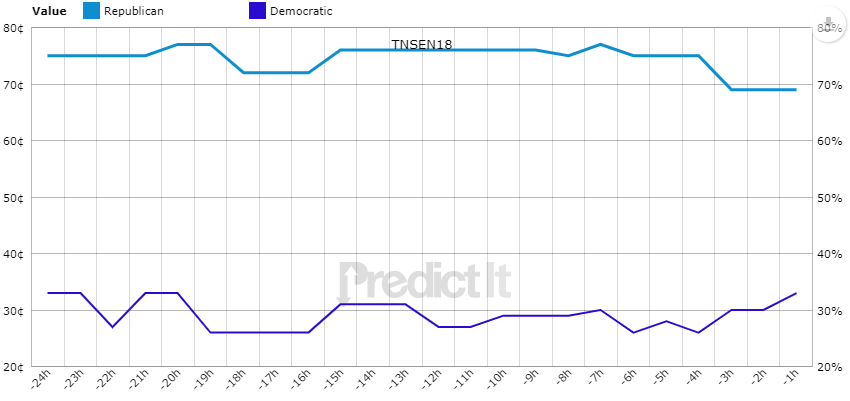 Smarkets, another politics marketplace, and FiveThirtyEight also have odds or predictions on the race.
FiveThirtyEight is currently the most bullish on the odds for the Republican candidate, Marsha Blackburn, although it will be interesting to see whether their Senate model shifts after updated polling.
Again, it's unclear whether Swift's endorsement was the catalyst for this movement, but this race will certainly be more in the public spotlight now.
President Donald Trump has already weighed in this afternoon, laughing while saying, "Let's say that I like Taylor's music about 25% less now, OK?"
Democrats would need to win 28 of the available 35 seats (80%) up for grabs in the November six midterms.