Wimbledon ATP Betting Preview: Gael Monfils Should Shine on Manic Monday
Credit:
Susan Mullane-USA TODAY Sports. Pictured: Gael Monfils.
Highlights
Manic Monday is upon us, and we will have eight matches on both the men's and women's sides.
Roger Federer, Rafael Nadal and Novak Djokovic are all in action, and priced as big favorites ahead of their fourth-round matches.
Gael Monfils (+135) is a trendy underdog against Kevin Anderson. 
---
Manic Monday is here, and we've got eight matches on tap for us — on both the women's and men's sides.
And if the way this year's installment of Wimbledon has gone is any indication of how Monday will play out, we will surely have a manic day of tennis ahead. Let's take a look at the card.
Getting us underway at 8 a.m. ET are the first three men's matches:
Roger Federer (-5000) vs. Adrian Mannarino (+1200)
Milos Raonic (-1000) vs. Mackenzie McDonald (+550)
Kei Nishikori (-345) vs. Ernests Gulbis (+309)
Not surprisingly, I like both of the overwhelming favorites. Mannarino has looked really solid this entire tournament (and this grass season as a whole), but Federer should have no issue with the pushing ability of Manna.
As for Raonic, he'll surely be relieved to find McDonald awaiting him in this match and not Marin Cilic, who was upset last week. Raonic had a bit of trouble in his last match against Dennis Novak, but I expect him to overpower the young American.
Now, the Nishikori match intrigues me. Nishikori disposed of Nick Kyrgios in straight sets in his last match, handling the big serve of Kyrgios very well. On Monday, he'll take on another big server in Gulbis — fresh off his upset win over the tournament's No. 4 seed, Sascha Zverev.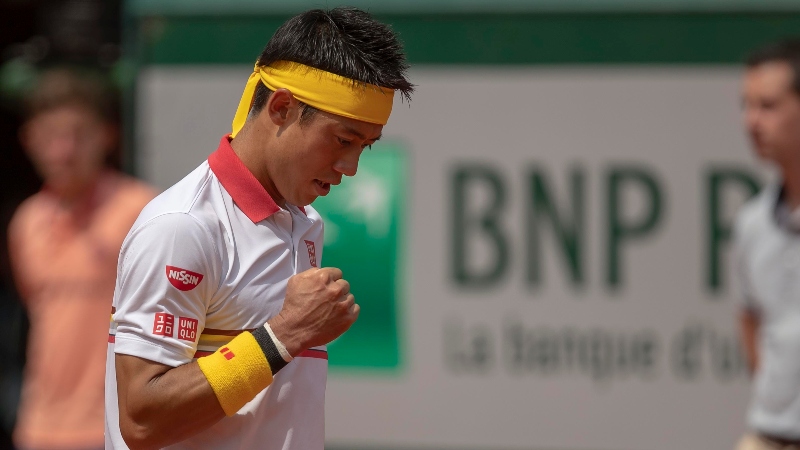 Susan Mullane-USA TODAY Sports: Pictured: Kei Nishikori.
I like the looks of Gulbis +2.5 sets, largely because of the rest day Wimbledon features on the tournament's first Sunday. Gulbis has played a ton of tennis over the past week — three qualification matches (playing four sets in the last one) and three consecutive five-setters in the main draw. Nishikori dropped sets in his first two matches against Christian Harrison and Bernard Tomic, and assuming Gulbis has recovered from the first week of this tournament, I like his chances of taking at least a set.
The second wave of matches begins around 10 a.m. ET:
John Isner (-200) vs. Stefanos Tsitsipas (+154)
Kevin Anderson (-150) vs. Gael Monfils (+135)
In the first match, I like Isner to get through. I said before the tournament started that I liked his chances of finally putting on a decent Wimbledon showing this year, and I'm sticking to it.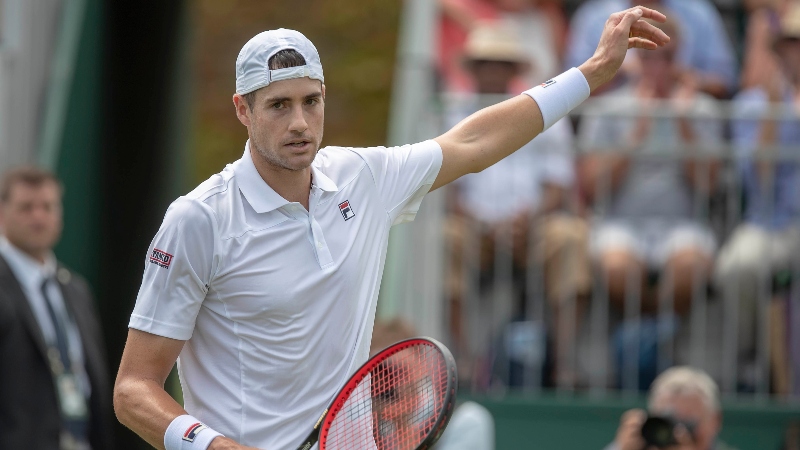 Susan Mullane-USA TODAY Sports. Pictured: John Isner.
I like Monfils to upset Anderson. This line opened with Anderson priced above -150 and has steadily dropped closer to pick 'em. Frankly, I'm not that shocked. Monfils is one of those players who — once they get rolling — can play at a ridiculous level. And after getting through Sam Querrey in his third-round match, I think Monfils has officially locked in and could have a few more rounds in him.
Over the years, Monfils has had a ton of success against the big-hitting South African, boasting a 5-0 head-to-head record, and interestingly enough, he has never been priced as an underdog. The last time these two met on a fast hard court, in Shanghai in 2016, La Monf was priced at -400 and won in straights. At plus-money, Monfils might be the liveliest underdog on the card.
The last wave of matches begins around 11 a.m. ET:
Juan Martin del Potro (-714) vs. Gilles Simon (+450)
Novak Djokovic (-714) vs. Karen Khachanov (+450)
Rafael Nadal (-1250) vs. Jiri Vesely (+650)
In those matches, featuring three former Grand Slam champions, I like all of the favorites. Del Potro should overpower Simon, despite the Frenchman looking quite good this week at the All England Club.
The defense of Djokovic should be too much for Khachanov — especially after Khachanov got through a half-speed Frances Tiafoe in his last match. The way Djokovic has been playing, Monday should be a rude awakening for the young Russian.
And, finally, the Nadal match. I've got to admit, this one is giving me a bit of PTSD from last year's Wimbledon, where a different big-serving left-hander downed Rafa in the fourth round. That said, Vesely's level — and serving ability — is nowhere near that of 2017 Gilles Muller (who played a near perfect match). I definitely like Nadal to get through this match, but I wouldn't be overly shocked if Vesely was able to nick a first-set tiebreak and put the pressure on Rafa.