WNBA Odds, Picks, Predictions: Best Bets From Sunday's Slate, Including Sparks vs. Wings, Lynx vs. Aces (June 19)
Credit:
(Photo by Mitchell Leff/Getty Images) Pictured: Sabrina Ionescu.
The Sunday WNBA slates have been excellent this year and this week's is no different. The newly surging Liberty get one of their best tests of that fancy new lineup by getting to slow down what is beginning to look like an all-time season from Breanna Stewart, who is averaging career highs in points and steals and a career-low in turnovers despite the highest usage rate of her career.
All three of the Big Three are also in action, although to varying degrees of challenge. The Sun drew the short straw — having to go up against Elena Delle Donne — while the Sky and Aces should add another tally to their win column as they take on the two bottom teams in the league.
And last but not least, (the W even spaced most of these games out for a full day of hoops–hallelujah!) the Wings and Sparks will do battle in what should be a high-scoring affair … at least if I have the right read on the game.
Speaking of which, let's get to the previews.
---
WNBA Odds, Picks
Click on game to skip ahead
---
Storm vs. Liberty
Storm Odds
-1.5
Liberty Odds
+1.5
Moneyline
-120 / -102
Over/Under
154.5
Time
Noon ET
Odds via FanDuel. Get up-to-the-minute WNBA odds here.
Injuries/News
The W's walking wounded in New York continues. Betnijah Laney (knee), Jocelyn Willoughby (quadriceps) and Nyara Sabally (knee) are all out, while Rebecca Allen remains day-to-day after missing Thursday's game due to illness.
For Seattle, Mercedes Russell has been having atypical headaches and will be out for about two weeks.
Bye-bye Turnovers?
There is so much here. Honestly this game could easily get its own entire article. But I think this game is mostly going to pivot on one big thing: New York's ability to avoid handing Seattle easy baskets in transition.
For the season, the Storm rank second in the W in points off of turnovers per game, while the Liberty rank second in the W in terms of turnovers per game. That seems like a recipe for disaster, right? Liberty fans are still having nightmares about their early-season game against the Sun (who rank first in the W in points off turnovers per game) when Connecticut turned them over 29(!) times, en route to a 27-point victory for the Sun.
So, are the Liberty doomed to repeat history on Sunday? Send in Lee Corso, because it's time for a "NOT SO FAST, MY FRIEND!"
Check out this graph of the Liberty's turnovers per game.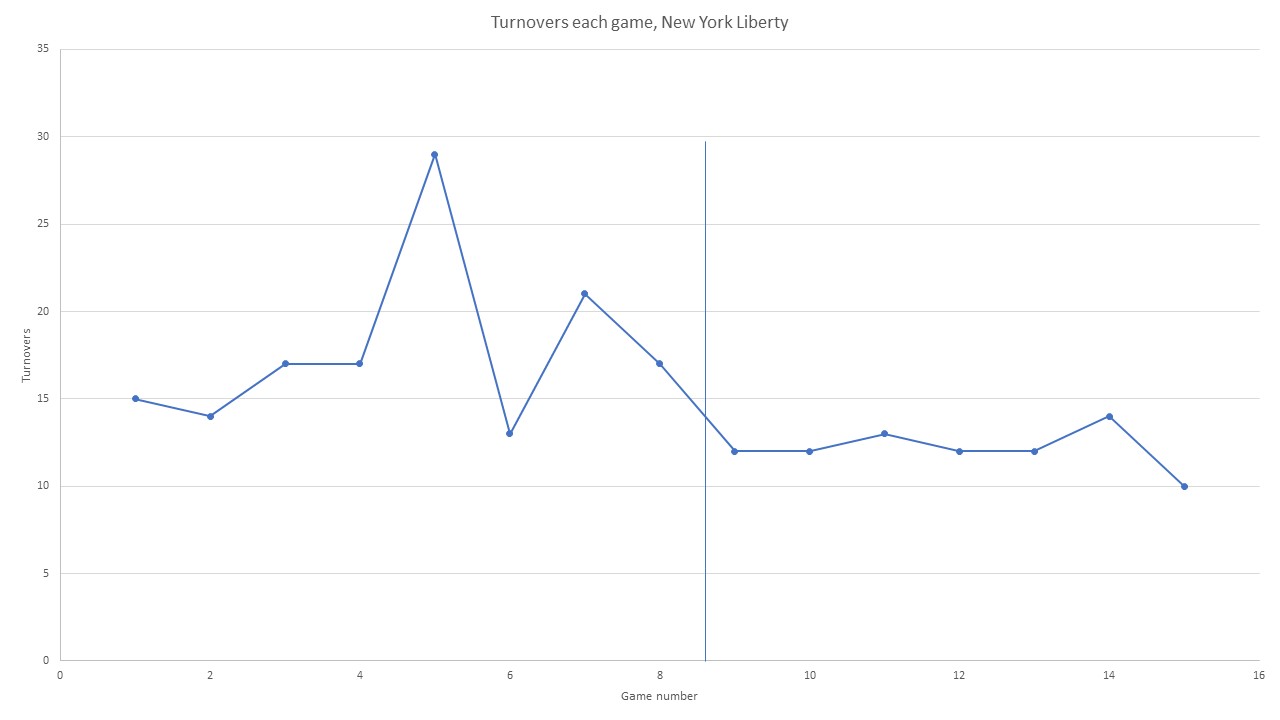 That vertical line is not just random. That is the game in which Sandy Brondello slotted Crystal Dangerfield into the starting lineup, a move that has worked to take the playmaking pressure off Sabrina Ionescu, unleashing the young superstar. In the eight games before the move, the Liberty averaged 17.9 turnovers per game. In the seven games since, that number has plummeted to 12.1 Unsurprisingly, their record in the past seven games (5-2) is far prettier than over their first eight (1-7).
In their most recent game, the Liberty doubled down on that strategy. Against the Mystics on Thursday, Brondello added yet another creator to the starting lineup — Marine Johannes. The results were outstanding as the Liberty totaled 21 assists to a season-low 10 turnovers and the offense looked elite. They made easy work of a strong Mystics team.
Now, all of that to say: Vegas has noticed. If this game had taken place two weeks ago, it would likely have been closer to Seattle -5. That being said, I still think there's a little value on the Liberty. They seem to have really hit their groove and their half-court defense has been quite strong when they're not handing out free baskets off of turnovers. Vegas adjusted well, but even still, I'm likely going to be playing the Liberty a lot while they have this group cooking. Add in a Sunday Barclay's crowd and I like the Liberty here.
Pick: New York +1.5
---
» Return to the table of contents. «
---
Sun vs. Mystics
Sun Odds
-2.5
Mystics Odds
+2.5
Moneyline
-158 / +128
Over/Under
154.5
Time
2 p.m. ET
Odds via FanDuel. Get up-to-the-minute WNBA odds here.
Injuries/News
There are no new injuries for Connecticut Sun, who are "only" missing Jasmine Thomas, who is out for the season with a torn ACL.
The Mystics injury report is always a bit more fluid, but it appears Elena Delle Donne WILL be playing, while Tianna Hawkins (ankle), Myisha Hines-Allen (illness) and Shakira Austin (illness) are all day-to-day. There's never a dull moment betting the Mystics …
Primo Rookie
Let me lead with the conclusion: Wait until you know if Shakira Austin is playing or not to bet this game.
To a certain extent this is true for Hines-Allen as well, but it's Austin, the Mystics rookie, who has proven to be one of the best young players in the game and is in a perfect role with her team.
Here's a list of the names ahead of Austin in terms of win shares per 40 minutes (with as many minutes played): Brionna Jones, Breanna Stewart, Jackie Young, A'ja Wilson and Emma Meesseman. That's it. That's the list.  And in terms of total defensive win shares, the rookie trails just Stewart, Wilson, Jonquel Jones and Meesseman. Again, did I mention she's a rookie?!?
But what we care about here is her impact on betting this game. If Austin plays, the current line feels about right. If she doesn't play, I'm buying hard on the Sun. I know individual players aren't worth more than a point or two, especially rookies on deep teams like Washington. However, Washington's strong interior defense will be essential to hanging around with the Sun juggernaut. Without Austin, that lift is a lot bigger.
So, keep an eye on Austin's status and pull the trigger on Connecticut if she's out.
Pick: Connecticut to -5, if Austin is out  
---
» Return to the table of contents. «
---
Sky vs. Fever
Sky Odds
-10.5
Fever Odds
+10.5
Moneyline
-600 / +420
Over/Under
173.5
Time
3 p.m. ET
Odds via FanDuel. Get up-to-the-minute WNBA odds here.
Injuries/News
The big name to watch for this game will be Candace Parker (knee), who was a last-second scratch on Friday.
For the Fever, the only name who could go either way is Khayla Pointer, who was just added to the roster on Tuesday, but did not debut in Wednesday's game against the Wings.
Sky Playing with Their Food?
While the Sky have clearly reestablished themselves as part of the top tier in the league thanks to six wins in their past seven and a key road win over the Sun just over a week ago, there's still a little bit of a "wake us up in August" vibe to the team. It makes sense given that they're the reigning champs and it's seen by the fact that they haven't won a game by double digits since their second game of the season.
Maybe a less damning way of looking at it is that the Sky see the bigger picture and they want to make sure to save their best for when it matters most. In that vein, it would not shock me if Parker sat out a couple games as the team is not going to want to press their superstar into action unless she's fully ready to go.
The Sky also don't tend to do a lot of damage off turnovers, which is one of the Fever's main deficiencies. Of course, so is their interior defense and the Sky score plenty in the paint.
Here's another play if you buy the "playing with their food" angle, though. There is no quarter that screams "here I am, your food, play with me" more than the second quarter. And not surprisingly, the Sky have been quite poor in the second quarter this season. On the flip side, the Fever, a young, hungry team with barely any food to play with (ok, I promise I'll drop the analogy now …), have feasted (I lied) in the second quarter. The Fever have the second-best plus-minus in the league in that frame, which is wild considering how bad they have been in every other quarter.
Quarter bets are tricky because you're bringing even more chaos into what is already a chaotic ask, but the numbers are there for it.
Pick: Indiana to +2.5 second quarter
Lean: Indiana +10.5 full game
---
» Return to the table of contents. «
---
Sparks vs. Wings
Sparks Odds
+4
Wings Odds
-4
Moneyline
+148 / -184
Over/Under
164.5
Time
4 p.m. ET
Odds via FanDuel. Get up-to-the-minute WNBA odds here.
Injuries/News
For the Wings, Satou Sabally has already been officially ruled out for Sunday, which will mark her third straight missed game with a knee injury.
It's a clean bill of health for the Sparks.
Pounding the Over
These two teams matchup interestingly. When looking for a side to bet, it's a bit overwhelming. Dallas should be able to pound the offensive glass against the Sparks, but L.A. should be able to score off of the Wings' turnovers. The Sparks should be able to score points in the paint on Dallas, but the Wings should be able to hit a good number of threes on L.A.
However, what's the underlying theme to all those X then Y matchups? OFFENSE! Both offenses match up well with the opposing defenses, which makes it an easy play here.
Pick: Over 164.5 (up to 167.5)
---
» Return to the table of contents. «
---
Lynx vs. Aces
Lynx Odds
+15.5
Aces Odds
-15.5
Moneyline
+920 / -2000
Over/Under
173.5
Time
6 p.m. ET
Odds via FanDuel. Get up-to-the-minute WNBA odds here.
Injuries/News
For the Lynx, Sylvia Fowles (knee), Natalie Achonwa (hamstring) and Napheesa Collier (maternity) remain long-term absences.
Riquna Williams is the only absence for the Aces.
That is A LOT of Points
This is a rather one-sided matchup. It's no mistake either and if you're reading this article, you don't need me to tell you: Aces, good; Lynx, bad.
So the question becomes is that TOO MANY points? The Aces won by just six the last time these two teams met, but this line is certainly unfathomable and has already gotten a little steam. The Aces have won five games by at least 15 points and the Lynx have lost four of that ilk. It's probably the most talented team in the league versus the least talented.
An angle I like more, though is the first half of this game. The Aces, unlike the Sky, haven't been playing with their food this year and they are the best first-half team in the league. Even in their last matchup with Minnesota — despite the final being 93-87 — the Aces were up 11 at the half.
It's still a massive number, though, so it's going to be a lean, not a full on recommendation.
Lean: Las Vegas to -8.5 first half
---
How would you rate this article?
This site contains commercial content. We may be compensated for the links provided on this page. The content on this page is for informational purposes only. Action Network makes no representation or warranty as to the accuracy of the information given or the outcome of any game or event.