Anthony Joshua vs. Andy Ruiz Jr. II Picks, Predictions & Betting Odds: Will AJ Even the Score in Saudi Arabia?
Credit:
Amanda Westcott/DAZN. Pictured: Heavyweight Anthony Joshua (left), Unified heavyweight champion Andy Ruiz Jr (right).
Anthony Joshua vs. Andy Ruiz Jr. Betting Picks, Predictions & Odds
Anthony Joshua Odds: -240
Andy Ruiz Jr. Odds: +200
Draw Odds: +2800
Over/Under: 7.5 Rounds (-120/-120)
Time: Approx. 4 p.m. ET (Main Event), 11 a.m. ET (Card starts)
How To Watch: DAZN
Location: Riyadh, Saudi Arabia
In June, Anthony Joshua, like the great Mike Tyson before him, lost a fight that nobody expected him to lose to a man who wasn't even supposed to be in the ring.
On Saturday, the sequel the world has been waiting for takes place in Saudi Arabia. And unlike Tyson, Joshua will have a chance to conquer the man who shocked him and the world in six months ago.
Michael Leboff: How Does Anthony Joshua Respond?
Boxing is an outlier. In football, basketball, tennis, soccer, hockey, etc. there is a wealth of data to inform decisions. That's not the case in boxing.
And the limited data that we can collect in boxing is largely irrelevant from fight to fight. Boxing matches, even rematches like this one, are like snowflakes. No two are the same.
That's because everything in boxing changes with one fight. When Andy Ruiz Jr. upset heavyweight kingpin Anthony Joshua as a 25-1 underdog the sport changed. Ruiz changed. Joshua changed.
Instead of wondering when Joshua, the handsome Olympian from England, was going to fight his way to the top of the sport's most famous hill, we were left with a very different question.
"Is Anthony Joshua broken?"
Keeping narratives out of your betting decisions is a best practice in other sports, but boxing is peculiar. This isn't a media-driven narrative to provide column inches. It's a sport-defining question. And it's the exact question you're betting on when Joshua and Ruiz meet again — this time in Saudi Arabia. If Joshua falls to Ruiz again, a once-promising career will end up in tatters.
Some people will say "Is Andy Ruiz a fluke?" is the real question, but if you rewatch that fight, you can see that the cherubic heavyweight has real skill. Ruiz may not look like a world-class athlete next to Joshua — who is the embodiment of one — but he can move, has quick hands and is a fabulous counter-puncher.
A loss to Joshua in the rematch doesn't make Ruiz a fluke. But a win for Ruiz and AJ's career is on life support. The pressure is on Joshua, who has a reputation for fighting like the weight of the world is on his shoulders.
It seems to be having a profound effect on the betting market.
---
Odds as of Friday and via William Hill, where Action Network users can access an exclusive promotion to get up to $100 in bet credits.
---
In June, Anthony Joshua was a sure thing to beat Ruiz as a -5000 favorite. Those odds implied AJ had a 98% chance of beating Ruiz. Huge favorites are not uncommon in the Sweet Science, but those were crazy odds — even with Ruiz taking the fight on a month's notice.
Ruiz entered that fight 32-1 (21 KOs) with his only loss coming in a previous world title challenge against former champ Joseph Parker. "The Destroyer" wasn't a nobody, even though he was priced like one.
Still, no one batted an eyelash at Joshua's massive price back in the spring, even though Joshua showed some signs of being served a reckoning prior to the fight with Ruiz.
Joshua overcome a knockdown to TKO future Hall of Famer Wladimir Klitschko in 2017, but he struggled in an ugly win over also-ran Carlos Takam six months later. Joshua then had his 20-fight knockout streak snapped against Parker — albeit in a win. Six months later, Alexander Povetkin gave Joshua a scare before he was stopped. And then Ruiz turned the sport on its head.
Before June 1, 2019, Joshua was the most marketable boxer on the planet. One look at him and you can see why. But then you'd watch him fight and you'd see moments of vulnerability.
Joshua was overrated for his much of his career and he got served a heavy lesson by Ruiz.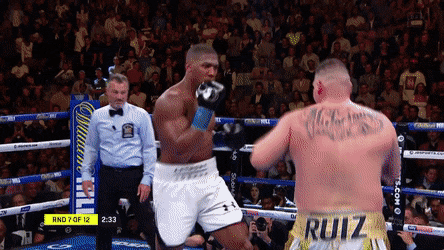 Six months and a half-a-world later, Joshua is a -240 favorite against Ruiz, who is coming back at +200. Those odds are absolutely startling. Those odds suggest Joshua wins this fight 67.1% of the time. That price may seem steep to bettors of other sports, but markets rarely get much tighter in boxing.
After knocking down Ruiz in the third round, Joshua got overzealous and got caught with a left hook he never saw coming.
That one mistake has caused Joshua's reputation to plummet and I am happy to take the discount being offered on a fighter who, just six months ago, was considered to be at least on level pegging with Tyson Fury and Deontay Wilder by the betting market. I always found Joshua to be overrated, but this time around I think he's being underrated.
That doesn't mean he can't lose, of course. There is a path to success here for Ruiz, who will almost certainly be the looser fighter.
Ruiz's style makes for a tough matchup for a polished, technical fighter like Joshua. AJ wants things to be predictable and Ruiz will be anything but. A counter-puncher like Ruiz will make you pay for any slip up.
That being said, Joshua's power should be the defining feature of this fight. And I'm not just talking about Joshua's KO power. I'm talking about his jab. AJ has an eight-inch reach advantage over "The Destroyer" and if he can sit behind his powerful jab and keep Ruiz at range, he should win going away.
Joshua controls his own destiny in this fight. If he keeps it on his terms, by using his long jab and his technical ability, he should never be in danger. If he goes off-script, Ruiz will turn it into a war.
I'm not one to lay juice like this, especially in heavyweight boxing, but it's hard to make a case for betting a fighter at +200 one fight after he was being offered as high as 25-1 in this same matchup six months ago.
There are so many questions surrounding Anthony Joshua going into this fight, but I am happy to use the uncertainty to my advantage. I think Joshua is a fine bet at any number below -300, but be sure to shop around for the best number.
[In New Jersey? Bet now at William Hill]
---
Malik Smith: Joshua Must Stick to the Gameplan
Here's what I wrote about Joshua ahead of the first fight:
Joshua is a different kind of fighter. His head and foot movement, his one-punch knockout power and his experience with high-energy crowds will separate these two fighters sooner rather than later. While I don't expect that Joshua is trying to compete with Wilder's first-round KO from a few weeks ago, I do think he wants to let people know he's still the class of the division.

In Joshua's last fight against Alexander Povetkin, he withstood some early aggressiveness, and I see Ruiz attempting the same early-pressure strategy. I expect Joshua to distance himself around mid-fight and close this one out in style.
As my Dad once told me when I was 10 years old, "Excuses are like ***holes, son. Everybody has one." I won't excuse getting the biggest upset in recent boxing history wrong — though I was right on the under — but right up to the point that Joshua caught that famous left hook, much of what I said was  coming true.
I wouldn't go as far as saying Ruiz landed a lucky punch, but he certainly landed a perfect one. Based on the odds, bookmakers are expecting everyone to believe that Ruiz will land another perfect punch and I find that scenario hard (not impossible) to buy into.
I think Joshua losing the first fight in the manner that he did will ultimately help him here because he knows exactly what not to do this time around. Expect him to be very boring and methodical throughout this fight and win by decision. I don't expect him to rush in again and risk getting stunned.
How would you rate this article?