Rough N Rowdy 3 Odds: One Man Thrill Ride Getting All the Action
Friday 3:30 p.m. update: Since this story was posted on Thursday, we've seen some massive line movement, with big-money bets hammering One Man Thrill Ride. He moved from a +200 dog to a -125 favorite. The #BarstoolSteam is real. Bavarian Hercules, who had been a -300 favorite, is just -115 to leave North Carolina victorious. 
---
RAHHHHHHHHHHHHHHHHHHHHHHHHHHHHHHHHHHHHHHHHHHHHHH
Barstool Sports' Rough N Rowdy 3 is coming on Friday, and it will be better than ever. First, they get comedic legend Bill Burr behind the mic. And then, they get who else but the One Man Thrill Ride to compete in the main event.
(Barstool Shorts Pres voice) Did El Pres do it again or did El Pres do it again?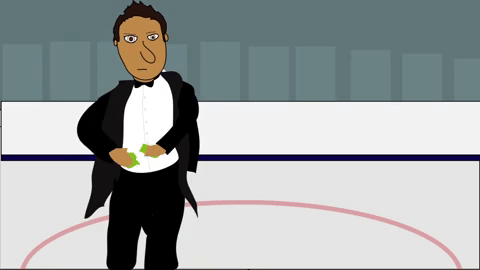 One would imagine that a man of Thrilly Dilly's impressive proportions would surely be massively favored regardless of the foe, but unfortunately, his opponent Korbinian Hutter, AKA the Bavarian Hercules, is, to put it lightly …
The Odds
One Man Thrill Ride: +200
Bavarian Hercules: -300
Dear Christ, they made Hercules the largest favorite of Rough N Rowdy by a landslide. They also posted three props.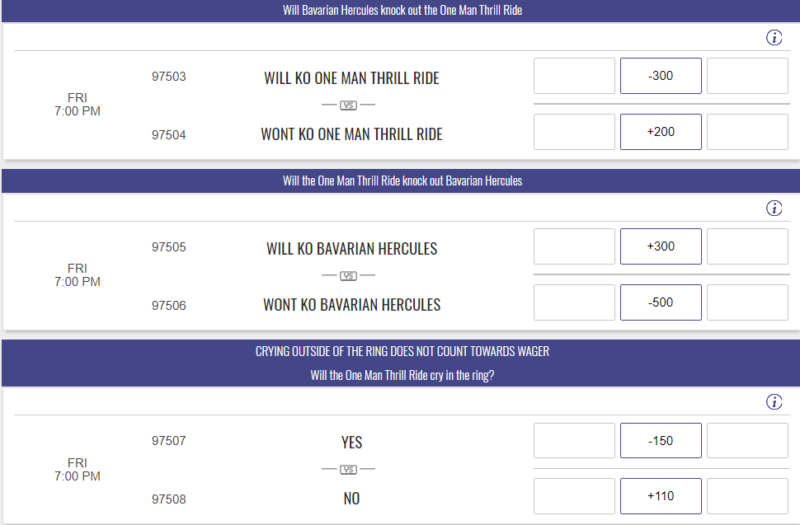 This is set to be a heavyweight bout for the ages. One could say that they are setting the bar too high, as Rough N Rowdy IV will surely not be able to live up to this. Let's take a closer look at each of the fighters.
Jim Abreau AKA Jimmy Preston AKA The One Man Thrill Ride: 5'9″ 200 lbs.
This former Division III baseball player and local New England wrestler is coming out of retirement to put asses into the seats in the Grady Cole Center in Charlotte — a building that was christened by Ric Flair. Maybe Thrilly will get a little silly and pull out the Figure-Four leglock to pay homage to the Nature Boy.
Though the Thrill Ride's WWE dreams were idiotically shut down by the powers that be, we all know that he has the charisma, looks, and ferocity of the WWF superstars of yesteryear.
Thrilly has been smashing scrambies (hold the chee), bashing his biceps, destroying his delts, chiseling his chest and turning his shoulders into boulders LIKE AN ABSOLUTE SAVAGE in preparation for the fight.
Does he know how to box? Does it matter? Though he wasn't able to get Handsome Hank to gain 125% of his body weight in three months back in the day, he did train him to a victory vs. Tex in RNR1. Usually the teacher is better than the student, and that is certainly the case here.
It's a shame they didn't hand Thrill Ride a flat 89-mph fastball right down the pipe that he could put in the trees in right center. Instead, they searched far and wide for someone who could put up a fight. And they found someone.
Korbinian Hutter AKA The Bavarian Hercules: 5'11" 220 lbs.
The Bavarian Hercules possesses neither a sunken chest you can eat a bowl of cereal out of nor legs thinner than Thrilly has seen hanging out of a bird's nest. He's a beast. Nobody could put it into words better than PFT Commenter, who described him as a "5-foot-11, 200-pound brick s—house of twisted steel." I'm gonna go out on a limb and say he's a bit more than two bills.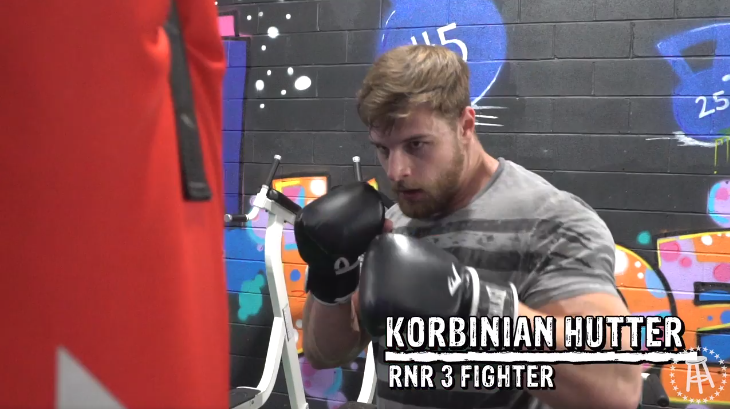 He got a fitness degree 
in Germany
, which might as well be an admission of steroid use.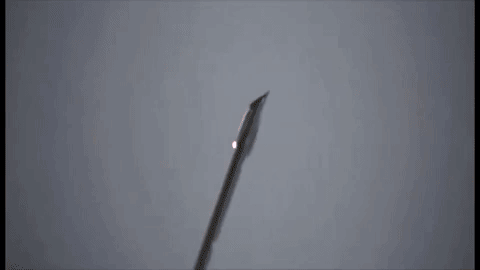 (If I had the editing ability to replace Drago's face with Hercules' and Rocky's face with Thrill Ride's, I would, but alas, I don't. And Russia and Germany aren't exactly the same, but neither have had amicable pasts with the USA to say the least, so work with me here.)
Not much is known about him other than he hails from Germany and saw an ad on Instagram for the fight. He's in it for the money, plain and simple.
To our knowledge, he has no background in boxing, wrestling, martial arts, arm wrestling, thumb wrestling or any other pugilistic sport. He'll also probably have zero fans in attendance. That's likely a good thing, because nobody wants to see a loved one get his head punched clean off his neck.
The Pick
It's no secret that I'm a fan of the One Man Thrill Ride. I wish we'd get to see him on the big stage more often, and hopefully this bout further propels him into the spotlight.
The Bavarian Hercules is a big boy, but he's softer than the Stay Puft Marshmallow Man. Softer than a Bavarian cream-filled donut. Softer than the Pillsbury Doughboy.
He's never been in the ring. He doesn't know what it's like to have an entire arena rooting against him. Doesn't know what it's like to be in a storm of fists raining down on that hollow shell of a skull of his at a pretty ferocious pace.
Blows to the head. MMMMPOWWWWWWW
Blows to the body. MMMMPPPOWWWWWWWWWW
Thrill Ride checks off all the boxes.
Making handsome officially happen … YUP
Veteran ring presence … YUP
Supports ISIS … NOPE
Absolute Savage … YYYYYUUUUPPPPPP
One Man Thrill Ride, your official Rough N Rowdy III Main Event Champion.
SEE YA, DINK!