How to Bet on Boxing: 7 Terms, Tips and Strategies to Know
Credit:
Joe Camporeale, USA Today Sports. Pictured: Canelo Alvarez
Looking to learn how to bet on boxing? It's one of the world's most popular sports and big fights are among the biggest gambling holidays each year.
There aren't as many predictive stats in boxing so handicappers use the eye test and anecdotal evidence when breaking down a fight.
Boxing is a moneyline betting sport, but there are a lot of props you can bet during a fight.
Back in the early part of the 20th century, boxing was, along with baseball, the most popular sport in America, and people loved betting on it. While "The Sport of Kings" still has its moments, most sports fans pay attention to it once or twice a year.
Watching a big fight is a shared experience for sports fans around the world, and naturally, people love to bet on these big events. Here's what you need to know before betting on a boxing match:
How to Bet on Boxing
1. Boxing Moneylines, Explained
Boxing is, for intents and purposes, a moneyline sport. There are two fighters, and each will have a moneyline listed next to his name. Let's use this month's Canelo vs. Jacobs fight as an example.
Canelo odds: -450 ($450 wins $100)
Jacobs odds: +350 ($100 wins $350)
We should put those odds into a little bit of context. It is common for boxing matches to feature huge favorites as "the best vs. the best" fights are not that typical, and even when they do happen, one fighter is usually a class above the other in terms of skill.
It is not uncommon to see boxing matches with fighters priced at -1000 ($1000 bet returns $100), so the odds for this fight are not actually considered that big.
---
>> Sign up for The Action Network's daily newsletter to get the smartest conversation delivered into your inbox each morning.
---
2. Over/Unders
When you bet an over/under in boxing, you are betting on how many rounds will be completed.
Here's an example:
Over 9.5 Rounds: +110 ($100 to win $110)
Under 9.5 Rounds: -130 ($130 to win $100)
In this example, the over/under is set at 9.5 Rounds. That means to cash the over, you need the fight to pass the 1:30 mark in Round 9. To cash the under, you'd need the fight to end before the 1:30 mark in Round 9.
3. Other Boxing Props
There are other props available for fights at most books. The include Method of Victory (KO, TKO, DQ vs. Decision), Time of Victory (Round 1, Round 2, etc.) or Will the Fight Go the Distance (Yes/No)?
You will get a variety of prices for props like these derived from the moneyline and profile of the fighter. Present day Deontay Wilder is more likely to win a fight by knockout than Floyd Mayweather toward the end of his career, and will be priced as such.
Stats and Info to Know
4. Implied Probability
The first thing you should do when you are breaking down a fight (and handicapping any sport, really) is to convert the odds into probability. All odds correlate with an implied probability, and you can easily convert them here.
Once again, using the Canelo-Jacobs odds from the Westgate SuperBook, let's break it down.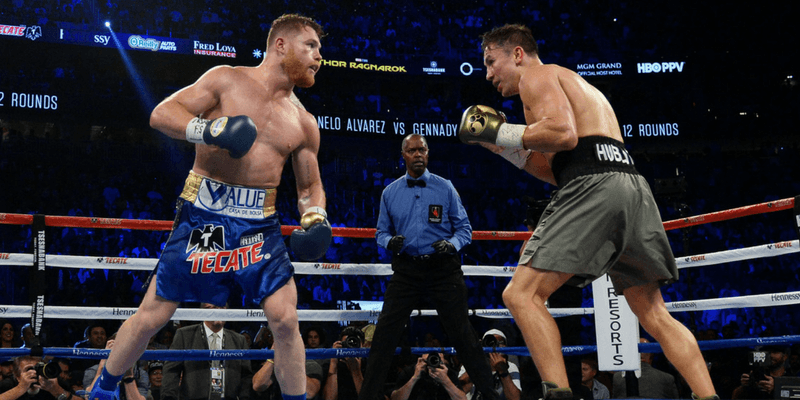 At -450, Canelo's odds convert to 78.6% and Jacob's convert to 21.4%. In theory, if you think Alvarez wins this fight more than 78.6% of the time, you have an edge on Canelo. Conversely, if you think Jacobs takes the fight more than 21.4% of the time, the value would be with "The Miracle Man."
5. The Record
So much in boxing comes down to one number — the amount of losses a fighter has. Seeing a "O" in the loss column makes a fighter that much more marketable and casual bettors will be drawn to the boxer with a better record. However, when you're comparing two fighters side by side, the record doesn't tell the whole story.
Looking at how a fighter fared against common/similar opponents or against quality opponents gives you a better idea of just how good he or she is.
6. Stats to Know
In basically all other sports, there are a lot of predictive stats that bettors can use to gain an edge. Boxing is a little different. There are important data points to know — but for the most part, handicapping the "sweet science" comes down to a lot of anecdotal, subjective analysis.
That being said, there is data that handicappers should pay attention to:
The most trusted and well-known boxing statistics company is CompuBox, which provides real-time statistical data for boxing matches
Punches thrown/landed
Jabs per round
Power punches per round
These three stats seem pretty simple — and they are — but are they're also very important toward determining the winner of a fight, especially if it reaches the judges table.
If you are the busier fighter, you have a better chance of — at the very least — looking like you are winning the fight. The same holds true if you are the fighter throwing — and landing — more power shots.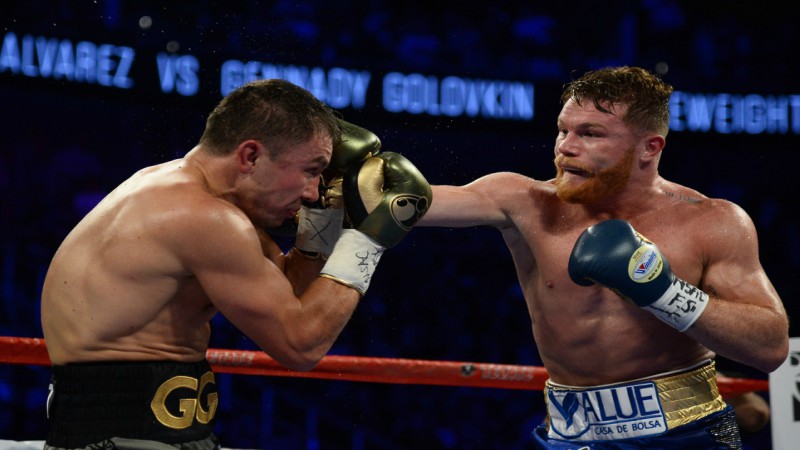 The jab is especially important to me. Usually the fighter who has more success with the jab wins. If you are using the jab effectively, not only will you be on the front foot and in good positions to land power punches and combinations, but your opponent will be on the defensive.
Simply put, if Fighter A is throwing and landing his jab throughout the entire match while Fighter B is more reluctant to work behind the jab, we will naturally tend to side with Fighter A.
For example, after the first Canelo-GGG match, CompuBox reported:
Gennady Golovkin was the busier fighter and landed 9 of 30 jabs per round. GGG landed more punches in 10 of 12 rounds. Canelo Alvarez landed 42% of his power shots. GGG landed 32% of his power punches after landing 46% in his previous 13 fights.
7. Judging
There are three judges for a boxing match and they use a 10-point "must system" — which is a fancy way of saying the winner of a round will always be rewarded with 10 points.
Usually, rounds end 10-9. However, a fighter will almost always lose a point if he or she is knocked down. A fighter can also be deducted a point for a foul (low blow, headbutt, etc.) but fighters are usually issued warnings first. In those cases, 10-8 rounds are possible.
How would you rate this article?
This site contains commercial content. We may be compensated for the links provided on this page. The content on this page is for informational purposes only. Action Network makes no representation or warranty as to the accuracy of the information given or the outcome of any game or event.