Tyron Woodley's Transition from MMA to Boxing Won't Be Easy
Credit:
Jason Miller/Getty Images. Pictured: UFC fighter Tyron Woodley works out with his trainer.
To quote the late, great, Roger Mayweather, "most people don't know s–t about boxing."
Most importantly, this includes most MMA fighters, even at a high level. People tend to think of the sports as being a lot more closely related than they really are. Jumping from one to the other is more like switching from basketball to volleyball than it is switching from point guard to small forward.
This (partially) explains some of the struggles that UFC fighters have had making the jump to boxing (see Askren, Ben.) The biggest struggle, at least when facing off against fighters who exclusively box, is the amount of time fighters dedicate to boxing specifically.
This varies wildly from camp to camp, but during my time as a professional fighter, my team and I usually trained straight boxing only once a week, and rarely, if ever, sparred without using some combination of kicks, knees, elbows or takedowns.
While some fighters have more of a boxing focus (my team was Judo based with most of our striking coming from muay thai), even in the best of circumstances they are still many thousands of hours behind even high level amateurs in terms of time spent perfecting the sweet science.
Additionally, it's hard to unlearn many of the combos, set ups, and footwork that goes into a mixed martial arts (or muay thai) fight.
An MMA fighter might use a hook to set up a leg kick:
But in a boxing match, when that leg kick isn't there, you're stepping in and leaving yourself exposed to counters. These guys who are crossing over are disciplined enough to not throw the kick, but old habits die hard (especially after getting punched in the mouth) so it's a problem of not setting up for combos that you aren't allowed to throw.
Anytime I sparred with a boxer I felt like I was going to war without most of my weapons (and in my case, all the best weapons.) Of course, your opponent can't kick either, but he's spent a long time learning how to do damage with just his hands, while the MMA fighter has to learn new set-ups, combos, and entries.
The biggest technical difference is the stance/footwork required by each of these sports.
Wrestlers (and judo/jiu-jitsu players) stand almost perfectly square (shoulders and feet both facing forward) to their opponent, like this: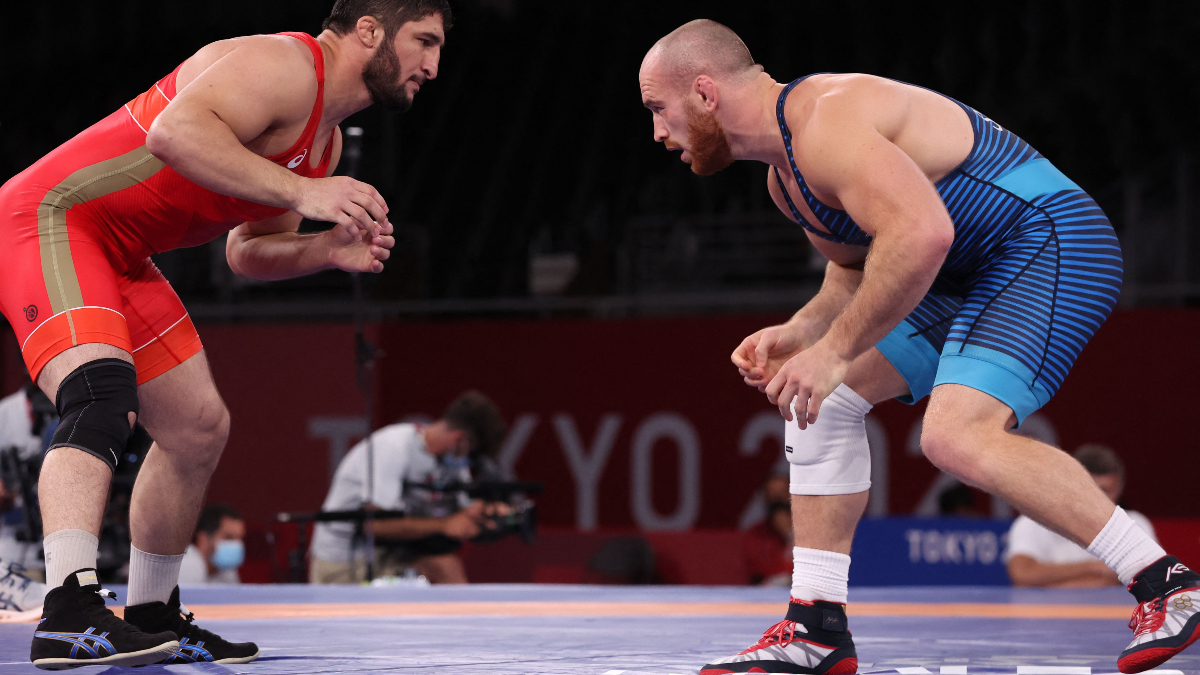 Which allows them to easily retract either leg to defend single leg attempts, and attack bilaterally with either arm towards either leg of their opponent.
Boxers stand in what we call a "bladed" stance, with their body and feet pointing towards their power side. This presents the smallest possible target for strikes, and gives them better range on their jab, while allowing for more force from their power hand (due to a longer torso rotation that develops more force along the way).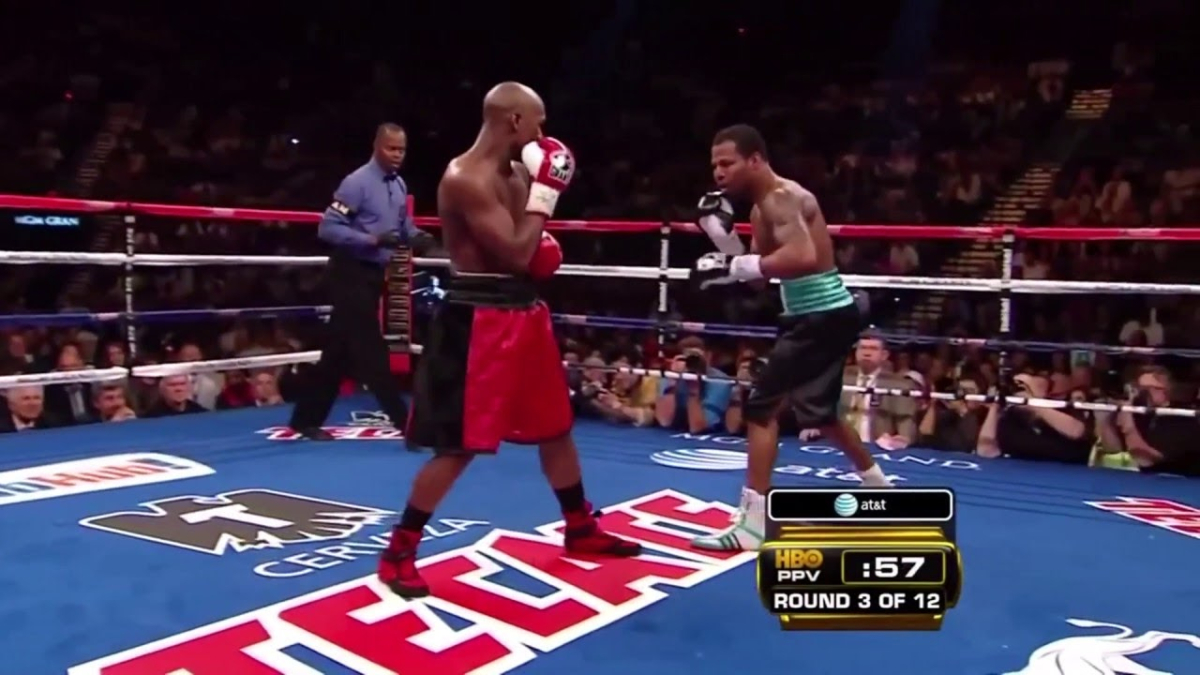 Notice how the lead foot of both fighters is pointed roughly 45 degrees to the right of their opponent.
While MMA fighters split the difference, they tend to lean more towards the wrestling side of things (albeit more upright.) Many of them have wrestling backgrounds, and being as heavily bladed as Floyd is above also makes it near impossible to defend leg kicks.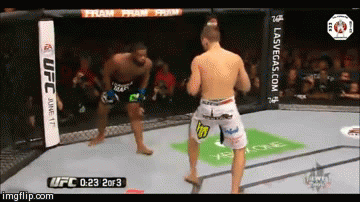 (Note that Woodley's foot is pointed almost directly at his opponent)
The stance is the hardest part to overcome. Even if a fighter starts out in more of a boxing stance, as soon as they start moving they tend to square their stance and body fairly quickly.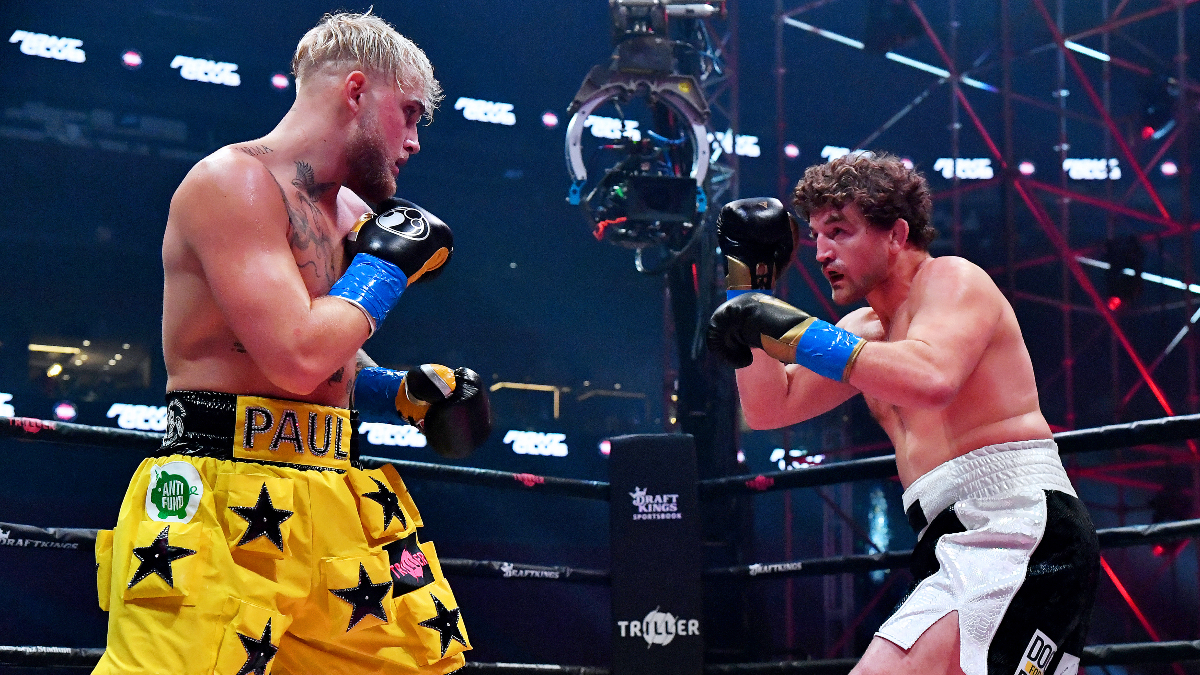 The picture above is the perfect example of what MMA fighters have to overcome. Ben Askren's shoulders are almost totally even (relative to his opponent) while Paul's lead shoulder is much farther forward.
The problem here is two-fold. First, much more of Askren's body is accessible to Paul, which not only leads to getting hit in the body, but could lead to him dropping his hands while trying to defend the body shots.
Paul is using his right hand and his lead shoulder to protect his head, leaving his left arm free to defend the only part of the body that Askren can reach. To defend his head from this position, Askren would have to have both hands at his chin, leaving his body exposed.
Secondly, even if both fighters had a similar reach (Paul has about four-inches on Askren), Paul's jab hand can extend much further than Askren's. This creates a certain range where one fighter can land but the other cannot.
While this isn't a death sentence (Mike Tyson almost never had longer arms than his opponents) it takes a level of footwork, speed and skill to overcome that struggle. This isn't because they are lacking athletically — tons of MMA fighters have impressive footwork — but because closing the range is an entirely different challenge without the ability to kick, grab, clinch, or threaten with takedowns.
All of this is to say that these things can be overcome. We've seen plenty of MMA guys have some degree of success, even against full-time boxers.
On the advantages for Woodley side of the coin, he has a lifetime of combat experience over Paul. Paul has never been beyond the second round of a fight, and hasn't really fought anyone with any boxing chops to this point.
While Woodley isn't a boxer, he had some of the best hands in MMA for a long stretch of his career. Woodley has shown the ability to dig deep and fight through adversity in a way that Paul has never had to in his very short career.
I also don't think it's a stretch to say Woodley is the better overall athlete. He is likely to have a power and speed advantage, and will be the first of Paul's professional opponents who is roughly the same size as him (chubby Askren doesn't count).
We'll see if Woodley is able to get enough out of these edges to make up for what might actually be a technical boxing disadvantage against Paul. Just understand that making the transition is more complicated than just throwing on some shoes and bigger gloves — it's an entirely different sport.
How would you rate this article?