Why Do Sportsbooks Need My Social Security Number, Other Personal Info?
Credit:
Pavlo Gonchar/SOPA Images/LightRocket via Getty Images
Signing up for an online sportsbook can be an exciting time for bettors, but it sometimes feels a little invasive.
Users may not mind inputting their email address or phone number, but it gets a little personal with your home address. Then, there's entering your full Social Security Number, or at least the last four digits. This may keep you from signing up for an online betting site, but it's part of the process.
Why exactly does the sportsbook need your SSN?
Why Do Betting Sites Ask for SSNs?
The primary reason a sportsbook asks for your SSN is to verify your identity. Sportsbooks must follow Government and Gaming regulations to prevent fraud. They do so by following the Bank Secrecy Act.
With many digital products, you can make new accounts with new email addresses. That's not the case in online sports betting — your account is tied to your identity, not just an email.
If you try to "fake" your identity by using a fake address or fake SSN, the book won't verify your identity, and you won't be able to connect a payment method to fund the account.
Online betting sites need more than just your name and date of birth to verify your identity. Providing an SSN gives more protection for the sportsbook and user.
This also makes it so the Government can tax your gambling winnings. This doesn't apply to all users, as you need to meet a certain threshold.
How Many Digits Do I Need to Share?
New customers won't always be required to give their whole nine-digit SSN. Some sportsbooks will only ask for the last four digits.
Sportsbooks already have your other personal information, including your date of birth and home address. That information and the last four digits of your SSN are enough to verify your account.
Ultimately, the sportsbook wouldn't allow your registration if it couldn't verify your account. That goes for entering your entire SSN or the last four digits.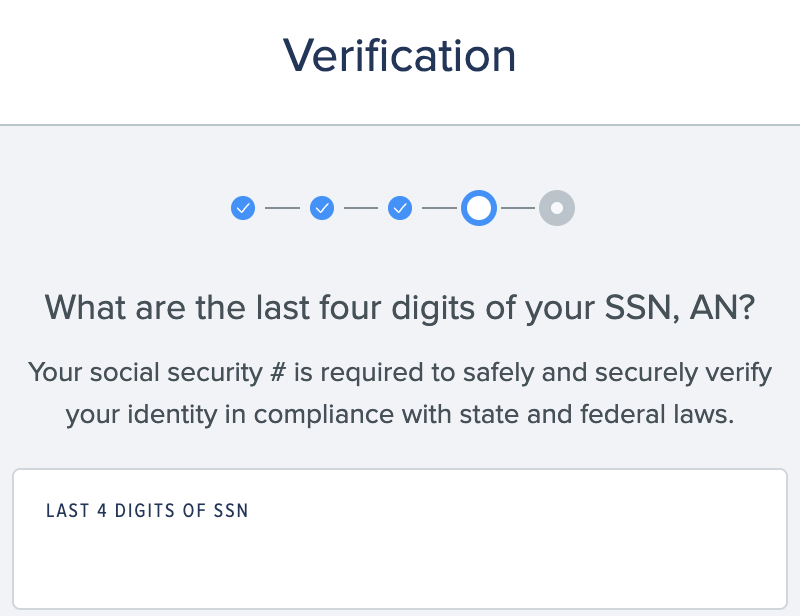 Do Sportsbooks Keep My SSN Protected?
It's certainly justifiable to be scared to give your SSN to anyone. Bettors should feel safe providing this information to the sportsbook. Thankfully, they do an excellent job keeping it secure.
Legal betting sites must follow a strict set of guidelines to ensure the safety and privacy of your personal information.
On top of that, your state has guidelines it must adhere to to ensure safety. For example, MD operators under the Maryland Lottery and Gaming Control Agency.
These multiple levels of protection and safety should make players feel comfortable providing personal details, like their SSN.
Is it Possible to Signup for a Betting Site Without My SSN?
You may find a sportsbook that doesn't require an SSN, but it's most likely an offshore betting site.
An offshore betting site isn't safe to use because they don't follow Government regulations. This could lead to issues with withdrawing money, and that's something no one wants.
There's no shame in hesitating to enter your SSN when signing up for a betting site, but it's safe if you're using a legal sportsbook. Check out our legal sports betting page to see if you can bet in your state.
How would you rate this article?
This site contains commercial content. We may be compensated for the links provided on this page. The content on this page is for informational purposes only. Action Network makes no representation or warranty as to the accuracy of the information given or the outcome of any game or event.