Fantasy Football Draft Strategy: Your Guide To Every Position & Round
Credit:
Andrew Dieb/Icon Sportswire. Pictured: Ezekiel Elliott, Amari Cooper.
Happy Labor Day Weekend — or, as we like to call it, Fantasy Football Draft Weekend.
If you're in a pinch prepping for your draft, let our experts help with an outline of their comprehensive strategy:
Sean Koerner was FantasyPros' No. 1 fantasy football draft ranker of 2019 and has finished as their top in-season ranker in three of the past five seasons.
Matthew Freedman is the Editor-in-Chief of FantasyLabs and was the sixth-most accurate FantasyPros ranker in 2017.
Let's take a quick look at the overview of their strategies then dig into the details — from players they're targeting or fading to positions they're waiting on and more.
[Create Custom Cheat Sheets Feat. Our Fantasy Rankings]
Fantasy Football Draft Strategy Cheat Sheet
>> Download a PDF with an overview of their full position-by-position strategies now


Let's go over my overall strategy, then run through each position.
General Draft Strategy
Overall: You should have two running backs before the top-17 are off the board and three wide receivers before the top-40 are off the board. Quarterback and tight end offer value at various stages (more on that later).
Use Average Draft Position (ADP) to strategize when to draft which players/positions: You dominate drafts by being able to anticipate which players/positions you can afford to wait on based on whether or not they're likely to still be on the board the next time you're on the clock.
Make sure you're using recent ADP data: With Saturday's deadline to cut rosters down to 53 players, there's a lot of news to track, so you want to make sure you're using ADP data that reflects the most recent moves (see: Leonard Fournette being released by Jacksonville then signing in Tampa Bay). You can use this site to customize date ranges for ADP data.
Use that ADP data to make coin-flip decisions: First, ask yourself: "Will either of these players still be on the board at my next turn?" If you think there's a 0% chance one of them will and a small chance the other will, go with the first one — I can't tell you how many times the second has made it back to my next turn in this situation. It's such a simple technique to prevent you from reaching for players too early.
Get the most of out of your queue: Don't be caught off guard when players in your queue are drafted right before your next pick. You should always set up your queue assuming that every pick in front of you will take a player from it.
Quarterback Strategy
When it's worth spending high draft capital in 1QB leagues: On a top-six QB if he falls too far and you feel content with how your draft is going otherwise.
My favorite target: Russell Wilson has typically been that guy for me in Round 6 — by that point, you already have your RB/WR/TE* core established and want to lock in a reliable QB1 (*maybe TE). I'm already banking on Wilson to be a top-five QB despite playing in what will again be a run-heavy offense. But, if #LetRussCook finally happens this season and he attempts 550 or more passes, then Wilson has the upside to challenge Tier 1 with Patrick Mahomes and Lamar Jackson.
After the top-six QBs: Don't spend high draft capital on any QB after the top six. The position is loaded, and it's easy to stream during the season based on matchups.
The case for streaming if you don't get a top-six QB: I was able to stream the equivalent of overall QB6 value last year. It will be particularly advantageous to have that sort of flexibility this season. There have even been instances when a streamer has turned into my primary QB, like Deshaun Watson and Carson Wentz in 2017, or Jameis Winston in 2018.
Late-round fliers with upside: Joe Burrow, Ben Roethlisberger, Drew Lock and Gardner Minshew.
If you're in a 2QB format: Take the position seriously and make sure you land at least two QBs inside the top 20. And given the ubiquitous risk with COVID-19, you should also take your third/bench QB seriously by locking in another top-25 option.
Running Back Strategy
Target RBs throughout the draft: It's not enough to understand how valuable workhorse running backs are; you also have to understand how volatile the position is.
Draft at least two RBs before the top-17 are gone: That's the overall tier of workhorses. This strategy also allows you to prioritize WRs in Rounds 3 to 7 — the position's sweet spot.
Prioritize high-upside RBs once the top 20-25 are off the board: As the founding member of the RB Surplus Strategy club, I've created the following chart to help you visualize which backups are worth drafting for their upside — i.e. which backups are most likely to eventually become their team's starter. (I keep this up to date.)
Download a PDF of the chart (as of Sept. 5)
Draft insurance for your first-round RB: If you spend a first-rounder on a RB, it's ideal to lock in their backup (with a C-value grade or better in my Upside RB Chart).
Target "handcuffs" even if their starter isn't on your team: You do not necessarily have to have Ezekiel Elliott in order to target Tony Pollard at his ADP. Having assets on your bench like Pollard — who would become a low-end RB1 should Elliott ever miss time — gives your team enormous upside and is one of the keys to winning your league.
Don't draft a kicker or defense: Use those final picks to instead draft two available backups from my chart. This practice buys you an entire week in case one of their starters gets sidelined due to injury, a positive COVID-19 test, etc. And if the status quo holds for both players, then it's no harm, no foul; you can just swap out both backups for a K and DEF before Week 1 kicks off on Sunday. This strategy is how I was able to land James Conner in nearly every league in 2018.
Wide Receiver Strategy
Don't wait too long to draft WRs: RB is the most important position, but WR is your team's heart — it's tough to win any league if you have a below-average WR corps.
Draft at least three WRs before the top 40 are off the board: The position is deep, but don't mistake that to mean you can wait to draft your WR/Flex outside the top 40.
When to draft a stud WR: If one falls to you in Rounds 1 or 2, it's okay to take them. Just know that much of the WR2 Tier is loaded with WR1 potential this season. The sweet spot for WRs is Rounds 3 to 7.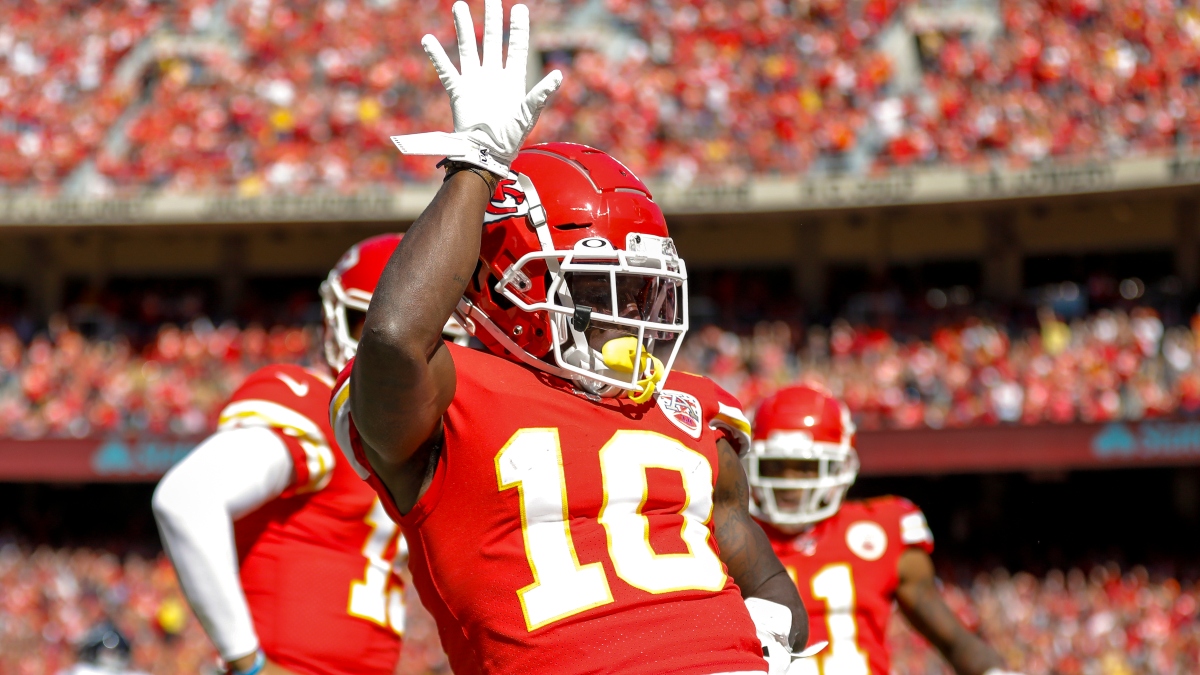 Prioritize your WR depth relatively early: With so much uncertainty surrounding COVID-19, bench depth even more important this season. I've prioritized high-floor over high-upside players this season, since it's more likely that we will need to utilize our bench more frequently.
High-floor WRs: Sterling Shepard, Anthony Miller, Allen Lazard and Emmanuel Sanders are the types of WRs I'm referring to here — we pretty much know what we're going to get from them, and they still have some upside.
Late-round upside fliers: Bryan Edwards, Miles Boykin, Chase Claypool and Van Jefferson.
Tight End Strategy
Generally: TE offers value in every round, so I focus on RB/WR heading into the draft.
When to draft top-tier TEs: I'm alright taking Travis Kelce in the second round, George Kittle late in the second or Mark Andrews early in the fourth if they fall to me.
Mid-round TEs: Tyler Higbee is the TE to target if you're feeling risky. He comes with a wide range of outcomes.
My highest-owned TE: Hayden Hurst — I'm drafting him anytime he falls outside of the top 10.
Late-round options with upside: There's a handful of potential league-winning TEs who are going later in the draft. Any one of the younger TEs entering Years 2 to 3 are potential breakouts. I love drafting Dallas Goedert late given his massive floor/ceiling combo: He's a low-end TE1 at worst when Zach Ertz is healthy, and a potential top-five "league winner" if Ertz misses extended time. Given how the Eagles WRs have been decimated by injury recently, it only raises Goedert's floor.
Kicker/Defense Strategy
Do not draft these positions if you can: Instead, stash several high-upside RBs. Yes, having a couple of lottery tickets for just a week can pay off — there's no harm in doing so.

Before Week 1 kicks off: Use my rankings (or streamer piece) to choose your K/DEF. You can easily stream both positions all season (or until you catch lightning in a bottle, which does happen often).
---
This tweet thread sums it all up by round and position:
I view Michael Thomas as the top player in a WR tier with Davante Adams, Tyreek Hill, and Julio Jones — and I generally don't want to take the top player in a tier.

Also, WR is deeper than RB, so I'd rather take a top-seven RB over Thomas: I can find WRs I like later. (2/22)

— Matthew Freedman (@MattFtheOracle) September 4, 2020
Almost all of the guys in the RB8-14 tier have red flags.

Miles Sanders: Injured? Committee?
Joe Mixon: Migraines? Uncertain offense?
Josh Jacobs: Receiving usage? Middling offense?
Kenyan Drake: Injured? Workload?
Nick Chubb: Kareem Hunt?
Aaron Jones: TD regression? (4/22)

— Matthew Freedman (@MattFtheOracle) September 4, 2020
In the middle of Round 2, if I can get Julio Jones, Tyreek Hill, Travis Kelce, or George Kittle, I'm satisfied.

I am not taking DeAndre Hopkins: He will get fewer targets from a quarterback with whom he has no established connection. (6/22)

— Matthew Freedman (@MattFtheOracle) September 4, 2020
In the middle of Round 3, I'm very satisfied w/ Chris Carson or Amari Cooper (assuming Conner & Andrews are not available).

Cooper in particular I want. The Cowboys offense could smash this year, and Cooper could run 50% of his routes from the slot against No. 3 CBs. (8/22)

— Matthew Freedman (@MattFtheOracle) September 4, 2020
In Rounds 2-3, I'm avoiding Chris Godwin, Mike Evans, and especially Allen Robinson.

Godwin & Evans are high-floor WRs, so they're not bad. I expect both will get 1,000 yards. But they will have to compete w/ Gronk for TDs.

🚨 A-Rob: Regression alert. (10/22)

— Matthew Freedman (@MattFtheOracle) September 4, 2020
I want to come out of Rounds 4-6 w/ 2 WRs, 3 if I miss out on Cam Akers.

But I'm not missing out on Akers 🚀🚀🚀

– Elite recruit
– College production
– Strong physical profile
– Three-down skill set
– 21YO
– Draft capital
– Opportunity
– Good offense

Total smash. (12/22)

— Matthew Freedman (@MattFtheOracle) September 4, 2020
Thoughts on QB & TE.

At QB, I'm waiting for Cam Newton. He's in the top five when healthy — and he's healthy. If I miss Newton, I'll target Ben Roethlisberger.

At TE, if I don't get Travis Kelce, Zach Ertz, or Mark Andrews, I'm waiting until 12 TEs are off the board. (14/22)

— Matthew Freedman (@MattFtheOracle) September 4, 2020
*Zach Ertz should have been George Kittle
After getting Fuller or Gallup in Round 7, here are the guys I want in Round 8 and beyond, starting w/ QBs:

Cam Newton
Ben Roethlisberger
Jimmy Garoppolo
Gardner Minshew
Tyrod Taylor (16/22)

— Matthew Freedman (@MattFtheOracle) September 4, 2020
WRs I want in Round 8 and after:

Brandin Cooks
Diontae Johnson
Marvin Jones
Henry Ruggs III
DeSean Jackson
Mecole Hardman
Brandon Aiyuk
Sammy Watkins
Laviska Shenault
Bryan Edwards
James Washington
John Ross
Tre'Quan Smith
Chase Claypool
Andy Isabella
K.J. Hamler (18/22)

— Matthew Freedman (@MattFtheOracle) September 4, 2020
In shallow leagues, there's obviously no need to take guys near the bottom of these lists, but they are players to monitor on waivers.

And in deeper leagues, these guys provide tremendous upside off the bench. (20/22)

— Matthew Freedman (@MattFtheOracle) September 4, 2020
Until the season starts, @The_Oddsmaker, @ChrisRaybon & I will update our projections each day in the draft kit.

A great resource for season-long player prop betting.

This is also where we'll keep our weekly in-season projections. Check it out. (22/22)https://t.co/vzlwZLaXZo

— Matthew Freedman (@MattFtheOracle) September 4, 2020
How would you rate this article?