2020 Fantasy WR Tiers: How To Use These Rankings As Part of Your Draft Strategy
Credit:
Stephen Lew/Icon Sportswire via Getty Images. Pictured: Michael Thomas.
Wide receiver is one of the deepest positions in fantasy football, but that doesn't mean you can afford to wait too long to draft yours.
Sean Koerner -- the No. 1 fantasy football draft ranker of 2019 -- outlines his 2020 fantasy WR rankings into tiers.
These tiers are meant to help you envision when to draft certain WRs based on your draft strategy.
Running back position is the most critical in fantasy football, but wide receiver is a close second.
With the depth at WR, it's easy to become complacent while drafting — if you miss out on a certain tier of WRs, you think there will be more talent to choose from later. But you have to be careful not to neglect the position so much over the first five rounds that you end up with Emmanuel Sanders as your WR2.
If WR has ever been the weakest position for one of your teams, you know it can feel like an uphill battle. One reason is the position is more volatile week-to-week, and there aren't the same short-term buy opportunities when a starter misses time.
We all know that when a starting RB is injured, the door opens for a backup to see instant fantasy value. WR doesn't offer the same. For example, if Odell Beckham Jr. were to miss time for the Browns, Rashard Higgins could get the nod to start in 2-WR sets, but it's unlikely he would be playable in most leagues.
Outlier weeks also make it difficult to trust the WR waiver wire. Demarcus Robinson was the perfect example in 2019: After he erupted with six catches for 172 yards and two touchdowns in Week 2, it took No. 1 waiver wire priority or most of a Free Agent Acquisition Budget (FAAB) to acquire him. He topped 40 yards only twice over the rest of the season.
When a RB has an outlier week, it's the reason is usually more obvious — i.e. a team's starter was injured, garbage-time touches, etc. — and thus adequately assess their value.
The takeaway here is that it's important to spend significant draft capital to lock-in your WRs. It's essential to have at least three before your draft reaches Tier 8, which is why I consider Rounds 3-6 to be the sweet spot this season.
That said, let's dive into my WR tiers for 2020!
---
More Tiers: QB | RB
---
Fantasy WR Rankings
Rankings are based on half-PPR scoring. Click on a tier to skip to the analysis.
Tier 1
Michael Thomas
Tier 2
Tyreek Hill
Davante Adams
Julio Jones
Tier 3
DeAndre Hopkins
Tier 4
Kenny Golladay
Chris Godwin
Mike Evans
D.J. Moore
Calvin Ridley
JuJu Smith-Schuster
A.J. Brown
Amari Cooper
Odell Beckham Jr.
Cooper Kupp
Allen Robinson
Adam Thielen
Tier 5
Tyler Lockett
Robert Woods
Stefon Diggs
D.K. Metcalf
T.Y. Hilton
Tier 6
Keenan Allen
Terry McLaurin
Michael Gallup
Courtland Sutton
D.J. Chark
DeVante Parker
Tier 7
A.J. Green
Julian Edelman
Marquise Brown
Marvin Jones
Will Fuller V
Jarvis Landry
Tier 8
Tyler Boyd
Jamison Crowder
Deebo Samuel
John Brown
Diontae Johnson
CeeDee Lamb
Sterling Shepard
Emmanuel Sanders
Tier 9
Brandin Cooks
Christian Kirk
Jerry Jeudy
Henry Ruggs
Darius Slayton
Anthony Miller
Mecole Hardman
Tier 10
Preston Williams
Golden Tate
Allen Lazard
Breshad Perriman
DeSean Jackson
Tier 11
Mike Williams
Curtis Samuel
Robby Anderson
Tier 12
Michael Pittman Jr.
Sammy Watkins
Jalen Reagor
Tyrell Williams
James Washington
N'Keal Harry
Larry Fitzgerald
Parris Campbell
Tier 13
Justin Jefferson
Corey Davis
Brandon Aiyuk
Mohamed Sanu
Dede Westbrook
Cole Beasley
Tier 14
Steven Sims
Alshon Jeffery
Hunter Renfrow
Zach Pascal
Danny Amendola
Randall Cobb
Chris Conley
Denzel Mims
Russell Gage
Adam Humphries
Miles Boykin
Laviska Shenault
Tier 1
Michael Thomas, NO
MT broke the single-season record for receptions with 149 in 2019.
What made that feat even more impressive was that he was without Drew Brees for five games: When the Saints were forced to start Teddy Bridgewater between Weeks 3-7, Thomas led all WRs in fantasy points. How a WR fares without his starting QB is a significant part of projecting a WR's floor — a factor that's often overlooked.
MT is the safest bet in fantasy football and is worth drafting as early as fifth overall.

[Create Custom Cheat Sheets Feat. Koerner's Rankings]
Tier 2
Tyreek Hill, KC
Davante Adams, GB
Julio Jones, ATL
The drop-off from Tier 2 to Tier 3 is the sharpest at the position. It's what makes all three of these WRs worthy of late first-round selections.

If you draft one of these studs toward the end of Round 1, you could pair them with a Tier 3 RB in Round 2. Then you'd likely have Tier 4 RBs and Tier 4 WRs to choose from in Rounds 3-4. Drafting from the 9-12 slots can be frustrating, but that strategy would make for an excellent start.
Tier 3
DeAndre Hopkins, ARI
Hopkins is on an island in my rankings — I can't quite put him in Tier 2, but he would be the clear top option in Tier 4. But Hopkins' arrival in Arizona is going to make Kyler Murray and the Cardinals better, not the other way around. It'll be tough for Hopkins to command the same target share he saw with the Texans in a new offense that runs 4+ WR sets at the highest rate in the NFL.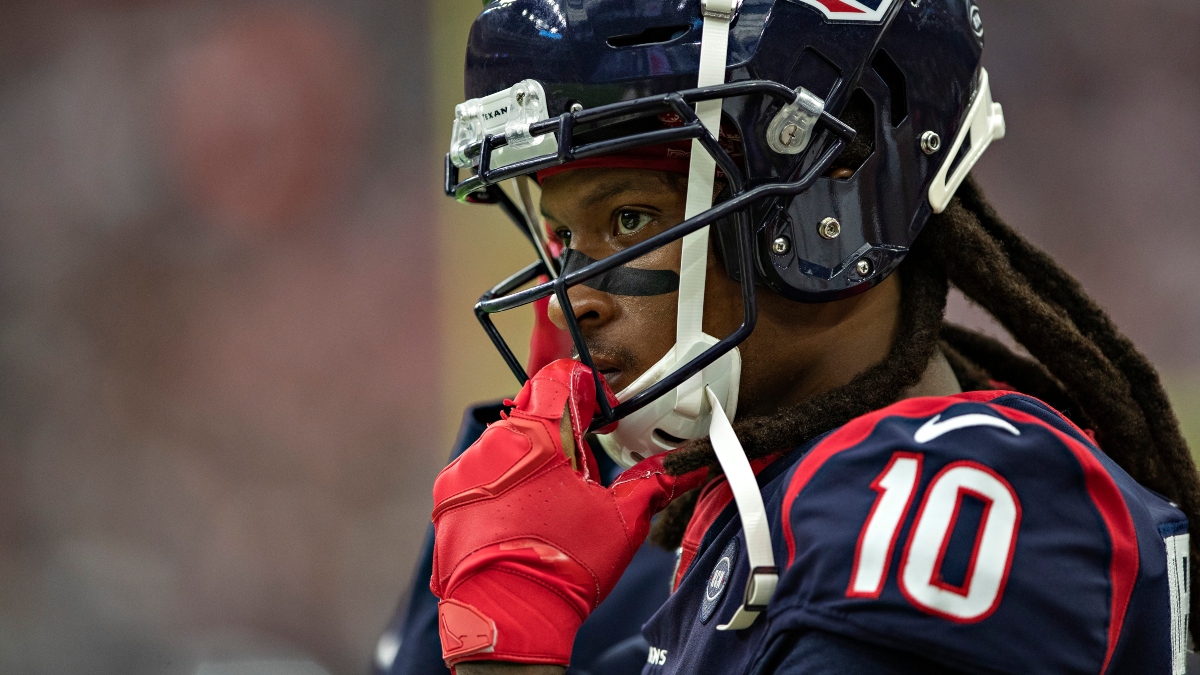 Tier 4
Kenny Golladay, DET
Chris Godwin, TB
Mike Evans, TB
D.J. Moore, CAR
Calvin Ridley, ATL
JuJu Smith-Schuster, PIT
A.J. Brown, TEN
Amari Cooper, DAL
Odell Beckham Jr., CLE
Cooper Kupp, LAR
Allen Robinson, CHI
Adam Thielen, MIN
Only 10 points separate the top of this tier from the bottom, so I'm comfortable letting my league-mates have first dibs on whichever WRs they want from this tier, then I can scoop up the ones who fall to me in Rounds 3-4.
I haven't been shy about my love for Ridley — he was my favorite bet to lead the league in receiving yards earlier this offseason — and I've been regularly drafting him when he falls to Round 4.

A.J. Brown has been my other primary target considering he's typically drafted at the very end of this tier. His yards per catch (20.2) and touchdown rate (15.4%) are due for regression, but he should be able to offset that with an increase in volume. Brown played on only 50% of the snaps from Weeks 1-6 last season, but once Ryan Tannehill took over as the starter in Week 7, that jumped to 80% over the final 10 games.
Tier 5
Tyler Lockett, SEA
Robert Woods, LAR
Stefon Diggs, BUF
D.K. Metcalf, SEA
T.Y. Hilton, IND
The Seahawks WRs bookend what is an excellent tier, illustrating just how deep the position is this season.
Still, while it's easy to tell yourself you can continue to pass at WR at this point in the draft, it's essential to have at least two WRs before this tier dries up. Hilton's average draft position (ADP) as the WR28, though, means you can wait to see if he falls to you later.
Metcalf was remarkably consistent as a rookie with 8-15 fantasy points in 10-of-15 games. He posted only one 20-point performance in the regular season but then posted a 7/160/1 game in the playoffs against the Eagles. We should see more of those games in 2020, so I'm willing to reach for him in drafts.
Tier 6
Keenan Allen, LAC
Terry McLaurin, WAS
Michael Gallup, DAL
Courtland Sutton, DEN
D.J. Chark, JAC
DeVante Parker, MIA
The addition of first-round pick CeeDee Lamb lowers Gallup's ceiling in Dallas, but at the same time, it's created value as his ADP has fallen to WR30. (For context, he's the WR25 in my half-PPR rankings.)
Ridley is my pick to be the 2020 version of 2019 Chris Godwin, but McLaurin and Chark aren't far behind — in fact, their upside makes them my two other favorites from this tier.
The reason they're both going later in drafts is poor QB play.
As it pertains to Chark, though, Gardner Minshew's deep ball accuracy was quite good in 2019 — his passes of 20 or more yards to Chark graded out at a league-high 67% positive rate. Look for new offensive coordinator Jay Gruden to exploit that even more in 2020.

In McLaurin's case, he'll need Dwayne Haskins to make a big Year 2 leap. If he doesn't, Alex Smith could re-take his job, giving McLaurin a bit of a safety net.
Tier 7
A.J. Green, CIN
Julian Edelman, NE
Marquise Brown, BAL
Marvin Jones, DET
Will Fuller V, HOU
Jarvis Landry, CLE
Being able to acquire Green as your WR3/Flex feels a little like cheating at this point. I understand the injury concerns, but he's set to be at 100% by Week 1. His level of motivation will also be sky high since he's playing for a new contract.
Brown is the other WR I'm targeting in this range. The Ravens eased him in as a rookie, deploying him on an average of 58% of snaps per game, but I expect that to rate to reach closer to 80% this season. That additional playing time for an explosive player like Brown will elevate his floor/ceiling combo. It's possible he emerges as a solid WR2 by the end of the season.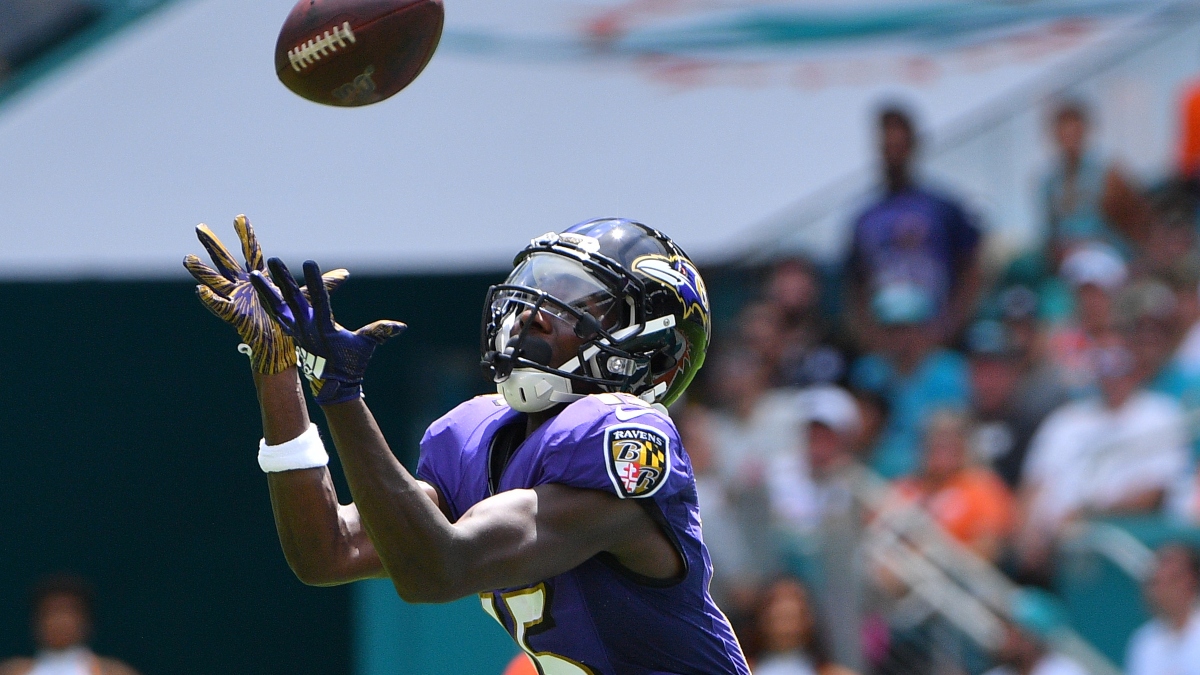 Fuller has a ton of upside with Hopkins no longer in Houston. Still, I'm primarily targeting him in best ball formats since his production can be volatile from week-to-week: He scored 42% of his fantasy points last season in Week 5. That means in redraft leagues, a lot of those points likely went to waste — he helped teams win their Week 5 matchups … by a lot — but scored only 10-plus points in one other game.
Tier 8
Tyler Boyd, CIN
Jamison Crowder, NYJ
Deebo Samuel, SF
John Brown, BUF
Diontae Johnson, PIT
CeeDee Lamb, DAL
Sterling Shepard, NYG
Emmanuel Sanders, NO
I would qualify this as a very "safe" tier: A lot of these receivers have a very high floor and are solid Flex options later in the draft.
I've been targeting Samuel when he falls outside of the top 40 WRs. He's likely to miss the first few games, but he's being drafted in a range in which we're likely filling our bench anyway, and it's easier to survive missed games early in the season.

There's also still a small chance the start of the season could be delayed as the league adapts to the COVID era, which could limit the number of games Samuel misses, making him even more of a steal in this range.
Tier 9
Brandin Cooks, HOU
Christian Kirk, ARI
Jerry Jeudy, DEN
Henry Ruggs, LV
Darius Slayton, NYG
Anthony Miller, CHI
Mecole Hardman, KC
Kirk is one of the players who could benefit from Hopkins' presence in Arizona — Kirk was never really meant to be a true No. 1 WR, and will thrive as the WR2 in this offence. He'll also be entering year 3, which is when a lot of WRs enter their prime and breakout.
The other WRs of this tier offer a ton of upside, and given the point we're at in the draft and the uncertainty of this season, are good options to stash so you start the season with at least one fallback.
Tier 10
Preston Williams, MIA
Golden Tate, DET
Allen Lazard, GB
Breshad Perriman, NYJ
DeSean Jackson, PHI
Lazard looks set to become the No. 2 target for Aaron Rodgers. The sound of that used to have a better ring to it, and with the Packers playing a more run-heavy offense, that makes Lazard nothing more than bench depth.
Perriman should replace Robby Anderson as the Jets' main deep threat. It's a role with limited upside, but he's worth a flier this late.

As for Jackson, he's worth a flier this late in the draft thanks to the WR3 value he should provide when healthy. Of course, it's unclear whether he can stay healthy at 34 years of age, but most players drafted in this range would are likely to get cut at some point during the season anyway.
Tier 11
Mike Williams, LAC
Curtis Samuel, CAR
Robby Anderson, CAR
I'm mostly avoiding this tier.
The Chargers have too many mouths to feed and not enough yards to go around for Williams. Samuel and Anderson find themselves in a similar situation in Carolina, where they'll be fighting for whatever scraps Christian McCaffrey and D.J. Moore leave behind.
There's still a chance Samuel could be traded at some point, which would help elevate both his and Anderson's value, though.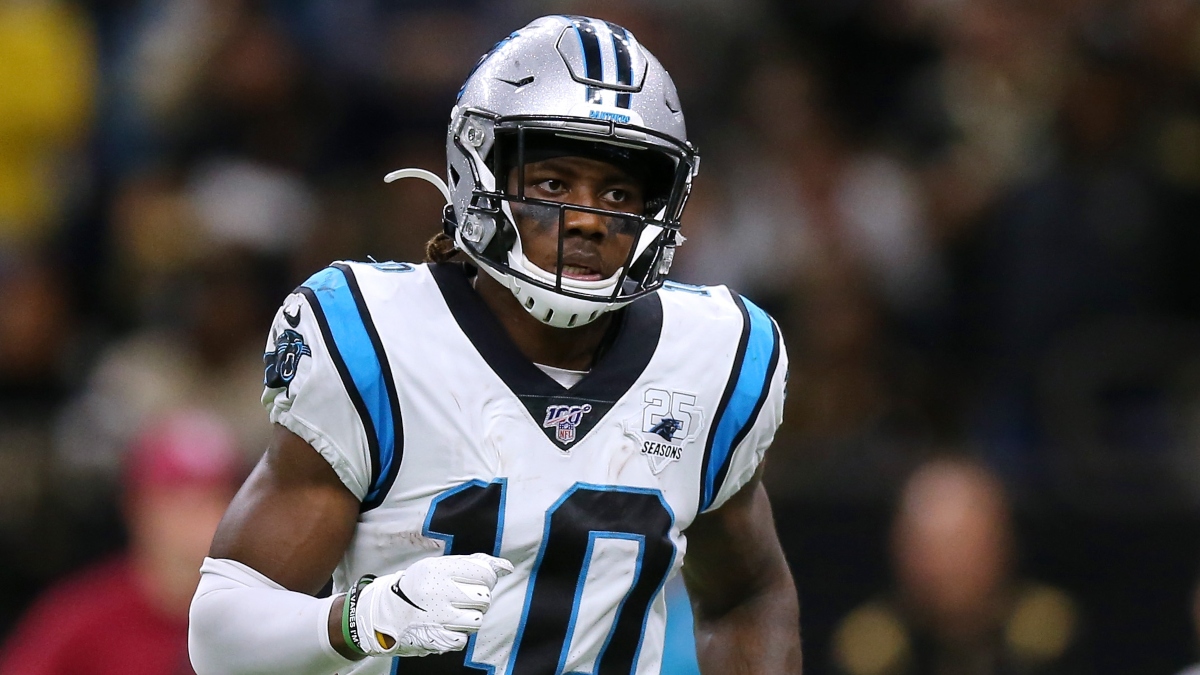 Tier 12
Michael Pittman Jr., IND
Sammy Watkins, KC
Jalen Reagor, PHI
Tyrell Williams, LV
James Washington, PIT
N'Keal Harry, NE
Larry Fitzgerald, ARI
Parris Campbell, IND
Pittman has a chance to emerge as Philip Rivers' favorite red-zone target and could even become the No. 2 weapon in the Colts' offense. If we would've had the chance to watch him in preseason action, it could have influenced my ranking, but the rookie is still a relative unknown.
Watkins is the cheapest way to invest in the Chiefs offense this season, which provides him with some value.

Reagor has a clear path to upside in his rookie season given Alshon Jeffery's injury, Jackson's injury history and Marquise Goodwin opting out. The Eagles may have no choice but to anoint him as their No. 1 WR in Year 1.
Tier 13
Justin Jefferson, MIN
Corey Davis, TEN
Brandon Aiyuk, SF
Mohamed Sanu, NE
Dede Westbrook, JAC
Cole Beasley, BUF

Aiyuk is worth a late-round flier as he's likely to start until Samuel is ready to return from his foot injury.
Tier 14
Steven Sims, WAS
Alshon Jeffery, PHI
Hunter Renfrow, LV
Zach Pascal, IND
Danny Amendola, DET
Randall Cobb, HOU
Chris Conley, JAC
Denzel Mims, NYJ
Russell Gage, ATL
Adam Humphries, TEN
Miles Boykin, BAL
Laviska Shenault, JAC
At this point in the draft, you should be targeting upside.
Mims was in a battle with Vyncint Smith for the WR3 spot. However, Smith suffered a core injury that will knock him out for 5-8 weeks, making Mims worth a flier in the event he's able to unleash his potential out of the gate.
Boykin is a sneaky way to invest in the Ravens offense as has a chance to become the No. 2 WR in Baltimore.
How would you rate this article?