Week 1 Fantasy Tiers: Make Your Start/Sit Decisions With These QB, RB, WR & TE Rankings
Credit:
Getty Images. Pictured: Lamar Jackson, Christian McCaffrey, Michael Thomas
Fantasy football season is officially here.
With drafts finally in the rearview mirror, we're ready to turn our attention to Week 1.
A big part of the in-season process is making start/sit decisions. To help you start strategizing, I'll outline the early version of my fantasy football rankings into tiers so you can better visualize the drop-off in expected production at each position every week.

As always. there will be a ton of volatility in how I adjust my rankings up until kickoff, so be sure to check my updated rankings before making final decisions. But for now, let's dive into my Week 1 tiers!
Week 1 Fantasy Tiers
QUARTERBACKS
Tier 1
Patrick Mahomes (vs. HOU)
Lamar Jackson (vs. CLE)
Mahomes and Jackson are two of the best fantasy QBs of all-time … entering their prime.
There's 3.5 points separating these two from the next tier — the highest drop-off across all positions for Week 1. There's isn't another 3.5-point drop until after the next 23 quarterbacks (QB3 to QB25).
Tier 2
Dak Prescott (@ LAR)
Deshaun Watson (@ KC)
Russell Wilson (@ ATL)
All three are on the road in potential shootouts. Nothing is too problematic about any of their matchups — they should all be in starting lineups.
Kyler Murray is missing from this tier because of his tough matchup at San Francisco. He'll re-join Tier 2 next week when Arizona hosts Washington.

Tier 3
Drew Brees (vs. TB)
Matt Ryan (vs. SEA)
Josh Allen (vs. NYJ)
Cam Newton (vs. MIA)
Carson Wentz (@ WAS)
Ben Roethlisberger (@ NYG)
Cam Newton can be trusted as a low-end QB1 this week in his Patriots debut. Dolphins' cornerbacks — Xavien Howard, Byron Jones, and Noah Igbinoghene — outmatch the Patriots' biggest weakness, their wide receivers. However, it'll be tough for opponents to prepare for the new-look Patriots offense until defenses get some film on it.
I like Newton out of the gate as his dual-threat ability should provide him with low-end QB1 value in plus matchups.
Big Ben's elbow is 100% following last year's season-ending surgery. There's a chance he could be rusty out of the gate and could be a bit of a gamble this week. That said, the Giants are likely to have a pass funnel defense after investing in Leonard Williams, Dexter Lawrence and Blake Martinez over the offseason. The Steelers will have an easier time moving the ball through the air in this matchup, so Big Ben is playable as a low-end QB1.
Tier 4
Jared Goff (vs. DAL)
Tom Brady (@ NO)
Matthew Stafford (vs. CHI)
Kyler Murray (@ SF)
Jimmy Garoppolo (vs. ARI)
Tyrod Taylor (@ CIN)
The top half of this tier faces challenging matchups this week.
I mentioned Murray gets a downgrade against the stout 49ers defense, but on the flip side, Jimmy Garoppolo has a great matchup.
My main concern with Garoppolo is the health of his WRs. Both Deebo Samuel and Brandon Aiyuk will be playing at less than 100% this week, if they suit up. That means the 49ers will have to lean on George Kittle even more than usual against a Cardinals defense that was historically bad against tight ends last season. Arizona spent its first-round pick on linebacker/safety hybrid Isaiah Simmons to potentially help with just that, though, so that'll be one of the matchups I'm most interested to watch this week.
Tyrod Taylor is my streamer play of the week at QB, which you can read more about here.
Tier 5
Teddy Bridgewater (vs. LV)
Mitchell Trubisky (@ DET)
Derek Carr (@ CAR)
Gardner Minshew (vs. IND)
Kirk Cousins (vs. GB)
Ryan Tannehill (@ DEN)
Philip Rivers (@ JAX)
Aaron Rodgers (@ MIN)
Joe Burrow (vs. LAC)
Daniel Jones (vs. PIT)
Aaron Rodgers and Daniel Jones get the most significant downgrades based on matchups this week. If you drafted either, I would recommend looking for one-week rentals to replace them if you can.
Rodgers has historically struggled against Mike Zimmer's defense. Last season, in terms of success rate (per SportsInfoSolutions), he ranked 33rd out of 43 QBs against Cover 2 and 42nd against Cover 4. The Vikings just so happen to run out of each cover type at the league's fourth-highest rate.
That said, Rodgers should be back on your fantasy radar next week when the Packers host the Lions.
As for Jones, he faces what is arguably the NFL's best defense in the Steelers this week, then has the Bears and 49ers over the next two weeks. There's a chance he'll get off to a slow start, so if you're in a 2QB league, I would recommend trying to buy low on him after a tough three-game opening.
Tier 6
Drew Lock (vs. TEN)
Ryan Fitzpatrick (@ NE)
Drew Lock probably wasn't too thrilled that the Titans signed Jadeveon Clowney over the weekend. It puts Clowney on track to start Week 1, which will give the Titans an added boost in terms of the pass rush. Lock has a ton of upside this season, but he'll have to prove we can trust him before we plug him into our lineups.
Tier 7
Baker Mayfield (@ BAL)
Dwayne Haskins (vs. PHI)
Baker will likely be more of a game manager this season under new head coach Kevin Stefanski. Expect them to lean on RBs Nick Chubb and Kareem Hunt as well as run more 2-TE formations, decisions that will help Baker on the field but hurt him in fantasy.
The Ravens are a tough Week 1 matchup, so he should be on the bench this week.
Tier 8
Sam Darnold (@ BUF)
Darnold is a desperation play this week — he faces a tough Week 1 test at Buffalo. It also doesn't help that Jets WRs Breshad Perriman and Denzel Mims will be playing at less than 100%.
[Play DFS? Build Your Lineups with Sean Koerner's Projections For Just $24.95/Month]
---
Return to the table of contents
---
RUNNING BACKS
Tier 1
Christian McCaffrey (vs. LV)
This is the "CMC Tier" until further notice.
Tier 2
Ezekiel Elliott (@ LAR)
Dalvin Cook (vs. GB)
Josh Jacobs (@ CAR)
Saquon Barkley (vs. PIT)
Alvin Kamara (vs. TB)
Dalvin Cook appears set to play Week 1, despite not resolving his contract situation, and he has a plus matchup against a Packers defense that struggles against opposing RBs — Cook ripped off 191 total yards and a touchdown against the Packers in Week 2 of 2019.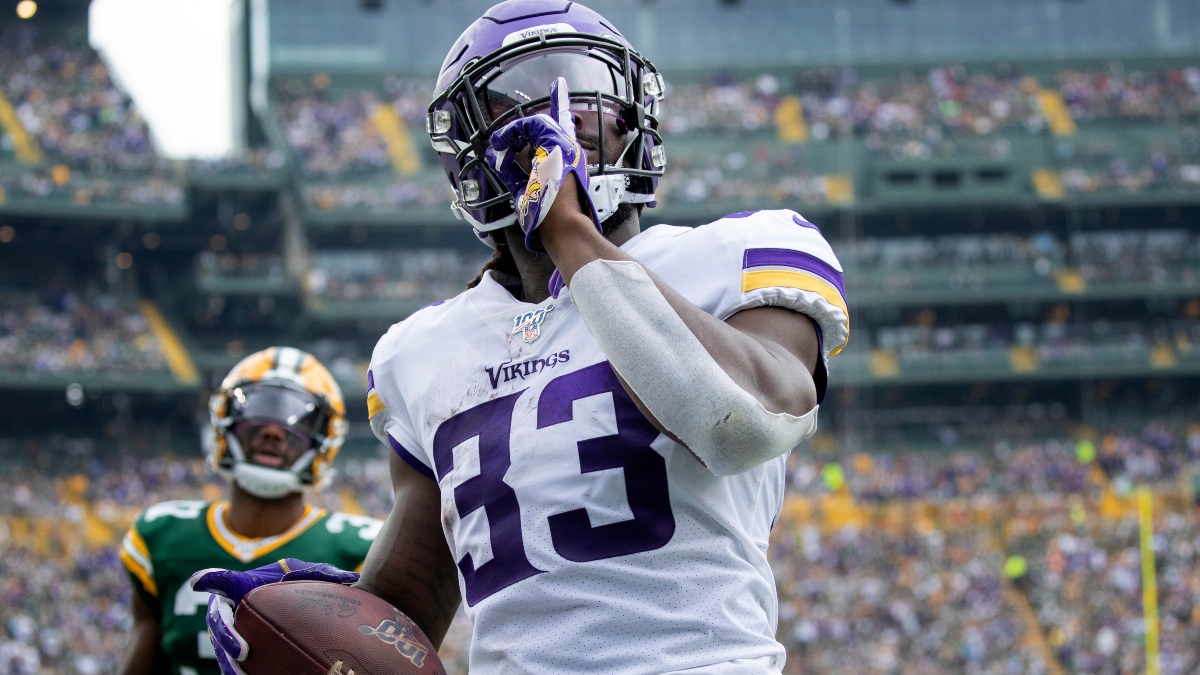 Josh Jacobs is also in a smash spot against a porous Panthers run defense. He's playing behind an elite offensive line that's returning all five starters. He's a top-five play this week.
Saquon Barkley and Alvin Kamara face two excellent run defenses this week. Considering both are elite pass-catchers, it makes them matchup-proof to an extent. Fire them up as elite RB1s, but temper expectations a bit.
Tier 3
Derrick Henry (@ DEN)
Austin Ekeler (@ CIN)
Henry is in a tough spot playing at high altitude in Week 1. We likely won't see a 30-plus touch game from him as a result — last year he was bottled up for 28 rushing yards at Denver.
Austin Ekeler, on the other hand, has a juicy Week 1 matchup against the Bengals. Mike Williams' absence will likely funnel more targets to Ekeler, Keenan Allen and Hunter Henry this week.
Fire up Ekeler as a mid-range RB1 this week.
Tier 4
Aaron Jones (@ MIN)
Joe Mixon (vs. LAC)
Clyde Edwards-Helaire (vs. HOU)
James Conner (@ NYG)
CEH's debut is one of the things I'm most excited to watch in Week 1.
That said, we need to temper expectations as the Chiefs are going to ease him in. Look for Darrel Williams to steal a handful of carries on Thursday night — it won't be anything to be alarmed about as CEH should dominate the passing work out of the gate and see his role expand during the season.
Tier 5
Miles Sanders (@ WAS)
Chris Carson (@ ATL)
Nick Chubb (@ BAL)
Kenyan Drake (@ SF)
Todd Gurley (vs. SEA)
David Johnson (@ KC)
Nick Chubb gets a considerable downgrade based on his Week 1 matchup. The Ravens' run defense will improve a ton after the additions of Calais Campbell, Derek Wolfe and Patrick Queen. And considering the Browns are 8-point underdogs, that game script will favor Kareem Hunt more.
Savvy owners may want to float a trade offer for Chubb if he struggles this week — the Browns have one of the NFL's easiest schedules after Week 1.
The Chiefs are a run funnel defense that should allow David Johnson to jump out to a hot start on Thursday night. The real question will be how the Texans use David Johnson and Duke Johnson in the passing game once the team is in comeback mode. Let's assume DJ will get 15 to 20 high quality touches on Thursday — that would make him a low-end RB2 play this week.
Tier 6
Le'Veon Bell (@ BUF)
Mark Ingram (vs. CLE)
Raheem Mostert (vs. ARI)
Melvin Gordon (vs. TEN)
I would say this is the first risky tier. We should treat all four backs as low-end RB2 plays this week, but they all have relatively low floors.
Raheem Mostert is in a smash spot against the Cardinals, however Kyle Shanahan loves to play the "hot hand" at RB, giving Mostert a wide range of outcomes. If you're a huge favorite this week, you may be better off playing a high floor option like Tarik Cohen instead.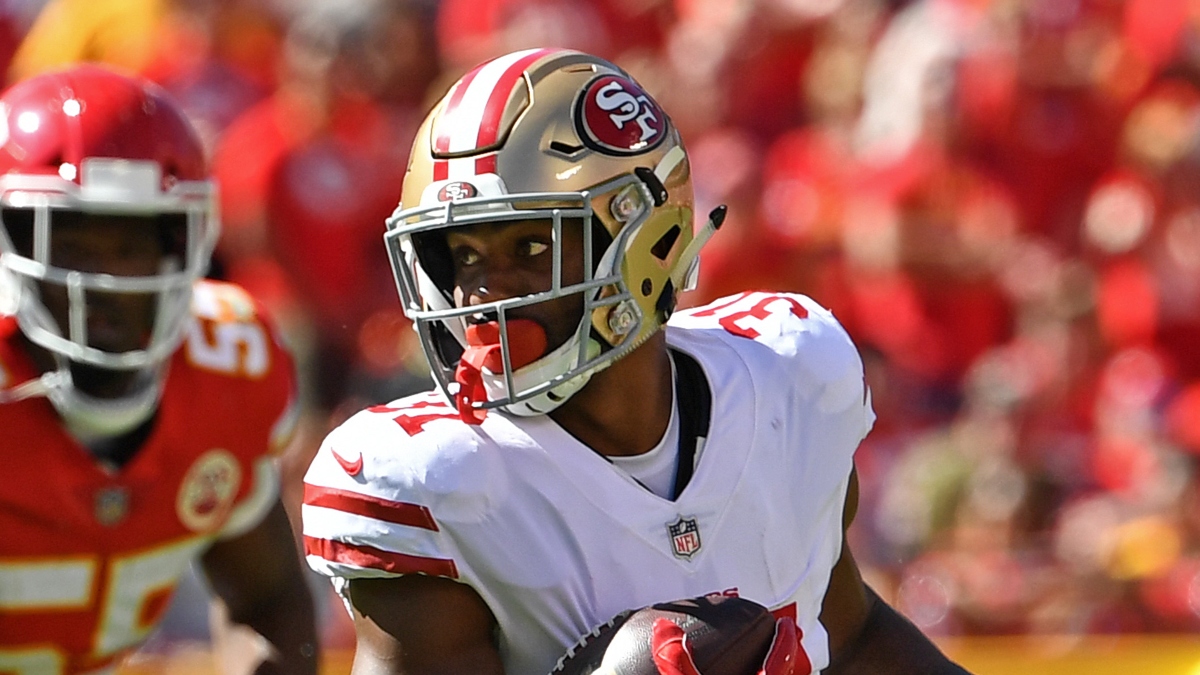 Tier 7
Jonathan Taylor (@ JAX)
Devin Singletary (vs. NYJ)
Cam Akers (vs. DAL)
Marlon Mack (@ JAX)
Tarik Cohen (@ DET)
Sean McVay announced that the Rams will use a three-way committee at running back to begin the season. I'll be monitoring the situation closely this week and would recommend playing it cautiously when it comes to the Rams RB situation early on.
I would consider Taylor, Singletary, Akers and Mack as Flex plays with a wide range of outcomes this week.
Tier 8
Antonio Gibson (vs. PHI)
James White (vs. MIA)
Kareem Hunt (@ BAL)
D'Andre Swift (vs. CHI)
Sony Michel (vs. MIA)
David Montgomery (@ DET)
Antonio Gibson has seen his stock soar over the past few weeks after Washington cut both Derrius Guice and Adrian Peterson. The Football Team will likely use Gibson as the primary pass-catching RB, giving him a high floor. It's unclear how many carriers we can expect from the former WR, but if it ends up being north of 10 weekly, he has RB2 upside.
Montgomery (groin) returned to practice in a limited fashion on Wednesday, so he makes it into this tier, but his rank will likely before Sunday.
[Get Access to All of Sean Koerner's Week 1 Fantasy Rankings]
Tier 9
Kerryon Johnson (vs. CHI)
Ronald Jones II (@ NO)
J.K. Dobbins (vs. CLE)
Boston Scott (@ WAS)
Tevin Coleman (vs. ARI)
Kerryon Johnson and D'Andre Swift both saw their stock drop a bit after the Lions signed Adrian Peterson, though there's a chance AP will be inactive and that Swift's leg injury will limit his Week 1 workload. Johnson could potentially move up to Tier 7 by kickoff if that scenario becomes likely.
Miles Sanders is dealing with a hamstring injury that could limit his Week 1 role. Boston Scott proved last season that he's more than capable of stealing 10 to 15 touches away from an active Sanders, so Scott is a potential Flex option this week against Washington.
Tier 10
Zack Moss (vs. NYJ)
Jordan Howard (@ NE)
Phillip Lindsay (vs. TEN)
Matt Breida (@ NE)
Chris Thompson (vs. IND)
Ryan Nall (@ DET)
I targeted Bills rookie RB Zack Moss heavily in the later rounds of drafts. There's a real chance he could leapfrog Devin Singletary and become the lead back at some point. However, heading into Week 1, this is very much Singletary's backfield.
The Jets are a stingy run defense that will likely slow down the Bills rushing attack this week, too, so Moss can't be trusted in our lineups — at least not yet.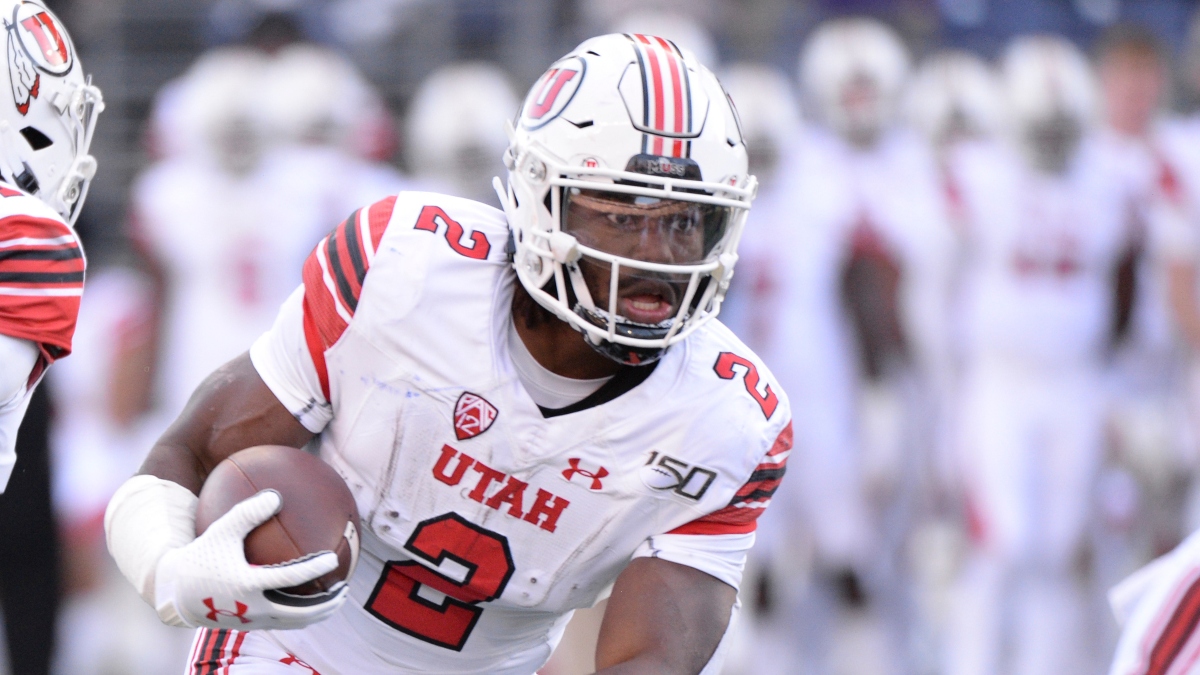 Tier 11
Rex Burkhead (vs. MIA)
Latavius Murray (vs. TB)
Leonard Fournette (@ NO)
Darrel Williams (vs. HOU)
James Robinson (vs. IND)
Duke Johnson Jr. (@ KC)
Alexander Mattison (vs. GB)
Tony Pollard (@ LAR)
Darrell Henderson (vs. DAL)
Devine Ozigbo (vs. IND)
Bryce Love (vs. PHI)
There's a lot of hype around James Robinson being named the Jaguars' starting RB.
Let's stop and think about that for a minute: The Jaguars offered the second-fewest rush attempts inside the 5-yard line last season (10), and now they're 8-point home underdogs in their season opener against the Colts — a game script that will favor pass-catching back Chris Thompson, the only Jags RB we can even considering plugging into our Flex slot.
You just can't trust Robinson in your lineup this week. Worst case scenario? He goes off on your bench and you can sell high on him heading into Week 2.
We also can't trust Leonard Fournette in our Week 1 lineups.
It's hard to interpret Bruce Arians' coach speak when it comes to the RB situation in Tampa Bay, so we'll need to see how it plays out over the first couple games before we can better project it.

---
Return to the table of contents
---
WIDE RECEIVERS
Tier 1
Michael Thomas (vs. TB)
Tyreek Hill (vs. HOU)
Davante Adams (@ MIN)
Julio Jones (vs. SEA)
I have zero concerns about any of the elite WR1 options this week.
Tier 2
Chris Godwin (@ NO)
Kenny Golladay (vs. CHI)
Allen Robinson (@ DET)
D.J. Moore (vs. LV)
JuJu Smith-Schuster (@ NYG)
Mike Evans (@ NO)
JuJu Smith-Schuster gets a massive boost with Big Ben back under center for the Steelers. The Giants will be a pass funnel matchup this season, which will allow JuJu to get out to a fast start.
The Lions drafted cornerback Jeff Okudah with the third overall pick to replace Darius Slay — a role that comes with a ton of pressure to matchup against the NFC North's No. 1 WRs: Davante Adams, Adam Thielen and Allen Robinson. My money is on Robinson against Okudah Week 1, but it's a matchup I'll be watching closely.
Mike Evans popped up on the injury report with a hamstring injury and appears to be a game-time decision. We'll have to monitor that situation carefully and I would recommend starting to think of a backup plan. Scotty Miller would likely benefit the most if Evans is ruled out — he's impressed in camp and would be the team's main vertical threat.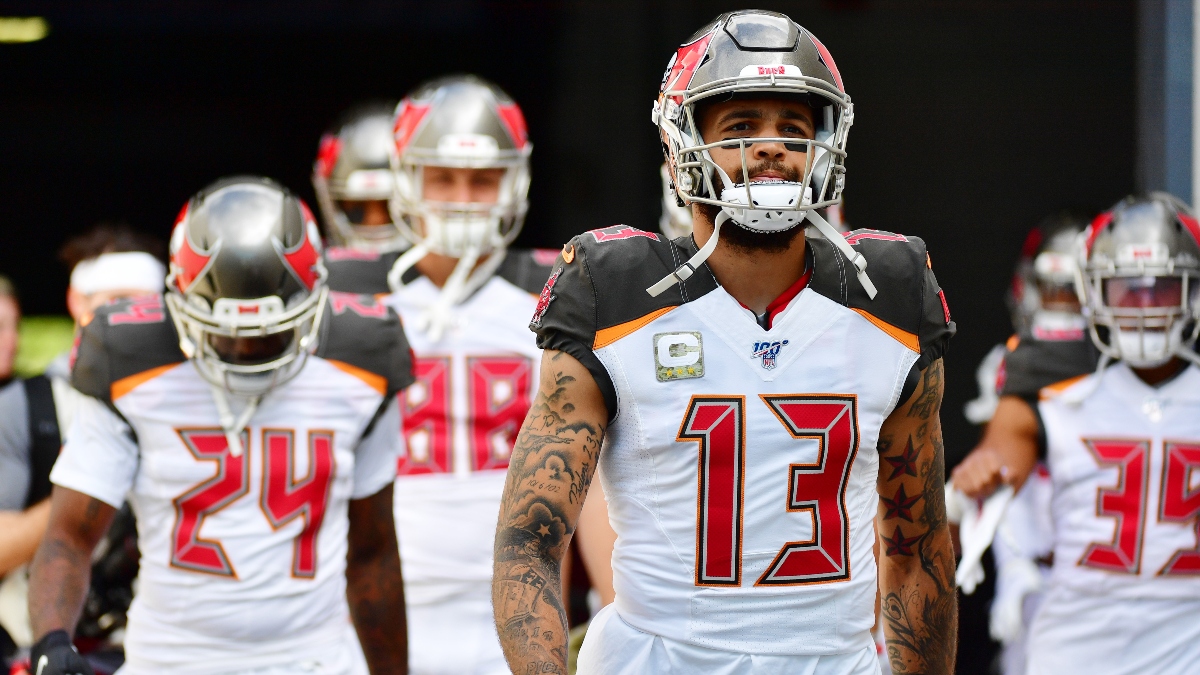 Tier 3
A.J. Brown (@ DEN)
DeAndre Hopkins (@ SF)
Amari Cooper (@ LAR)
Robert Woods (vs. DAL)
D.K. Metcalf (@ ATL)
Odell Beckham Jr. (@ BAL)
Calvin Ridley (vs. SEA)
Adam Thielen (vs. GB)
Cooper Kupp (vs. DAL)
Keenan Allen (@ CIN)
Tyler Lockett (@ ATL)
DeAndre Hopkins has been dealing with a hamstring injury that's prevented him from developing much on-field chemistry with Kyler Murray heading into 2020. To make things worse, the Week 1 matchup against the 49ers is brutal.
I'm treating Hopkins as a high-end WR2 this week.
One of the most exciting games to watch this weekend will be the Seahawks at Falcons. I have a ton of D.K. Metcalf and Calvin Ridley shares this season and I expect both to flash the WR1 potential they possess right out of the gate. We'll also get our first glimpse of the Seahawks' plans to #LetRussCook or remain a run-heavy team.
Tier 4
D.J. Chark (vs. IND)
Terry McLaurin (vs. PHI)
Courtland Sutton (vs. TEN)
Stefon Diggs (vs. NYJ)
The low-end WR2 Tier is loaded with upside. Terry McLaurin's and Stefon Diggs' fantasy values will be determined by how much each of their respective QBs progress this season. Week 1 will be very informative in that regard.
Tier 5
Michael Gallup (@ LAR)
Julian Edelman (vs. MIA)
TY. Hilton (@ JAX)
Marquise Brown (vs. CLE)
Will Fuller V (@ KC)
A.J. Green (vs. LAC)
DeSean Jackson (@ WAS)
Tyler Boyd (vs. LAC)
Will Fuller presents the first lineup decision of the season for a lot of people: He's a high ceiling/low floor WR3 in a tough matchup against the Chiefs.
I would lean toward starting Fuller this week in any coin-flip decisions. His floor should be much higher with Hopkins out of the picture. Plus, the Texans should be forced into a pass-happy game script. However, if you're a big favorite in your Week 1 fantasy matchup, I would go with a "safer" play like Tyler Boyd instead of Fuller.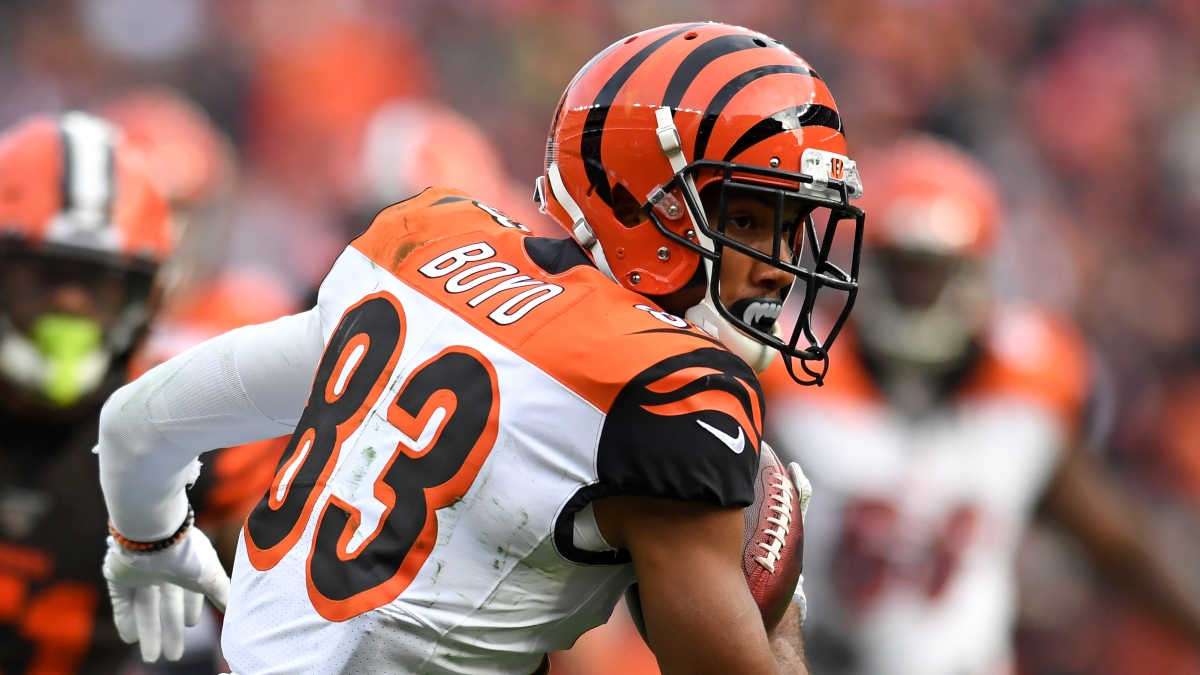 Boyd should lead the Bengals in targets this week as Green may need a few games to return to form.
Tier 6
DeVante Parker (@ NE)
Marvin Jones (vs. CHI)
Jarvis Landry (@ BAL)
Diontae Johnson (@ NYG)
CeeDee Lamb (@ LAR)
John Brown (vs. NYJ)
Jamison Crowder (@ BUF)
Henry Ruggs (@ CAR)
CeeDee Lamb and Henry Ruggs will make their NFL debuts this week. The lack of a preseason games could hurt most rookies' early-season production, including these two. That said, I'm not downgrading players 20 slots based on this type of speculation. Instead, I'm treating it more as a tie-breaker. If you can start a more experienced "safer" WR instead of either rookie for Week 1, I say do it.
CeeDee Lamb, in particular, should only get better as the season progresses.
DeVante Parker has a brutal Week 1 matchup against Stephon Gilmore. To make matters worse, Parker is dealing with a hamstring issue. I would be looking to bench him this week if you can.
Tier 7
Brandin Cooks (@ KC)
Jerry Jeudy (vs. TEN)
Sterling Shepard (vs. PIT)
Anthony Miller (@ DET)
Emmanuel Sanders (vs. TB)
Jerry Jeudy is a rookie who I think will adapt to the NFL right away. He's an elite route runner who will be able to get consistent separation. You can be less cautious with him in sit/start decisions this week.
Brandin Cooks looks to be a true game-time decision for Thursday night. Even if he does play, he's expected to be eased in. He's better off on your bench this week.
Tier 8
Curtis Samuel (vs. LV)
Allen Lazard (@ MIN)
Robby Anderson (vs. LV)
Sammy Watkins (vs. HOU)
Preston Williams (@ NE)
Darius Slayton (vs. PIT)
Mecole Hardman (vs. HOU)
Christian Kirk (@ SF)
Golden Tate (vs. PIT)
Mecole Hardman will likely take over Demarcus Robinson as the No. 3 WR for the Chiefs this season. It's unclear if that will be as soon as Week 1, though, so I would be cautious with Hardman this week. He has the highest ceiling of any WR in this tier, and I would only start him if you are a pretty big underdog in your Week 1 matchup.
Tier 9
Steven Sims (vs. PHI)
Corey Davis (@ DEN)
Breshad Perriman (@ BUF)
N'Keal Harry (vs. MIA)
Parris Campbell (@ JAX)
Bryan Edwards (@ CAR)
Steven Sims offers a very high ceiling in this range. He's a lock for three to five receptions this week and is a solid play in deeper PPR leagues.
Bryan Edwards is a dark horse to be the top-scoring rookie wideout this season. Tyrell Williams' season-ending injury paved the way for Edwards to start Week 1. The one player I often compare Edwards to when watching his film is A.J. Brown — I think Edwards has that kind of potential and is one of my favorite WR bench stashes to start the season.
Tier 10
Randall Cobb (@ KC)
Brandon Aiyuk (vs. ARI)
James Washington (@ NYG)
Michael Pittman Jr. (@ JAX)
Hunter Renfrow (@ CAR)
Deebo Samuel (vs. ARI)
It's still unclear whether Deebo Samuel will be ready for Week 1, so consider this initial rank temporary. Check for my updated rankings once we have a better sense of his status come Sunday morning.
Kendrick Bourne is worth a bench stash if Samuel and/or Aiyuk are ruled out this week. Bourne would jump up to Tier 8 in that scenario.

---
Return to the table of contents
---
TIGHT ENDS
Tier 1
Travis Kelce (vs. HOU)
George Kittle (vs. ARI)
The Cardinals were historically bad at covering TEs last season, but rookie LB/S Isaiah Simmons should help significantly in that area. Still, George Kittle will be the ultimate Week 1 test for the rookie.
My money is on Kittle.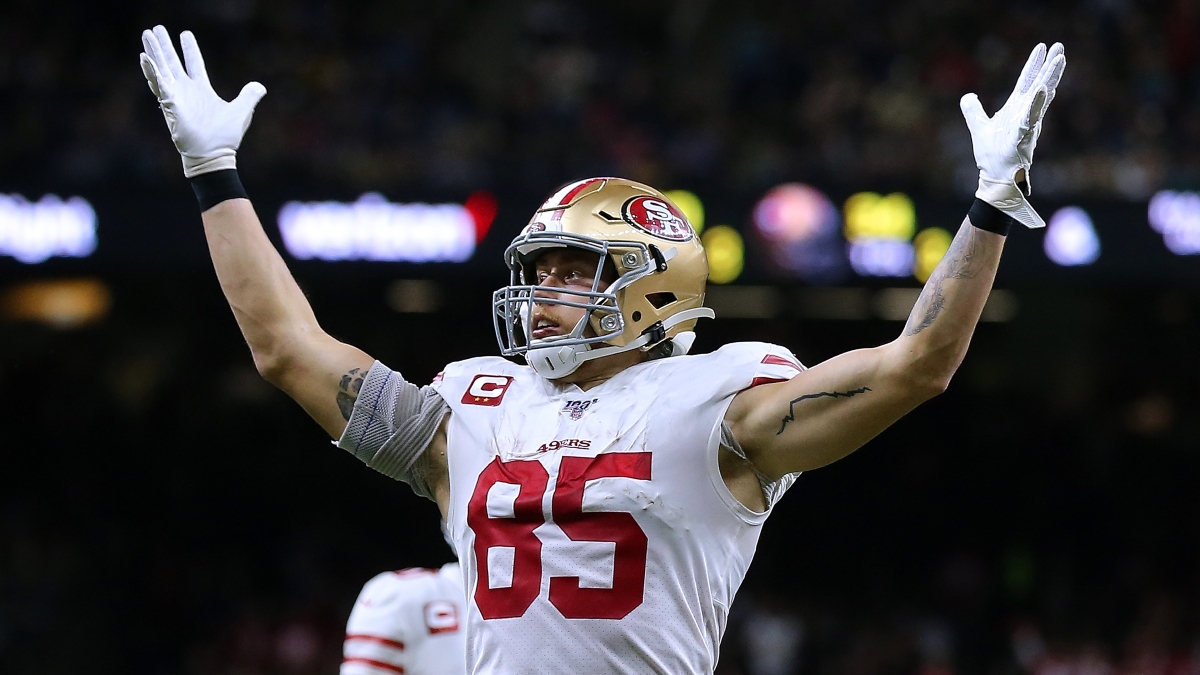 Tier 2
Mark Andrews (vs. CLE)
Andrews has solidified himself as his own tier at the tight end position. With Hayden Hurst out of the picture, Andrews should see a significant increase in the number of routes run per game.
If he can maintain anywhere near the same rate stats — 13.3 yards per catch and 15.6% touchdown per reception rate — he will elevate to Tier 1 status. If Andrews regresses closer to league average, he would drop to Tier 3-4. I'm hedging that he will end up somewhere in between.
Tier 3
Zach Ertz (@ WAS)
Darren Waller (@ CAR)
It looked like Ertz and Waller were going to see increased competition for targets this season, but injuries have already hit both WR depth charts, so it seems like both TEs will maintain significant target shares to begin in 2020.
Tier 4
Hunter Henry (@ CIN)
Tyler Higbee (vs. DAL)
Evan Engram (vs. PIT)
Hayden Hurst (vs. SEA)
Rob Gronkowski (@ NO)
Tyler Higbee's Week 1 performance will likely have the most significant impact on adjusting our priors. Will he pick up where he left off 2019 and look like a top-five TE, or will he be involved in a more 50/50 committee with Gerald Everett?
Hayden Hurst will take over the Austin Hooper role for the Falcons, except Hurst is capable of doing more after the catch than Hooper, so I think Hurst has legit top-five upside this season.
Tier 5
Jared Cook (vs. TB)
Dallas Goedert (@ WAS)
Dallas Goedert should be ready to rock Week 1 despite suffering a broken thumb a few weeks ago. Given the Eagles' WR injuries, Goedert should have a big enough target share Week 1 to be treated as a low-end TE1.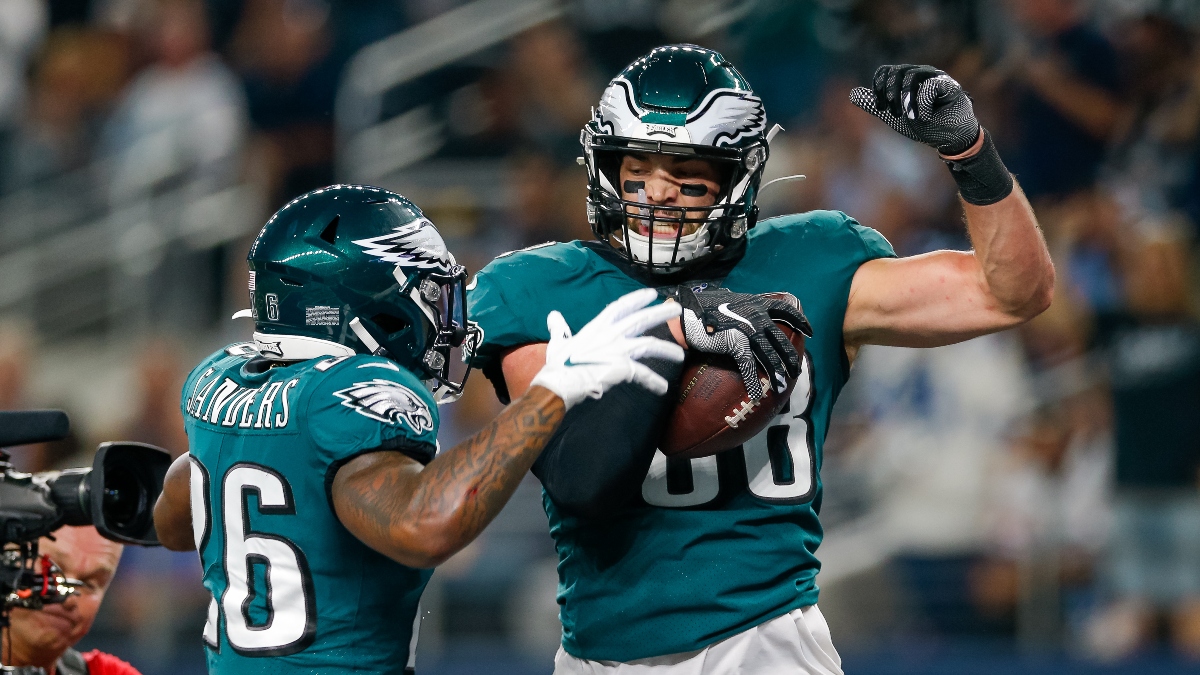 Tier 6
T.J. Hockenson (vs. CHI)
Jonnu Smith (@ DEN)
Blake Jarwin (@ LAR)
Jack Doyle (@ JAX)
Eric Ebron (@ NYG)
Austin Hooper (@ BAL)
Mike Gesicki (@ NE)
Noah Fant (vs. TEN)
I consider this entire tier the "Potential TE1 Tier."
T.J. Hockenson, Mike Gesicki and Noah Fant all have the potential to be league-winning fliers this season. They all fit the profile of George Kittle in 2018 then Mark Andrews, Austin Hooper and Darren Waller 2019. After the first few games, we should know which TE(s) are having a true breakout season.
Eric Ebron is my favorite streaming option at TE this week. He's available in 65% of Yahoo Fantasy leagues and could end up returning to his 2018 form, when he posted a 66/750/13 line in Indy.
Tier 7
Chris Herndon (@ BUF)
Ian Thomas (vs. LV)
Greg Olsen (@ ATL)
Irv Smith Jr. (vs. GB)
Jimmy Graham (@ DET)
Chris Herndon is a sneaky play at TE this week. Breshad Perriman and Denzel Mims are both entering Week 1 at less than 100% while backup TE Ryan Griffin has been slowed down by an ankle injury during camp, so Herndon is likely to see a higher target share than usual to start the season and is worth a start in deeper leagues.
Ian Thomas is dealing with a toe injury and probably can't be trusted Week 1.
Tier 8
Gerald Everett (vs. DAL)
OJ. Howard (@ NO)
Tyler Eifert (vs. IND)
Dawson Knox (vs. NYJ)
Will Dissly (@ ATL)
Most of the TEs in this tier would only return fantasy value if a teammate were to suffer an injury, but they would all have TE2+ upside in that scenario. These five are only on our "watch list."

---
Return to the table of contents
---
KICKERS
Tier 1
Justin Tucker (vs. CLE)
Harrison Butker (vs. HOU)
Tier 2
Greg Zuerlein (@ LAR)
Robbie Gould (vs. ARI)
Wil Lutz (vs. TB)
Chris Boswell (@ NYG)
Jason Myers (@ ATL)
Tier 3
Rodrigo Blankenship (@ JAX)
[Patriots kicker] (vs. MIA)
Matt Prater (vs. CHI)
Jake Elliott (@ WAS)
Daniel Carlson (@ CAR)
Dan Bailey (vs. GB)
Younghoe Koo (vs. SEA)
Tier 4
Sam Sloman (vs. DAL)
Ryan Succop (@ NO)
Michael Badgley (@ CIN)
Mason Crosby (@ MIN)
Stephen Gostkowski (@ DEN)
Ka'imi Fairbairn (@ KC)
Joey Slye (vs. LV)
Tier 5
Tyler Bass (vs. NYJ)
Cairo Santos (@ DET)
Austin Seibert (@ BAL)
Josh Lambo (vs. IND)
Zane Gonzalez (@ SF)
Tier 6
Randy Bullock (vs. LAC)
Graham Gano (vs. PIT)
Brandon McManus (vs. TEN)
Dustin Hopkins (vs. PHI)
Jason Sanders (@ NE)
Tier 7
---
Return to the table of contents
---
DEFENSES
Tier 1
New England Patriots (vs. MIA)
Buffalo Bills (vs. NYJ)
Tier 2
Philadelphia Eagles (@ WAS)
Pittsburgh Steelers (@ NYG)
Tier 3
Tennessee Titans (@ DEN)
Kansas City Chiefs (vs. HOU)
Indianapolis Colts (@ JAX)
San Francisco 49ers (vs. ARI)
Los Angeles Chargers (@ CIN)
Tier 4
Baltimore Ravens (vs. CLE)
Detroit Lions (vs. CHI)
Tier 5
Las Vegas Raiders (@ CAR)
Denver Broncos (vs. TEN)
Seattle Seahawks (@ ATL)
Chicago Bears (@ DET)
Tier 6
Dallas Cowboys (@ LAR)
Miami Dolphins (@ NE)
New York Jets (@ BUF)
Washington Football Team (vs. PHI)
Minnesota Vikings (vs. GB)
Cincinnati Bengals (vs. LAC)
Jacksonville Jaguars (vs. IND)
New Orleans Saints (vs. TB)
Atlanta Falcons (vs. SEA)
Arizona Cardinals (@ SF)
Green Bay Packers (@ MIN)
New York Giants (vs. PIT)
Carolina Panthers (vs. LV)
Tier 7
Los Angeles Rams (vs. DAL)
Tier 8
Tampa Bay Buccaneers (@ NO)
Cleveland Browns (@ BAL)
Houston Texans (@ KC)
How would you rate this article?