Watch Episode 1 of Our New ESPN Show "I'll Take That Bet"
If you missed the big news, we've partnered with ESPN to produce a sports betting show called "I'll Take That Bet". It'll air multiple times per week on the ESPN+ platform, which you can find in the Watch tab of the ESPN app and on ESPN.com.
Episode 1 dropped one Thursday evening, just in time for NBA Finals Game 1.
Here's the gist of the show: Our two analysts — in today's case, Chad Millman and Paul Lo Duca — draft their favorite picks of the day from a board of 10 bets. These are real wagers you can make across the gambling universe.
Today's board: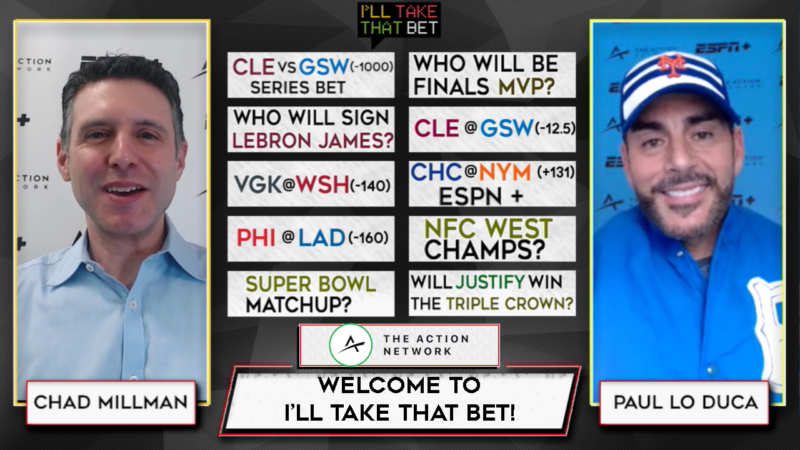 Here's how the picks went down on today's show. Be sure to watch the full episode on ESPN+. Paulie wasn't always as pleased with Chad as in the picture above.
PICK NO. 1 (LO DUCA): LeBron James to sign with the Cleveland Cavaliers this offseason (+175)
PICK NO. 2 (MILLMAN): Golden State to win the NBA Finals (-1000)
PICK NO. 3 (LO DUCA): New York Mets (+131) over Chicago Cubs
PICK NO. 4 (MILLMAN): San Francisco 49ers to win the NFC West (+200)
PICK NO. 5 (LO DUCA): Jacksonville Jaguars and Philadelphia Eagles to play in Super Bowl 53 (+5500)
PICK NO. 6 (MILLMAN): Cleveland Cavaliers (+12.5) over Golden State Warriors in Game 1 of the NBA Finals
PICK NO. 7 (LO DUCA): Philadelphia Phillies (+144) over Los Angeles Dodgers
PICK NO. 8 (MILLMAN): Klay Thompson to win NBA Finals MVP (+2500)
PICK NO. 9 (LO DUCA): Justify to win the Triple Crown (+120)
PICK NO. 10 (MILLMAN): Washington Capitals (-140) over Vegas Golden Knights
How would you rate this article?