The Top U.S. States and Games for Esports Earnings
It might not be quite as lucrative as the NFL, NBA, or MLB just yet, but estimated to be worth over $1B globally, esports isn't far off. And with millions of players in America alone, it should really come as no surprise. But which states earn the most from online play, and which games are the most profitable?
Analyzing the esports winnings of the top-500 American gamers over the last two decades, we've been able to determine which states earned the most and which games proved to be the most lucrative financially.
The states where players earn the most from esports
Comparing esports earnings by state, players in California are capitalizing on the multi-million dollar industry the most, with gamers in the Golden State winning an incredible $21.5M in prize money – 17% of the overall pot of $126.2M won by the top-500 players. Impressively, this is more than the next two states combined, with players in Texas and Pennsylvania earning $12.1M and $8.5M, respectively.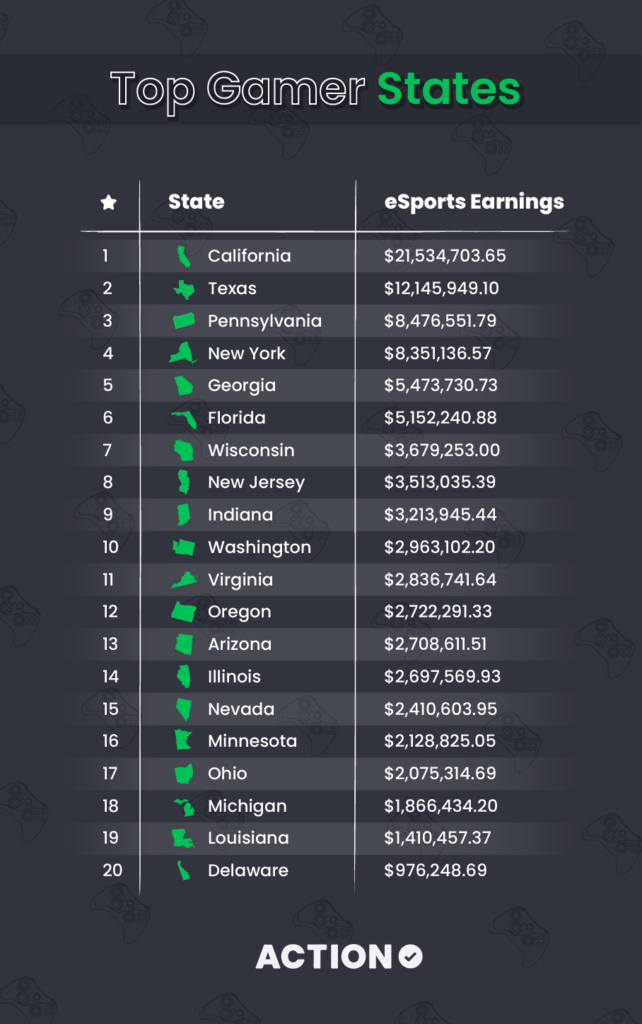 Ranking fourth overall, elite gamers in New York have come away with a total $8.4M between them, while Georgia places fifth with players winning $5.5M. Heading to the Sunshine State, the combined winnings of esports gamers in Florida places the state sixth. Two players in Wisconsin (a surprise seventh on the list) earned an average $1.8M apiece, giving the Badger State one of the highest per capita rates across all 50 states.
In eighth, New Jersey gamers picked up $3.5M, while three Indiana gamers earned an average $1M each. Washington state raked in $3M overall. Next up is Virginia, whose top esports performers cashed in on a cool $2.8M overall, followed by those in Oregon ($2.7M) and Arizona ($2.7M).
Illinois ($2.7M), Nevada ($2.4M), Minnesota ($2.1M), and Ohio ($2M) are the final four regions to earn over $2M between their respective gamers, while Michigan ($1.9M), Louisiana ($1.4M), and Delaware ($976K) round off the top-20 gaming states. At the other end of the table, of all states to have representation in the top-500 esports gamers, New Mexico brought in the least amount in winnings – just $123.5K.
Which games earn players the most money?
Looking at which games make esports players the most money, there's none more profitable than Call of Duty: Between the top-500 gamers in America, the first-person shooter is responsible for over $28.4M in winnings over the last two decades. Closely behind is Fortnite, played by millions around the world and bringing in an astonishing $26.8M in combined earnings.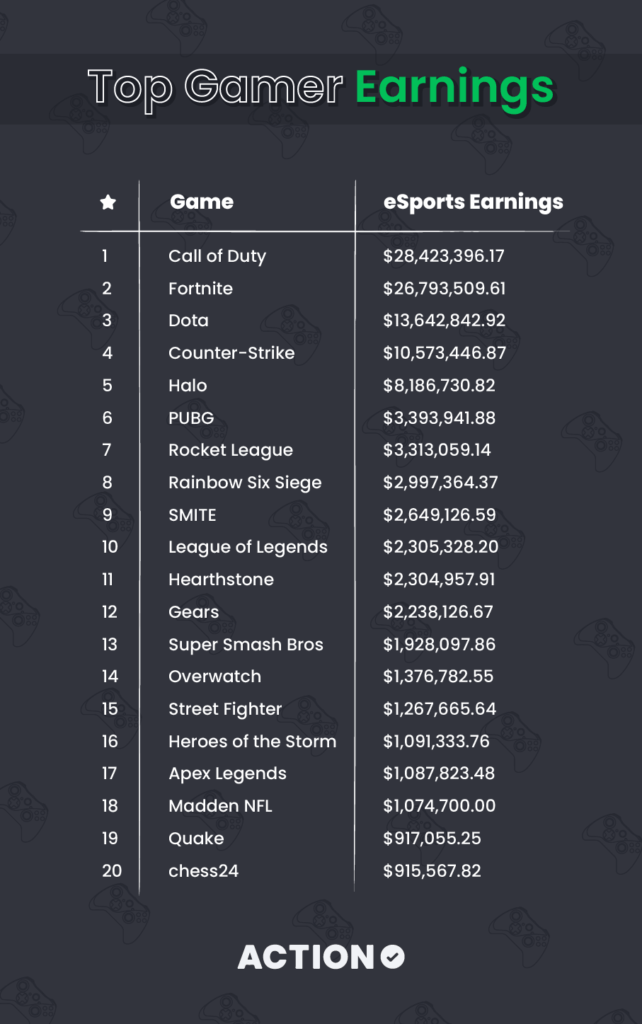 In third, strategy-based Dota is worth considerably less than the top-two ranked games, but players have still earned an impressive $13.6M from the game. Meanwhile, first-person shooter Counter-Strike is the fourth and final game worth over $10M in prizes.
Placing fifth overall, elite Halo players earned a very respectable $8.1M, while PUBG gamers picked up a total of $3.4M. Next up, soccer-based Rocket League ($3.3M), tactical shooter Rainbow Six Siege ($3M), battle arena game SMITE ($2.6m), and fantasy-world League of Legends ($2.3M) round off the top-10 games for earning potential, with digital card game Hearthstone ($2.3M) just missing out.
Third-person shooter Gears ($2.2M) is the final game worth over $2M in winnings, just ahead of classic Nintendo series Super Smash Bros. ($1.9M), multiplayer shooter Overwatch ($1.4M), and Japanese fighting favorite Street Fighter ($1.3M).
Finally, multiplayer online battle game Heroes of the Storm ($1M), battle royale shooter Apex Legends ($1M), NFL franchise Madden ($1M), first-person shooter Quake ($917K), and chess24 ($916K) round off the top-20 video games by player earnings.
It's incredible just how much money is in esports, with the top-500 players winning over $126M between them.
Get in on the eSports betting trend at some of the top sportsbooks that provide odds like PointsBet, Caesars, BetRivers, and BetMGM.
How would you rate this article?
This site contains commercial content. We may be compensated for the links provided on this page. The content on this page is for informational purposes only. Action Network makes no representation or warranty as to the accuracy of the information given or the outcome of any game or event.