Bob Baffert's Interview Transcripts: Medina Spirit's Trainer Explains Test Results on Tuesday
Credit:
Photographer: Luke Sharrett/Bloomberg via Getty Images. Pictured: Bob Baffert
On Monday, Bob Baffert made his rounds giving interviews explaining why he was innocent and that his horse, Medina Spirit, was never given an illegal drug resulting in a post-race failed test.
On Tuesday, Baffert backtracked.
The trainer, who argued his suspension and the investigation into the Kentucky Derby winner was just "cancel culture", released a statement with the possible reason for the substance betamethasone being found in Medina Spirit's system.
Hours later, Baffert's lawyer said Medina Spirit will be allowed to race in the next Triple Crown event, The Preakness. There will be multiple conditions to the agreement, he said.
Baffert's statement from Tuesday morning regarding the failed test is as follows:
"Following the Santa Anita Derby, Medina Spirit developed dermatitis on his hind end," Baffert said in the statement. "I had him checked out by my veterinarian who recommended the use of an anti-fungal ointment called Otomax. The veterinary recommendation was to apply this ointment daily to give the horse relief, help heal the dermatitis and prevent it from spreading.
"My barn followed this recommendation and Medina Spirit was treated with Otomax once a day up until the day before the Kentucky Derby. Yesterday, I was informed that one of the substances in Otomax is betamethasone. While we do not know definitively that this was the source of the alleged 21 picograms found in Medina Spirit's post-race blood sample, and our investigation is continuing, I have been told by equine pharmacology experts that this could explain the test results. As such, I wanted to be forthright about this fact as soon as I learned of this information.
"As I have stated, my investigation is continuing and we do not know for sure if this ointment was the cause of the test results, or if the test results are even accurate, as they have yet to be confirmed by the split sample. However, again, I have been told that a finding of a small amount, such as 21 picograms, could be consistent with application of this type of ointment. I intend to continue to investigate and I will continue to be transparent."
Monday, May 10:
Bob Baffert, the trainer of Kentucky Derby winner Medina Spirit, is under major scrutiny following the horse's positive drug test, which was revealed on Sunday. On Monday, Baffert is telling his side of the story.
Baffert appeared on both Fox News and The Dan Patrick Show to defend his reputation as a trainer, which includes two Triple Crowns and seven Kentucky Derby wins. However, his reputation also includes multiple instances of his horses failing post-race drug tests.
He addressed those instances as well as what happened with Medina Spirit on Monday.  For the full background on the positive test, read more here.
Below are the transcripts from those two media appearances. Some answers have been condensed for brevity.
When asked if Baffert was adamant he had nothing to do with the positive test, he responded:
"It did not happen. That horse has never been treated with it (betamethasone). Actually, it's a legal therapeutic medicine and the amount that was in it wouldn't have any effect on the horse anyway. But we don't … That horse was never treated with that and so that's the disturbing part of it.
"I never thought I'd have to be fighting for my reputation and the poor horse's reputation. Because of the new regulations the regulators have put, they're testing these horses at contaminated levels and it's been a horrible experience."
When Baffert says "contaminated levels" he's referring to the positive test sample, which he says is an amount so small that they call it a contaminated level. 
"It did not happen and that's the really seriously troubling part of it," he continued. "We hired investigators but sometimes you never find out. It's just a tragedy what happened in this race."
"We live in a new world now. These horses don't live in a bubble. They're in an open farm. People are touching them. He went from the Derby to after the Derby everybody's out there touching them. I mean there's so many ways these horses can get contaminated and when they're testing at these really ridiculously low levels … I've been saying it for over a year now these are gonna get innocent people in trouble and this is what happened now."
"We live in a different world now. This America is different. It was like a cancel culture kind of a thing so they're reviewing it. I haven't been told anything. We're prepared to run (in the Preakness)."
"I want to protect my legacy. I've trained great horses. I've trained the best horses that have run through there. My record proves it. This is horrible what has happened. The horse never got that medication. It's an injustice to the horse. He's a great horse. He ran hard. He deserved to win that race and it kills me because these horses are like my children and for something to happen to him like that is horrible but we have to deal with it and hopefully it will get resolved."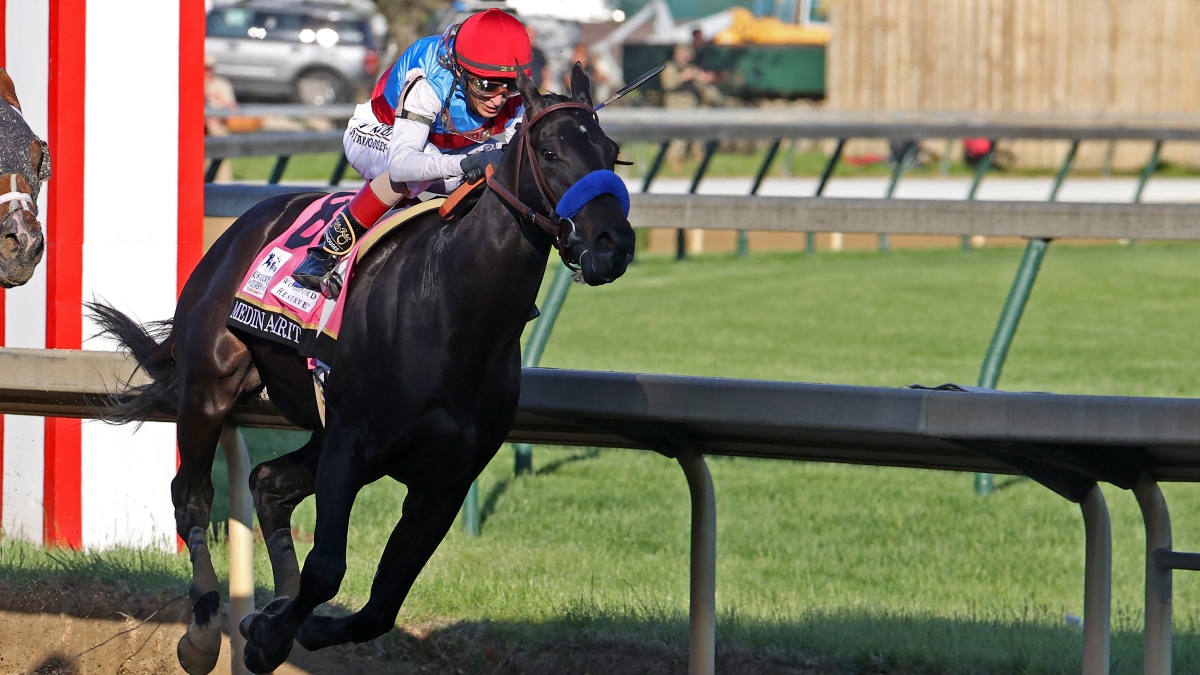 "I've been accused of…my horse tested positive for a legal therapeutic medication betamethasone. Twenty-one picograms, we call it contaminate levels. They're testing at these really low levels the last few years. It's been a problem in racing. The really troubling thing is the horse has never been treated with that specific drug. So we're at a loss for words trying to figure out how he got contaminated, because at those levels they call it contamination."
Patrick asked Baffert about the process after the positive test, including whether or not he does an inventory with his staff.
"We usually…that specific drug can be injectable but the horse wasn't injected with that. We checked to make sure nobody had any special creams. I'm learning about it right now, but nobody that handled the horse had any creams so we just don't know where this came from."
Was he sabotaged? 
"I don't know if I was sabotaged indirectly. I think it could've been somebody handled this horse, touched it. Because at those levels, very minute at a level that wouldn't affect the horse. They're scary levels because I've had this problem before."
Where was he when he found out?
"I was on my way to California on Saturday. I got a call from my assistant trainer Jimmy Barnes in Louisville and he told me something horrible has just happened. I thought one of the horse had gotten hurt. He says we've just been served, our Derby horse tested positive for betamethasone. I immediately called the stewards there, wanted to know what's going on, something's not right. I told them they need to get hair samples immediately, get some DNA this has to be a mistake.
"I'm hoping it's a mistake. Maybe it's the wrong horse or whatever. It's something I've got an investigation team working on it. It's horrible. It's something…I would never risk my reputation. I've trained great horses and for great clients and it just doesn't make sense. People in the horse industry, they understand it' s BS. But not the public.
"At that level it had zero affect on the horse. One picogram…a billionth of a gram. "
Will they run Medina Spirit in the Preakness?
"We're planning on it. We're waiting to hear from the Preakness. Churchill Downs came out with a really harsh statement. I was shocked by it. I think it was just a knee-jerk cancel culture kind of reaction. They violated my due process. Usually when you get a positive, it's supposed to be confidential and they wait for your split to come back and it usually takes a few weeks. And then they announce it, but it leaked out immediately. I've had this happen to me a couple times. Now I have to fight in the public.
When will the second result come in?
"Usually takes about three weeks to come back. It's a very slow process."
Should they be allowed to race while waiting for the result?
"They should allow me because it has to be confirmed there was a mistake so basically they shouldn't keep him from running.
Are lawsuits possible?
"We're looking at some avenues. We're going to be aggressive here."
How would Baffert explain the other incidents in which his horses failed tests?
"A lot of them were just mistakes. This is from 1971. Down the road I used to be a little sloppy. They were overages, nothing really serious."
"The last couple years I've had…Justify was the big one. He ingested scopolamine, which comes in the hay. I couldn't prevent that. We resolved that. It was a bad headline. "
"I had a groom (with COVID) that urinated in the stall and the horse ate it, a cough medicine. We resolved that."
"Things like that happen because they're testing at these extremely low levels. This would not have been a positive in California. That's the thing with racing. It's not uniform. They just changed these rules in Kentucky.
"Then in Arkansas, I had a positive last year, we found out we just resolved that because there (were) other horses that tested positive in the Arkansas Derby that were right below the threshold so they got contaminated within 45 minutes of the race. "These things happen, but when they're testing at these new levels…they just started this because everyone's like…we got to clean up this sport and new (Horseracing Integrity and Safety Act), and I was one of the first trainers behind it so I think it's good…We need people from the outside looking in. The regulators that we have right now they just don't use common sense. It's getting really bad.
Where is Medina Spirit now?
"Horse is in a van headed to the Preakness. We usually fly him there but the cargo company just lost their lease so they had a van. First time ever in a van. 10 hour (drive)."
Is there sabotage in the industry?
"I've never been a conspiracy theorist but I'm starting to suspect its been happening to me on the big day. We have security, we're watching them. These horses don't live in a bubble. The environment, stall  is open and people can walk through any time. It just seems really strange now that here's a horse who didn't get that specific drug, was not treated with that and that's mind boggling right there that somebody either tried to contaminate… we just don't know. I hate to speculate, we just don't know.
"Today we're working on Maryland, the Preakness…I haven't been told anything. I just know what we read. That's all we do is sit and wait."
What would he say to officials watching?
"I didn't administer that. I'm an open book. I'm a Hall-of-fame trainer. I've had a lot of success and a lot of people out there don't like it. That's part of the game, I understand it. But I didn't do it.
"They need to look at this in a different way. It shouldn't have been called a positive and they know its a contaminate level. I keep saying racing has a lot of problems but Bob Baffert isn't one of them. With success comes a lot of jealousy and animosity, but I'm an open book. I'm very transparent…we're an open book."
How would you rate this article?
This site contains commercial content. We may be compensated for the links provided on this page. The content on this page is for informational purposes only. Action Network makes no representation or warranty as to the accuracy of the information given or the outcome of any game or event.