Why Horse Racing Sites Don't Show Your Payouts When You Bet & How to Calculate Them
Credit:
Ezra Shaw/Getty Images. Pictured: Kentucky Derby winner Rich Strike, with jockey Sonny Leon in the irons, at Churchill Downs.
Before same game parlays, horse racing was the preferred sport for the "risk a little, win a lot" bettors.
But when putting in your exotic bets like exactas, trifectas or Pick 4 wagers, among the many other betting options, you don't actually see a payout. You just put in the amount you want to bet, and you get your confirmation that it's been placed. Some horse books might have an "estimated payout" field for certain wager types, but that range is pretty wide.
This is because horse racing uses a pari-mutuel betting system, meaning both the odds and payouts are determined by how much money is wagered on each horse. There's no "house" like a sportsbook that takes your action and moves the odds as it sees fit (though the tracks do take a cut of winnings, of course). When FanDuel accepts your 10,000-1 same game parlay, they're assuming the risk. But in horse racing, you can only win what others have bet, and what others do not win.
In the TVG betslip below, you can see two wagers I've placed — a trifecta box that has no payout, and a Kentucky Oaks/Kentucky Derby Double that has an approximate payout.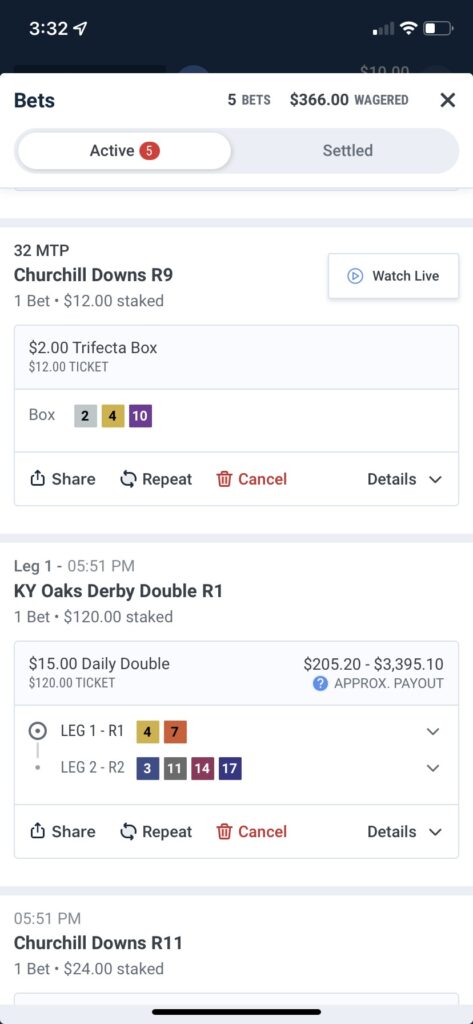 Why Don't They Show Payouts?
The simplest way to think about horse racing payouts is that you share the prize pool with the other bettors who also won the same bet type as you. 
But you don't know the final prize pool until the race starts, because other bettors are still wagering, so the betting platform can't calculate any kind of payout. If you're the only person who bet an exacta in an obscure horse race (which will never happen, but bear with me), you actually wouldn't win anything.
Can I Calculate My Own Payouts?
Calculating horse racing payouts on your own is complex, especially as the wagers get more complicated.
Here's a simple example for an exacta.
1,000, $2 exacta tickets are placed on a race
That means there's $2,000 in the exacta pool.
If 20 people had the winning ticket, they'd receive an equal share of the $2,000 prize pool (this is assuming they all bet $2; if you bet more, you'd get a bigger percentage).
$2,000 / 20 is $100, so if you had a winning ticket, you'd get paid out $100, minus whatever cut the track takes.
On most horse racing apps, you'll be able to see the money in the pool and calculate potential winnings if you want. The problem is that the odds and money is always changing, and it really spikes in the hour or so leading up to the race.
Example from Churchill Downs
Let's look at another example, from Friday's Kentucky Oaks.
Leading up to Race 8, there had been $138,753 wagered in the exacta pool.
Just $89 of it had been placed on the No. 3 horse winning and the No. 1 horse finishing second. That means if you had $1 on that exacta, you'd win 1.12% of the prize pool, minus the track's cut. That comes out to around $1,500.
So why is the payout so high? Because the No. 3 horse is a longshot at 17-1. If the favorites had come home in first and second, the payouts would have been much lower.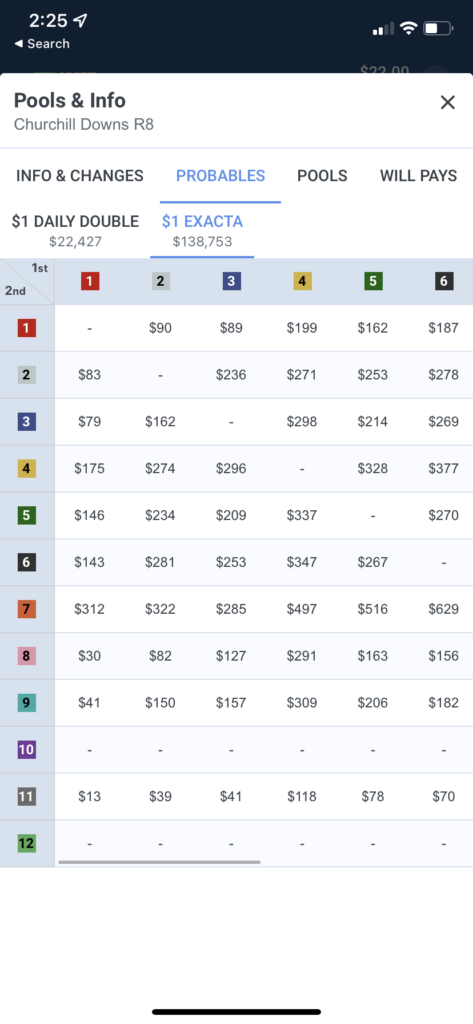 How would you rate this article?
This site contains commercial content. We may be compensated for the links provided on this page. The content on this page is for informational purposes only. Action Network makes no representation or warranty as to the accuracy of the information given or the outcome of any game or event.