UFC 236 Betting Preview: Max Holloway & Dustin Poirier Rematch for Lightweight Gold
Credit:
Tom Szczerbowski, USA Today Sports. Pictured: Max Holloway
Max Holloway is a -275 favorite over Dustin Poirier in the main event of UFC 236 in Atlanta, Ga.
Holloway is riding a 13-fight win streak but is moving up in weight for this fight. Will that level the playing field?
UFC 236 betting odds: Max Holloway vs. Dustin Poirier
Max Holloway -225
Dustin Poirier +175
Fight Time: Approx. 12:00 a.m. ET
Channel: Pay-per-view available on ESPN+
In February 2012, Max "Blessed" Holloway made his UFC debut. He was 4-0 in career as a professional MMA fighter and was thrown into the cage on short notice to fight Dustin "The Diamond" Poirier. At the time, Poirier was 11-1 in MMA and 3-0 in the UFC. Poirier submitted Holloway via mounted triangle-armbar in the opening frame.
Seven years and 19 fights later, Holloway (20-3) is again stepping up to take on Poirier (24-5). This time, the incumbent UFC Featherweight Champion Holloway is making his lightweight debut and looking to secure the interim UFC Lightweight Championship.
No longer confined to the prelims, No. 4 pound-for-pound Max Holloway and No. 3 Lightweight Dustin Poirier are the main event of UFC 236.
How Holloway can win
Max Holloway's path to victory is through his striking. "Blessed" is the best in the sport at manipulating volume, tempo, rhythm, angles and stance to create a diversified striking attack.
During a single combination, Holloway can attack both the head and body, land with his hands and feet, and utilize both the orthodox and southpaw stances.
Among all active UFC fighters, Holloway is ranked:
No. 1 in significant strikes landed: 1627
No. 2 in significant strikes landed per min. (SLpM): 6.90
No. 3 in total strikes landed: 1773
No. 8 in strike differential: +2.87
Holloway's top-notch cardio allows him to utilize these advantages at an unmatched pace. In championship fights, Holloway pulls away as the fight progresses:
Against Poirier, Holloway will look to exploit his main advantages in this fight: pace, confidence and durability. Holloway averages 6.90 SLpM, +1.31 versus Poirier.
Holloway thrives in controlled chaos. When "Blessed" initiates exchanges, he is always thinking steps ahead of his opponents. Holloway refuses to be forced off his game plan and has the defensive tactics to operate safely in the pocket. Moreover, Holloway has an incredible chin that has been able to handle everything thrown at him thus far.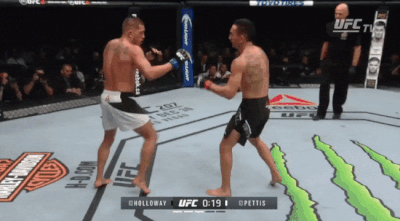 When Poirier gets hurt, he tends to fire back over-aggressively, which leaves him open defensively. If Holloway can get Poirier to overextend in prolonged exchanges, he can exploit these moments to score major points and damage.
Holloway has shown an ability to surprise opponents with takedowns, but it's more likely Holloway utilizes his 83% takedown defense rate to keep the fight standing.
If the fight does hit the mat, Holloway is a capable enough grappler that he should look to initiate scrambles to get to the feet. The Hawaiian may even threaten with some chokes of own.
How Poirier can win
Poirier's biggest weapon is his boxing. "The Diamond" throws crisp, powerful combinations on the feet. He is also able to fight moving forwards and backwards, and seamlessly mixes in clinch knees & elbows.
Poirier used to get himself into trouble by fighting recklessly but has demonstrated an improved ability to stay composed and fight through adversary in recent years.
Dustin Poirier managed to TKO Eddie Alvarez in the second round during their rematch back in July, 2018.

Poirier has finished each of his last three opponents (Alvarez, Justin Gaethje, Anthony Pettis) pic.twitter.com/mU6jQb33wD

— Action Combat (@ActionFights) April 8, 2019
Poirier has knocked out six of the nine men he's faced since moving up to lightweight in 2015. Among all active UFC lightweights, Poirier is ranked:
No. 1 in strike differential: +2.69
No. 2 in SLpM: 6.83
No. 3 in knockdowns landed: 7
No. 5 in significant strike accuracy: 50.2%
Against Holloway, Poirier needs to focus on maintaining his composure while landing punches early and often. Most opponents succumb to Holloway's frenetic pace and sap their cardio trying to put him away. Once Holloway survives their best shot, his opponents are left tired and vulnerable.
Poirier faced similar threats against Eddie Alvarez and Justin Gaethje and was able to stay the course. Poirier overcame adversity in both fights en route to finishing both men via strikes.
Poirier is at his best as a finisher against the fence, and he'll need to utilize that here. It won't be as easy as their first fight, but the more Poirier can take away Holloway's ability to manipulate open space, the better the chance Poirier will win the fight. It's been a very long time since we've seen Holloway lose, but in those fights the Hawaiian was physically controlled by his opponent.
Poirier's takedowns are most effective when he can get his opponent to worry about the strikes coming at them. Holloway is there to be hit – especially when forced to fight off the back foot – and occupying Holloway on the feet is the best path for Poirier to secure dominant position.
Holloway has looked invincible in recent years, but he's never fought at lightweight. If he presents Poirier with the same openings Jose Aldo and Brian Ortega were able to capitalize on, "The Diamond" can end the fight.
The X-Factor: Knockout Power
In Poirier's current 11-2 (1 NC) run, he's only been finished by fighters with one-shot knockout power. In both losses, Poirier was caught cold at the beginning of the fight. In Max's four championship fights, all his finishes have been TKO's due to damage accumulation.
Looking at the numbers, Poirier is the more powerful striker. Let's look at the statistics for both men in their wins since losing to Conor McGregor.
It takes Poirier just 57% as many strikes as Holloway to knock his opponents out. Conversely, Holloway needs 1.75x as many strikes as Poirier to finish an opponent.
If we look at each man's SLpM and their significant strikes per knockout, the numbers indicate Poirier will meet his usual threshold six minutes earlier than Holloway does.
Current and Past Odds
Holloway is entering the bout as the favorite for the eighth time in ten fights. He's consistently offered odds in the -200 to -299 range.
Holloway opened the week as a -230 favorite, but has since moved down to -225.
Riding a three-fight win streak, Poirier enters as the underdog for the first time in eight fights. This is the largest underdog Poirier has been since he fought Conor McGregor in 2014.
Prediction
Both men have clear paths to victory. Holloway has demonstrated his method more reliably, but Poirier has more options if his initial game plan falters.
We've seen Poirier look revitalized since coming to lightweight, and we've never seen Holloway's chin tested at this weight class. The power punching numbers also paint a picture that favors Poirier.
I have this fight as nearly even. Since the ROI of a bet on Poirier is nearly 4x that of a bet on Holloway, there is only way I'll bet this fight.
The Pick: Dustin Poirier +175
How would you rate this article?