NBA Win Total Odds & Pick: Will the Miami Heat Be Elite With Kyle Lowry?
Credit:
Issac Baldizon/NBAE via Getty Images. Pictured: Kyle Lowry #7 of the Miami Heat.
The Miami Heat are expected to be in contention in the East with an over/under of 48.5 wins.
Matt Moore analyzes their win total odds below.
Check out this post for updated season win totals and this post for my other 29 season win total picks.
Miami Heat Win Total Odds
The Case for the Over
Let's start with organizational precedent. The Heat have gone over in four of the six seasons since LeBron James departed. Erik Spoelstra routinely gets the most out of his rosters, and this one has talent.
Miami has a constant win-now approach. They will never peel off of a season to regroup or tank. As long as Pat Riley is there, they aim to contend and are a calendar year removed from making the Finals.
Miami's team mindset plays a role here. The Heat knew they weren't that good last year and still made a late push to avoid the play-in and sneak into the No. 6 seed despite everything that went haywire.
Kyle Lowry is a pretty obvious upgrade. He averaged 17-7-5 with his usual charge-drawing defense and still shot 40% from 3. Putting Lowry as a floor spacer and creator who's not a defensive liability next to Jimmy Butler is a natural fit.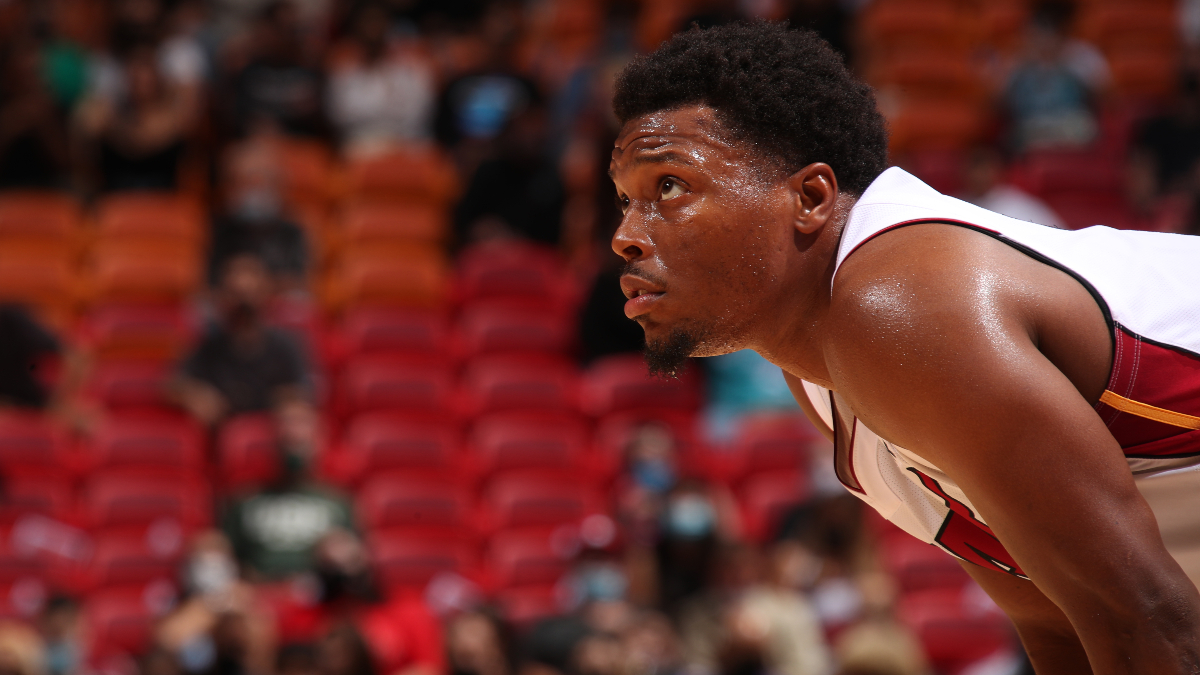 Lowry shot more 3's per 100 possessions than Goran Dragic last season and shot better from 3 as well. He's a clear upgrade over Dragic and Kendrick Nunn and allows Tyler Herro to operate more as a third scorer/playmaker, a more natural fit for him.
Miami fell victim to the same fate that befell all of the Final four teams from 2020. The conference finalists from the bubble all had disappointing seasons, with only Denver escaping the first round (and subsequently swept).
In the first half of the season, the Heat couldn't score (25th in offensive efficiency before All-Star) but could defend (seventh in defensive efficiency). The Heat in the second half could score (10th in offense) but couldn't defend (17th).
So the good news is that they showed the ability to do both. They just couldn't figure it out at the same time.
PJ Tucker gives them another solid defender who is comfortable shooting corner 3s and Markieff Morris much of the same. They're a more veteran team now, which will lower the mistakes sustained.
Their schedule is average in terms of back-to-backs and rest advantage vs. disadvantage, and they play in a weak division with only one serious division contender in Atlanta. Orlando is likely the worst team in the league this season, and Charlotte and Washington are likely still play-in teams.
Miami was 26-10 vs. teams under .500 last season, the same record as the Hawks and Knicks, which puts them in that conversation for the No. 4 seed.
The Case for the Under
Let's boil this down: It's upgrading Goran Dragic for Kyle Lowry. That's it. Adding Tucker is a mixed bag; he shot 39% for Milwaukee after the trade deadline over 20 games but just 31% in Houston.
Certainly, his motivation in Houston was compromised, but Tucker tends to be an inconsistent single-dimension player on offense. The defense may improve, but he'll be 36 next season.
Lowry will be 36. Butler turns 32 before the season, Morris and Dewayne Dedmon are both 32 as well.
This is an old group, trying to make a run without a top-five player (unless you consider Butler to be in that tier). Butler's best games are masterpieces, combinations of playmaking, scoring, and defense. But Butler is often graded on those best performances, while his inconsistency goes unnoticed.
Butler isn't a player you can count on to carry you game after game; he's a player who carries you one game with an incredible tour du force and then is quiet in the next game often as his teammates receive the criticism, then later has another monster game.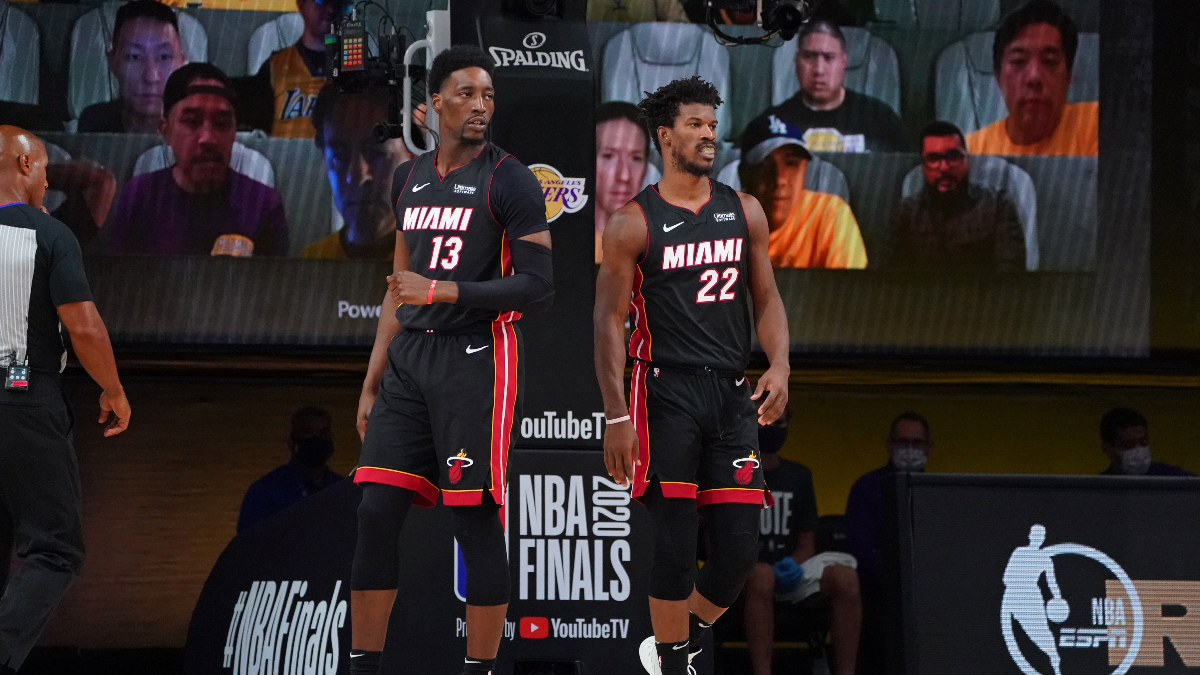 The Heat retained their top three players in Win Shares last season (Butler, Adebayo, and Duncan Robinson), but they did lose six of their top 10 players. Those players matter less than the top, and Lowry likely slots between Adebayo and Robinson, which matters more than Andre Iguodala, Trevor Ariza, and Achiuwa combined.
The number is tight. If you pencil in the Sixers, Bucks, and Nets for over 50 wins, you need to feel like the East may have four 50-win teams here. You have that 49-wins outcome right in the middle, but the high-end outcomes all wind up at or north of 50.
More than three teams have finished with 50 wins in the East just twice in the last ten seasons. So you either need to believe a reasonably irregular outcome occurs or that one of Milwaukee, the Sixers, or Nets slide and the Heat take their place in the top echelon in the East.
Miami's extra conference opponents are the Bucks, Nets, Sixers, and Bulls, along with the Raptors and Pistons.
Bear in mind that their 2020 win percentage adjusted for the stoppage came out to 49 wins. That was a team that finished with the second-most wins vs. teams .500 or better that year, a number that regressed significantly last season.
So across the two seasons with Butler, we have two seasons where they were inconsistent in beating teams .500 or better (a more naturally inconsistent figure you can't bank on) and inconsistent in beating teams under .500 (a more stable figure that better forecasts success).
Heat Win Total Bet
This team is an intersection of too many competing ideas.
It's easy to criticize my work as being too detailed, and if you take the very top level on this, the equation is easy: Lowry + Butler + Spoelstra = 50 wins.
Throw in Adebayo and Robinson, and that's good enough. The coaching aspect should not get lost here; on top of Spoelstra's history vs. the win total, high-level coaches like Spoelstra reinforce your win profile against things that can subvert it.
Their number (48.5) feels dead-set in the middle of their bell curve of outcomes, with a sizable chunk between 47 and 52 wins. That leans towards the over slightly.
Their nightmare scenarios seem low-probability; it would take Butler and Lowry both deconstructing. That's possible given their ages and minutes; it's just unlikely. They are pros who take care of themselves, even though they will both miss between 10 and 15 games most likely.
The division is pretty soft outside of Atlanta; they went 6-6 against the division last year, but that should improve.
OK, look, I'll cop to it. I don't believe in this team. I think the season before was much more of a fluke, even before the bubble stuff, than last year. It's not that I think the Heat are below average. It's that I don't have a lot of confidence in them to be great.
I have every logical reason to take the over here and probably to lightly hammer it. Like, with that rock hammer from "Shawshank Redemption" or something.
Are the Heat with Lowry, a 50-win team? It's just not 2016 anymore, we're about four years past Lowry's peak. Even the title season in 2020 was more about him veteran-ing the hell out of it alongside Kawhi than vintage Kyle-Lowry-Over-Everything.
So if you're asking me for a recommendation? Sure, it's the over, but I'm not betting it.
I worry this team's number is inflated by hype and perception vs. reality, and the bizarro nature of the last two seasons has done as much to obfuscate Miami's structural weaknesses as it has to provide adversity for them to overcome.
How would you rate this article?
This site contains commercial content. We may be compensated for the links provided on this page. The content on this page is for informational purposes only. Action Network makes no representation or warranty as to the accuracy of the information given or the outcome of any game or event.