College Baseball Betting Odds & Regional Picks: 16 Bets for 2022 NCAA Baseball Tournament
Credit:
Jamie Schwaberow/NCAA Photos via Getty Images. Pictured: The NCAA baseball trophy by a base.
The 2022 NCAA College Baseball Tournament is upon us.
With 16 Regionals to break down, Collin Wilson explains what to expect from Tennessee, Stanford and more from a betting perspective.
Check out Wilson's top bets for each college baseball Regional below.
Friday marks the beginning of the NCAA College Baseball Tournament, as 64 teams begin their roads to Omaha.
With 16 Regionals taking place across the country, Collin Wilson takes a look at which teams will advance to a Super Regional to keep their season alive. Along with Regional bets, Wilson analyzes key players to emphasize when a specific pitching matchup warrants a bet on a single game.
Whether it's a heavy favorite like Tennessee or a big underdog against two powerhouses like Grand Canyon, we have you covered.
Also, be sure to check out Wilson's projections and the bets he makes for each college baseball game throughout Regionals here.
---
Knoxville Regional
The college baseball world is essentially 292 Division I programs versus the Tennessee Volunteers.
Head coach Tony Vitello has had a target on his team since the season started, losing just five games through all weekend series in 2022. The Volunteers finished No. 1 in RPI despite a nonconference strength of schedule rank of 225th. Tennessee has performed well when tested, shown by a 22-4 record against the RPI top 50.
Alabama State will send staff ace Breon Pooler in a game that has plenty of value for the Hornets. Tennessee -3200 should be lined closer to -800 with Blade Tidwell or Chase Dollander on the mound, making Alabama State +1200 almost a required play for Chipotle money.
The Hornets are sure to end up in the Knoxville losers' bracket fighting for their postseason lives against Georgia Tech or Campbell.
The Camels were the one lower seed that could have sneaked in a Regional victory in any location other than Knoxville. Thomas Harrington has been one of the best pitchers in the nation for a Campbell team that supplies plenty of run support.
Georgia Tech will counter with John Medich or Marquis Grissom Jr. on Friday with a projected line of -110. Campbell +125 against the Yellow Jackets is one of the first plays that should be made before opening action.
The size of the wager should increase with Medich as the Georgia Tech starter. The sixth-year senior has been lit up for 11 earned runs in his past two appearances.
The chances of the Camels defeating the Volunteers begin with pitcher Cade Boxrucker in a possible winners' bracket game. Tennessee is projected at -440 with Tidewell or Dollander facing Boxrucker, but the Vols will certainly be inflated in the market.
The biggest upset in college baseball history may be a Campbell victory in Knoxville, but the safest play is a small wager on the home team with a hedge against the Camels.
Pick: Tennessee -525 (Hedge vs. Campbell on Saturday)
To see a matchup matrix for the Knoxville Regional, click here.
---
» Return to the table of contents «
---
Stanford Regional
Welcome to the Stanford Regional, where the Cardinal scored 153 runs in conference play at Klein Field versus just 97 runs on the road in the Pac-12.
Teams traveling out west for this Regional will have to hit the ball, as Stanford mashed more than any team in the nation when it comes to home games. The Pac-12 champions swept the conference tournament and moved into the No. 2 overall seed, paving a path to avoid Tennessee until the College World Series Championship round.
First, Stanford will be heavy favorites against a Binghamton team that won the American East.
Joining Stanford in the winners' bracket on Saturday is the winner of UC Santa Barbara and Texas State.
The Bobcats are the more proven commodity with an RPI of 26th and a stout 18-5 record away from San Marcos. Zeke Wood is projected to be a small favorite over UC Santa Barbara no matter if Jaykob Acosta or Mike Gutierrez gets the nod for the Gauchos.
No matter the winner of UC Santa Barbara vs. Texas State, the Cardinal are projected as -340 favorites at a minimum over both teams on Saturday and in the Sunday championship round.
Stanford has value through -180 considering the moneyline spread projections throughout the region.
Pick: Stanford -155
To see a matchup matrix for the Stanford Regional, click here.
---
» Return to the table of contents «
---
Corvallis Regional
For fans of college baseball, the sight of Vanderbilt and Oregon State on the same field during a Regional is a dream.
The Commodores are a shell of their former championship selves in previous campaigns, while the Beavers bring the best defense in the nation alongside a pitching staff that ranks top-10 in ERA and WHIP.
With New Mexico State up first, Oregon State is expected to sit one of best pitchers in Division I in Cooper Hjerpe.
Vanderbilt will begin its road to Omaha with San Diego, the West Coast Tournament winner that earned the automatic bid. Team strikeout leader Brycen Mautz is expected to get the call against the Commodores on Friday, but the current DraftKings line of +135 are the proper odds against Vanderbilt.
San Diego's staff struggles outside of Mautz, which should play into a Vanderbilt vs. Oregon State finale in Corvallis.
The Beavers may be the one team that can contain electric Enrique Bradfield Jr. from stealing a ton of bags.
Oregon State not only mixes an elite pitching staff with defense, but the offense is one of the better ones in Division I in taking walks and advancing runners. The Beavers have one of the highest numbers in base runs, a stat that indicates the pure strength of a lineup without dependency on the order of hits.
Look for Oregon State to win this Regional by fielding the best starting pitcher, defense and pesky batters with low chase rates.
Pick: Oregon State -140
To see a matchup matrix for the Corvallis Regional, click here.
---
» Return to the table of contents «
---
Blacksburg Regional
Long gone is the Wright State team that put astronomical numbers on the scoreboard last season. The Raiders have cooled to 60th in home runs per nine innings with a pitching staff that ranks outside the top 200 in staff ERA and WHIP.
Virginia Tech pitcher Griffin Green is projected at -480 in the opener against Wright State ace Jake Shirk. The Hokies were dominant in a powerful ACC, earning the right to host a Super Regional and a 4-seed into Omaha.
The bigger question is whether or not the Gonzaga sticks will meet the Hokies in the winners' bracket.
A loss to San Diego in the West Coast Tournament did not deter the Bulldogs from snagging an at-large bid. Gonzaga now travels cross-country to English Field, one of the most explosive fields for runs in all of Division I baseball.
The Bulldogs have been fantastic out of West Coast play this season, posting a 4-3 record against RPI top-25 teams with a nonconference strength of schedule that ranked second in the nation.
Owen Wild projects as a -170 favorite over Columbia's JD Ogden in the first game, but the current market price is well above at -230.
Whether Virginia Tech elects to throw Green or Drue Hackenberg against Gonzaga doesn't matter to the projection, as the Hokies -200 should be the line against the Bulldogs in the winners' bracket.
A sweep of the weekend should be priced at +160 for Virginia Tech, making the Hokies' Regional price inflated.
Teams that come to Blacksburg over the next two weeks must have flammable bats, and no other team in the opening weekend can match the firepower of Virginia Tech.
Although the Hokies are the pick, finding a future or an Omaha prop is the better investment.
Pick:  Virginia Tech -155
To see a matchup matrix for the Blacksburg Regional, click here.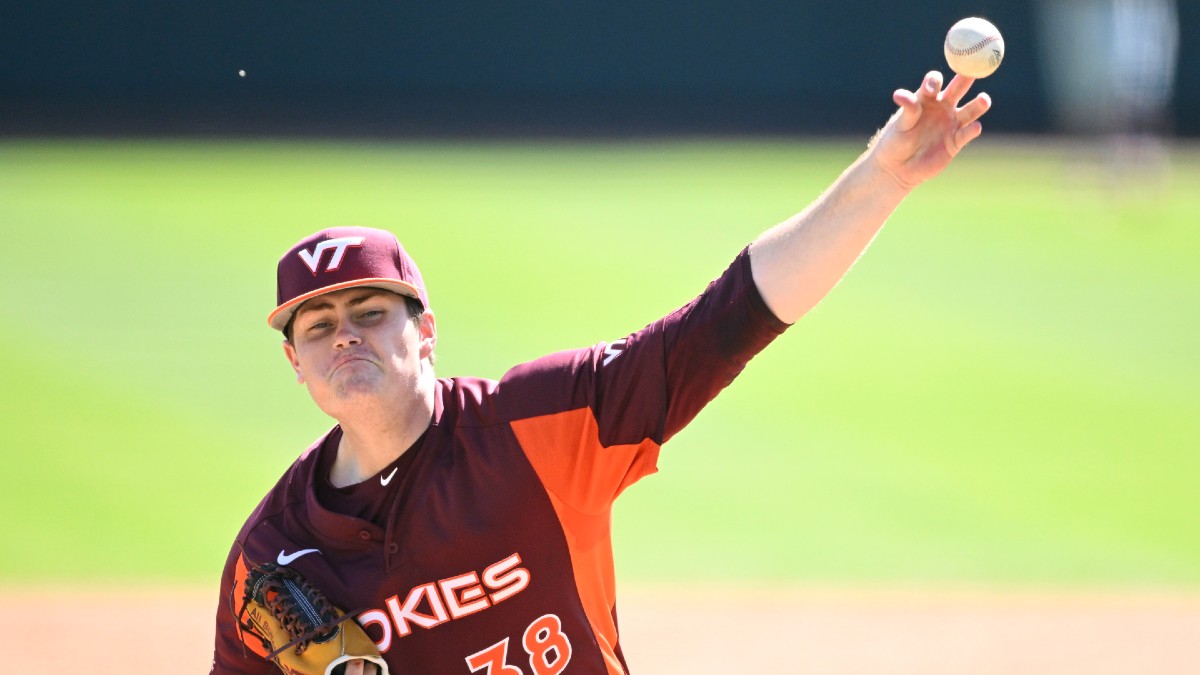 ---
» Return to the table of contents «
---
College Station Regional
For those listening to the Big Bets On Campus podcast, Texas A&M 150-1 futures were banked on the first episode. Now, the Aggies must survive an Oral Roberts team with an excellent staff and defense before potentially taking on TCU.
For Horned Frog fans, this is a dream scenario after head coach Jim Schlossnagle left Fort Worth for College Station a year ago.
First, Texas A&M will throw Micah Dallas or Nathan Dettmer against Golden Eagles ace Ledgend Smith. The Aggies project at -175 in that pitching matchup, well below the posted line of -235.
Oral Roberts had one of the worst strength of schedules in the nation combined with a record of 3-7 against RPI top-50 teams.
The Aggies will move on to play the winner of TCU and Louisiana.
The Horned Frogs will be in a toss-up against the Ragin' Cajuns, as TCU starters Cam Brown and Marcelo Perez project as -120 favorites against Louisiana starters Brandon Talley and Jacob Schultz.
TCU enters the opening game lined at -175, indicating a Friday bet on a Louisiana team that swept the Sun Belt Tournament against Regional teams in Georgia Southern and Texas State.
Texas A&M projects as -170 favorites against both TCU and Louisiana in the winners' bracket, giving the Aggies true odds of +300 to sweep the regional.
For those who bought a generous future, there will be no hedge coming from this writer. The play is Texas A&M to win the Regional, but the best financial advice is a rolling moneyline on the Aggies in each game of this round.
Winner:  Texas A&M +110
To see a matchup matrix for the College Station Regional, click here.
---
» Return to the table of contents «
---
Coral Gables Regional
Mark Light Field is expected to get plenty of rain from a heavy storm system currently residing in the Gulf of Mexico.
Because Miami boasts the best starting and bullpen staff of any team in this Regional, the Hurricanes are in prime position to throw any arm at Canisius while saving ace Carson Palmquist for Game 2.
Despite a losing record against the RPI top 50, Ole Miss ended the season with a flurry of wins. The Rebels swept Missouri, beat Regional host Southern Miss in Hattiesburg and swept LSU in Baton Rouge.
Ole Miss got hot on the road before a single-elimination scenario played out in a short 3-1 loss to Vanderbilt in the SEC Tournament. Ole Miss is expected to throw Dylan DeLucia or Hunter Elliott against Arizona's Garrett Irvin or TJ Nichols.
While the Rebels won plenty of games on the road down the stretch, the Wildcats struggled away from Tuscon all season. The Rebels and Wildcats are a projected coin-flip on Friday night, far from the current posted line of Ole Miss -155.
The Rebels have top-25 pop in terms of home runs and slugging to hang with any team in the Regional, but it's the timing of Miami and its southpaw ace that wins this Regional.
Look to bet the Hurricanes not just for the Regional, but also on the days Palmquist is listed as the starter.
Pick:  Miami +100
To see a matchup matrix for the Coral Gables Regional, click here.
---
» Return to the table of contents «
---
Stillwater Regional
Stillwater will host a mountain of talent this weekend, as Grand Canyon posted a rank of 26th in nonconference RPI and a 7-5 record against top-50 teams.
Oklahoma State earned hosting duties after trading victories with Texas in the Big 12 Tournament, sending its RPI into the top 10. However, there are questions about whether the Cowboys deserve to host after being swept by Texas Tech to close the season and taking a nonconference loss to Dallas Baptist.
Then comes Arkansas — a team that dropped from a sure-fire Super Regional host all the way to a 2-seed.
The Razorbacks ended the season without a whimper, losing four straight, including three losses to Alabama. Arkansas lost to Missouri State at home on May 3 in a game that could be a rematch on Saturday.
Connor Noland is expected to get the start Friday against Grand Canyon, as the projection is a short -110 against Antelopes ace Daniel Avitia. Freshman lefty Hagen Smith will also get a start in Stillwater, but he was torched for 10 earned runs in his final two starts of the season.
Neither Oklahoma State nor Arkansas look dominant. The Pokes' Justin Campbell is one of the best pitchers in the nation and is more than likely going to be saved for the Saturday matchup with Arkansas or Grand Canyon.
This is a great spot for a hungry, well-tested team like Grand Canyon to catch two premier programs that struggled down the stretch.
Grand Canyon projects as +110 underdogs to Arkansas and +130 dogs with Nick Hull facing Campbell. That's more than enough to give value to the 3-seed in this Regional.
Pick:  Grand Canyon +350
To see a matchup matrix for the Stillwater Regional, click here.
---
» Return to the table of contents «
---
Greenville Regional
The road to Omaha passes through Greenville, but that doesn't make East Carolina the betting favorite to win at home. The Pirates have long suffered in June, making postseason play 32 times since 1964 and never winning a Super Regional for a spot in Omaha.
East Carolina will open play against MEAC champion Coppin State. The Pirates are projected -560 favorites over the Eagles with Josh Grosz — and the odds will be even higher if C.J. Mayhue is used in Game 1.
Regional favorite Virginia ended the season by losing four of its final five games — a series loss to Louisville and a two-and-out of the ACC Tournament against Florida State and Notre Dame.
Coastal Carolina did enough to qualify as an at-large entry thanks to a nonconference RPI rank in the top 10 and an 8-7 record against top-50 teams.
The Chanticleers are a play at +135 Friday, projecting as a short favorite with Reid VanScoter or Michael Knorr facing the Cavaliers' Brian Gursky or Nate Savino.
With East Carolina and Coastal Carolina expected to meet in the winners' bracket, this region is primed to see an upset. In a head-to-head matchup, Chants ace VanScoter would be a -130 favorite against Pirates ace Mayhue.
That alone is enough to give plenty of value to a Coastal Carolina number that should be lined at +160.
Pick:  Coastal Carolina +275
To see a matchup matrix for the Greenville Regional, click here.
---
» Return to the table of contents «
---
Austin Regional
One of the first bets of the college baseball season was a Dallas Baptist future, now listed at 130-1 to win the national title.
For a team strong on talent, this season has seen one of the more bizarre schedule results for the Patriots. DBU finished with the highest non conference RPI and strength of schedule thanks to a 6-2 record against three regional hosts in Southern Miss, Oklahoma State and Maryland.
Head coach Dan Heefner had his team ready when needed, evidenced by a 7-4 record against the RPI top 25 and a 14-12 record against teams ranked No. 26-100.
Neither strikeout leaders Jacob Meador nor Bubba Hall pitched in the two losses at the Missouri Valley Conference Tournament.
Similar to Florida, Texas roared back this season after losing its best pitcher in Tanner Witt.
Lucas Gordon and Pete Hansen have anchored the staff, while first baseman Ivan Melendez is one of the most feared home run hitters in the nation.
Hansen or Gordon are lined -250 in the opener against an Air Force team that has strong numbers at the plate. The Falcons rank top-10 in batting average, doubles and slugging percentage.
A moneyline play of Air Force +270 has nearly a full dollar of value in the opener against the Longhorns.
Louisiana Tech may be the quick out in this region after playing a schedule that feasted on teams outside the RPI top 100.
Texas -120 to win the Regional has no value, considering the Longhorns are projected as -280 favorites in three consecutive games equaling true odds of +150.
While playing Texas for the region is the pick, sending fractional units on Dallas Baptist +340 and Air Force +1400 is suggested as a hedge.
Winner:  Texas -120
To see a matchup matrix for the Austin Regional, click here.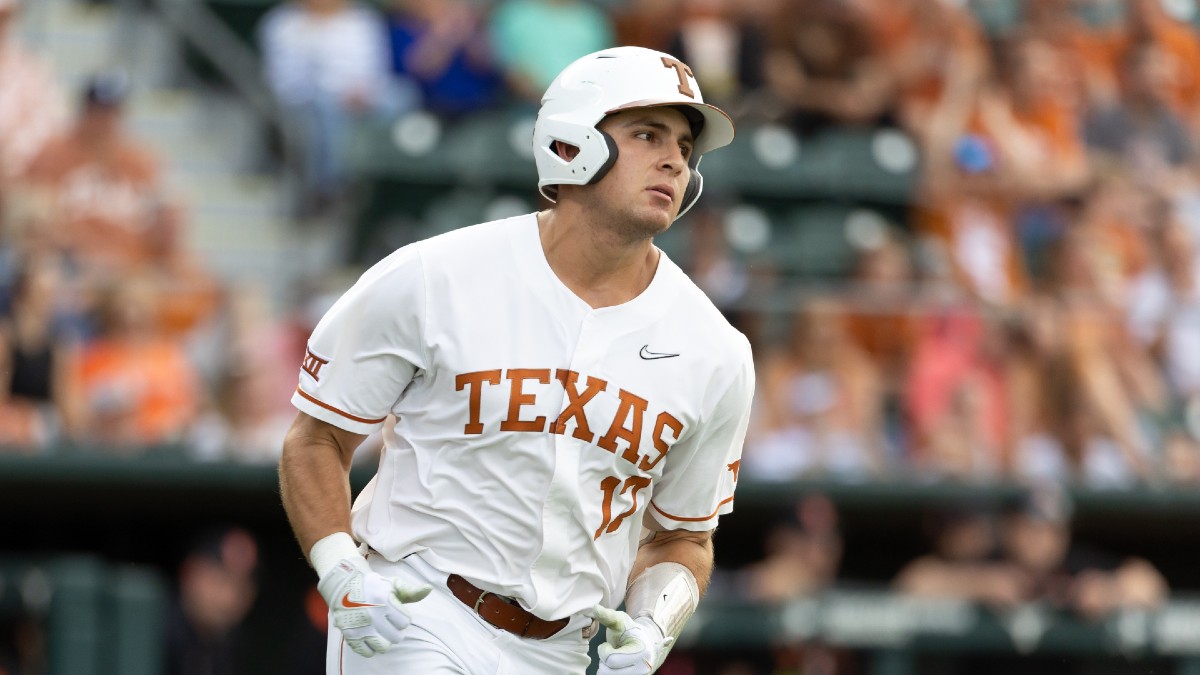 ---
» Return to the table of contents «
---
Chapel Hill Regional
There may not be two more contrasting season endings than North Carolina and Georgia.
The Tar Heels won the ACC Championship, completing a streak of 12 victories in 13 games. Meanwhile, Georgia stumbled, with four consecutive series losses against LSU, Vanderbilt, Tennessee and lowly Missouri.
The Bulldogs lost in the first round of the SEC Tournament, which plays by single-elimination rules.
From a recency standpoint, North Carolina should be a heavy favorite at home, where the Heels posted a 29-6 record this season.
The biggest question is when Georgia will pitch Jonathan Cannon, as Nolan Crisp or Jaden Woods would be lined as a +125 underdog to VCU. Once Cannon has been used, the Bulldogs' pitching staff takes a steep drop in staff ERA and WHIP.
North Carolina finished top-40 in home runs per nine with a park factors positive toward runs scored at home.
No other teams has the sticks or pitching that reside on the Tar Heels' roster.
Georgia has been heading in the wrong direction for a month, while VCU has posted near-worst ranks in hitting and defense out of all Regional teams.
North Carolina is a projected -330 favorite over any Georgia pitcher not named Cannon. Take the Heels to advance to the Supers with a number that has betting value to -130.
Pick: North Carolina +100
To see a matchup matrix for the Chapel Hill Regional, click here.
---
» Return to the table of contents «
---
Hattiesburg Regional
Army and Kennesaw State head to Hattiesburg to face off against an ultra-talented LSU squad and Southern Mississippi.
The home team has longer odds than LSU but will be a favorite of -575 against Army. That buffer against the 4-seed allows the Eagles to save Tanner Hall or Hunter Riggins for LSU on Saturday.
Defense should play a big role, as Southern Miss' fielding percentage rank in the top 50 destroys those of the other three programs coming to Hill Denson Field.
Hattiesburg is projected to feature low-scoring games. A park factor of 0.75 shows that Southern Miss scored most of its runs away from home.
Pitching and defense will be key, as LSU projects as a pick'em with Ma'Khail Hilliard or Ty Floyd against Southern Miss.
While LSU has an offense that paces Southern Miss, this Regional is expected to go the distance between the top two teams. LSU's lack of defense will be the ultimate factor, leading the Regional host to advance.
Pick: Southern Miss +140
To see a matchup matrix for the Hattiesburg Regional, click here.
---
» Return to the table of contents «
---
Louisville Regional
Congratulations are in order for Southeast Missouri State, winners of the Ohio Valley Conference Tournament after fighting back from the losers' bracket.
A game against Louisville awaits in a Regional that expects plenty of runs from a park factors perspective. The Cardinals scored an abundance of runs at home this season, as a top-15 rank in on-base and slugging indicates a few pitching staffs may light up come Friday.
What Louisville lacks in pitching is more than made up with home runs from the lineup, but the Cardinals should be lined closer to -580 in the opener against the Redhawks.
Oregon was one of the streakiest teams in the nation, rattling off seven straight wins in mid-April before losing six straight to start the month of May. Victories over Gonzaga and Arizona down the stretch show the Ducks are ready for the postseason after playing a top-10 schedule in terms of opponent strength.
Michigan had the opposite effect from a scheduling perspective, as Big Ten play and a non-conference strength of schedule rank of 69th left the Wolverines without any signature victories.
DraftKings has Oregon at -220, but the projection of Christian Ciuffetelli against Michigan's Connor O'Halloran should be the Ducks -140.
The Ducks will advance thanks to elite fielding and better hitting, but a head-to-head matchup with Louisville yields an underdog projection of +210. This is one of the rare Regionals where the favorite is properly priced.
Take the Cardinals +100 to advance behind an elite offense and the arms of Jared Poland and Tate Kuehner.
Pick: Louisville +100
To see a matchup matrix for the Louisville Regional, click here.
---
» Return to the table of contents «
---
Gainesville Regional
The Gators are the zombies of college baseball postseason play this year.
Staff ace Hunter Barco suffered an injury that required Tommy John surgery at a point the in the season when Florida lost 5-of-6 in consecutive series' against Vanderbilt and Tennessee.
Kevin O'Sullivan is in his 15th season as head coach of the Gators — with a national championship in 2017 — but this season may have been his best campaign to date.
A pair of Brandons — Sproat and Neely — have led the pitching staff to a rank of 31st in ERA and 11th in WHIP.
However, the opening line of Florida -280 against Central Michigan is complete overinflation.
The Chippewas, winners of baseball #MACtion, may not have the overall team numbers to impress, but staff ace Andrew Taylor is a force to be reckoned with. In 79 innings pitched, the flamethrower has amassed 117 strikeouts while allowing just 28 earned runs.
Central Michigan +250 is a play against Florida through +130.
Game 1 of the Regional will see Oklahoma — ranked 20th in RPI — against a Liberty team that lost three of its 10 games against top-25 competition.
The Sooners at -125 is the correct value if projected starter Carson Atwood faces Flames ace Dylan Cumming.
For Central Michigan +950 to have any shot, Taylor must throw from the bullpen in games he doesn't start. No other team has the fielding percentage or home run pop that Florida boasts.
While the true odds for the Gators are +130 in Gainesville, there may be a chance to grab them at a better number if the Chippewas send them to the losers' bracket on Friday.
Central Michigan Over Florida (+250) · Florida to Win Gainesville Regional (+110)
To see a matchup matrix for the Gainesville Regional, click here.
---
» Return to the table of contents «
---
Auburn Regional
The snubbing of Notre Dame as a Regional host proved to be a benefit for Auburn, as the Tigers moved into the 14th overall seed.
Samford Stadium is sure to provide a bevy of runs with one of the highest park factor numbers for Auburn over a five-year conference-play sample.
While the Tigers are outside the top 100 in home runs per nine, first baseman Sonny DiChiara has almost triple the home runs of any other Auburn bat. The home team will start with Southeastern Louisiana, the Southland Conference champions that needed to win eight games to reach these Regionals.
Expect Mason Barnett or Trace Bright to be lined at -390 in the opener against Lions ace Will Kinzeler.
While there may be a copious amount of runs in the late game, UCLA and Florida State will look to flex their pitching statistics in Game 1 of the Auburn Regional. Both the Bruins and Seminoles boast top-10 pitching staffs in WHIP, with a rank of fifth and 26th in ERA for UCLA and Auburn, respectively.
Neither team has instant offense in a Regional that should be filled with runs.
Projected UCLA starter Max Rajcic has value at -160 or better against Bryce Hubbart or Parker Messick for the Seminoles.
The winners' bracket in the Auburn Regional should be Auburn vs. UCLA with a surprising favorite. UCLA's Ethan Flanagan would be a -115 favorite over Auburn's Bright. That number swaps to Auburn as a small favorite if Barnett is held until Game 2.
In either scenario, there's plenty of value on a Bruins team that should have Regional odds closer to +120.
Pick: UCLA +225
To see a matchup matrix for the Auburn Regional, click here.
---
» Return to the table of contents «
---
College Park Regional
The best Big Ten team from an RPI perspective will not be favored despite being the host of a Regional. No. 2 seed Maryland enters with +140 odds, alongside Wake Forest and two other non-contenders.
The Terrapins finished 1-3 against the RPI top 25, but crushed teams outside of the top 50 with a record of 42-8. Maryland will be heavy favorites over Long Island, potentially saving ace Jason Savacool for Saturday.
Wake Forest enters College Park with an RPI of sixth in the country thanks to a beefy non-conference schedule that included regional teams in VCU, UNC Greensboro, Central Michigan, Coastal Carolina and Liberty.
Maryland and Wake Forest both own top-10 ranks nationally in hitting categories, such as home runs per nine, on-base and slugging percentage, with the difference being the Demon Deacons' rise in level of competition.
Both Seth Keener and Rhett Lowder would be a pick'em against Savacool, who posted a 2.89 ERA and 117 strikeouts on the season. After Maryland throws its ace, there's a big drop-off in strikeout-to-walk ratio with the remainder of the bullpen.
Look for Wake Forest to out-hit UConn on Friday, setting up a showdown against a Maryland team that finished outside the top 75 in staff ERA.
Pick: Wake Forest +110
To see a matchup matrix for the College Park Regional, click here.
---
» Return to the table of contents «
---
Statesboro Regional
Although Georgia Southern finished 11th in RPI thanks to a non-conference strength of schedule rank of third, oddsmakers opened the Eagles at the third-shortest odds to win the Statesboro Regional.
Notre Dame has a Power-Five chip on its shoulder after it was shunned from hosting a regional that was given to Auburn.
Texas Tech, dumped by lowly Kansas State in the Big 12 Tournament, continues to have the pop year-in-and-year-out.
This is a fascinating bracket, as Georgia Southern may elect to throw Jaylen Paden and save staff ace Ty Fisher for Game 2.
Notre Dame opens -130 with expectations that John Michael Bertrand faces Andrew Morris from the Red Raiders. That number is lined properly, as Bertrand dominated in his last start against Florida State with support from a staff ERA and WHIP that's best in Statesboro.
A projected winner's bracket of Georgia Southern (with Fisher throwing) against the Irish and Austin Temple could allow the Eagles to be slight favorites.
The issue with backing the regional host at +235 is the usage of Fisher. In competition against postseason teams, Fisher got roughed up, allowing 16 earned runs against Texas State, Coastal Carolina and Tennessee.
Considering Notre Dame's advantages in pitching staff, defense and slugging percentage, look to back the Irish for the Statesboro Regional.
Pick: Notre Dame +145
To see a matchup matrix for the Statesboro Regional, click here.
---
» Return to the table of contents «
How would you rate this article?
This site contains commercial content. We may be compensated for the links provided on this page. The content on this page is for informational purposes only. Action Network makes no representation or warranty as to the accuracy of the information given or the outcome of any game or event.