Wilson: How to Bet Michigan-Texas Tech & Vanderbilt-Louisville in College World Series Final Four
Credit:
Steven Branscombe-USA TODAY Sports: Danny Oriente
The Final Four of the College World Series gets underway Friday (2 p.m. ET, ESPN) as Texas Tech takes on Michigan.
The evening matchup (7 p.m. ET) features Vanderbilt and Louisville.
Collin Wilson breaks down both games and offers his projected odds for the potential Game 2s.
Bracket finalists signify college baseball's Final Four. Arkansas, Florida State, Auburn and Mississippi State fans hit Interstate 29 South early after disappointing finishes. The Razorbacks were first to exit after consecutive 1-run losses. Florida State saw the 40-year career of head coach Mike Martin come to an end.
Auburn was victim to Mississippi State after taking a 4-1 lead into the 9th inning.
Mississippi State cashed an improbable ticket against Auburn in the 9th, but the gambling gods were watching. Thursday night saw the end of Mississippi State after carrying a 3-0 lead against Louisville into the 7th.
So, the College World Series Final Four is all set. Michigan will face Texas Tech while Vanderbilt will take on Louisville. Both Michigan and Vanderbilt are in the respective driver's seats after navigating through the winners bracket. For Texas Tech and Louisville, consecutive victories are needed to advance to the championship round.
---
College World Series Final Four Projected Lines
Check NCAA.com for the latest Bracket
Michigan Wolverines vs. Texas Tech Red Raiders
Spread: Texas Tech -130
Total: 8.5
Game Time: 2 p.m. ET
Thus far in the College World Series mother nature has interfered in only one game, a Louisville-Auburn overnight makeup. Winds have generally breezed across the outfields and have not been a factor to pitchers or hitters. That will all change on Friday, as wind is expected to reach double digits and will be blowing in during the first game.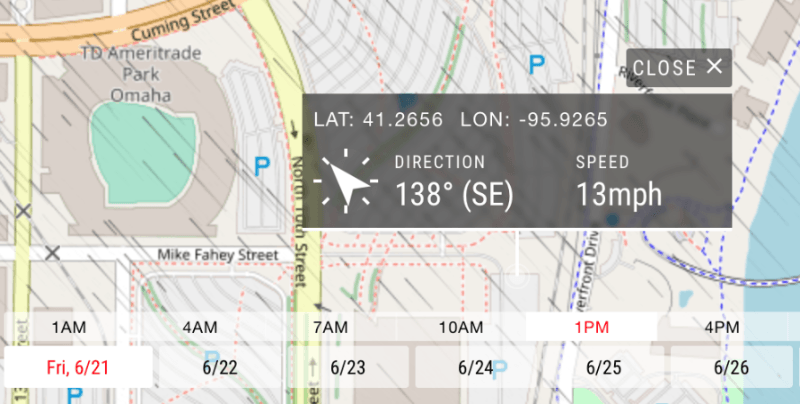 My tweet yesterday regarding the total was a combination of wind and projected starters. With gusts up to 20 mph expected around intermittent storms, both teams send their aces to the mound. The total was playable at 9 or above, but with movement to 8.5 only a small wager or a first-five under could be considered.
Karl Kauffmann and Micah Dallas faced each other in Game 1 of the tournament. Both pitchers gave up three earned runs, with Kauffmann going 101 pitches through seven innings and Dallas just 61 pitches through three. The Michigan offense jumped on Texas Tech early with key hitting and aggressive base running. Kauffmann may have lasted longer, but the Red Raiders struck out only three times and generated eight hits.
Texas Tech will be in survival mode, ready to pull Dallas at a moment's notice against Michigan. Since an opening loss to Michigan, Tech has shown why they are top-20 in slugging, on-base and scoring in Division I.
Michigan is currently getting steamed to +110 as of this writing. The Wolverines closed +140 in Game 1 with the same pitching matchup. Personally, I will wait for the Michigan steam to stop before having a Texas Tech bet forcing a Saturday showdown with Tommy Henry. Friday is all about wind keeping the ball in the park, and the Red Raiders getting more of Taylor Floyd and clutch defense.
The picks: Texas Tech at -120 or better, F5 under
Vanderbilt Commodores vs. Louisville Cardinals
Spread: Vanderbilt -270
Total: 8.5
Game Time: 7 p.m. ET
The wind will play just as big of a factor at night as it will in the first game of the day. While Michigan and Texas Tech can expect gusts straight in from center field, the nightcap will see winds in straight from left field.
The value may be taken out of the total 8.5 posted as of this writing, but taking a number on Louisville may be a different story. No projected pitcher has been announced as of this writing, but staff ace Reid Detmers is next up in the rotation. In case you missed it, Detmers made an appearance against Mississippi State on Thursday night.
Detmers went in Louisville's first game against Vanderbilt, going 5.2 innings with three hits and one earned run. The Cardinals ace represents the best chance to contain a Vanderbilt offense that is top-10 in every offensive category except triples.
The Action Network projects Vanderbilt pitcher Mason Hickman -130 against Detmers, but greater than -170 against any other Louisville pitcher. The current market price of Vanderbilt -270 is simply too much.
The Cardinals are the play at the current price, with additional value on a run line in a projected low-scoring game. With the help of gusts knocking down anything to left field, Detmers may keep this close enough for the Cardinals. In the case that Louisville wins Friday, Vanderbilt is a banger on Saturday with Drake Fellows and Kumar Rocker lined up. That potential game would be Louisville's fifth day on the field in as many days.
The picks: Louisville +1.5, F5 Under
How would you rate this article?