2021 College World Series Odds, Picks & Bracket Predictions: Your Guide to Betting the CWS in Omaha
Credit:
Jamie Schwaberow/NCAA Photos via Getty Images. Pictured: The NCAA Division I Men's Baseball Championship Trophy at TD Ameritrade Park in Omaha, Nebraska.
The most exciting time of the college baseball season starts today, as the College World Series kicks off at TD Ameritrade Park in Omaha, Neb.
Collin Wilson has broken down every team's first game from a betting perspective and has shared two futures to keep an eye on.
Check out all of Wilson's picks, predictions, and projections complete with updated odds below.
The college baseball super regionals ended with a bang as No. 1 overall seed Arkansas lost in Fayetteville to NC State. As a person who saw the series first-hand, I can say the Wolfpack are a worthy team to go to Omaha.
In addition to that upset, Texas Tech was another top-eight national seed wiped away by Stanford in just two games.
2021 College World Series Futures Odds
Before looking at each opening-round matchup, here are current futures odds provided by WynnBET as of Wednesday:
| | |
| --- | --- |
| Team | Odds |
| (4) Vanderbilt Commodores | +250 |
| (2) Texas Longhorns | +300 |
| (3) Tennessee Volunteers | +600 |
| (5) Arizona Wildcats | +800 |
| (9) Stanford Cardinal | +800 |
| (7) Mississippi State Bulldogs | +1000 |
| Virginia Cavaliers | +1000 |
| NC State Wolfpack | +1200 |
---
2021 College World Series Odds & Picks
The eight-team field is organized into two separate brackets, with four teams in each pod competing in a double-elimination format. The winning team from each of the two brackets will advance to the championship round for a best-two-out-of-three series to claim the NCAA National Championship.
After going 6-2 in super regional picks, this column will focus on the first-round opening games and predictions for each bracket winner. Once those brackets are complete, The Action Network will have all college baseball gamblers covered for the championship round.
---
Stadium & Weather Conditions
All games will be played in TD Ameritrade Park in Omaha, Nebraska. It's important to know that this field plays much bigger than most college stadiums. The dimensions are 408 feet to straight center and 335 feet down the foul lines.
For an MLB comparison, this is slightly bigger than the Seattle Mariners' spacious T-Mobile Park. While home run numbers have been on the rise, it's important to note that only one team reached double-digit runs during the entire 2019 College World Series.
All photos are via Getty Images unless otherwise noted.
---
Weather plays a significant factor in this tournament. Not only are winds consistently knocking down home run balls, but there are also plenty of weather delays associated with the College World Series.
Saturday's forecast must be taken into account before making a bet for Omaha.
Winds originating from the East will blow westward at 10-to-15 mph, putting a damper on any can of corn getting over the fence.
Low scores could make an appearance as early as the first game, as Stanford and NC State are also the two best defensive teams in Omaha, ranking top-10 in fielding percentage.
---
NC State vs. (9) Stanford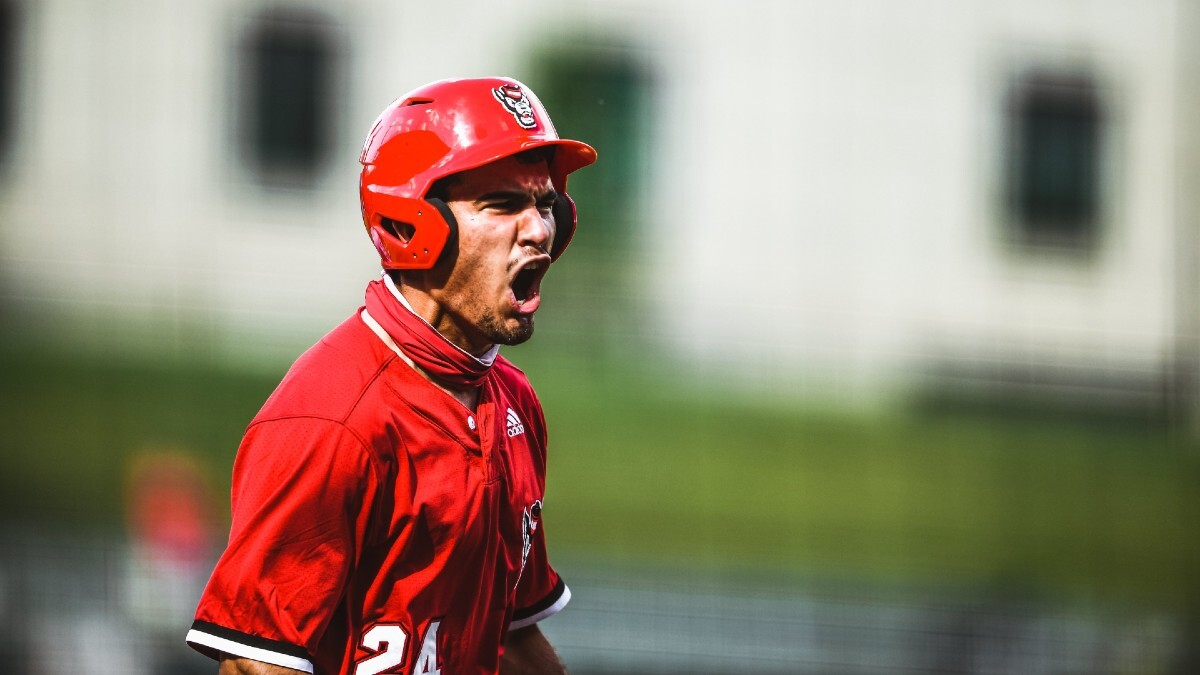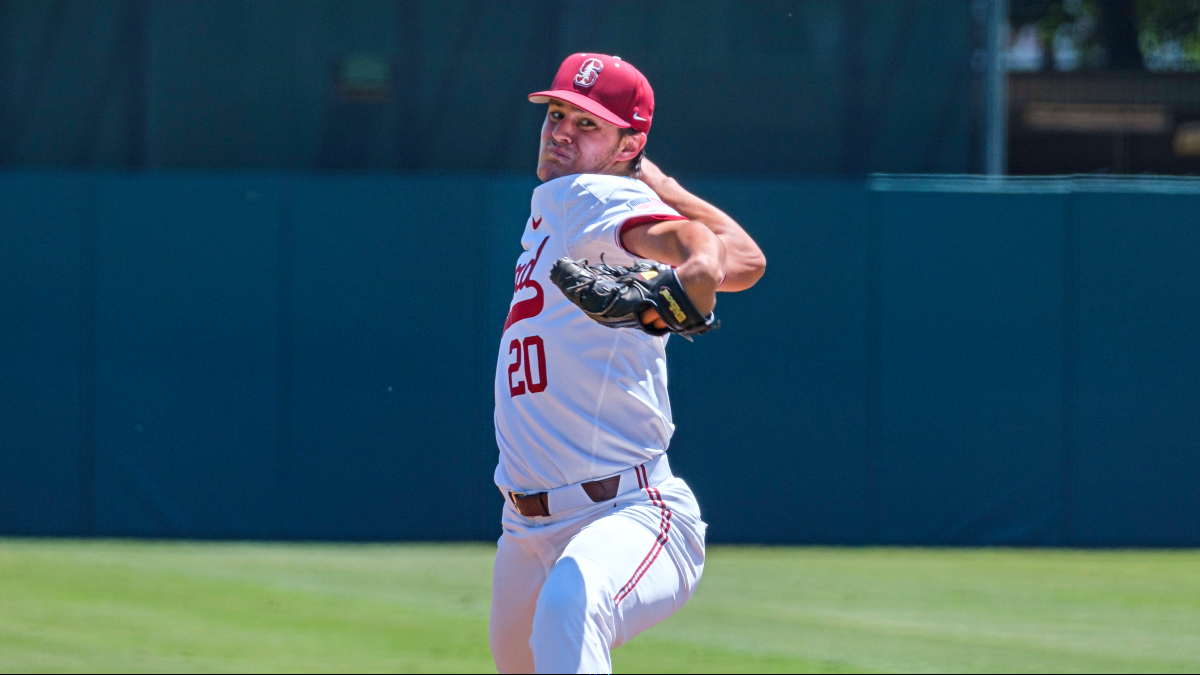 Wolfpack photo via NC State Athletics.
Projected Starting Pitchers

Projected Odds

NC State

(9) Stanford

Side

Total

Reid Johnston

Brendan Beck

STAN -105

9.5
Stanford's Brendan Beck is pitching phenomenally well and putting up truly stellar numbers in the process. He has allowed only eight earned runs in his past 39.1 innings.
The Stanford ace has thrown at least 107 pitches in five of his past six games. Texas Tech was a top-10 team in home runs per nine innings and slugging percentage, but Beck exploited its strikeout-to-walk ratio that ranked outside the top 70.
Stanford drummed Texas Tech by a combined score of 24-3, but the Red Raiders have been a boom-or-bust team in the home run department all season.
The Cardinal still own a sagging slugging percentage just as the Wolfpack are rolling. Not only have the Wolfpack won 23-of-28, but NC State knocked out an Arkansas team that hadn't lost a weekend series all season.
More impressively, NC State was demolished, 21-2, in the Fayetteville opener and managed to win Saturday and then beat National Player of the Year Kevin Kopps to clinch. If NC State can go nine full innings against Kopps, attacking pitches from Beck should be a much smaller problem.
The Wolfpack started the season 1-8 and have been nothing but straight fire since.
Reid Johnston had given NC State quality starts all season until the Razorbacks put up seven earned runs in three innings. If Johnston gets in trouble, expect to see closer Evan Justice early.
The pitching for both teams makes this an under play, while slugging percentage gives the slight nod to NC State in a game that should be lined as a pick'em on both sides.
Picks: Under 11.5 (Play to 10) | NC State +120 (Play to +110)
---
»» Return to the table of contents ««
---
(5) Arizona vs. (4) Vanderbilt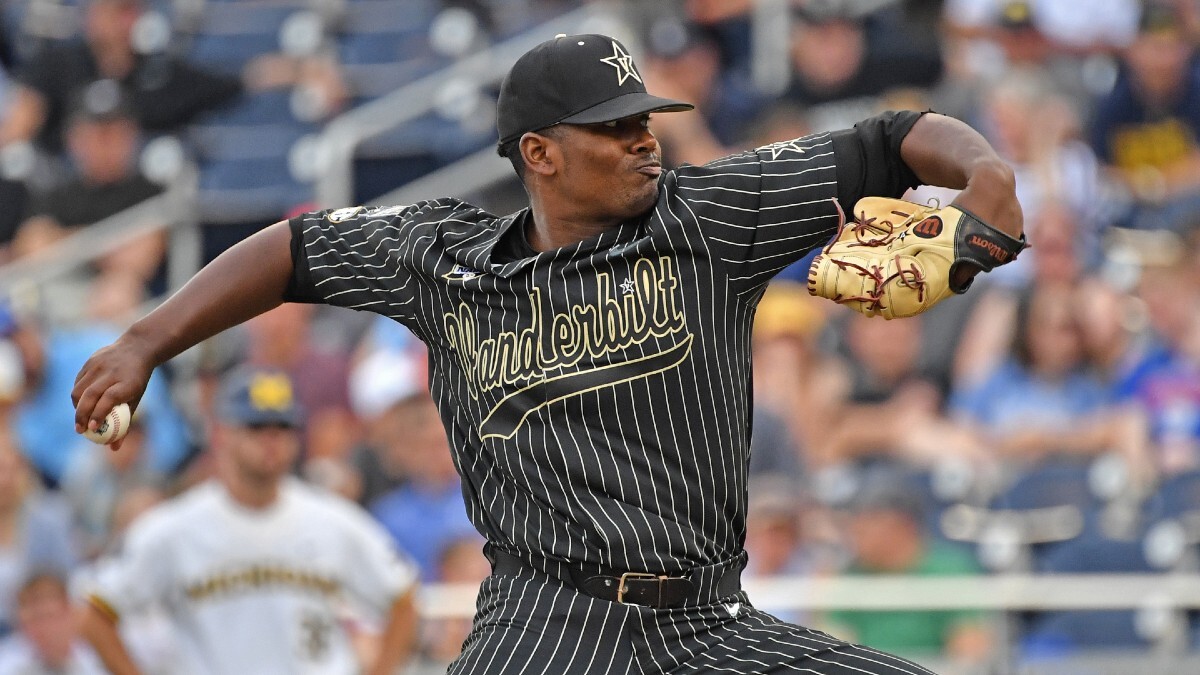 Wildcats photo via Arizona Athletics.
Projected Starting Pitchers

Projected Odds

(5) Arizona

(4) Vanderbilt

Side

Total

Chase Silseth

Kumar Rocker

VAN -155

11
Beating Kumar Rocker is not impossible, as both Arkansas and Alabama put up at least five earned runs against the Vanderbilt ace in recent action.
The key to making Rocker work is to get his off-speed pitch arsenal located in the strike zone. Enter an Arizona lineup that ranks seventh in walks and leads the nation in hits, runs and triples.
That video clip above is extremely important in helping to understand what Arizona baseball is: A doubles machine that can thrive in a park like TD Ameritrade. With winds and precipitation possibly hitting the Omaha by Saturday evening, the advantage will be with a Wildcats team that sprays the ball after practicing patience at the plate.
Vanderbilt has a top-of-the-line bullpen, and Jack Leiter would arguably be the better-suited starter for Game 1.
If the current starting pitchers hold between Rocker and Chase Silseth, count me in for fading the Commodores steam up until first pitch.
Pick: Arizona +130 or better
---
»» Return to the table of contents ««
---
Bracket No. 1 Prediction
Leiter may be the best pitcher in this bracket, but he may not get to throw the ball until the first losers' bracket game.
The starting staff drops off in experience and quality after Leiter and Rocker, so Vanderbilt fighting its way out of the losers' bracket isn't out of the question and may cause it to be taxed by the end of the first week. Expect the Commodores to make it to the bracket finale against Arizona or NC State.
A Sam Highfill-Garrett Irvin winners' bracket face-off would make the Wildcats approximately -120 to advance.
Unlike Arkansas, there is no gap in Arizona's offensive production, and this ballpark all but guarantees the hitting will continue. The Wildcats are capable of beating Rocker and Vanderbilt, but the projected number for Leiter-Irvin would be Vanderbilt -145.
Arizona leads the nation in most hitting categories, but the public will only remember a 2019 Vanderbilt team that won the National Championship.
Led by two National Freshmen of the Year, look for the Wildcats to use patience and timely hitting at the plate to win this bracket.
In a potential finale against Vanderbilt, look for less than +150 against Rocker and greater than +150 against Leiter.
Pick: Arizona Wildcats
---
»» Return to the table of contents ««
---
Virginia vs. (3) Tennessee
Volunteers photo via Tennessee Athletics.
Projected Starting Pitchers

Projected Odds

Virginia

(3) Tennessee

Side

Total

Andrew Abbott

Chad Dallas

TENN -110

8.5
If anyone gets to claim the role of Cinderella, it's the Virginia Cavaliers.
Ranked 39th in RPI, the Hoos own a losing record against teams ranked in the top 50. Virginia has taken the tough road this postseason, losing the first games of its regional and super regional series, then rallying to win out in each round of play to earn a trip to Omaha.
The Cavaliers' most recent victory that punched their ticket to Omaha even included a two-out, go-ahead grand slam in the seventh inning.
Virginia baseball now has a pattern of losing in its first outing while winning every game in the losers' bracket. This happened in the South Carolina regional and in the supers against Dallas Baptist.
The key for the Cavaliers is to get staff ace Andrew Abbott back on track.
After firing 28.1 scoreless innings to close the regular season, Abbott gave up eight earned runs in 10.1 innings against South Carolina and Dallas Baptist.
The exact opposite has occurred for Virginia's opponent, Volunteers starter Chad "Cheese" Dallas.
Dallas struggled to obtain quality starts through the end of the SEC regular season, but everything came together during the conference tournament in Hoover. In three postseason starts, the Tennessee ace has surrendered just six earned runs in 17 innings. Those numbers came against powerhouse offenses of Mississippi State, Wright State and LSU.
The Tennessee offensive numbers speak for themselves. The Vols own a top-five rank in home runs per game, slugging percentage, earned run average and strikeout-to-walk ratio.
Led by former Arkansas assistant Tony Vitello, Tennessee is a player for the national title and should take advantage of Virginia's struggling ace.
Pick: Tennessee -150 or better
---
»» Return to the table of contents ««
---
(7) Mississippi State vs. (2) Texas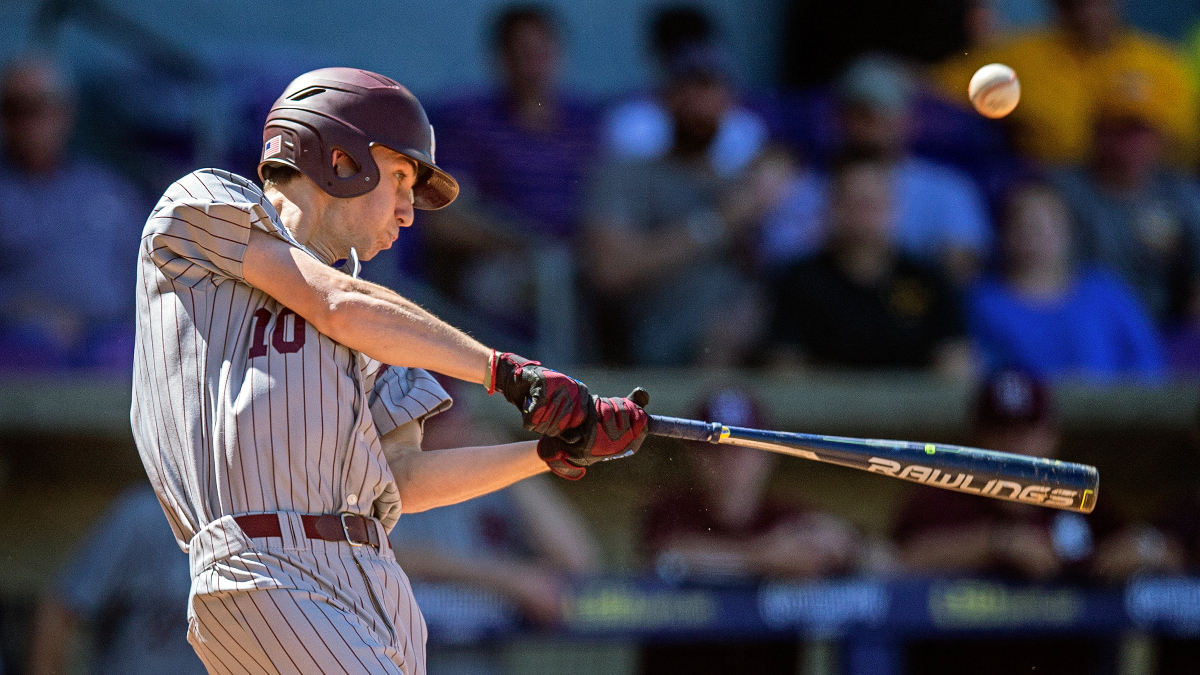 Mississippi State vs. Texas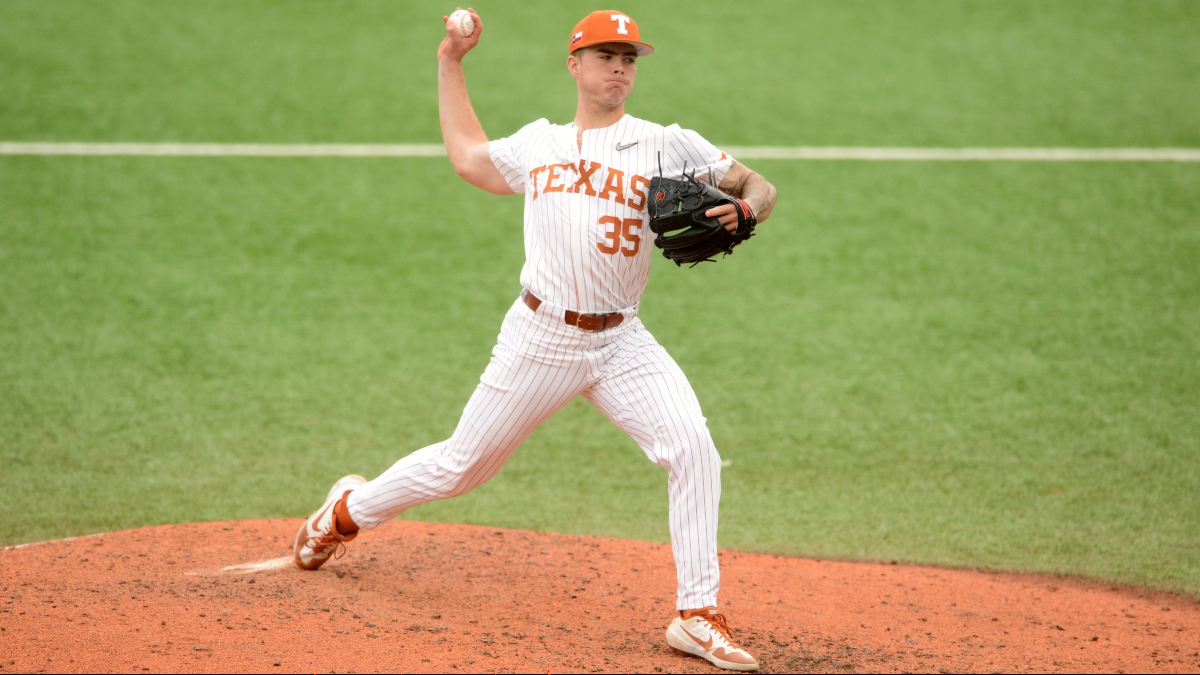 Projected Starting Pitchers

Projected Odds

(7) Mississippi State

(2) Texas

Side

Total

Will Bednar

Ty Madden

TEX -115

8.5
Welcome to the main event of the first round of the College World Series.
Mississippi State leads the nation in strikeouts per nine innings with a loaded starting staff and the best closer in Omaha. Landon Sims has faced 139 batters this season and stuck out 85 of them.
Freshman Will Bednar is expected to get the start after giving up four earned runs and lasting just three innings in the opener against Notre Dame.
This is a deep staff that can pivot to Preston Johnson or Chase Patrick for long relief to get to Sims. The question remains whether or not Texas will have enough offensive firepower to handle the Bulldog staff.
The Longhorns struggled in the opener of the supers against South Florida pitching, specifically Bulls starter Jack Jasiak, who averaged less than a strikeout per inning.
Texas must have sophomore Ty Madden own the pitching mound with his 2.41 ERA and ability to go over 100 pitches.
The Action Network projection to determine a college baseball number integrates staff FIP, starter splits, fielding percentage and home runs per nine.
The true line in this game is -110 both ways, showing value on Mississippi State in the current market.
This game was played in Arlington back on February 20, and Madden took the loss. The Bulldogs not only have the advantage in the market number, but they also boast the experience of seeing Madden's arsenal in recent play.
Pick: Mississippi State +120 or better
---
»» Return to the table of contents ««
---
Bracket No. 2 Prediction
Mississippi State's Christian MacLeod is not a guarantee to get the start in a potential Game 2 against Tennessee.
The Volunteers knocked MacLeod for four innings in the SEC Tournament, as the Bulldog starter has had troubles throughout the postseason. Whether it's MacLeod or Houston Harding taking the mound, the number against Tennessee starter Blade Tidwell is projected at -115 with a total nearing 10.
While Bracket 1 is full of offensive explosiveness, it's this side of the bracket where pitching staffs run deep.
Texas is more than just Madden, as the Longhorns are anchored by Pete Hansen and Tristan Stevens. Virginia also supports the second-best bullpen numbers behind Mississippi State.
This is the side of the bracket where a team can get hot in the losers' bracket and still win the championship.
If we base our prediction on the pitching staff that walks the least number of hitters, that's Tennessee and Mississippi State by far. If we base our prediction on the offense that boasts the highest on-base percentage, then Texas laps the field.
One of the biggest elements of college baseball is fielding percentage, and none of the teams in this pod come close to the Longhorns.
Although there's plenty of value in the underdog number for Mississippi State in the opener, I expect Texas to be in the College World Series championship round.
Pick: Texas Longhorns
---
»» Return to the table of contents ««
---
How would you rate this article?
This site contains commercial content. We may be compensated for the links provided on this page. The content on this page is for informational purposes only. Action Network makes no representation or warranty as to the accuracy of the information given or the outcome of any game or event.