Betting Maryland-Nebraska and Other CBB Bubble Games on Tuesday
Credit:
Jan 27, 2018; Lincoln, NE, USA; Nebraska Cornhuskers guard James Palmer Jr. (24) celebrates with a fist pump after defeating the Iowa Hawkeyes at Pinnacle Bank Arena. Nebraska won 98-84. Mandatory Credit: Bruce Thorson-USA TODAY Sports
In today's piece, I will take a look at the following three games:
Maryland at Nebraska (-1.5)
Arkansas at Ole Miss (+2)
Texas A&M at Missouri (-1.5)
Additionally, if you missed today's Super Tuesday Betting Guide, our staff previewed both Oklahoma at Texas Tech (-7) and Virginia at Miami (+6).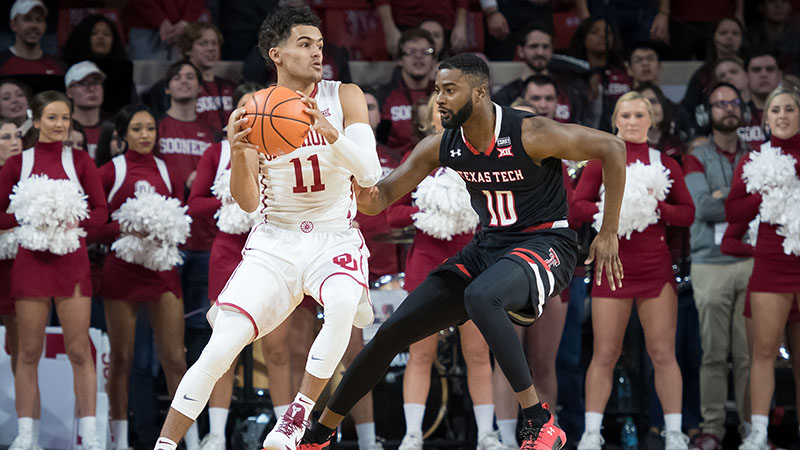 Our crew of college hoops experts predicts the two biggest games on Tuesday night: UVA-Miami and OU-Texas Tech.
Follow me on twitter @jorcubsdan for in-game notes, injury updates, and second-half predictions. You can find a summary of my seven total plays today at the bottom of the article.
Maryland @ Nebraska (-1.5)
7 p.m. ET
The Terps head to Lincoln in what can probably be described as a "bubble elimination game." Nebraska has been stellar at home, with the only loss coming by two points to Kansas. However, in a major down year for the Big Ten, the Huskers haven't been exactly tallying huge resume wins, hence why they're on the bubble despite a 19-8/10-4 mark. The same goes for Maryland, which owns a quality win over Butler … and not much else. Thus, we have a must-win situation for both teams.
Interestingly, both Nebraska coach Tim Miles and Maryland coach Mark Turgeon "saved" their seasons by going to a small lineups. The Huskers have gone to what Northwestern's Chris Collins dubbed the "Death Lineup," where versatile and athletic Isaiah Roby and Isaac Copeland occupy the frontcourt, with Jordy Tshimanga coming off the bench as a rim protector when the opposing lineup dictates more height. Tshimanga seems more relaxed and effective in his new role, and the Huskers create mismatches in pick and roll with that extremely mobile frontcourt. Maryland, meanwhile, went small due to a plethora of injuries. Turgeon had some interesting things to say about his new motion offense that often features jack-of-all-trades Darryl Morsell at the 4 in a super small lineup.
The change has helped make the Terps one of the most methodical half-court offenses in the country since mid-January, as Maryland is routinely playing games in the low 60s in terms of possessions. This quote from Anthony Cowan is perhaps the most interesting note from the linked article by the Baltimore Sun's Don Markus:
"Most defenses, they're not really used to guarding people for more than 20 seconds," Cowan said. "The way we screen and move and pass from one side to the other, it's bound to make a team mess up at some point."
That's a salient point from Cowan, but unfortunately for the Terps, it's not necessarily applicable to the Huskers defense. Nebraska's "Death Lineup" makes them more versatile on both ends of the floor, as Copeland, Roby, James Palmer, and especially Evan Taylor are all plus defenders who can switch on every screen. Per Synergy, the Huskers allow just .673 points per possession off screens, which grades out in the 95th percentile nationally. And you can expect the Terps to run a lot of screens. It should also be noted that Maryland does have 7-foot-1 Michal Cekovsky back in the lineup, but Miles can counter him with Tshimanga off the bench any time Turgeon chooses to go jumbo.
Maryland's defense, meanwhile, excels in pick-and-roll situations and is great at avoiding fouls (fourth-lowest foul rate in the country). The Huskiers tend to be reliant on their ability to draw contact, so they could have some trouble scoring tonight. PICK: Nebraska -1.5, Under 143
Other notes:
Arkansas at Ole Miss +2 (7 p.m. ET): The Razorbacks find themselves in the unenviable position of playing a road game that they can't afford to lose. Ole Miss, of course, has its own drama to deal with, as Andy Kennedy announced he would be resigning as head coach at the end of the year. The first meeting between these two was a 97-93 shootout in a 75-possession game. Essentially, both backcourts did whatever they wanted offensively, and no one bothered to play defense. That makes sense, as the Rebels' 4-out offense makes them a difficult team for Arkansas to press. With "road Arkansas" back in full effect after a year off (the Hogs' only true road win this year came in double-OT at floundering Georgia) and Ole Miss playing with emotion, I'll take the Rebels. PICK: Ole Miss +2
Texas A&M at Missouri (7 p.m. ET): The Aggies were finally starting to resemble the team that looked one of the country's five best in November. But then Duane Wilson officially went down with an ACL tear, and Texas A&M's off-court issues reared their ugly head again with the dismissal of J.J. Caldwell and suspension of Jay Jay Chandler. The loss of Caldwell would be essentially insignificant (and perhaps addition by subtraction) were it not coupled with the loss of Wilson.
The good news for tonight's game? The Aggies already defeated Missouri this year, 60-49, with Wilson a nonfactor and Caldwell unavailable, thanks to a superb defensive performance (.74 ppp, 15 field goals allowed). Texas A&M is elite at defending the pick and roll and in the post, which helped thwart Mizzou in that first matchup and will help again tonight. And believe it or not, Texas A&M has actually been more efficient on both ends of the floor with T.J. Starks playing and Wilson on the bench, per hooplens.com.
Another troublesome angle for the Tigers: Cuonzo Martin wasn't an effective game-plan tweaker when seeing Pac-12 foes the second time around. We'll see if that continues in what looks like another likely rock fight. PICK: Texas A&M +1, Under 138
Tuesday's Top Predictions
YTD: 433-400-7
2H: 48-34-1
Nebraska -1.5
Maryland/Nebraska under 143
Ole Miss +2
Texas A&M +1
TAMU/Mizzou under 138
Oklahoma +7.5 (from Super Tuesday Betting Guide)
Miami FL +5.5 (from Super Tuesday Betting Guide)